I'm about to embark on a low carb diet and I'm already feeling really sad about giving up potatoes. I don't even eat potatoes that often, but I just want to know that a big basket of French fries will be there for me when I need it most.
Even though potato fries may be off the menu for a while, there's still veggie fries. While some veggie fries taste like disappointment and broken dreams (I'm looking at you, soggy zucchini fries!), there are other veggie fries that are—dare I say it?—pretty darn good. And carrot fries are at the top of the list. When they're thinly cut, tossed with oil, and baked at a high temperature, they come out of the oven crispy and brown.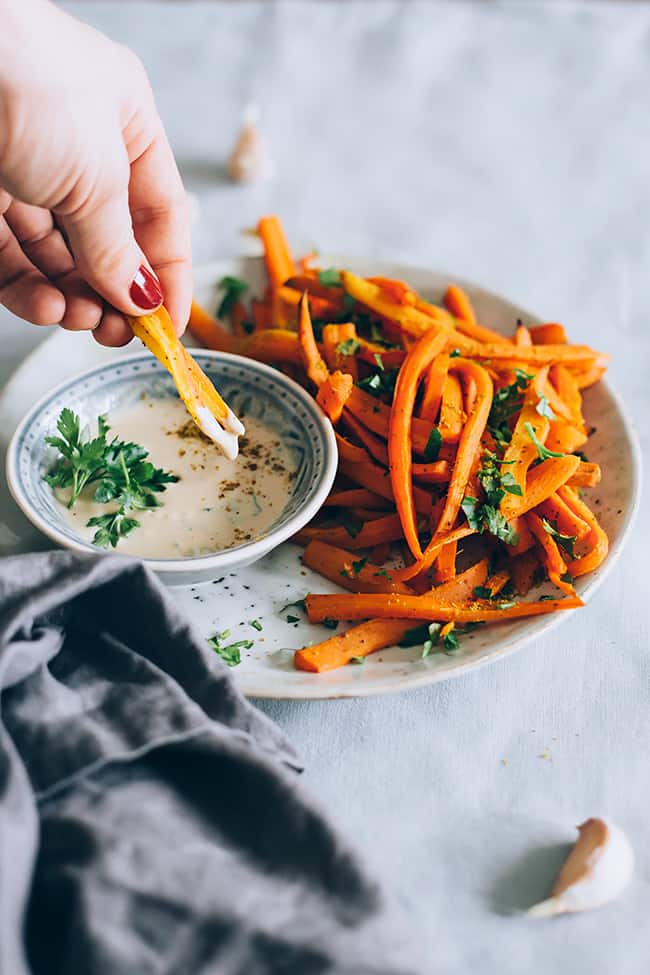 Carrots have all kinds of health benefits, which we've written about before. These fries also get a boost from curry powder; the main ingredient in curry powder is turmeric, an anti-inflammatory superstar. Because emerging research suggests that inflammation is the root of many diseases, it's beneficial to incorporate turmeric into your meals whenever you can. Coriander, another spice found in curry powder, has antibacterial properties that keep your immune system humming.
You can't have fries without a dipping sauce; ketchup and curry pair together better than you'd expect, but I think these carrot fries go particularly well with this vegan cilantro lime cashew mayo from Connoisseurus Veg.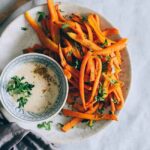 Crispy Curry Garlic Carrot Fries
Ingredients
6

large carrots

peeled and sliced into thin fries

1

tablespoon

grapeseed oil

1

teaspoon

curry powder

1

teaspoon

garlic powder

Sea salt

to taste
Instructions
Preheat your oven to 425º F.

Place the carrot sticks in a large bowl. Add the olive oil, curry, and garlic powder. Stir until the carrot fries are well-coated.

Line a baking sheet with parchment paper. Place the carrot fries on the baking sheet in a single layer.

Bake the fries for about 20 minutes. When the fries are browned and crispy, remove from the oven. Sprinkle with sea salt before serving.
Carrots are one of the few vegetables that are in season right now for those of us in Northern climates. Want some more ideas for using them? These are some of our favorites:
2 Carrot Drinks to Detox Your Body + Boost Your Immune System
Honey Roasted Carrots with Cumin
Teriyaki Chicken with Carrot and Cabbage Slaw
Healing Carrot Soup with Turmeric and Ginger
Restoring Carrot Soup with Ginger and Miso
Tofu Poke Bowl with Sesame Glazed Carrots
Glowing Coconut Carrot Smoothie
Carrot, Rice and New Potato Soup
0