A very easy way to prepare homemade pretzels with great results, especially the nice crust that everyone loves them for! You will find a step-by-step guide for how to shape the pretzels and also how to get their legendary taste simply by boiling them in baking soda water. This homemade pretzel recipe is ready in about 1 hour and turns out as delicious as you would expect!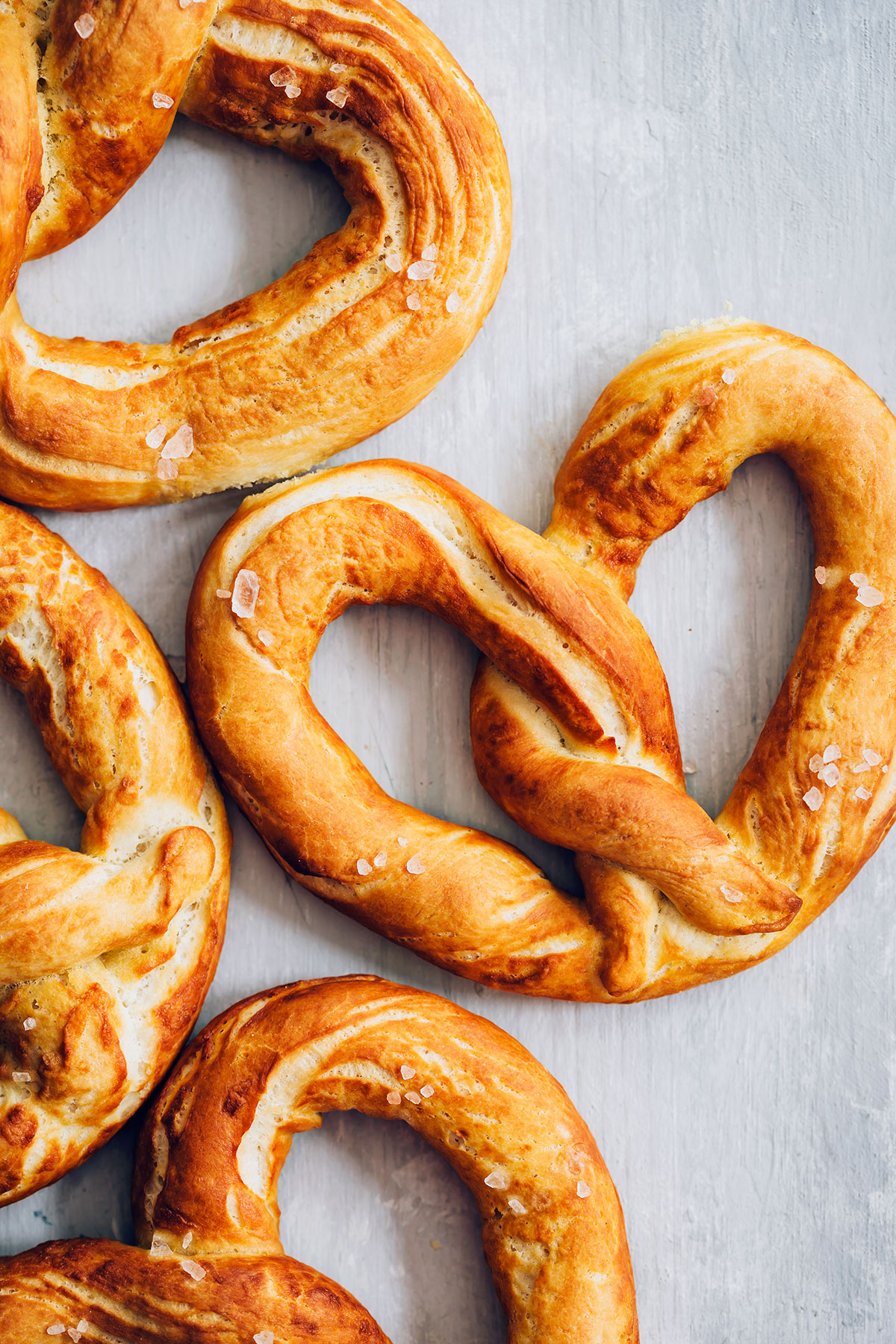 We love baked goods that don't require too much science, and these pretzels are just what we need, especially as a fun activity with the little ones. The homemade pretzel dough is quite basic, using flour, yeast, sugar, and salt, together with melted butter for softness.
How to make soft pretzels
Prepare your ingredients – plain flour, active yeast, melted butter, sugar, and salt – I bet you already have all of them in your kitchen! Plus coarse salt for that beautiful garnishing touch! For extra softness and sweeter taste, use milk instead of water.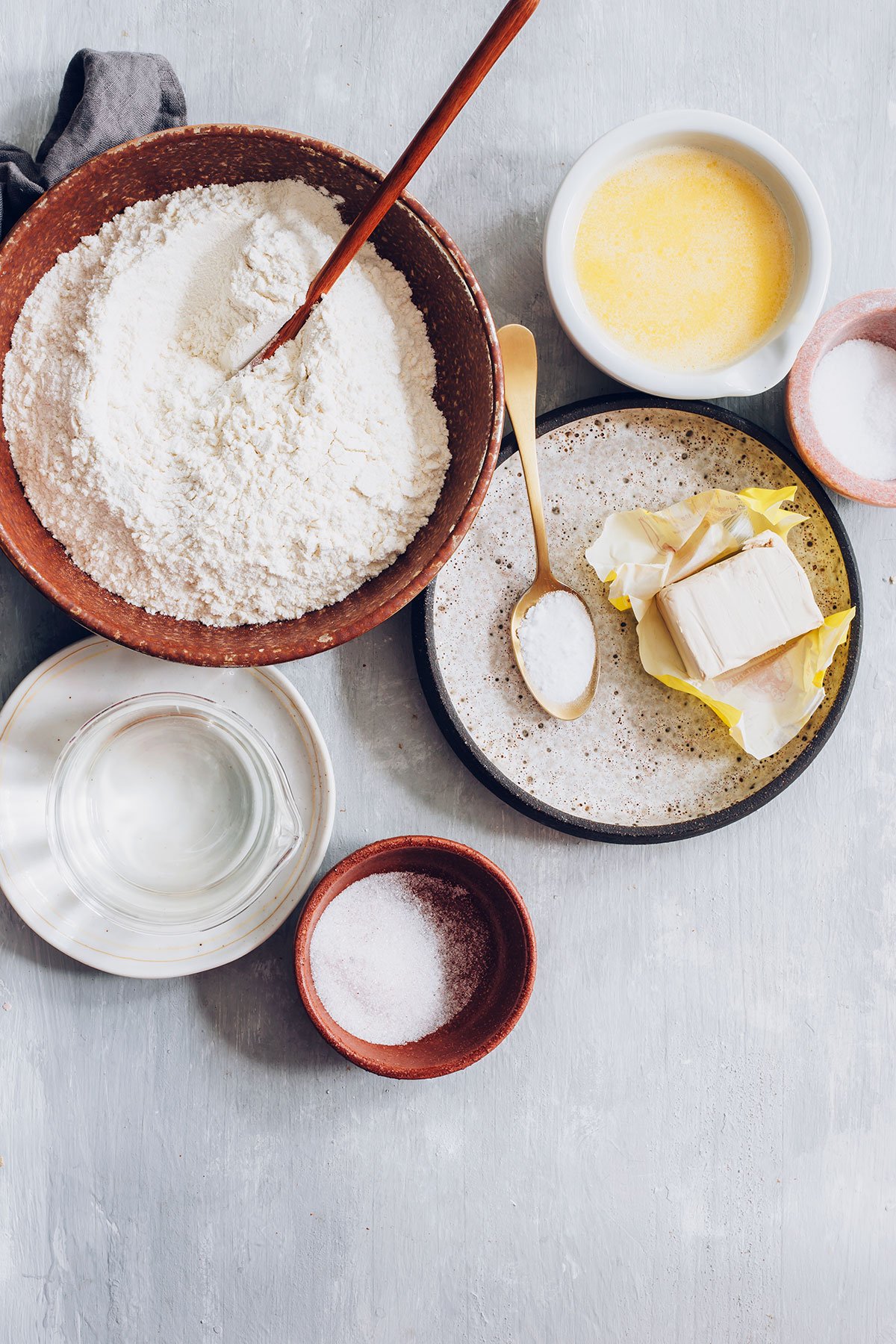 Mix the yeast (dry or moist, it works just fine) with sugar and water, and set aside for 5 minutes, until bubbles appear on top which means the yeast is alive and activated. Add it to the flour bowl, together with the butter, salt, and some more water, and mix to form a sticky dough.
Use a stand mixer with the paddle attachment for kneading, or knead with your hands for a few minutes, until a smooth, elastic, and non-sticky dough is formed. Transfer into an oiled bowl, cover with a clean cloth, and let rise for 30 minutes on the countertop.
Preheat the oven to 450F. Mix water and baking soda in a pot, then place over medium heat until boiling. You can now remove the raised dough from its bowl, transfer it onto a working surface and cut it into 8 equal parts.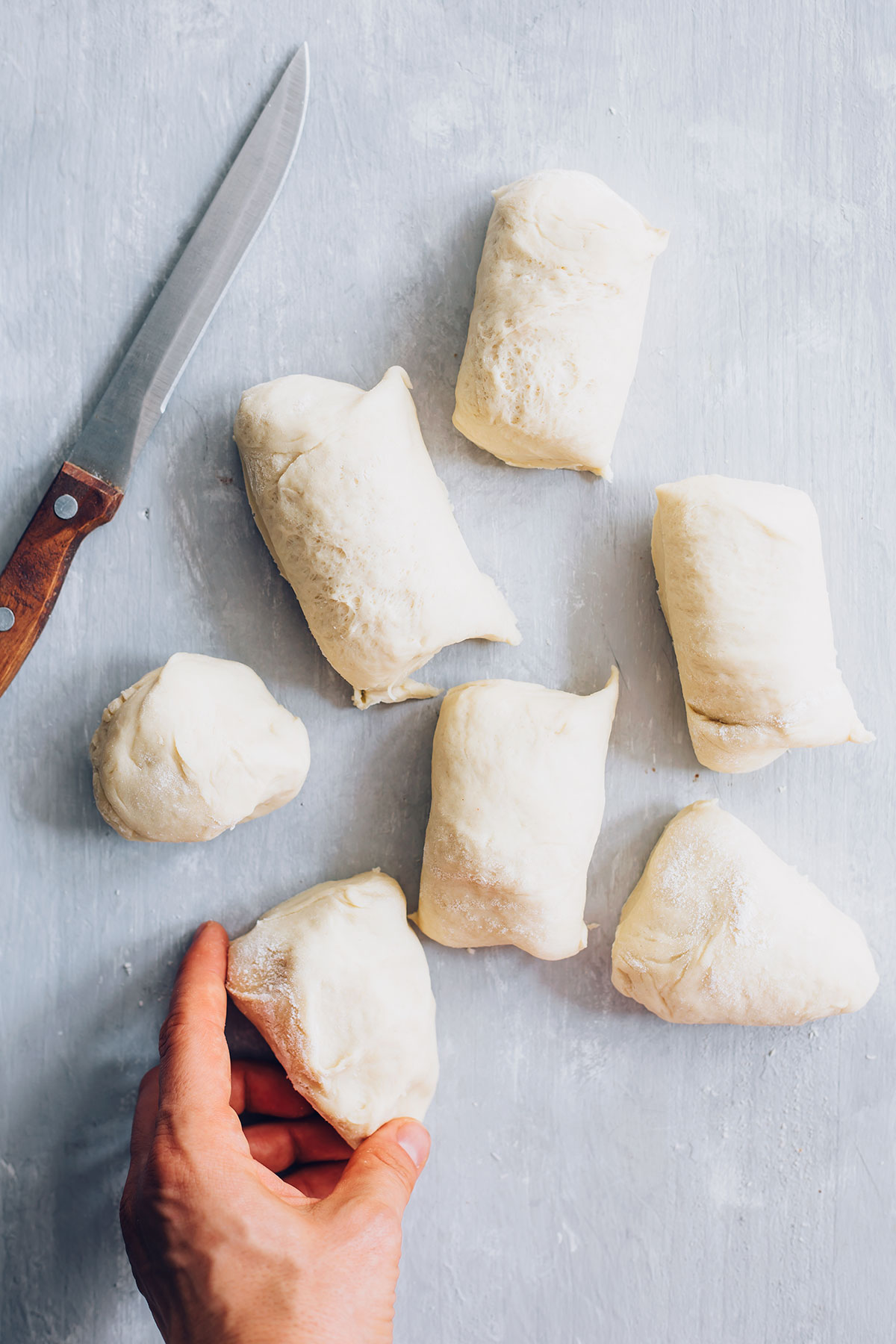 How to shape homemade pretzels
There are so many tutorials and videos on how to shape soft pretzels, but it's actually a pretty easy job. There are just three steps you need to make for getting that legendary shape:
Use your palms to roll each piece of dough into a 20 or 22-inch long rope. Try to get it as even as you can. Place the rope into a U-shape on the working surface.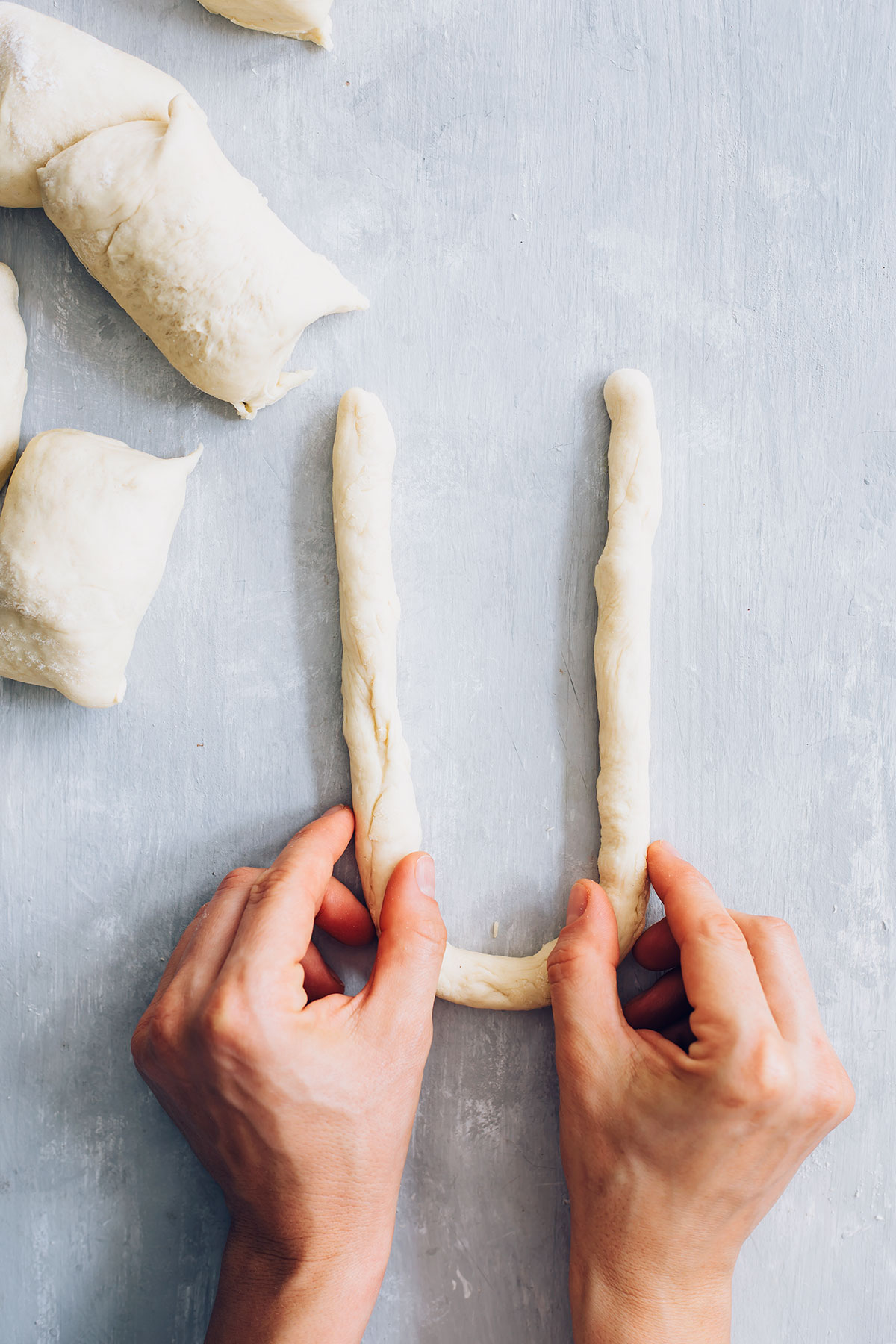 Twist the ends twice.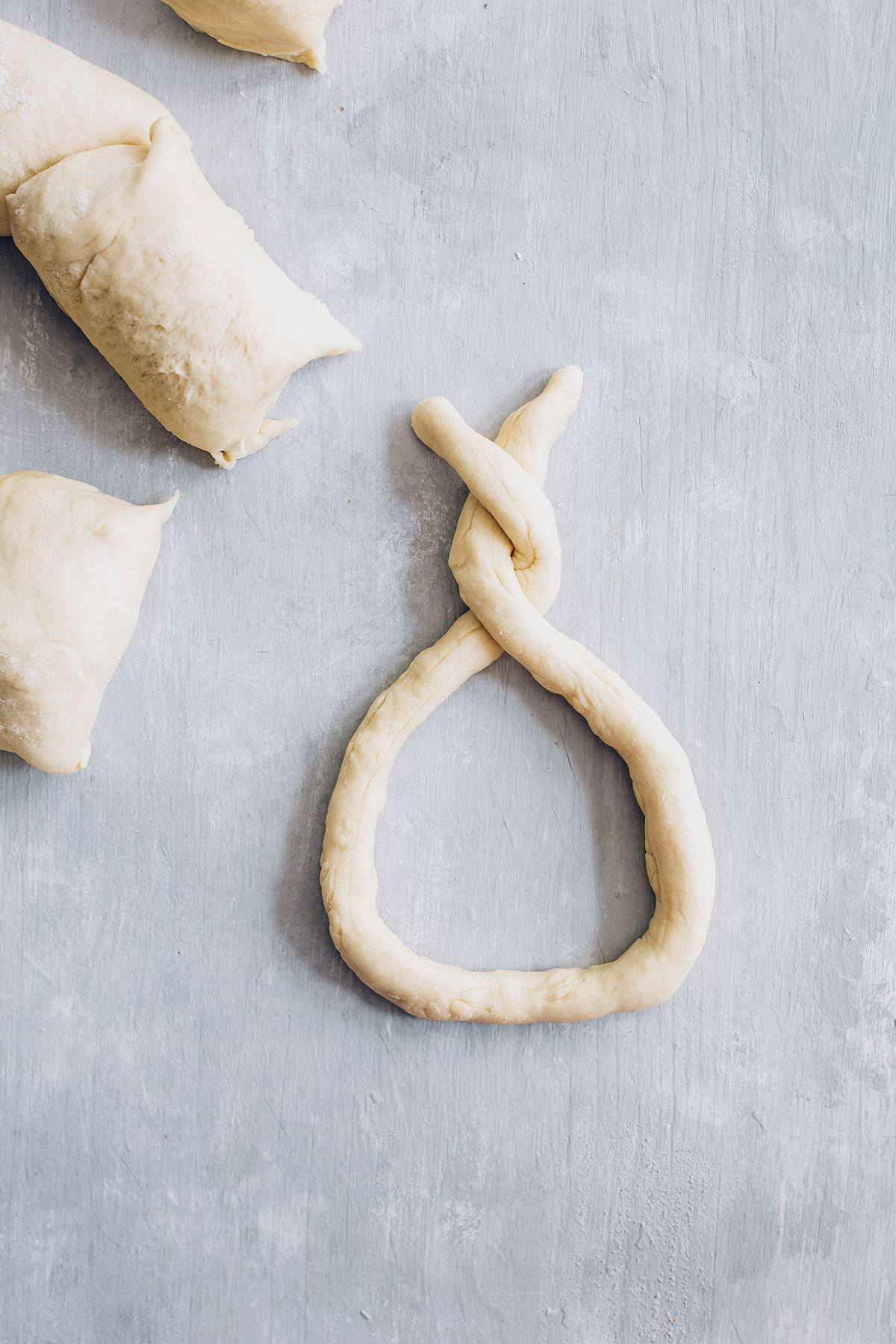 Now fold the ends over the bottom of the U-shape to get the pretzel shape. Press a bit to stick the dough pieces. Ready!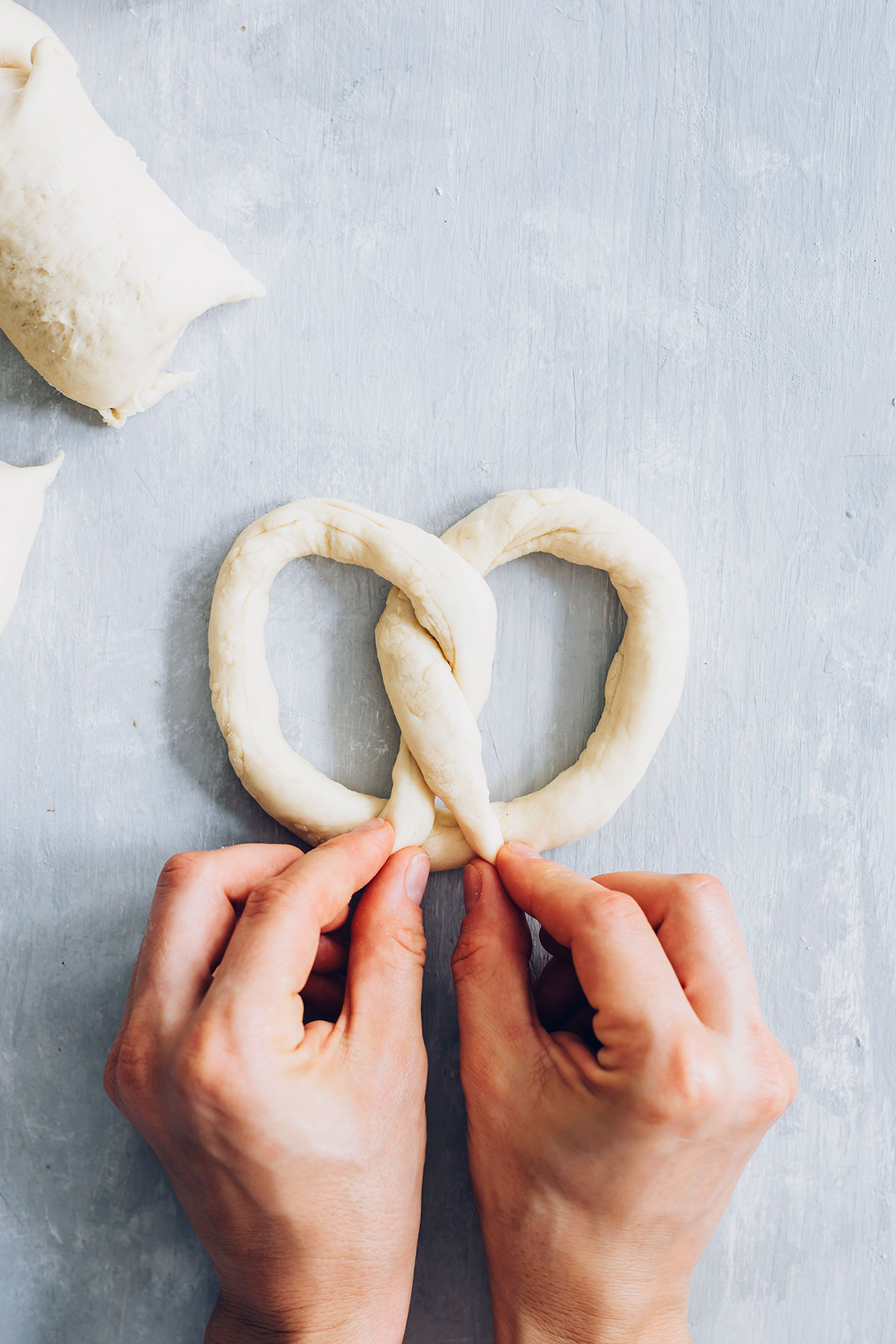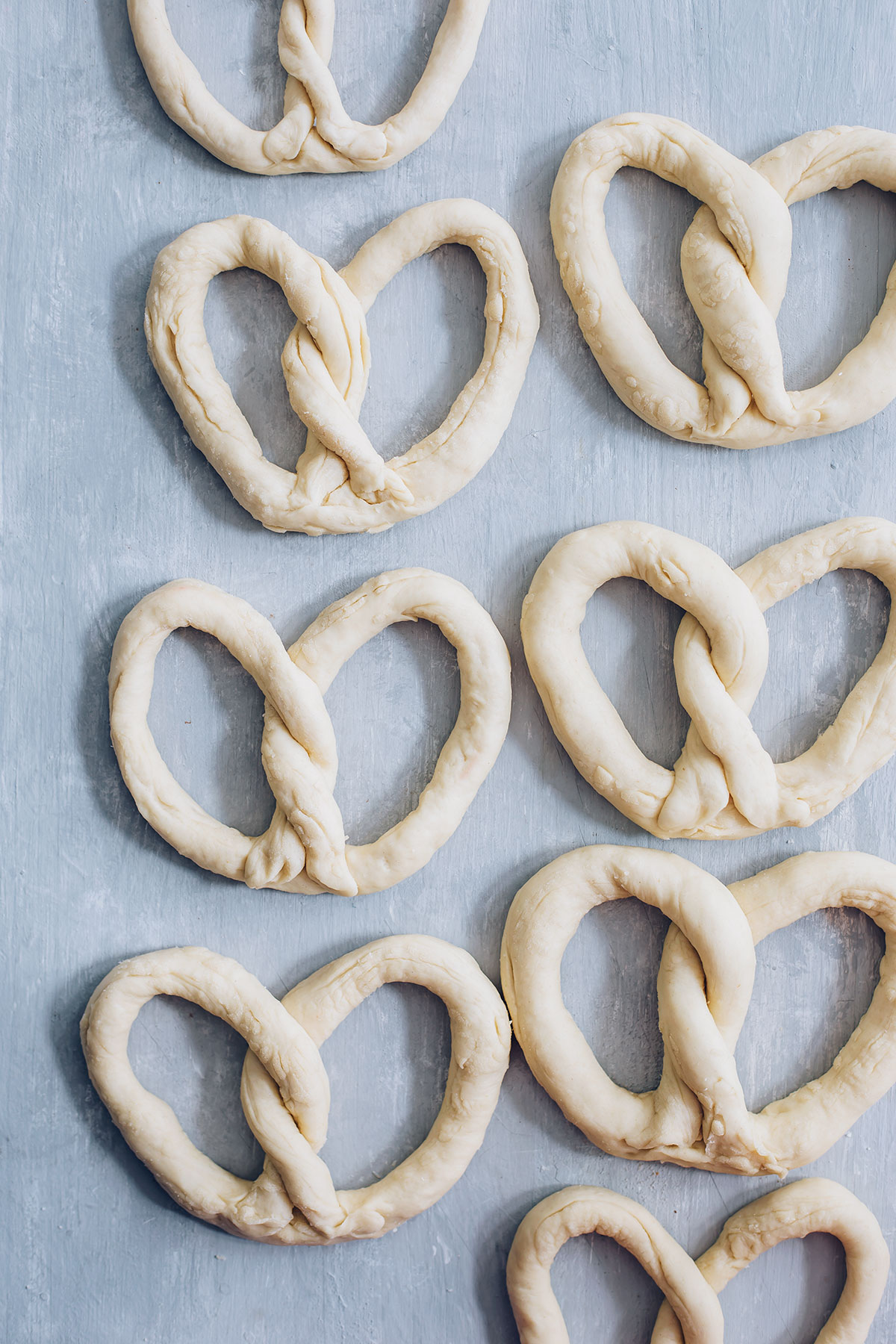 Now submerge each pretzel into the simmering baking soda water for about 30 seconds, then very carefully remove them using a large spatula, and line them on a baking sheet.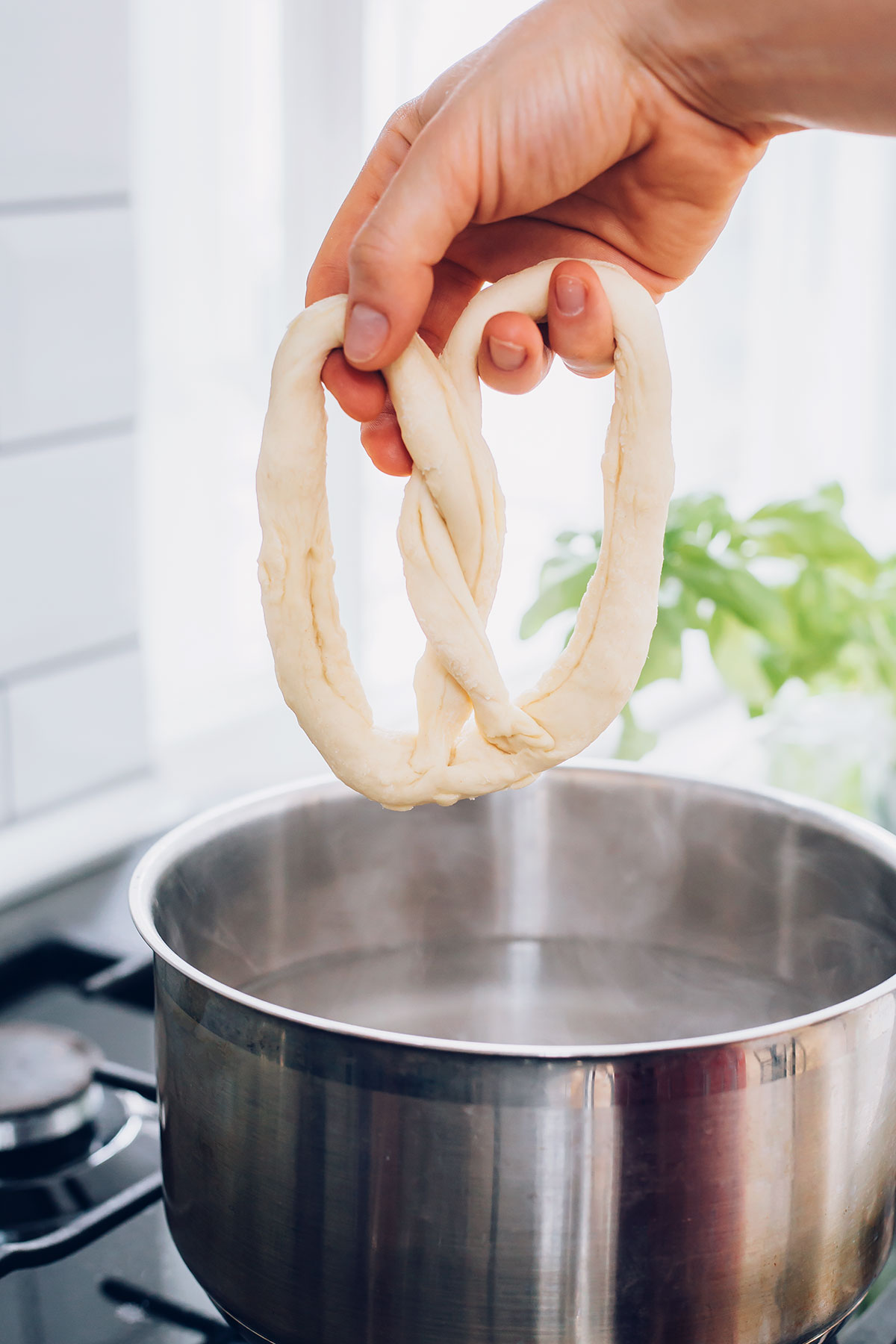 If you want a deeper crust color, mix an egg yolk with water and brush it over each pretzel. Sprinkle with coarse salt and bake for about 15 minutes, until golden and crusty. Let them cool for a few minutes before serving them.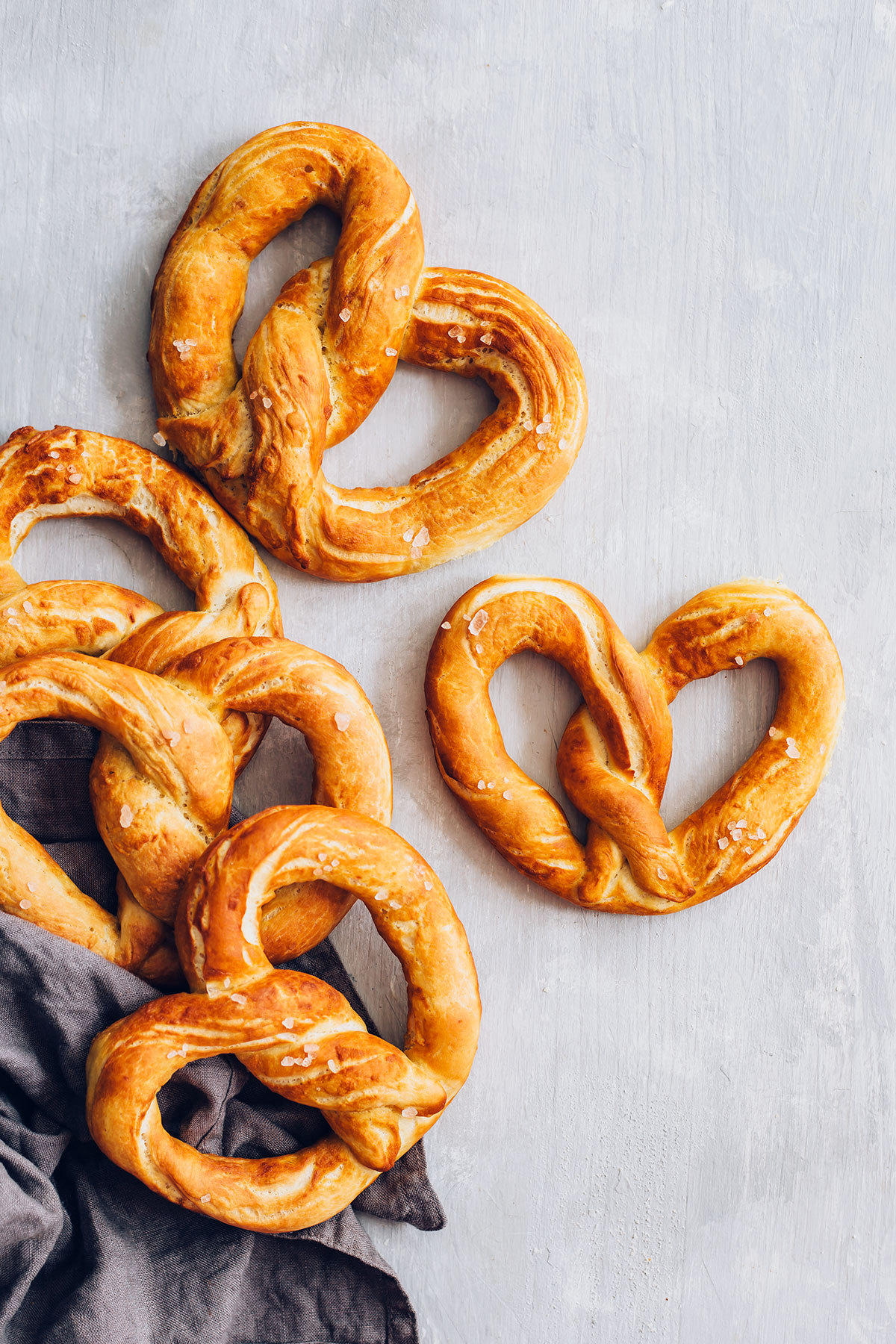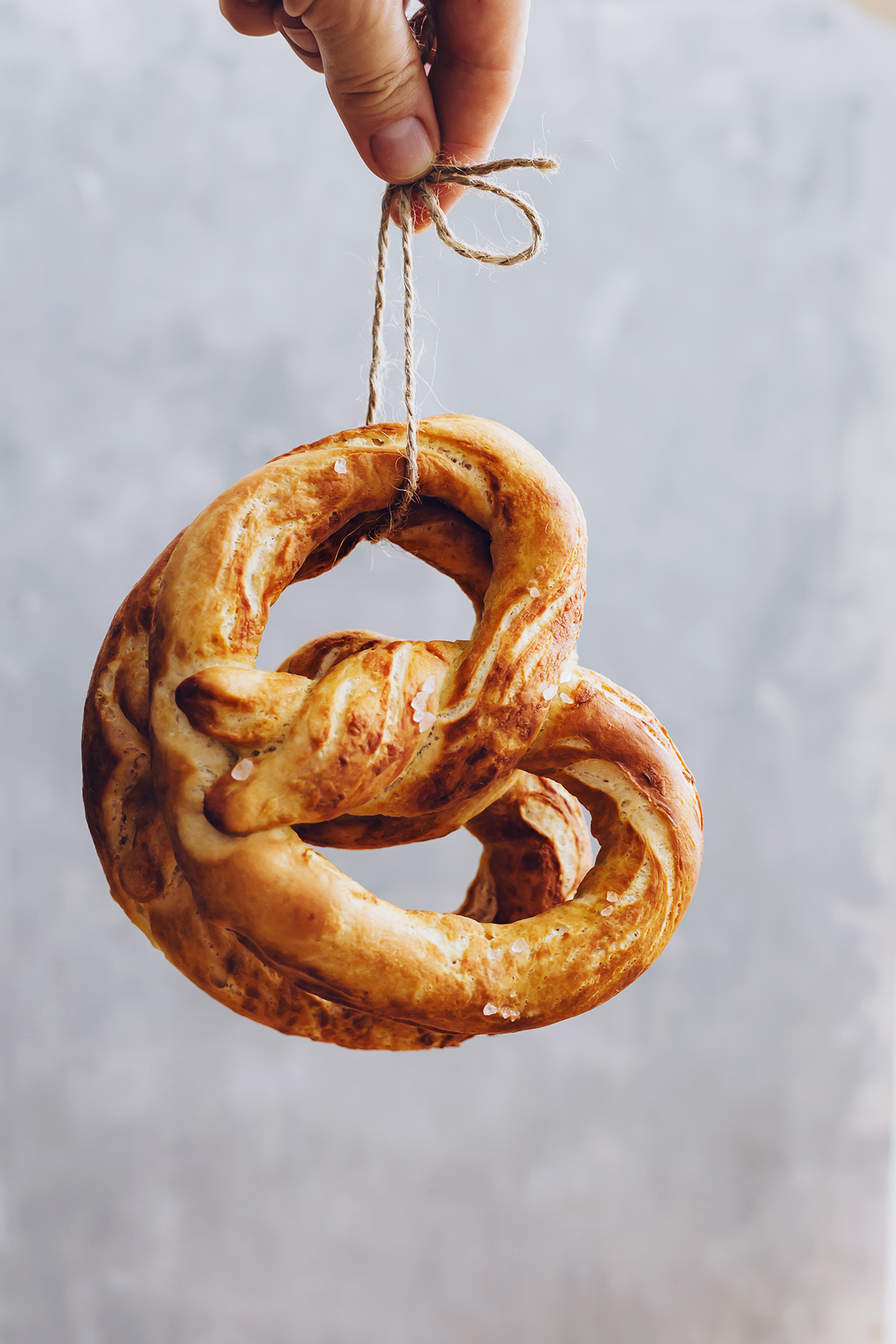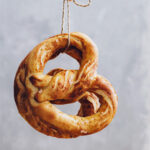 DIY Homemade Pretzels
A simple homemade pretzels recipe with ingredients that you already have in your kitchen. Plus a step by-step tutorial on how to shape soft pretzels! 
Total Time
15
hours
45
minutes
Ingredients
1 1/2

cups

warm

110 to 115 degrees F water

1

tablespoon

sugar

2

teaspoons

kosher salt

plus more for topping the pretzels

2 1/4

teaspoons

active dry yeast or 20 g fresh yeast

4 1/2

cups

unbleached all purposed flour

Half a stick of unsalted butter

melted

Vegetable oil

for pan

10

cups

water

2/3

cup

baking soda

1

large egg yolk beaten with 1 tablespoon water
Instructions
Combine water and sugar in a large bowl and sprinkle the yeast on top.

Let it sit uncovered for 5 minutes - it will start to get foamy on top.

Add the yeast mixture to the flour bowl, add butter and salt, turn out onto floured surface and knead dough for about 4 minutes, or use a stand mixer and knead for 4 minutes to get an elastic dough.

Wash the bowl and oil it with vegetable oil. Put the dough back in, cover with a clean cloth, and let it sit for 30 minutes. It will roughly double in size.

Combine 10 cups of water and baking soda and bring to boil. Also turn the oven on to 450 degrees F. Line 2 baking sheets pans with parchment paper.

While the water is heating up, divide the dough into 8 equal pieces.

Roll out each piece to about 22 inches.

Make a U-shape with the rope, holding the ends of the rope, cross them over each other and press onto the bottom of the U in order to form the shape of a pretzel.

Place the pretzels into the boiling water, 1 by 1, for 30 seconds. Remove them from the water using a large flat spatula.

Put them on the baking sheet, brush with the beaten egg yolk and water mixture and sprinkle with the pretzel salt. Bake for up to 15 minutes minutes, until golden.

Cool on a rack for a few minutes before serving.
0