CBD is certainly having a moment in the wellness limelight. Society is still early in our understanding of the full potential of CBD, so most of the information we have on the therapeutic benefits of the plant is based on anecdotal evidence. But the anecdotal evidence is strong!
Many people use CBD products to help with sleep, stress, pain, anxiety, inflammation and more. (Here's our editor's experience using CBD for anxiety.)
But even with the recent acknowledgment of the healing powers of the cannabis plant, there is still a lot of confusion (is it legal? will you get high?) so let's clear some things up…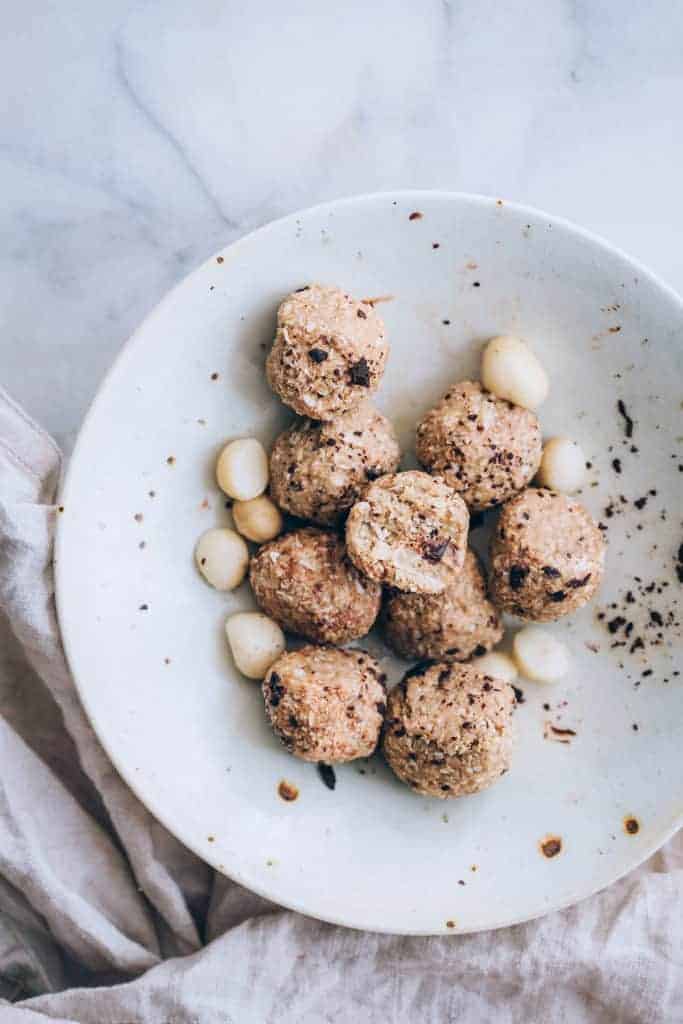 What is CBD?
The cannabis plant has two main components, cannabidiol (CBD) and tetrahydrocannabinol (THC). THC is what gets you high, while CBD is non-psychoactive. CBD can be extracted from both cannabis and hemp which are the same species of plant.
The difference between the two is that to be designated as hemp, the plant must be comprised of less than 0.3 percent THC. In states where cannabis is legal, CBD can be derived from cannabis or hemp and is made from the whole plant. In states where it's illegal, CBD oil must be made from hemp, which means only the stalks of the hemp plant.
CBD Benefits
While doing research on CBD, I came across the human body's endocannabinoid system (ECS) which is pretty fascinating! The ECS is our body's primary regulatory system which keeps multiple body functions in a state of equilibrium.
We actually produce our own cannabinoids (called endocannabinoids) that modulate these biological processes throughout the entire body. As such, endocannabinoids have a wide-ranging effect on everything from fertility and sleep to appetite and pain. The phytocannabinoids in CBD exert the same activity in the body as our endogenous endocannabinoids do so we reap many of the same benefits.
While there is still a need for higher-quality studies regarding the benefits of CBD, the available research and clinical evidence is compelling. Below are the top 5 ways CBD can improve your health:
Reduces anxiety
Relieves chronic pain
Improves sleep
Fights tumors and slows progression of cancers
Helps epilepsy by decreasing seizure activity
What's the dosage?
Manufacturers recommend starting low and going slow. Try starting with a 25 mg serving and increasing or decreasing based on how you feel. An oral product often takes 90 minutes to kick in so be patient.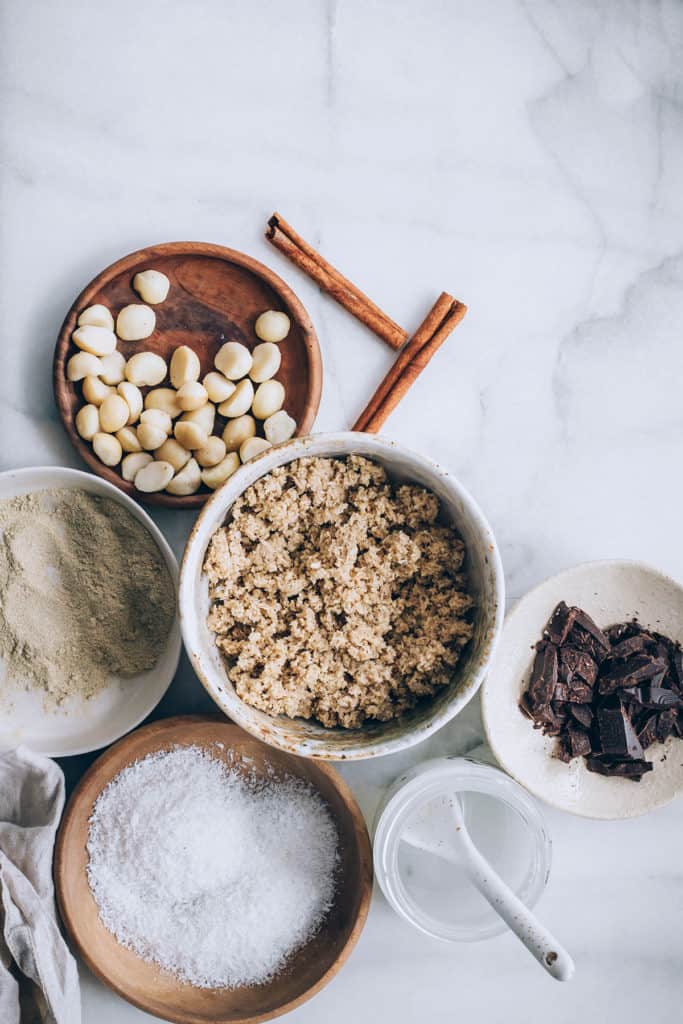 How to Use CBD
There are a handful of ways to use CBD. You can smoke it through a vaporizer, massage it into your skin using oils and lotions, ingest it through oils, honey, chocolate, or gummies and even take it in capsule form.
CBD-infused oil or honey is, in my opinion, the easiest and yummiest way to ingest CBD. You can use it in drinks (like golden milk lattes or hot chocolate), desserts, CBD bliss balls, soups, or simply consume it straight.
These CBD bliss balls recipe is perfect for an afternoon or evening snack, dessert, or quick bite post-workout.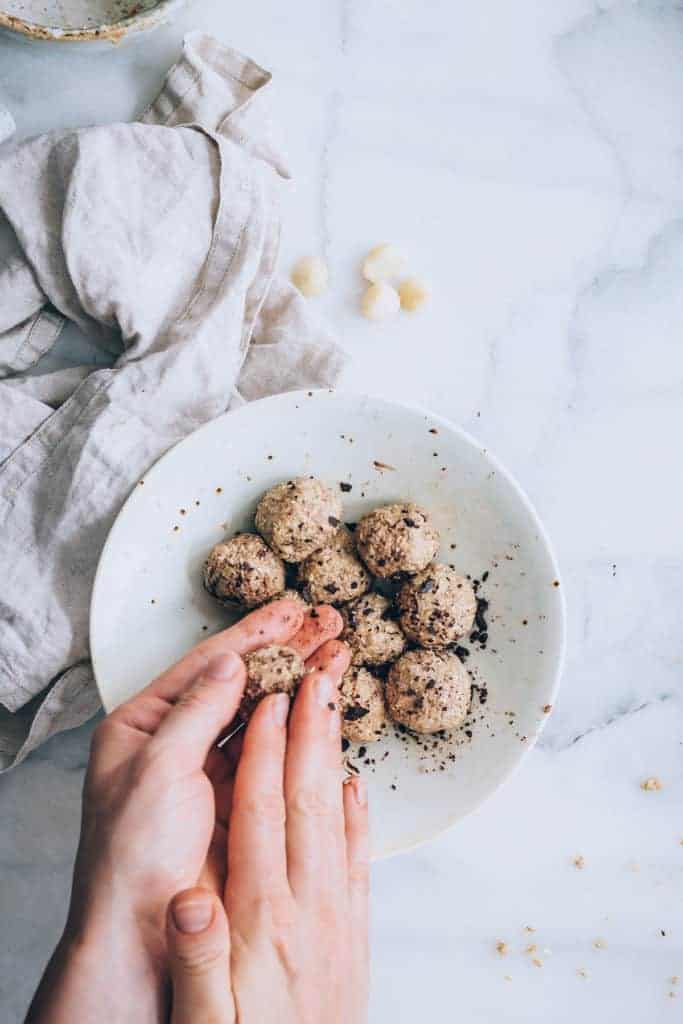 Bliss Out CBD Energy Ball Recipe
Makes 12
Ingredients
¾ cup macadamia nuts (I used roasted and salted, but raw works too)
1 tablespoon coconut oil, melted
1 tablespoon (120 mg) CBD-infused MCT oil (I used Infinite CBD)*
⅓ cup almond flour
⅓ cup unsweetened shredded coconut
½ teaspoon ground cinnamon
1 teaspoon pure vanilla extract
2 tablespoons cacao nibs
*If you get the Infinite CBD dropper, make sure to select the dosage you want (I chose 500mg). The default setting in the drop-down menu is 5,000mg which is very potent and also very expensive! We also like: Extract Labs, CW Hemp, Luce Farms and Upstate Elevator
Directions
Place the macadamia nuts in your high-speed blender and process for a few minutes until you get a thick paste. The roasted and salted ones worked well because they easily turn into a paste.
Add in the melted coconut oil and CBD oil. Process a bit more until you get a thick but smooth macadamia nut butter. If needed, add a bit more coconut oil until you get the texture required.
In a large bowl, combine the macadamia nut butter, almond flour, unsweetened shredded coconut, ground cinnamon and vanilla extract and mix until you get a mixture that's the texture of cookie dough.
Taste the dough and add a few drops of stevia or monk fruit if you want it sweeter.
Fold in the cacao nibs until they are evenly distributed.
Scoop one tablespoon of dough and roll it into a small ball between your palms. Repeat until all the mixture is used up. You should be able to get 10 CBD bliss balls.
Store in an airtight container in the refrigerator for up to a week, or in the freezer for up to a month.
0