Something about fall makes us crave comfort foods–warm apple pies fresh from the oven, creamy soups simmered on the stove, and tender vegetables roasted to caramelized perfection. The lovely flavors, the warmth–it's all about slow living and enjoying cooking at home for family and friends.
Comfort foods don't have to be heavy and unhealthy, though. I like to use every opportunity I have to enrich my food with healing ingredients, superfoods and healthy fats that turn every comforting meal into a highly nourishing one too.
Roasted Vegetables For Fall
During the cold season we have fewer fresh ingredients to choose from, so root vegetables, winter squash and tubers get to play the leading role. They are all loaded with minerals, vitamins and fiber, and their purple, orange and yellow colors announce their high concentrations of antioxidants, especially carotenoids. I can literally live on orange and purple vegetables for a good amount of time, and still have most of the nutrients my body needs to be healthy.
Roasting vegetables retains most of their nutritional properties, as opposed to boiling, where vitamins and minerals seep into the liquid that's discarded after cooking. For some winter veggies, such as sweet potatoes, roasting even increases their healing properties.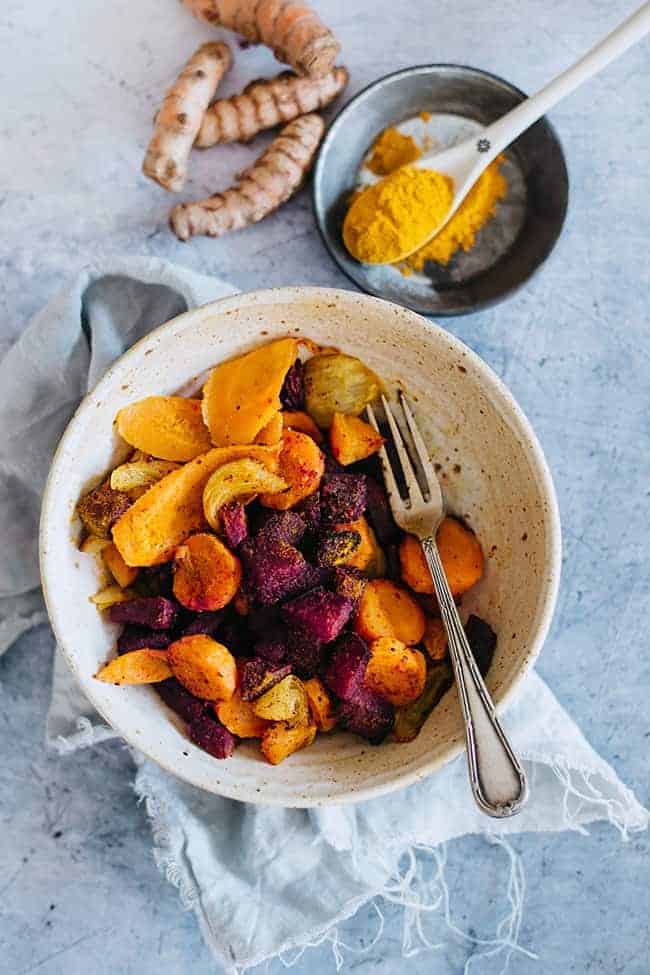 When you are roasting veggies high in beta-carotene, make sure you pair them with a healthy fat source, such as coconut oil. This will increase the absorption of antioxidants and make them more available for your body cells.
There are some secret ingredients you can add to your veggies when roasting to increase their healing powers:
Turmeric – the master Ayurvedic spice, with anti-inflammatory and antioxidant properties that make it a must-have in every kitchen.
Virgin Coconut Oil – one of the healthiest sources of fats, with anti-microbial, brain-boosting and cardiovascular health benefits.
Cayenne – a metabolism booster, digestive tonic and detoxification catalyst.
As a side dish, or as a simple meal on their own, roasted veggies are a favorite for my family, and these are two of the roasted vegetable recipes I cook most often: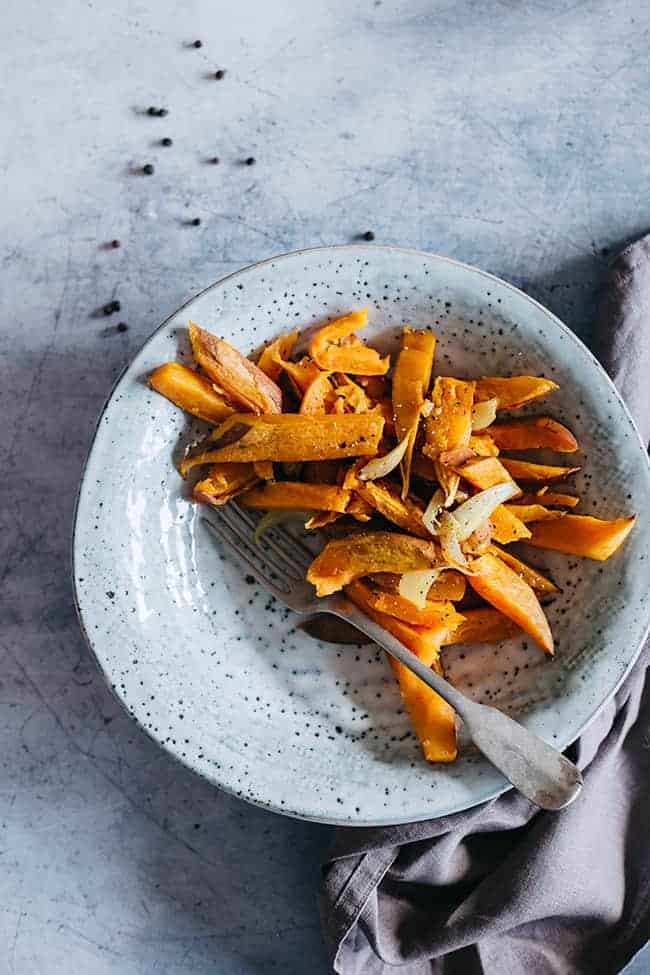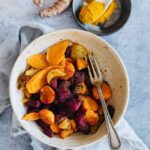 2 Healing Roasted Vegetable Recipes For Fall
These healing roasted vegetable recipes are a healthy way to get your comfort food fix this fall--and they're super easy to make, even on a weeknight!
Ingredients
Roasted Vegetables with Turmeric
2

large

carrots

chopped

2

large

beets

diced

1

large

squash

butternut, acorn, etc., chopped

1

large

onion

chopped

1

tbsp

coconut oil

1

tsp

turmeric

1

tsp

salt

1

tsp

black pepper

1/2

tsp

cayenne pepper
Roasted Sweet Potatoes and Onions
3 to 4

large sweet potatoes

chopped

1

large onion

chopped

1

tablespoon

coconut oil

1

teaspoon

black pepper

1

teaspoon

sea salt
Instructions
Roasted Vegetables with Turmeric
Preheat your oven to 400ºF.

Add all the ingredients to a large bowl. Mix well.

Spread the mixture evenly onto a baking sheet.

Bake for about 30 minutes, until the vegetables are tender.
Roasted Sweet Potatoes and Onions
Preheat your oven to 400ºF.

Add the sweet potatoes, onion, coconut oil, and black pepper to a large bowl.

Mix well, and spread evenly on to a baking sheet.

Bake for about 20 to 25 minutes.

Sprinkle with sea salt and serve.
Recipe Notes
Store leftovers in the refrigerator for 2-3 days. Gently warm prior to serving.
0