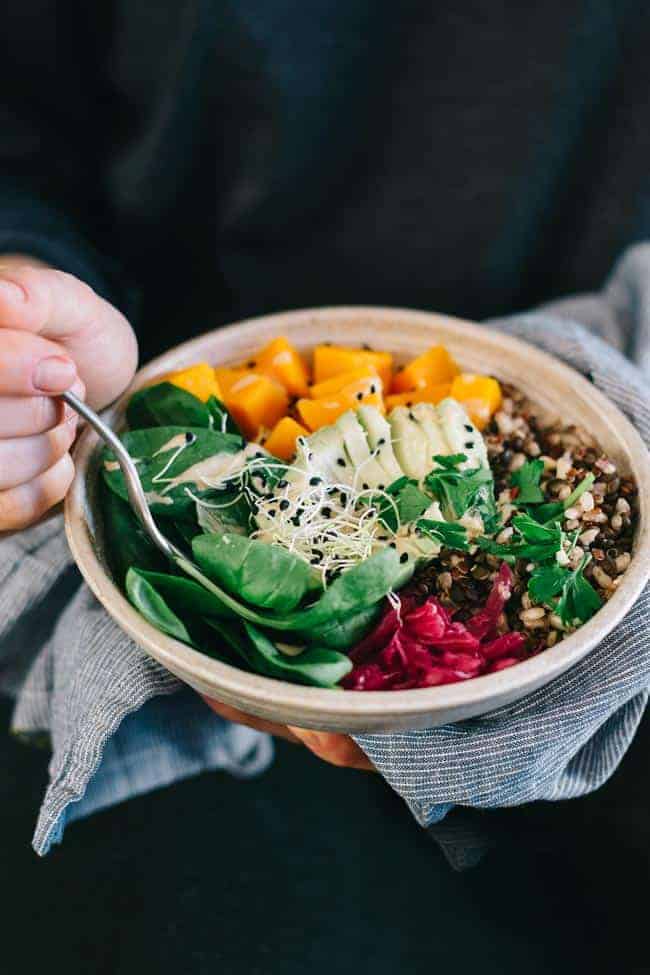 When meal kits first became a thing, I was totally skeptical. But 2 years and a toddler later, I'm a convert. I love these things! Let me tell you why:
They Make Grocery Shopping Easier
Most of these kits say they're for 3 meals, but I've realized that the portions are pretty generous and with a side salad or some fruit, we can make a 2-person meal plan last a full week for our family of three. So for weeks when I've got a meal kit coming, grocery shopping usually just amounts to grabbing some fruit and maybe bagged salad greens, some milk, and that's it. It's so nice to be in-and-out of the grocery store quickly instead of feeling like I've spent an entire morning there.
They Help Me Save Money—Really!
I was convinced that meal kits were totally overpriced, until I started becoming a regular user. Our food spending is consistently lower on weeks when we've got a meal kit on the way. I can easily drop $150 on a typical grocery shopping trip (I know, that's shameful!), but after careful tracking, I've observed that we typically come in under $100 a week with the meal kits (including the price of the kits themselves).
They Save Me From Meal Planning
I spend a ridiculous amount of time meal planning. What do we have in the pantry that needs to be used? How about the fridge? What produce can I buy on Saturday that will last until Friday? It's so nice to get a break from that.
They Get Us To Try New Things
So many of the recipes I thought we wouldn't like have been some of our biggest winners—and because you get the recipes sent to you, you can make them again and again. It's helped me add some more solid go-to meals to our regular rotation.
It seems like there are new meal subscription services popping up daily. Which ones are the best? These are some of my favorites.
(Note that some of these I've purchased on my own, others were sent to me and other Hello Glow staff to review. Some of these links are affiliate links too, which means we get a small commission for sending you their way if you make a purchase. Prices below are for 2-person plans, unless otherwise noted.)
Cost: Starts at $10.49 per meal – get $50 off your first order with this link
Perfect For: Anyone on a special diet and adventurous eaters.
Favorite Meal: Red Curry Tofu with Black Rice Ramen, Broccoli, Cauliflower & Peanuts
The Details: This subscription plan is hands-down the best for special diets, with options for Omnivores, Carnivores, Gluten-Free, Vegan, Paleo, and Vegetarian. Meals are creative and loaded with sustainable USDA organic produce and the packaging is eco-friendly. Subscriptions are flexible, allowing you to skip weeks or switch plans as needed.
Cost: $11.49 per serving
Perfect For: Healthy and organic eaters.
Favorite Meal: Sicilian Rigatoni with Cauliflower, Oranges, Pine Nuts, and Currants
The Details: With gluten-free, paleo and vegetarian options—and all ingredients organic and non-GMO—SunBasket is a great option for anyone with a passion for eating healthy. Recipes are all 30-minutes or less and breakfast options are available. All packaging is recyclable or compostable. You can change meal plans week-to-week and skip deliveries when you need to.
Cost: $61.50 for 3 meals – use the coupon code HELLOGLOW30 for $30 off your first order
Perfect For: Intermediate cooks who want something a little more complex, but not necessarily difficult.
Favorite Meal: Linguine in Miso Butter with Spinach and Shiitakes
The Details: Martha & Marley Spoon features recipes from Martha Stewart, and sources most of its produce from organic and sustainable sources. A vegetarian plan is available and you can choose your own recipes each week, with a flexible subscription that lets you skip weeks when you need to.
Cost: $9.99 per meal
Perfect For: People who want to cook, but have trouble finding the time for it.
Favorite Meal: Zucchini Flatbreads with Balsamic Onions, Olives & Walnuts
The Details: HelloFresh is one of the OGs of the meal kit game. I've found that their meals are easier to assemble than others and also require less cleanup afterwards, which is always a plus. Hello Fresh has a vegetarian plan, flexibility with how many meals you'd like to receive each week and the ability to pause your subscription.
Cost: $9.95 per person for dinners; $4.95 per person for breakfasts
Perfect For: Families who want meals that are guaranteed crowd-pleasers.
Favorite Meal: Baked French Onion Penne with Cremini Mushrooms and Swiss Cheese
The Details: If you're looking for twists on classics—rather than things that are completely new to you—HomeChef is ideal, with meals like Southern Fried Chicken and White Cheddar Grits and Spaghetti and Ricotta Meatballs. Vegetarian meals are available.
Cost: $10-79 per meal – get $10 of your first order with this link
Perfect For: Someone who likes the meals-in-the-mail idea, but wants more options and flexibility.
Favorite Meal: Mushroom, Broccolini, and Jack Cheese Custard Tart
The Details: Chef'd is perfect for anyone who doesn't want commitment—there's no subscription involved and you can choose from hundreds of meal kits from The New York Times, Atkins, Vegetarian Times, Weight Watchers, and more. Breakfasts and desserts are available too.
Cost: $59.94 for 3 meals – get 3 meals free on your first Blue Apron order

Perfect For: People looking to try something out-of-the-ordinary.
Favorite Meal: Warm Cauliflower & Kale Salad
The Details: Blue Apron is another brand that's been around for a while and has things down to a science. Vegetarian and pescetarian meals are available and your subscription allows you to skip weeks when you need to. Blue Apron also has a wine plan that delivers 6 bottles of wine per month for $10 a bottle.
Cost: Meals are $9 without a protein – use the coupon code HelloGlow30 for 30% off your first bundle
Perfect For: Anyone who wants to cut grains, dairy and refined sugars from their diets.
Favorite Meal: Rutabaga Noodles with Roasted Mushroom Pistou
The Details: Hungryroot offers plant-based meals, snacks, and desserts (with the option to add chicken to your order if you like) that are made without grains and refined sugar. Subscription bundles are available, but you can order a la carte as well. HungryRoot is a favorite in our household and even my toddler devours their beet noodles!
Cost: $59 for a 3-month subscription
Perfect For: Families with kids (and anyone with a sweet tooth!)
Favorite Meal: Chocolate Lovers Brownie Mix
The Details: Foodstirs delivers desserts and breakfasts only, but it's too good to leave out—all of its kits are organic and they're perfect for kids (I love this Blooming Basket Cookie Kit for Easter!)
0