Did you know ginger is a flowering plant and its official name is Zingiber officinale? The rhizome, more commonly known as the root, is what you are likely familiar with.
Ginger root is spicy and pungent and has a very long history of use in various forms of traditional and alternative medicine–for good reason, as ginger is a powerful superfood with many health benefits! It is an anti-inflammatory and anti-spasmodic herb which can be used as a digestive stimulant as well as in the treatment of numerous painful inflammatory conditions from arthritis to dysmenorrhea.

The Health Benefits of Ginger
There are so many health benefits of ginger, it would be hard to list them all here! But these are the top five reasons I recommend incorporating ginger into your diet:
Enhances digestive strength
A common Ayurvedic remedy for firing up digestion before meals is taking a small "shot" of ginger juice (mixed with honey and lemon) or chewing on a slice of fresh ginger. Ginger increases motility within the GI tract which is really helpful for those with sluggish digestion. I recommend it often for those who deal with heartburn, gas, bloating and constipation.
Relieves nausea and headaches
Ginger's use for the treatment of headaches and nausea dates back 2500 years in both China (Traditional Chinese Medicine) and India (Ayurveda). Modern science has caught up to ancient wisdom as the research now shows ginger is effective in providing relief from nausea associated with motion sickness, morning sickness in pregnancy, post-surgery and chemotherapy. As ginger is traditionally used to treat pain and inflammation, it can also be used to stop headaches and migraines at their onset for some people.
Reduces inflammation and improves immunity
Chronic inflammation wreaks havoc on the body and is at the root of many modern diseases. One of the health benefits of ginger is that it has been shown to inhibit the production of pro-inflammatory cytokines and thus decrease the overall amount of inflammation in the body. Ginger also has antibacterial properties that can inhibit the growth of pathogens that makes us sick.
Remedy for menstrual cramps and pain
Ginger is widely respected for its anti-inflammatory and pain-relieving effects, with several studies showing impressive results for menstrual cramps and pain. This is one of my go-to natural remedies for women with dysmenorrhea. The effective dose is 500 mg in capsule form three times/day, though up to 3,000 mg/day is considered safe. I recommend taking 1,500 – 3,000mg per day starting the week before your period and continuing through day 1-2.
Positively effects blood sugar, blood pressure and cholesterol
Ginger supports healthy blood sugar balance which is super important for reducing risk for type 2 diabetes and other metabolic issues. Ginger is also helpful for reducing high blood pressure and LDL cholesterol.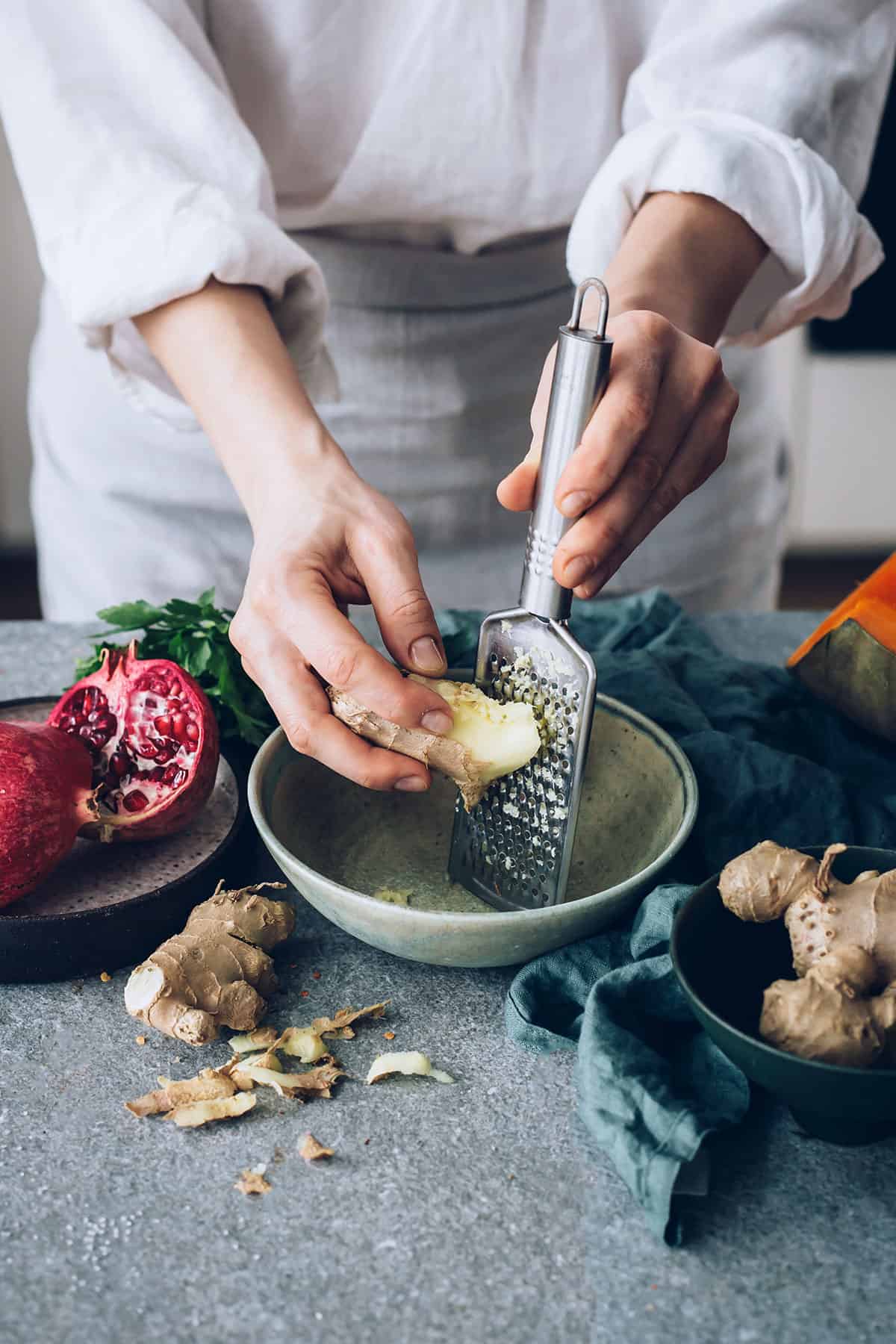 How to Use Ginger
Here are some easy ways to reap the health benefits of ginger.
Use fresh in stir fries, smoothies and in the delicious side dish below!
Use ground in baked goods and raw treats
Drink as a tea – I like slicing fresh ginger root and steeping it in hot water, but you can also buy ginger tea bags.
Take as a tincture – Ginger tinctures are great before meals to stimulate digestion.
Take in capsule form – This is the form I recommend when higher doses are needed.
Eat crystalized ginger – These are like ginger candies because they're coated with sugar so I don't recommend them for daily use but they're great on trips if you're prone to motion sickness!
Ginger also be used externally as a poultice and in baths for pelvic discomfort.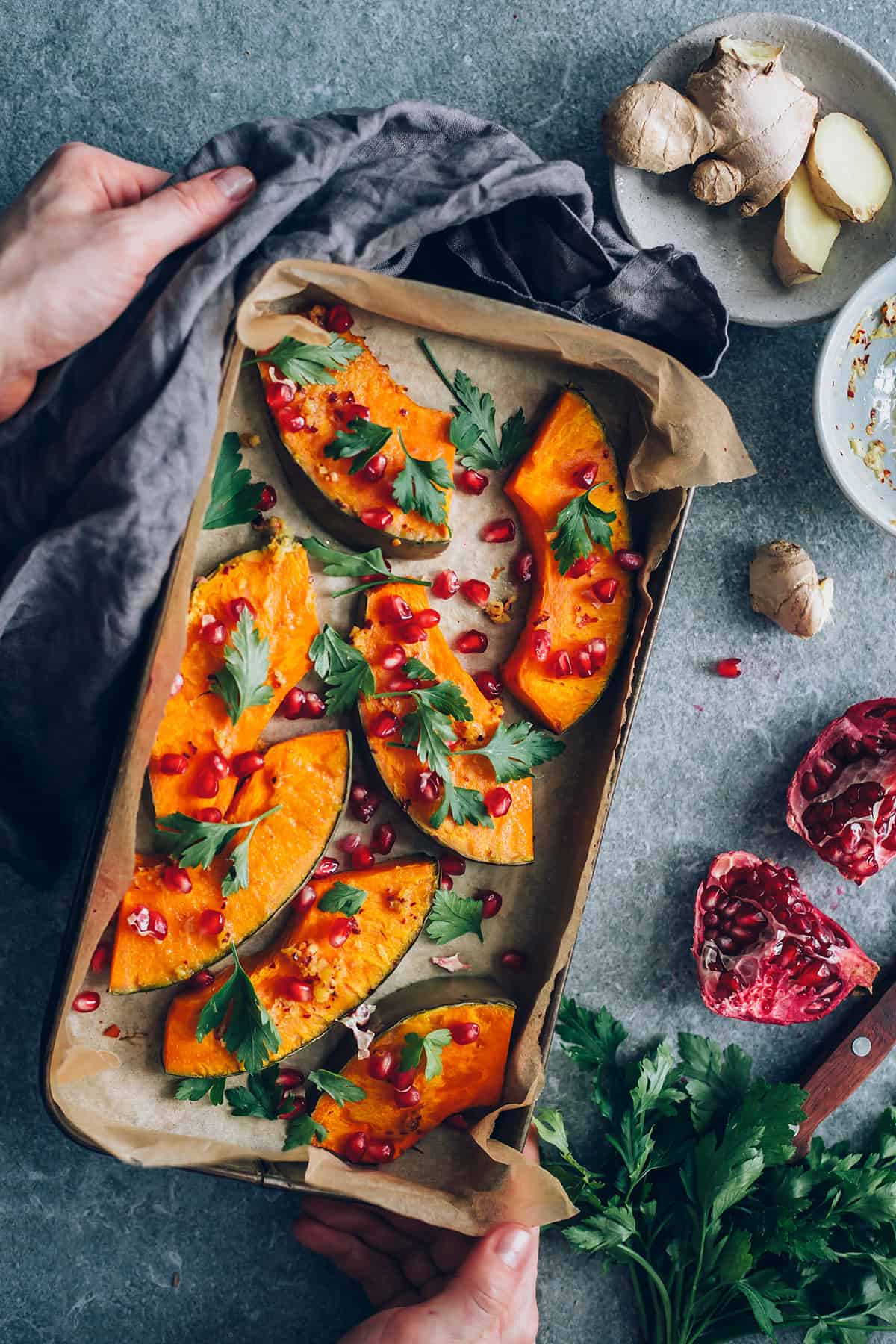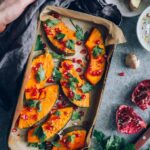 Ginger-Chili Roasted Winter Squash
A holistic nutritionist shares some of her favorite health benefits of ginger and a recipe for Ginger-Chili Roasted Winter Squash.
Ingredients
2

delicata squash or 1 acorn squash

halved lengthwise and seeded

1

tablespoon

coconut oil

melted

1

tablespoon

fresh ginger

peeled and grated

1

tablespoon

red Fresno chili

minced

½

tsp

sea salt

¼

cup

pomegranate arils

¼

cup

fresh cilantro

chopped
Instructions
Preheat oven to 425ºF.

Cut squash halves into 1-inch-thick slices. Combine oil, ginger, chili and salt. Rub over slices. Arrange in a single layer on a baking sheet. Bake for 20 minutes; turn over and bake another 10 minutes.

Top with pomegranate and cilantro.
Recipe Notes
While I use roughly 1 tablespoon ginger in this recipe, feel free to use as much as you like! You can even sprinkle fresh ginger over top the squash once it's out of the oven to reap even more of the health benefits.
Nutrition Facts
Ginger-Chili Roasted Winter Squash
Amount Per Serving
Calories 84
Calories from Fat 32
% Daily Value*
Fat 3.5g5%
Sodium 238mg10%
Potassium 400mg11%
Carbohydrates 14g5%
Protein 1g2%
Calcium 38mg4%
Iron 1mg6%
* Percent Daily Values are based on a 2000 calorie diet.
0