A lot of grilling recipes are heavy on the meat, but not this one! Have you tried cauliflower steaks yet? I keep seeing them all over the place with different sauces and even marinades. We happen to love them, but never thought of grilling them. I'm so glad we did because they are even better grilled. Plus, no oven required! (Which is helpful in summer.)
Chimichurri is a popular condiment from Argentina. It's typically served with grilled or roasted meats, but it pairs really well with the grilled cauliflower steaks. The cilantro and parsley in the chimichurri are full of health benefits, especially when combined with the cauliflower, so you can think of this as a sort of detox meal. I also use plenty of lemon juice and vinegar, and a hit of spice. At our house, we have to make double or triple batches of chimichurri because we even eat it by the spoonful.
Cutting the cauliflower steaks can be a little daunting. My advice is to get an extra head of cauliflower, and buy the biggest ones you can find. When you cut them into "steaks," you only want to cut away the green leaves and leave the stem intact. This will hold the florets together. I like to cut 1- to 1 1/2-inch thick steaks. Start with one cut in the center and then make two more cuts 1- to 1 1/2 -inch out— if the cauliflower is large enough, you might even get another one or two steaks.
The ends will crumble into florets. Save them to make cauliflower rice or for another use. Repeat the process with the other cauliflower head(s). All they really need is a brush of olive oil and a sprinkle of salt and pepper, and they're ready for the grill!
Don't be tempted to overcook these. They should be tender-crisp. The outside will get nicely browned. Cook over direct heat, but if it looks like the steaks are browning too quickly and remaining raw in the middle, then move them to indirect heat.
To serve as a main dish, plan on 1-2 steaks per person, depending on how large they are. For a side dish plan on 1/2 to 1 steak per person. The chimichurri recipe yields about 2 cups of sauce. Use liberally, because it's delicious!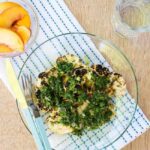 No Oven Required: Grilled Cauliflower Steaks with Chimichurri
These tasty grilled cauliflower steaks are topped with a tangy fresh herb sauce. A great vegetarian main dish.
Ingredients
2-3

very large cauliflower heads

2

extra large bunches flat leaf parsley

about 4 cups packed

1

large bunch cilantro

about 2 cups pack

3

garlic cloves

minced

2

shallots

minced

3/4

cup

extra virgin olive oil

1/4

cup

fresh lemon or lime juice

1/4

cup

white wine vinegar

1/2

teaspoon

sea salt

to taste

1/4

teaspoon

red pepper flakes
Instructions
Preheat a grill to medium high heat.

Prepare chimichurri. Remove cilantro and parsley leaves from stems. Finely chop the herbs with sharp knife or in a food processor. Transfer to a medium bowl. Add the garlic, shallots, lemon juice, vinegar, salt, and pepper flakes. Stir well. Cover and set aside until ready to serve.

Wash the cauliflower well. Trim away green leaves and the very bottom of the stem, but no more than 1/4". Keeping the stem intact will hold the steaks together. Place the cauliflower on cutting board, stem side down. Starting in the center, cut down through the center. Make cuts 1- to 1 1/2-inches out from the center to make the "steaks". Repeat with the other cauliflower. You should get between 4 to 6 good-sized steaks. This might vary if the florets fall away from the stem. (It's frustrating, so I always buy more cauliflower than I think I'll need just in case.)

Rub or brush each cauliflower steak with a little olive oil and season with salt and pepper. Oil the grill grates using a wad of paper towels dipped in a little oil and held with tongs.

Place the steaks on the grill and cook on each side for 3-4 minutes. When turning the steaks, do so very carefully so they don't fall apart. I find it's easier to firmly grasp the stem with the tongs and gently lift and turn it over.

Transfer the steaks to plates and top with chimichurri. Serve warm.
Recipe Notes
-Depending on how big the steaks are, you can serve 1-2 steaks per person.-The steaks should be tender crisp. Don't be tempted to overcook these!-Cook over direct heat on the grill, but be careful not to burn them. Move to indirect heat if it looks like they are getting done on the outside too quickly before they are cooked through.-This makes about 2 cups of chimichurri sauce.
1