Even if you're not a morning person by nature, there's no question that having a solid routine at the start of the day can help set you up for success. But what does a good morning routine look like? Well, that definitely varies from person to person.
We asked some of our favourite healthy bloggers to share what gets them going in the morning, how they fuel their day, and what they do to set themselves up for success. Maybe you'll find some inspiration to pull into your own morning routine, too!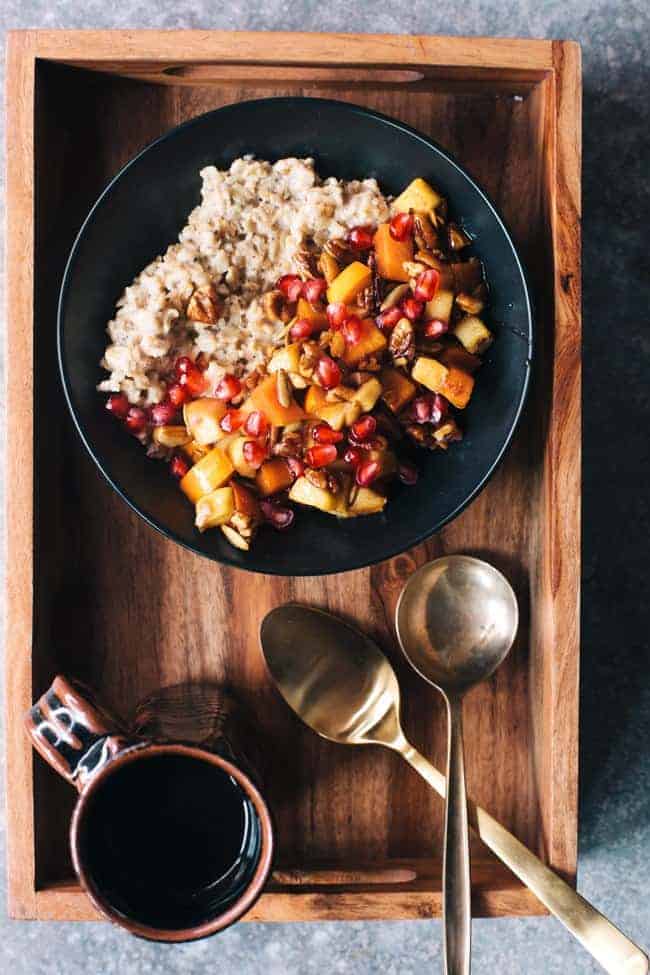 Haley from Brewing Happiness likes to start her day with at least an hour of screenless time. "This allows me to connect with my body and my humanity first, instead of work or social media comparisons."
Then she makes her go to breakfast for this time of year, Winter Superfood Oats. After breakfast, she takes the time to make a nice French press coffee and drink it while reading a book. "When I'm done with my coffee, I jump right into work or a workout, and I'm ready to conquer the day!"
Alexandra from Occasionally Eggs gets up just before 6:00AM every morning. She starts by drinking a glass of water, a glass of kombucha, and making a pot of unsweetened herbal tea. "It's a good way to make sure I'm getting enough to drink every day. In the winter in particular I can't live without hot tea in the morning."
For breakfast she has oatmeal with fruit, honey, and a little coconut oil just about every morning (like this persimmon porridge). "Ideally I like to relax and read a novel while I'm eating but if I don't have a book on the go I end up checking my favorite blogs and replying to emails."
Part of the reason Alexandra likes to get up so early is because she likes to take some time over breakfast. "I think it's important to start the day off with a little calm. I wish I could wake up and do my yoga practice right away, but I need to eat pretty much as soon as I get up or I can't function!" After breakfast she jumps into her skincare routine – just wash, dry brush, and moisturize. If it's not raining she likes to go for a quick walk before starting work.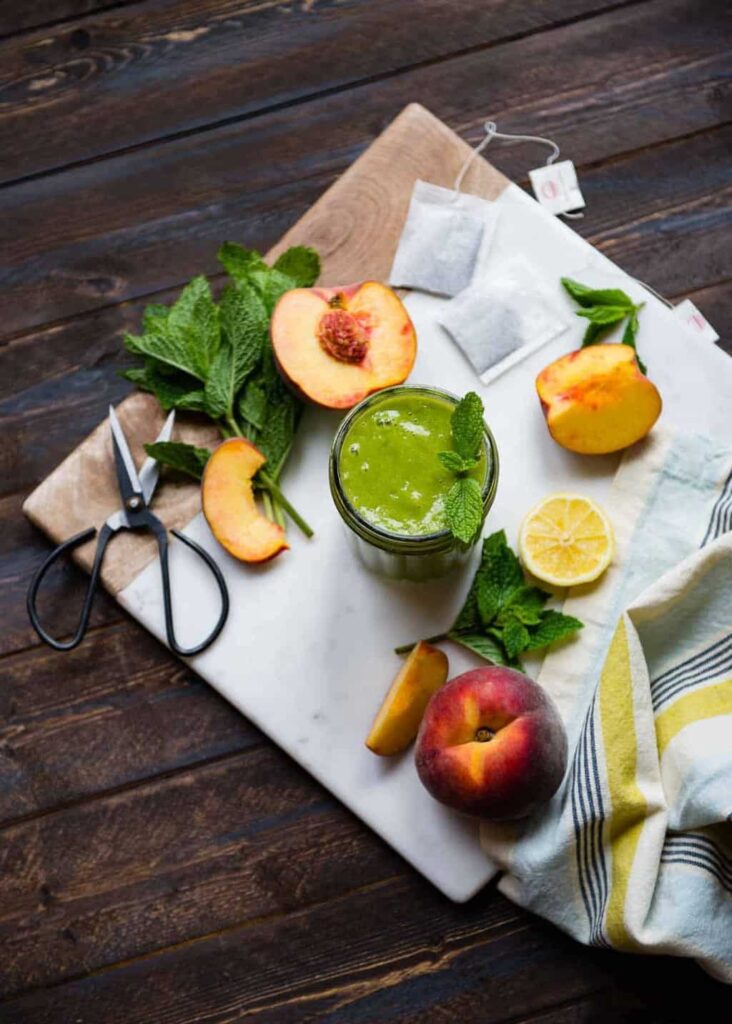 Lindsey from Cafe Johnsonia wakes up naturally around 5:30-6am, "which is nice because I hate alarm clocks! I brush my teeth and drink a big glass of water, then head into my kitchen."
She's usually the first one awake, so she likes to take some quiet time to herself. Most days she drinks a glass of warm lemon water spiked with turmeric, ginger, cayenne, black pepper, and if she remembers, some MCT oil. "I feel like hydrating myself properly from the get-go is important for helping me wake up and it seems to prevent headaches, too."
Once everyone else is up and off to school/work, Lindsay has a late breakfast and catches up on emails and social media. "Most of the time I blend up a green smoothie of some sort, but I also enjoy the occasional bowl of oatmeal with either a sliced banana or frozen tart cherries, a spoonful of nut butter, sprinkle of cinnamon, and a tiny drizzle of maple syrup."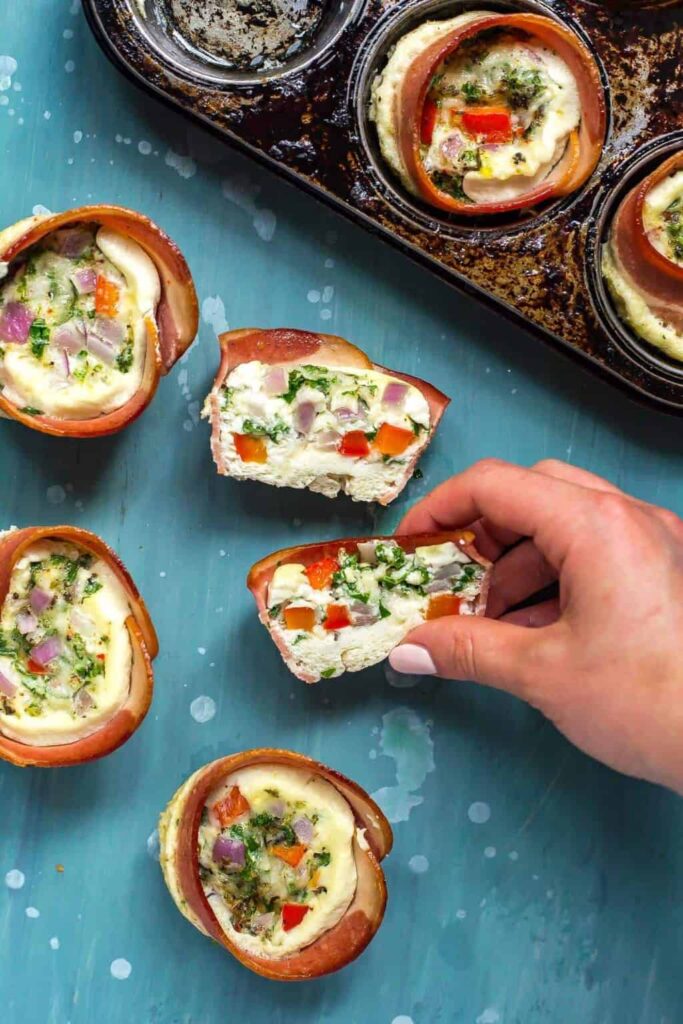 Taylor from The Girl On Bloor says that she's definitely a morning person, and likes to start her day alone! "I'm up at 7am on weekdays because the early morning hours are when I'm most productive; I make myself an iced coffee whether it's hot or cold outside and I get to work right away."
Taylor often starts the day by going over the big picture goals for her blogging and food photography business. "I'm huge on visualization and really believe that a little bit of that at the start of the day is like a kind of meditation that helps set the tone for the rest of the day. It also helps you really feel grateful for everything you have going on personally and professionally."
Even though she's a morning person, Taylor isn't a big fan of breakfast, "so I try to make it easy for myself and meal prep a breakfast recipe like these turkey bacon egg white cups at the start of the week so that it's super easy to just grab something out of the fridge and eat while I'm working!"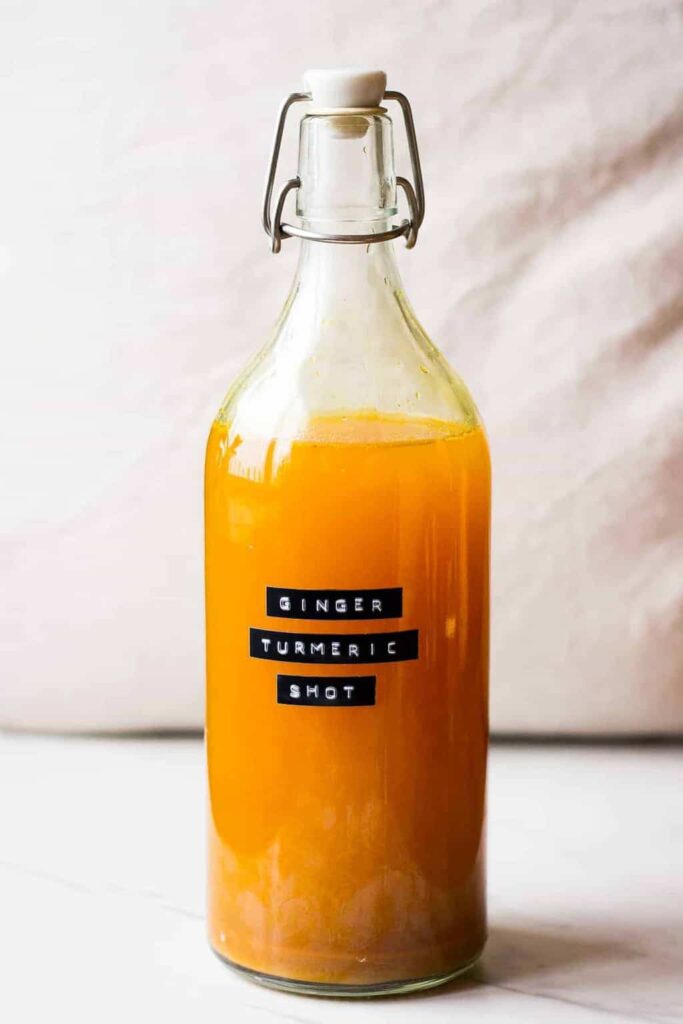 Petra from Nutritionist Meets Chef says that despite not being a morning person, she always tries to get up at 6:30 each morning. She start her day with a large glass of room temperature water to rehydrate, then it's time for a small cup of coffee/tea for a caffeine kick and breakfast.
"Right now I'm craving a warm breakfast and I'm having porridge almost every morning. I'm also having this turmeric ginger shot each morning, a really invigorating drink that can boost immunity too."
She tries to move her body each morning – a walk, yoga, jumps or just dancing to a good tune! Anything to get the blood pumping! "Also, I love to use a jade face roller each morning, I feel it helps to wake me up and it rolls away any morning puffiness!"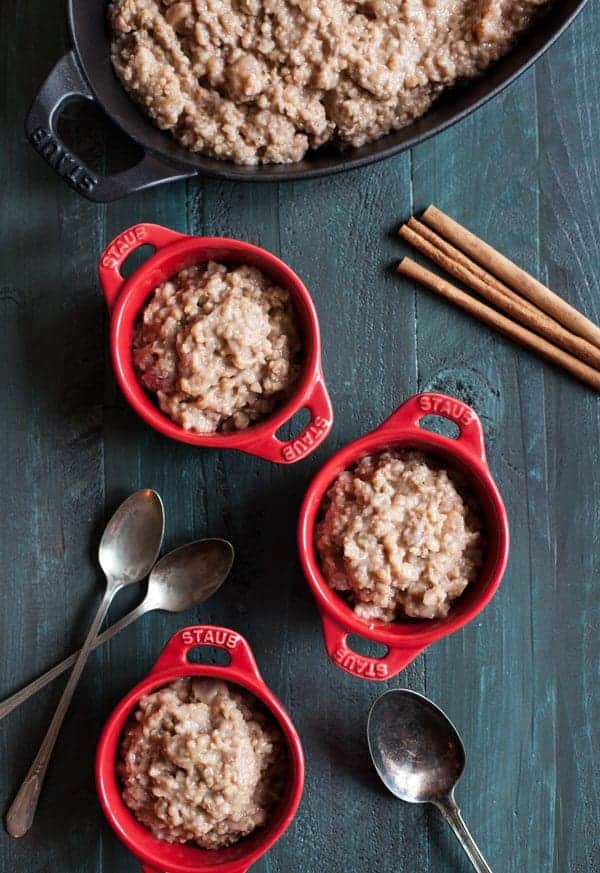 Gena from The Full Helping says that what gets her going in the morning is undoubtedly the promise of coffee, "but I do try to chant the Gayatri Mantra and meditate on things I'm grateful for for a couple minutes before I do anything else. Then I make a pot of coffee and enjoy it."
She usually practices yoga early, but if she can't, then a short, simple, gentle routine at home does the trick. Not long after, Gena puts together a grounding and hearty vegan breakfast: usually breakfast tacos, toast, oatmeal, or leftovers.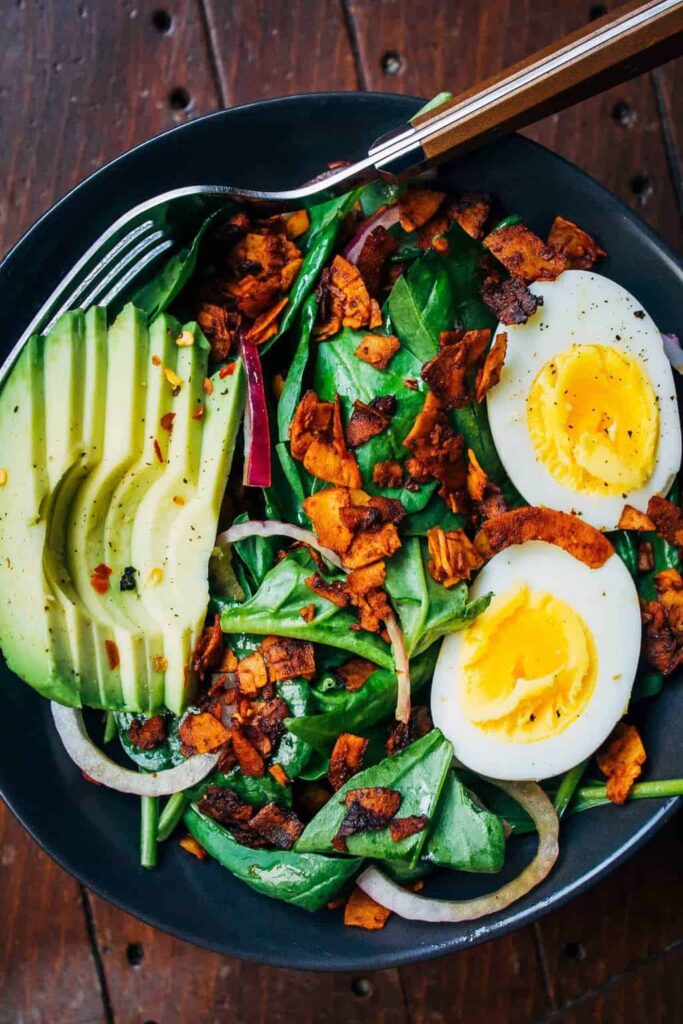 Sarah from Well and Full wakes up every weekday at 8:15, and jumps right out of bed. "I've never been one to lounge or start the day slowly – moving around with purpose helps me energize my body!" Although she knows it may be controversial, Sarah rarely eats breakfast. "I just don't feel naturally hungry in the morning, and it's always been important to me to listen to my body."
But she does start the day drinking a glass of water, since hydrating first thing in the morning will fire up your metabolism and keep you energized. After that she takes her coffee – brewed strongly with a shot of almond milk (no sugar).
"When I AM in the mood for breakfast, I like to keep things light and fresh – and savory! I'll never say no to a good breakfast salad or a bowl of hashbrowns topped with pesto."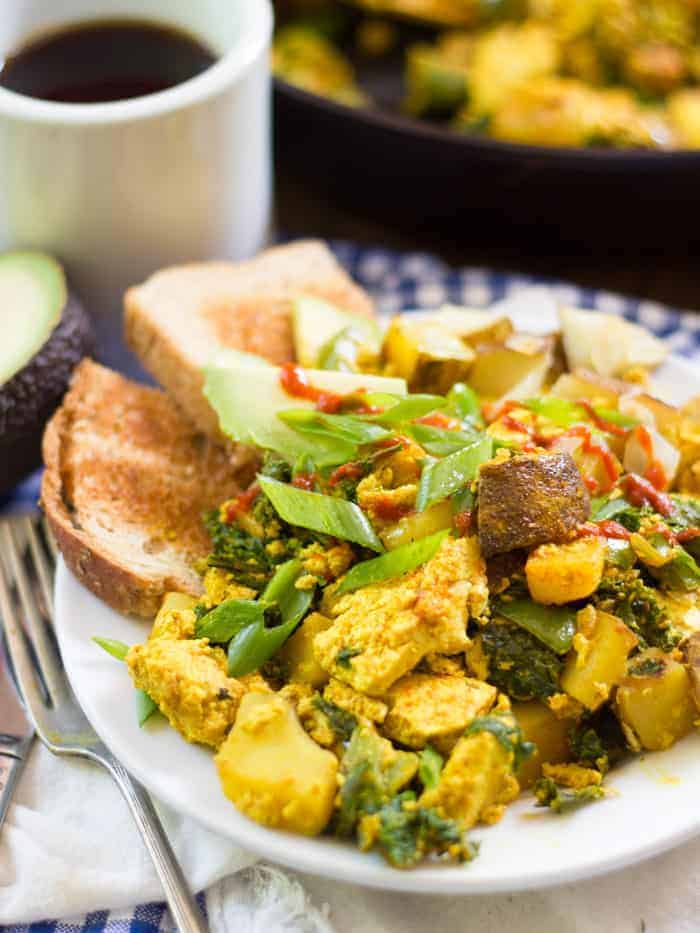 Alissa from Connoisseurus Veg says that she's not at all a morning person by nature, so she takes it easy and is really gentle on herself for the first couple hours of the day. "I always eat a substantial breakfast – it takes something really good to lure me out of bed!"
Make-ahead tofu scrambles and oatmeal with the works are a couple of Alissa's favorites. She works on easy tasks early in the day and hits the gym during the late morning hours. "As much as I'd like to put it off, I know a good workout will clear my head and set me on the right track for the rest of the day."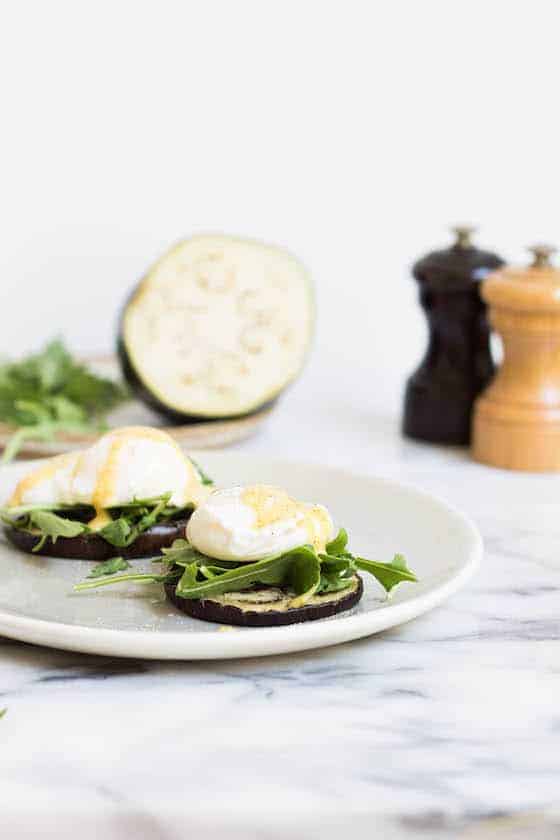 Alison from Food by Mars starts her day with a big glass of room temperature water to get hydrated, then does a quick 5-minute yoga flow to stretch and wake her body up so her joints aren't stiff going into the day.
"Then I go about my business, getting ready for work and getting my meal prepped breakfast ready that is usually packed full of protein, greens, and healthy fats, like a good breakfast salad or hash!"
While she's on the subway, Alison looks at her calendar and uses an app she's recently fallen in love with, called "GRATEFUL" which prompts her every morning and evening to list what she's grateful for that day. "Sometimes it's 'a good night sleep' or 'hot shower' and other times it's in anticipation of what I'm looking forward to later to get me excited and motivated for the day ahead."
(Pictured: Eggplant Benedict)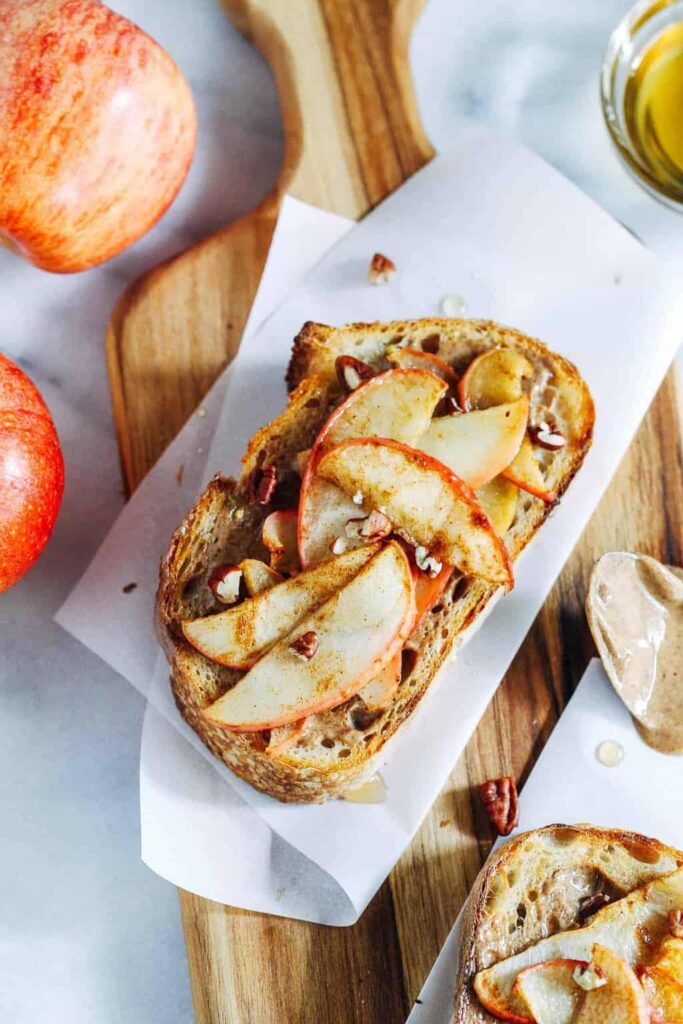 Sarah from Making Thyme for Health believes that starting her day with the right mental focus is absolutely crucial. One thing that helps her do that is filling out The Five Minute Journal before she gets out of bed in the morning.
"It encourages me to make a daily list of what I'm grateful for, what I look forward to accomplishing that day, as well as positive affirmations. Having that reminder first thing helps get me in a positive state of mind which makes it easier for me to stay productive and tackle any stressful events that might come up."
(Pictured: Gingered Apple Almond Butter Toast)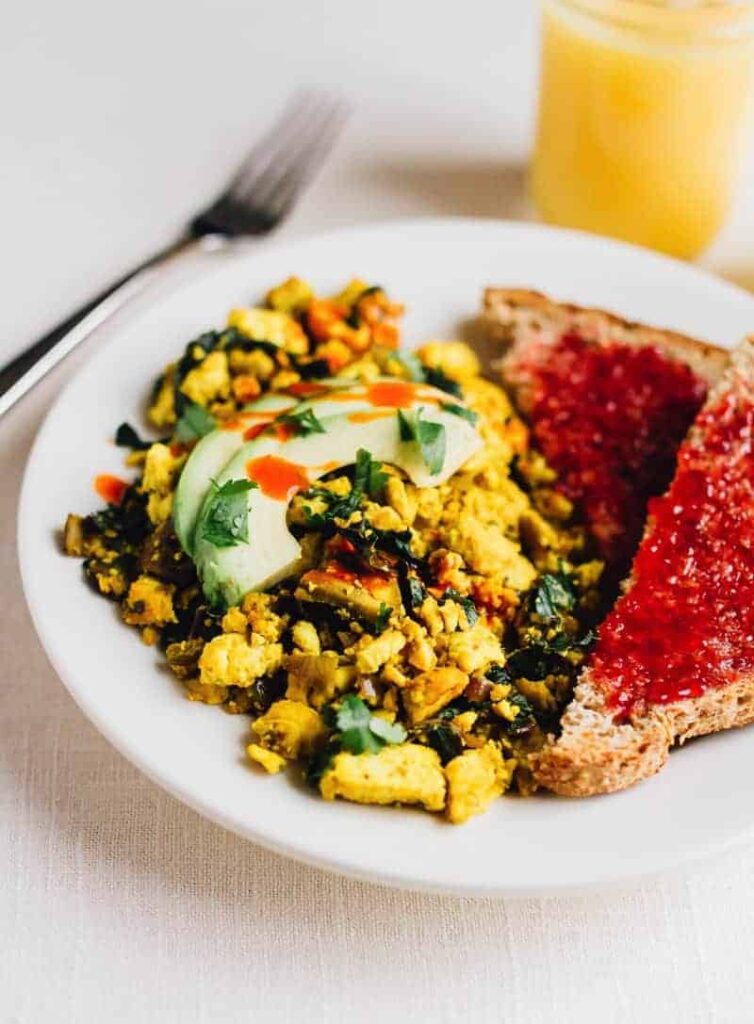 Brittany from Eating Bird Food says that her morning routine looks a little bit different depending on what she has going on that day, but in general every morning starts with making the bed.
Not only does she love getting into a crisply made bed each night, but having a tidy space is important to Brittany since she works from home. "I feel like I can't be productive if things around the house are cluttered and disorganized."
Water and coffee are also non-negotiables for Brittany!
(Pictured: Golden Tofu Scramble)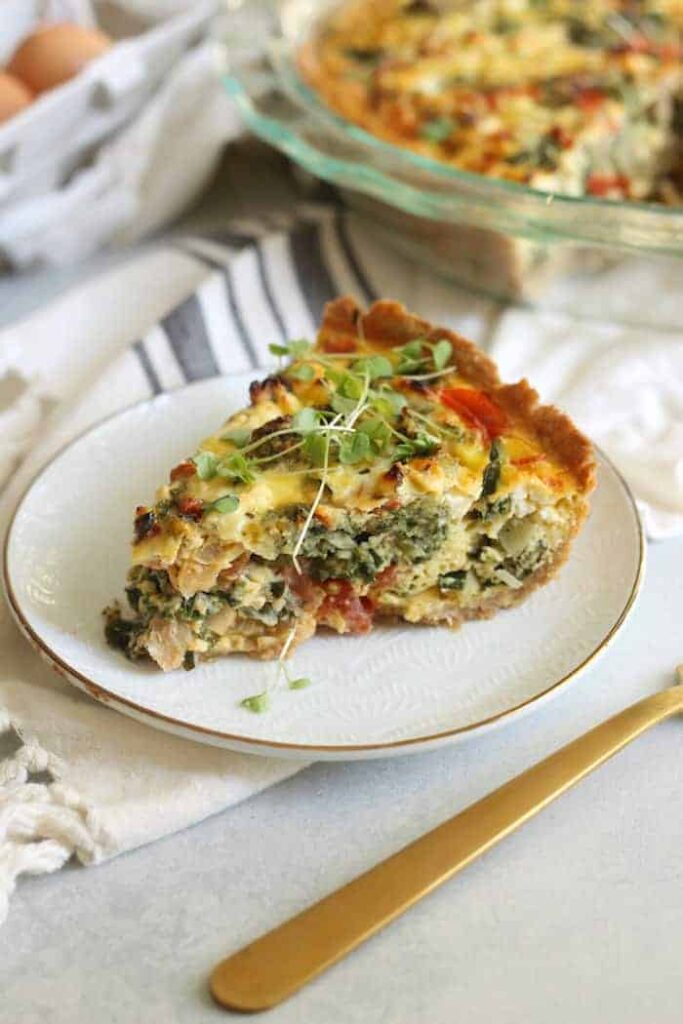 Alexis from Hummusapien says her morning starts with the coffee pot! She cherishes her alone time in the morning to sit at the counter when no one's texting her yet, to sip hot coffee, and write. "There's something so cozy and soothing about uninterupted morning. I don't like being rushed so I try to get downstairs by 7ish."
Alexis says (in her words!) that she freaking loves breakfast! So nourishing and delish! Lately she's been making big steamy bowls of steel cut oats topped with almond butter and leftover cranberry sauce or with heated blueberries and peanut butter. If she's craving savory, she'll fry up a couple eggs in avocado oil with a couple pieces of avocado toast topped with plenty of salt, red pepper flakes, and micro greens from her CSA.
"When it's warm out, I'll make a loaded smoothie like this Creamy Chocolate Blueberry Shake. If I'm feeling ambitious, I'll make my boyfriend and I a yummy quiche or pancakes. We loooove pancakes!"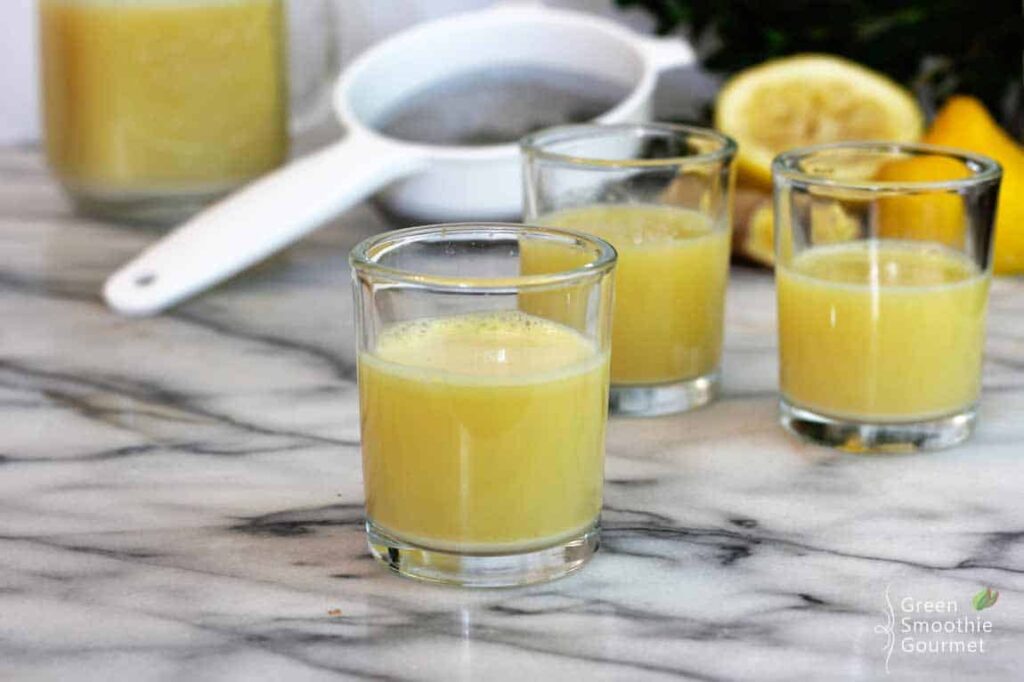 Debbie from Green Smoothie Gourmet says that her my morning ritual actually starts at bedtime with a restful latte, either turmeric or cherry rose. And she always makes sure to be in bed before midnight – wellness studies show sleep before midnight is more beneficial to the body than sleep after midnight.
In the morning Debbie always finds time to step outside to feel the day's air on her face. "Sometimes I walk the dog, but even if someone else did that, I still step outside, feel the air on my face, and allow the day to welcome me."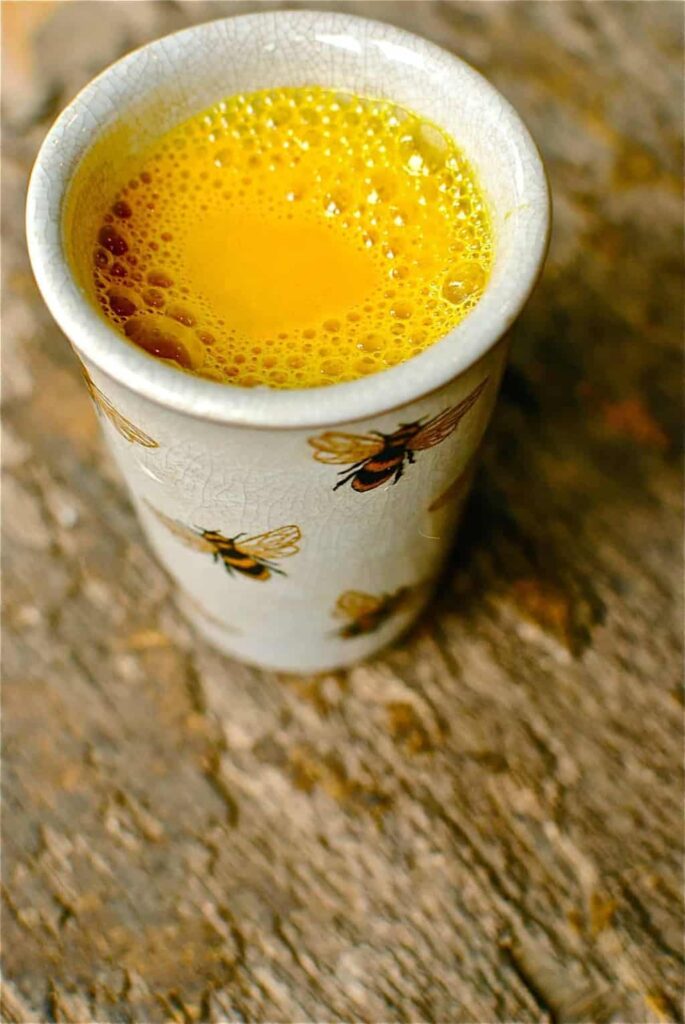 When she's back inside she prepares cleansing blender ginger-lemon shots for her husband and herself, whereas her children go straight to simple smoothies, either pre-prepped from ice cube concentrates the previous night, or freshly mixed. Over breakfast Debbie puts down her phone and reads a paper newspaper. "Scanning headlines of the Washington Post is a long-time habit that feels grounding."
Kellie from Food to Glow suffers from chronic pain issues due to lupus, and so for the past eight years or so she has started her day with golden turmeric milk. "Long before it was the must-have drink for anyone interested in health, I've been faithfully slugging back my mix of almond or hemp milk gently heated for the magic six minutes with pharma-grade curcumin, fresh black pepper, and chai masala spice drops. I pour the saffron-hued drink into my favourite mug and stir in a small dollop of manuka honey."
Kellie doesn't "do" caffeine but between this warming and stimulating drink and a sipped pint of cold matcha tea, she feels perky and ready for the day. Well, usually!
0