Christmas morning should be all about comfort and coziness, and there's nothing cozier than a plate full of fluffy gingerbread pancakes. We made these pancakes gluten-free, using buckwheat flour for a rich texture and a protein kick, and served them with a quick orange compote and a dollop of Greek yogurt. We also added candied ginger as a surprise for the little ones. Delicious!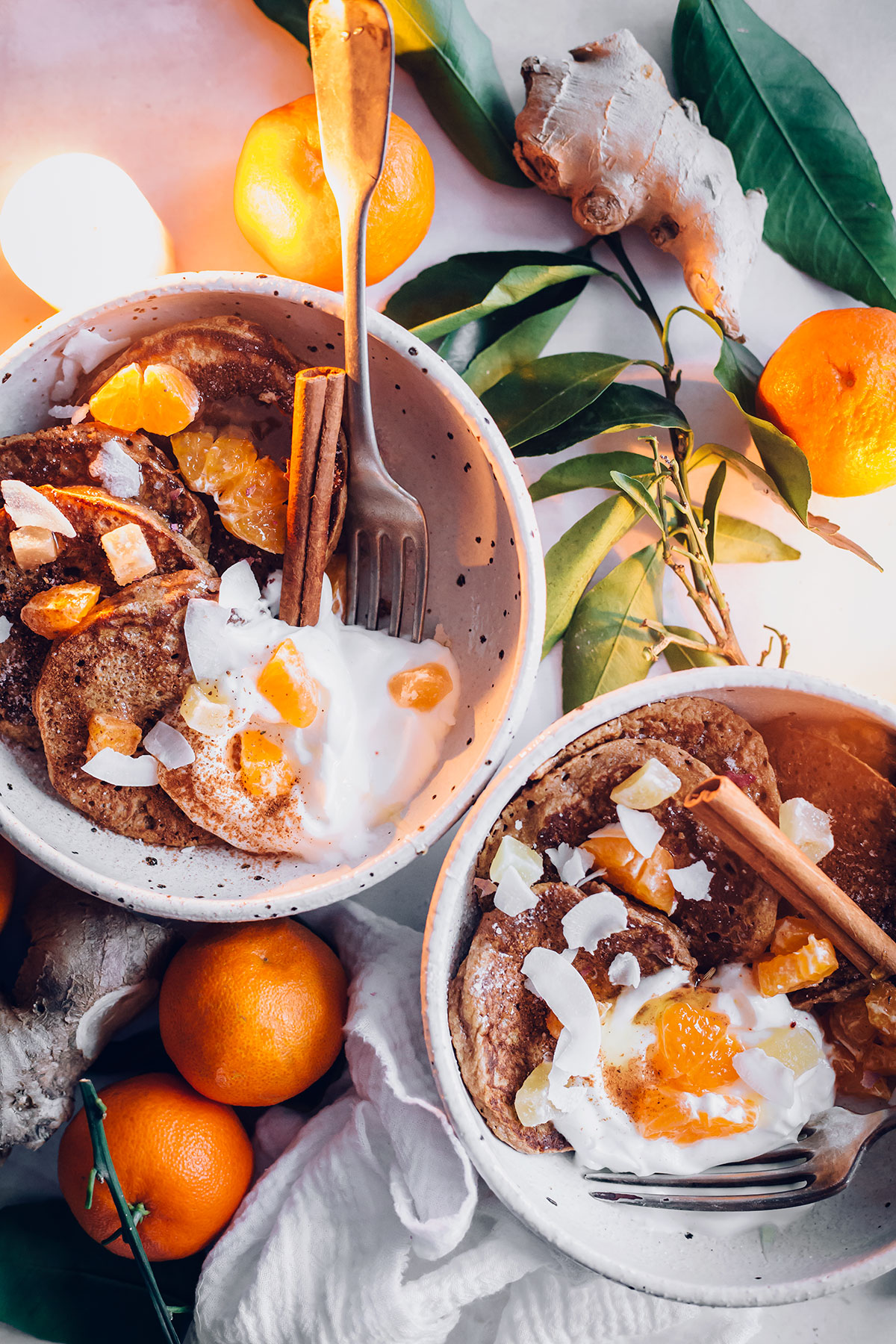 If you are a fan of pancakes, this gingerbread version will quickly turn into your favorite holiday breakfast. Imagine ginger and cinnamon flavors, a fluffy texture, but none of the digestive burden of plain flour and dairy. So, what's inside these beauties?
Eggs – they are the secret to a successful gluten-free pancake that stays together. They also add protein to your breakfast, to keep you full and give you energy.
Buckwheat flour – this is our favorite gluten-free flour because it's loaded with minerals, fiber and protein, and gives a subtle nutty flavor to the pancake mix.
Plant milk – we used unsweetened almond milk, but any plant milk will do.
Banana – it sweetens the pancakes to help you avoid refined sugars, while also adding a good dose of essential mineral potassium and fiber.
Coconut sugar – for a gorgeous brown color.
Baking soda
Spices – ginger powder, cinnamon powder, all spice and cloves.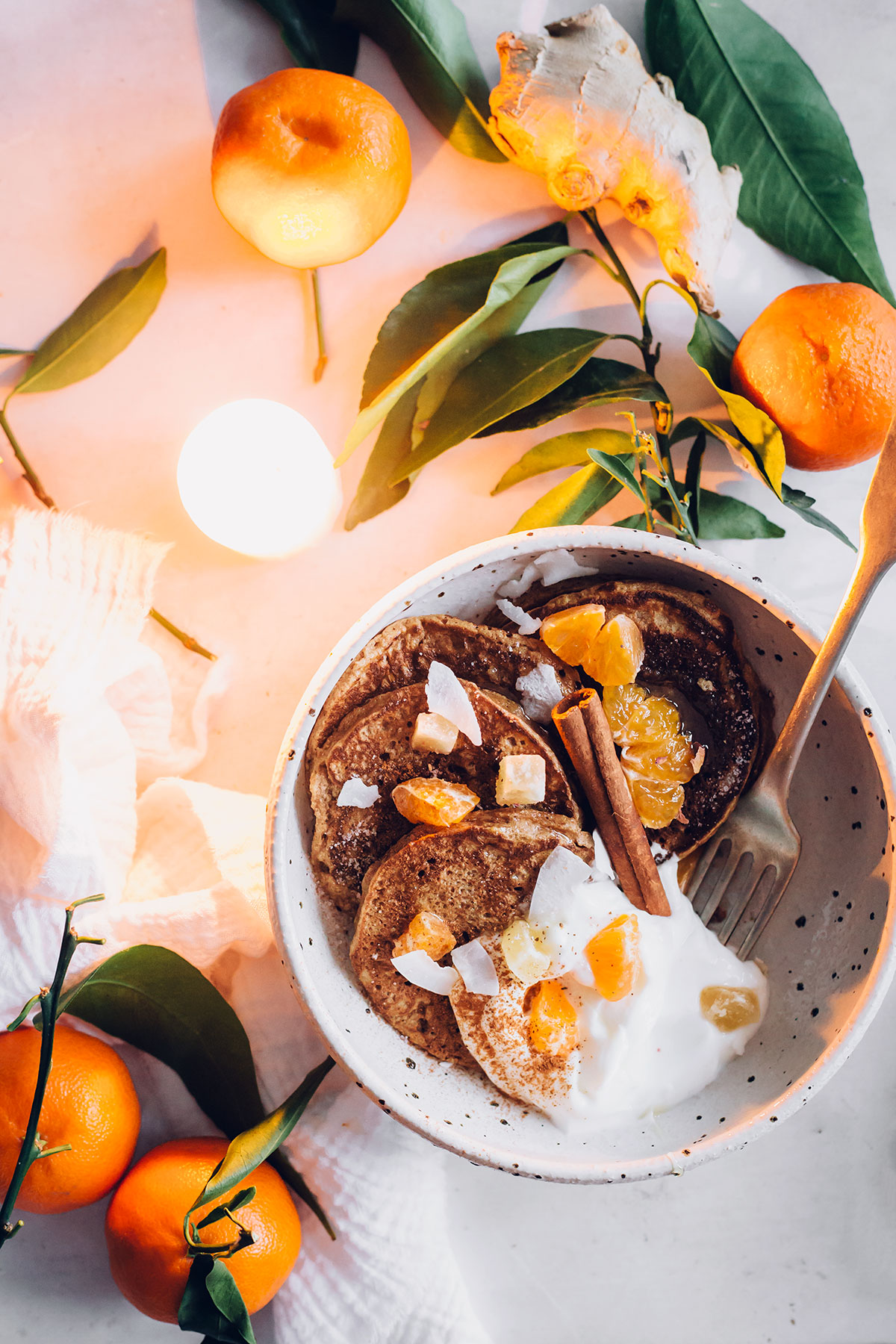 HOW TO MAKE GINGERBREAD PANCAKES
There is something magic in the process of making these pancakes. We like to involve the whole family, which is a great way to start a holiday morning! To make these gluten-free gingerbread pancakes you will need to prepare the mix in a blender. Here are the steps:
Add all the ingredients to the blender and process to obtain a homogenous, creamy batter.
Spray a non-stick skillet with coconut oil and heat it. Scoop the batter with a large spoon, forming little pancakes.
Cook for three minutes until bubbles form on top.
Flip over and cook for two more minutes, then place in a bowl.
Continue with the rest of the batter.
To keep the pancakes warm until serving, keep the bowl in the oven that has been preheated to 60C/140F.
Looking for more healthier pancake ideas? Try our Coconut Flour Pancakes, our Vegan Banana Eggnog Pancakes, or the SugarDetoxMe Coconut Pancakes.
Did you try this recipe? Post your photo and tag us #helloveggieblog on Instagram so we can share it with our community.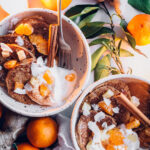 Christmas Morning Gluten-Free Gingerbread Pancakes
A cozy gingerbread pancakes recipe designed for the holiday mornings, made with buckwheat flour and loaded with delicious spices.
Ingredients
3

organic eggs

3

tbsp

buckwheat flour

1/2

ripe banana

1

cup

unsweetend almond milk

1

tsp

baking powder

1

tsp

cinnamon powder

1

tsp

all spice

1/2

tsp

clove powder

1

tbsp

coconut sugar

1

tsp

ginger powder

2

oranges

peeled, cut into slices

2

tbsp

Greek yogurt

to serve

6

small pieces candied ginger

to garnish

1

tbsp

Coconut Oil

for frying
Instructions
Preheat the oven to 60C/140F.

Add the eggs, buckwheat flour, coconut sugar, banana, spices, baking soda into a blender and process to obtain a creamy batter. Add up to 1/4 cup almond milk if necessary (depends on the buckwheat flour)

Spray coconut oil into a non-stick skillet and heat.

Scoop the batter into little pancakes, using a large spoon.

Cook for 3 minutes over medium heat, until bubbles appear on top.

Flip over and cook 2 minutes more, the transfer into a bowl, and keep warm in the oven.

Continue the same with the rest of the batter.

In a small pot add the orange slices and 1/2 cup water and bring to boil.

Divide the pancakes into serving bowls, top with 1 tbsp Greek yogurt, add the orange compote, garnish with candied ginger pieces and sprinkle some cinnamon on top. Serve warm.
Nutrition Facts
Christmas Morning Gluten-Free Gingerbread Pancakes
Amount Per Serving
Calories 340
* Percent Daily Values are based on a 2000 calorie diet.
0