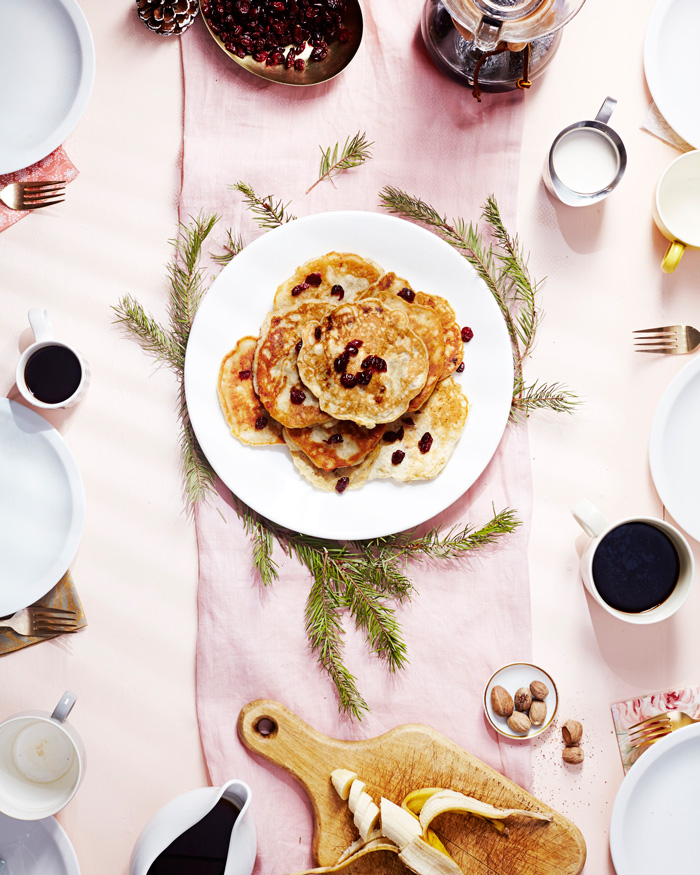 What better way to kick off Christmas morning than with a big plate of piping hot Banana Eggnog Pancakes? They might even be more tempting than the presents under the tree—seriously, they're tasty. And bonus: they're dairy-free too.
This recipe starts off with a good vegan eggnog. We're partial to our own version, but store-bought works just fine too. Because some nogs are thinner than others, you might have to play around with the batter a little—add more flour if it's too thin or more nog if it's too thick. If you happen to make them before everyone in the house is awake, you can keep them warm by popping them in the oven at 200ºF until you're ready to eat.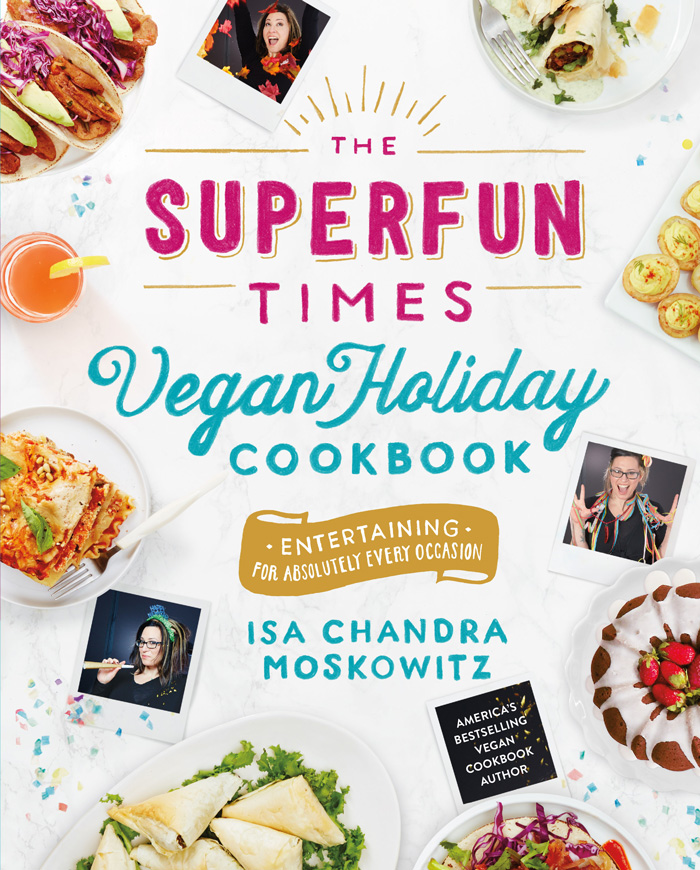 These pancakes come from Isa Chandra Moskowitz's new book, The Superfun Times Vegan Holiday Cookbook: Entertaining for Absolutely Every Occasion. Like all of Isa's cookbooks, this one is an embarrassment of riches when it comes to yummy vegan recipes—250 of them, in fact! The book is organized by holidays and occasions, allowing you to easily put together menus for parties, but many of the recipes are perfect for weeknight meals and casual get-togethers too.
(Oh, and hint hint, this book also makes a fantastic holiday gift for the vegan in your life!)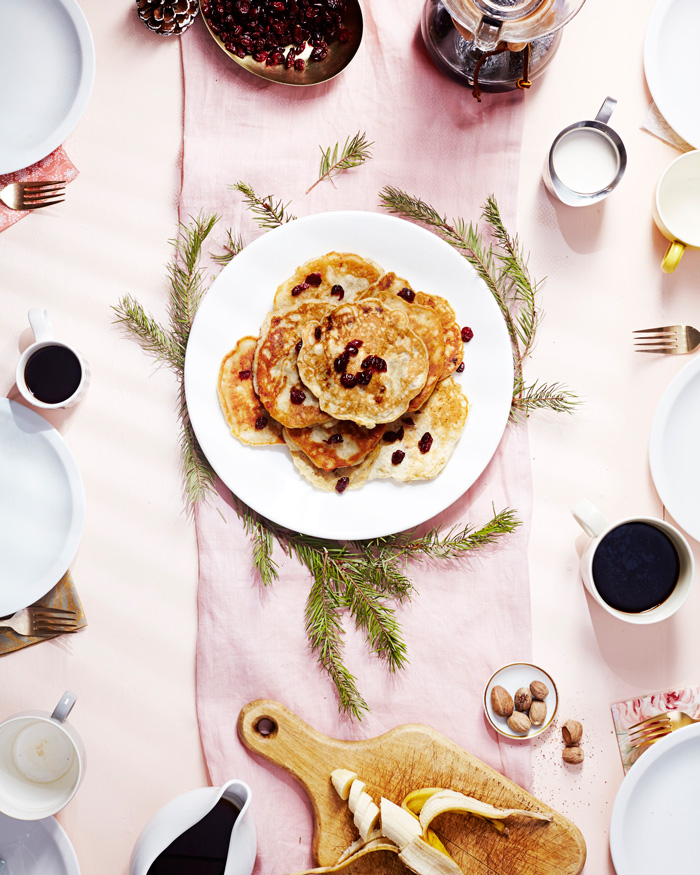 Banana Eggnog Pancakes
Ingredients
2

very ripe medium bananas 1¼ cups eggnog

2

tablespoons

canola oil

2

teaspoons

apple cider vinegar 1 teaspoon pure vanilla extract 1 cup all-purpose flour

2¼

teaspoons

baking powder

½

teaspoon

grated fresh nutmeg

plus extra for sprinkling

¼

teaspoon

salt

Refined coconut oil

for cooking
FOR SERVING:
Banana slices

Fresh or dried cranberries Pure maple syrup
Instructions
In a medium mixing bowl, mash the bananas with a small masher until they are almost pureed. Add the eggnog, canola oil, vinegar, and vanilla and set aside.

In a separate large mixing bowl, sift together the flour, baking powder, nutmeg, and salt. Make a well in the center and pour in the banana mixture. Use a fork to mix until a thick, lumpy batter forms. That should take about a minute. It doesn't need to be smooth; just make sure you get all the ingredients incorporated. Let the batter rest for 10 minutes.

Preheat a large nonstick pan (preferably cast iron) over medium-low heat. Lightly coat the pan with coconut oil. Add ⅓ cup of the batter for each pancake and cook until puffy, about 4 minutes. Flip the pancakes, adding a new coat of oil to the pan, and cook until golden brown, another 3 minutes or so.

Transfer the pancakes to a plate tented with aluminum foil while you cook the rest. Serve with sliced bananas, cranberries, and maple syrup.
Photo credit: Vanessa Rees
1