Food this time of the year tends to be heavy. Don't get me wrong – I love a bowl of mac and cheese as much as the next gal! But some days I just want something else. Something fresh, something lighter, yet satisfying. Could that something be… a salad?
Of course it can be! With avocado, black corn nachos, and a dressing you can make ahead of time, this chipotle Caesar salad is the perfect work lunch or quick dinner. So I guess what I'm saying is that yes, salads can be for every season, and this particular recipe has quickly made its way into my rotation.

Chipotle Caesar Salad with Creamy Chipotle Caesar Dressing
You've surely seen and tasted many a Caesar salads in restaurant menus and have probably made your own at some point in time. It's a classic dish we've seen in different versions, yet we can still be surprised when it comes accompanied by chipotle dressing and tortilla chips!
'Thought to have been created by Italian chef Caesar Cardini in 1924, traditional Caesar salads consist of romaine lettuce, grated parmesan, croutons, egg, and sometimes anchovies tossed with garlic vinaigrette dressing. With chipotle and chili in the dressing and avocado and tortilla chip croutons in the salad, this recipe puts a delicious Southwest twist on the classic Caesar', says cookbook author Pam Powell.
Her book, 'Beautiful Salads: Delicious Organic Salads and Dressings for Every Season' shows us how to make non-boring salads with organic ingredients, but also how to eat salads year round. Curious to learn more? You can find the book on amazon and try this delicious Caesar salad with creamy chipotle dressing below: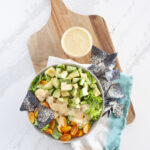 Chipotle Caesar Salad with Creamy Chipotle Caesar Dressing
Reprinted with permission from 'Beautiful Salads' by Pam Powell.
Ingredients
Dressing
6

tbsp.

lime juice

2

tbsp.

honey

1

tbsp.

fresh cilantro

1

⁄16 tsp. chipotle chili powder

1/2

clove

garlic

more if you love garlic

1

tsp.

sea salt

1

tsp.

ground black pepper

11/2

c.

olive oil–based mayonnaise

2

tbsp.

extra-virgin olive oil

1/2

c.

finely grated SarVecchio Asiago cheese

or comparable local asiago cheese
Salad
16

black corn tortilla chips

1/2

c.

medium grated SarVecchio Asiago cheese

7

oz.

romaine lettuce

16

sweet grape tomatoes

4

ripe avocados
Instructions
Prepare the Tortilla Croutons
Preheat oven to 270F. Spread out tortilla chips on cookie sheet, sprinkle with 1/4c. finely grated cheese, and bake until cheese is melted and golden. Remove from oven and cool.
Prepare the Dressing
Put lime juice, honey, fresh cilantro,chipotle chili powder, garlic, sea salt, and black pepper into a small blender. Blend together until smooth, and pour into a glass bowl. Slowly fold in the mayonnaise, olive oil, and finely grated cheese.Blend all together, pour into a small glass jar, and set aside in a cool place until ready to use.
Prepare the Produce
Wash and thoroughly dry the romaine.Tear into bite-sized pieces. Wash and dry the grape tomatoes. Cut into halves. Wash and dry the avocados. Score avocado skin along the north–south axis. Gently twist halves apart, and score the halves again north–south. Slice into quarters, pull from pit, peel skin away, and remove the pit. Cut each quarter in half and then into bite-sized chunks.
Assemble the Salad
Just before serving, place romaine, tomatoes, cheese, avocados, and Creamy Chipotle Caesar Dressing into a large mixing bowl. Gently toss together. This can be plated immediately and served with a couple of the tortilla croutons on top, or you can serve this salad right from the bowl and put the tortilla chips in a pretty basket on the side.
4