Ever since I learned that health begins in the gut, I've been on a mission to improve the quality of my microbiome to ease digestion and improve my overall health in the process.
Tea is often used to soothe tummy troubles, so why not take a gut healing tea and turn it into herbal popsicles? These vibrant yellow pops are loaded with ingredients that provide digestive comfort, but they still taste like a treat.
You can turn any of your summer drinks or treats into natural healing medicine just by adding some key ingredients. For these popsicles I made an herbal infusion using:
Licorice – the active substances in licorice root have anti-inflammatory, hormone balancing and digestive soothing (especially for leaky gut) properties.
Slippery Elm – contains mucilages that coat the intestines and provide relief for many common digestive issues.
Marshmallow Root – has powerful anti-inflammatory effects, especially for the respiratory tract and the lining of the stomach.
Fennel Seeds – are traditionally used for different digestive issues, including lowering stomach acidity, destroying fungi and harmful bacteria in your digestive tract and constipation.
Ginger – this is a classic ingredient for soothing indigestion and treating inflammation within the digestive system.
Chamomile – has a mild, pleasant taste and calming effects.
A light infusion of these herbal remedies makes a delicious drink on its own, but I added honey, lemon and turmeric for even more gut-healing benefits.
Honey acts as a probiotic for the microbiome within your gut, while you can never get enough of the antioxidant vitamin C in lemon. A bit of turmeric will enrich the anti-inflammatory properties in these pops, and also give them a vibrant, summery color.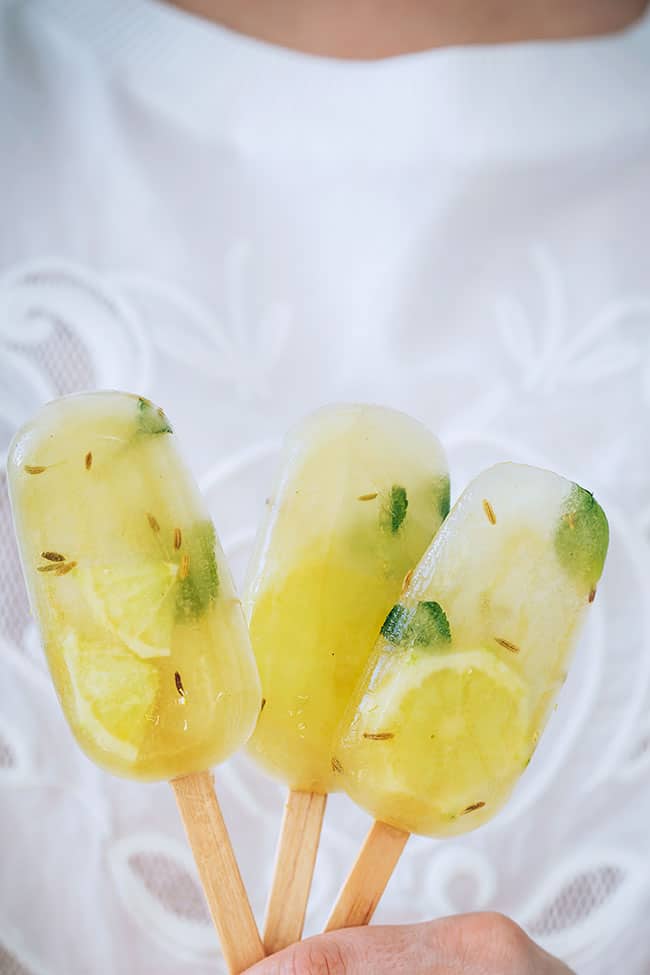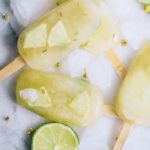 Chamomile Ginger Tea Pops
Ease your digestive issues with the aid of herbal medicine in these refreshing herbal popsicles.
Ingredients
3

cups

purified water

1

teaspoon

grated ginger

1

teaspoon

licorice root

1

teaspoon

dried chamomile

1

teaspoon

marshmallow root

1

slippery elm teabag

1/2

teaspoon

turmeric powder

1

tablespoon

organic raw honey use Manuka for a stronger digestive soothing effects

1

tablespoon

lemon juice

3-4

fresh mint leaves crushed

1

tablespoon

fennel seeds
Instructions
Boil the water in a medium pot, then turn off the heat, add the herbs and seeds, cover with a lid and infuse for 10 minutes.

Strain and set aside to cool completely.

Add the honey and lemon juice, and stir to combine.

Divide the liquid into popsicle molds, add the mint leaves and fennel seeds and freeze overnight.
Recipe Notes
Eat as a light dessert or whenever tummy troubles rear their ugly head.
You can find popsicle molds like ours here.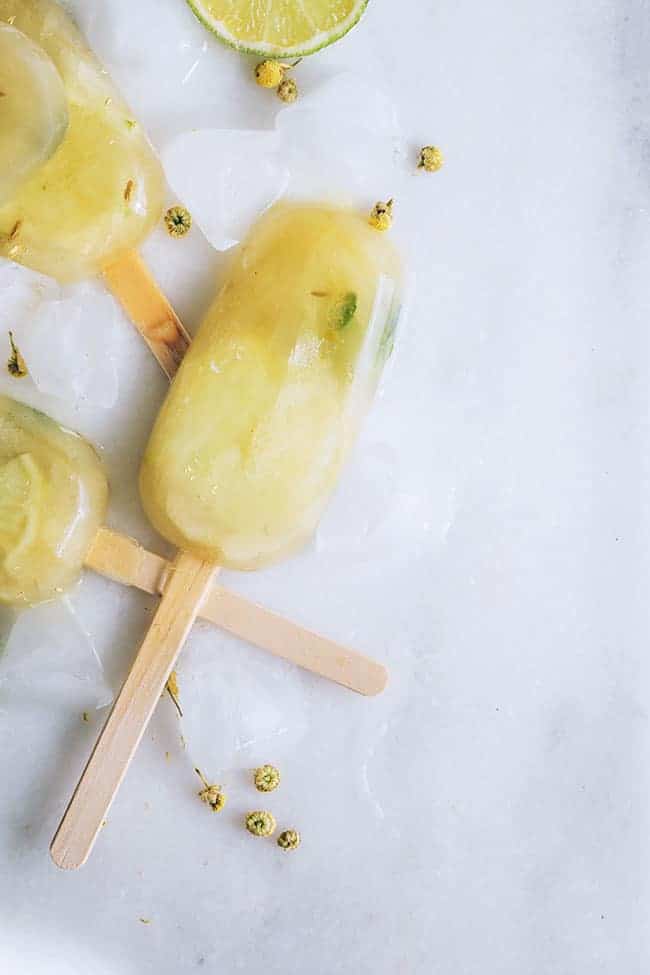 14