Snacking equals nachos. That's how it goes in our book. Entertaining is often nachos, too. And sometimes even dinner can be nachos! Whether you opt for a healthy guacamole dip to go with them or you enjoy a bowl of cheesy nachos loaded with toppings, you're in for a treat. Scroll down for 9 vegetarian nacho recipes that will make chilling with Netflix even more fun:
9 Crave-Worthy Vegetarian Nacho Recipes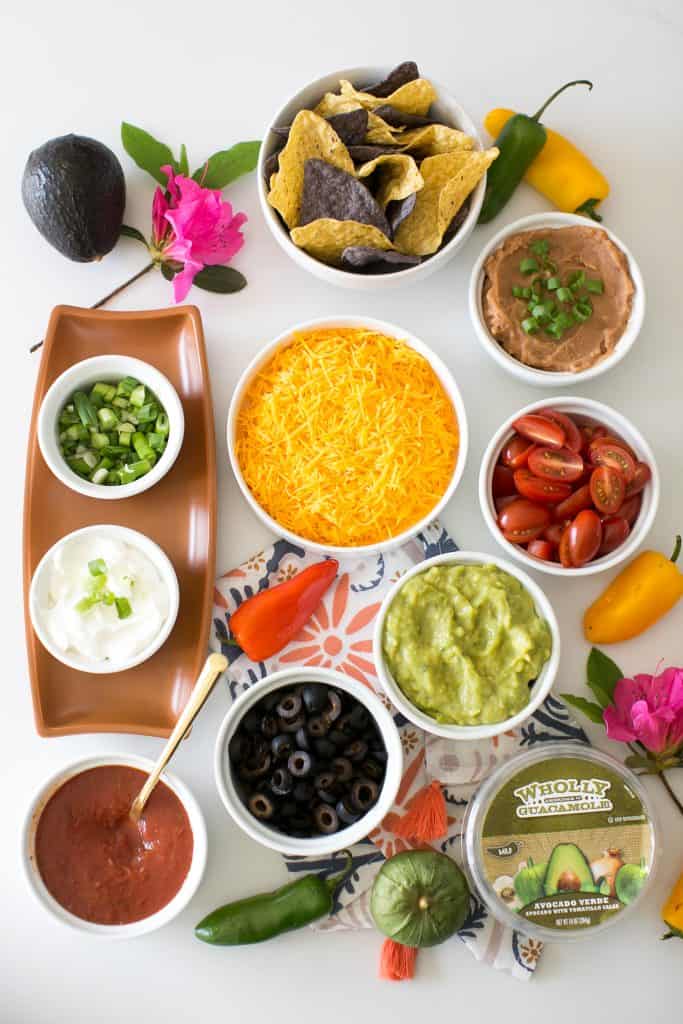 If you're entertaining, it can be hard to please everyone. That's where these DIY nacho plates come in handy! Your guests customize their nachos to their liking with a deconstructed 7-layer dip.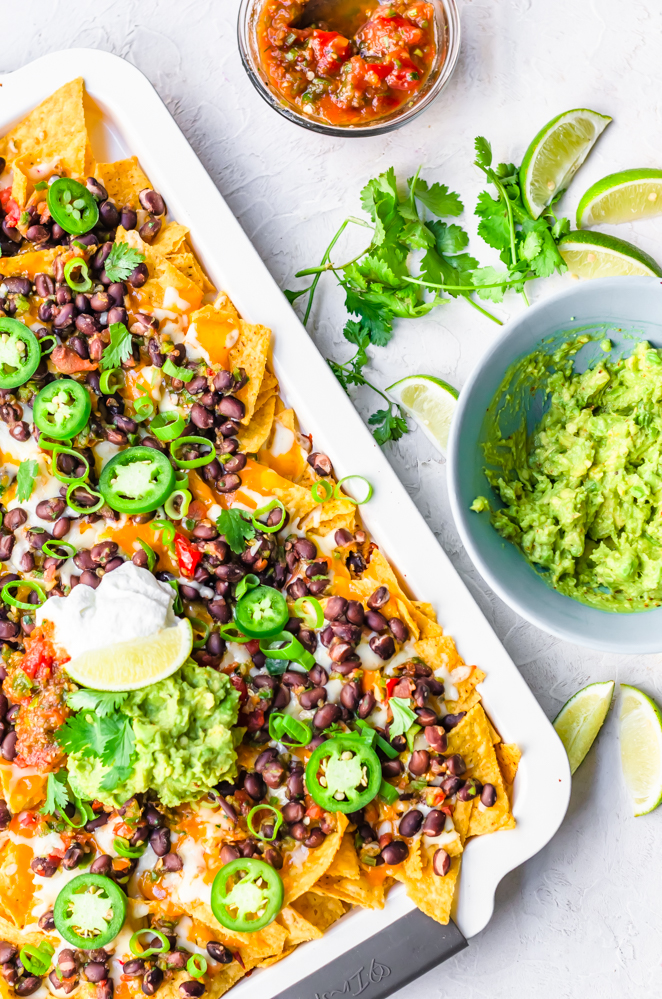 These sheet pan nachos with smoky chipotle take 20 minutes from start to finish, the ideal weeknight dinner! They are served with a spicy, homemade chipotle salsa and fresh guacamole and cream.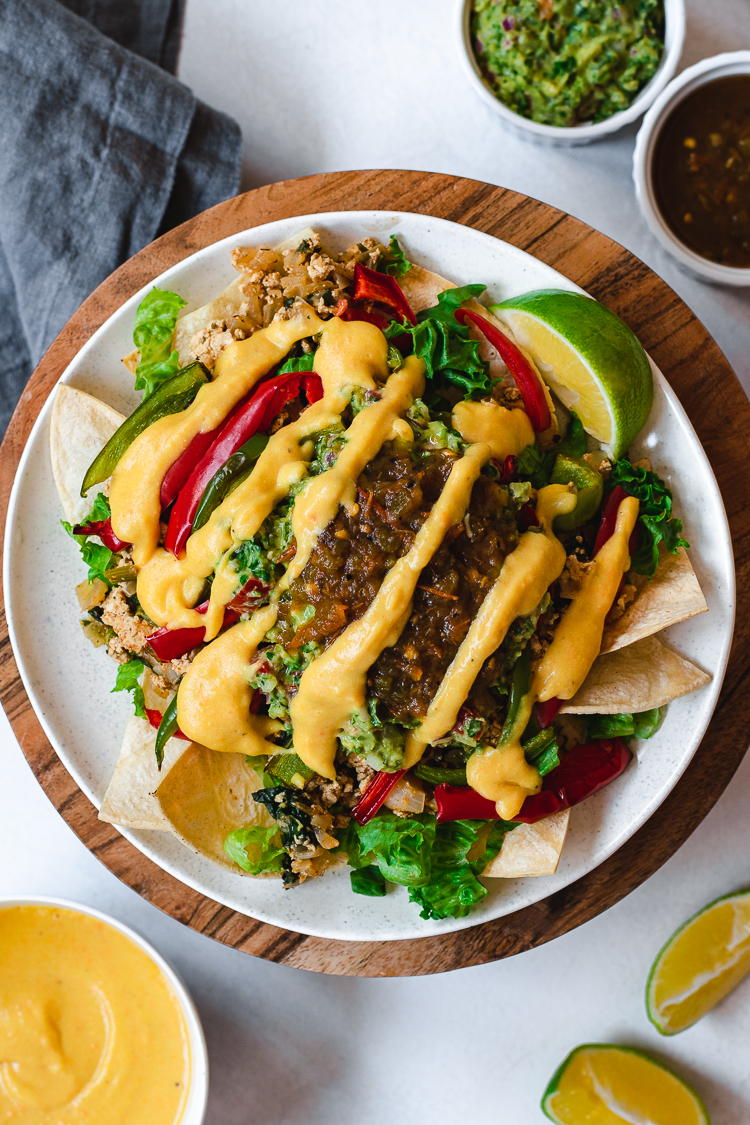 If you're going for that meat texture without any actual meat, you'll love this tofu-based loaded nachos recipe! Tofu crumbles, crispy lettuce, roasted bell peppers, salsa, creamy guac and a vegan cheese sauce all join forces to create the perfect vegan, gluten-free comfort food.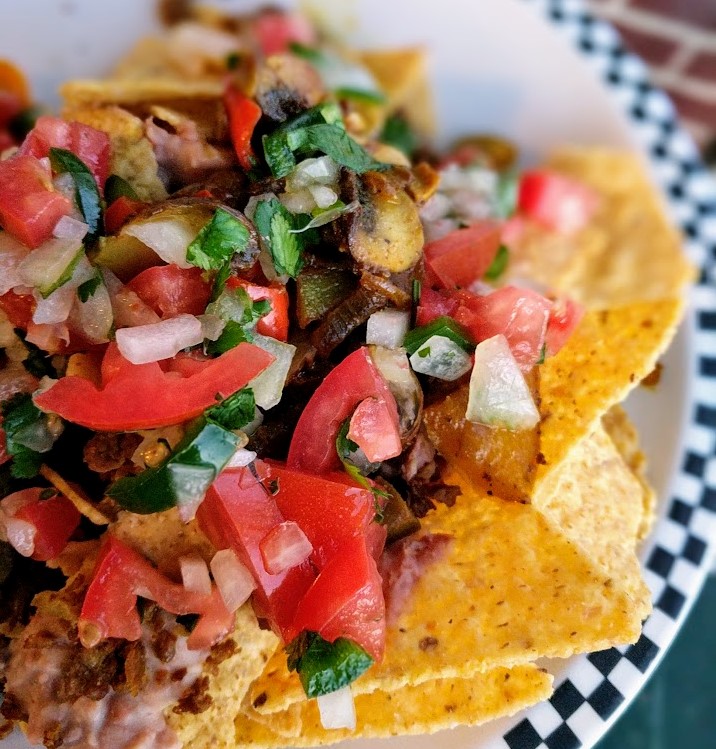 Loaded with sautéed mushrooms, peppers, and onions, then topped with even more fresh veggies, this recipe makes a great snack for movie night or a quick dinner that the whole family will enjoy. Fun fact: loaded nachos are a great way to sneak in some veggies for the kids, without all the pressure that usually comes with veggie eating.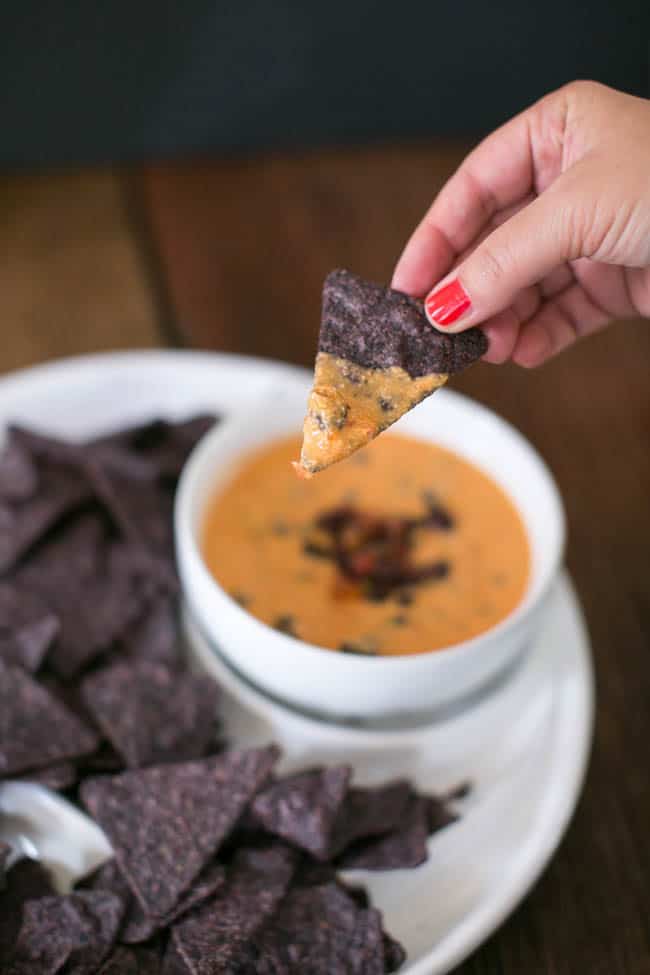 Cashews, cashew milk and roasted red peppers are the ingredients for this vegan cheese dip. Black beans and salsa are added on top for extra deliciousness, and there you have it: a healthy dip that no can tell is actually vegan.
For a low fuss meal that comes together in no time (15 minutes y'all!), try this vegan sheet pan nachos recipe! The ingredients are easy to find (if not already in your pantry) and the taste is… just finger licking!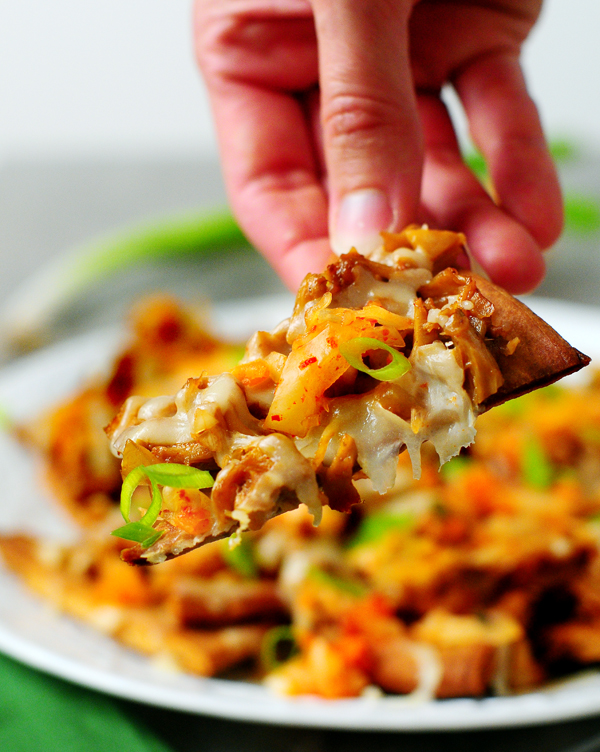 While this nacho recipe is far from Mexican (or even Tex Mex for that matter), it's such a great combination! The chips are pita bread, followed by a layer of jackfruit cooked in gochujang sauce, and then there's mozzarella and kimchi on top. Bold? Yes. Delicious? Also yes.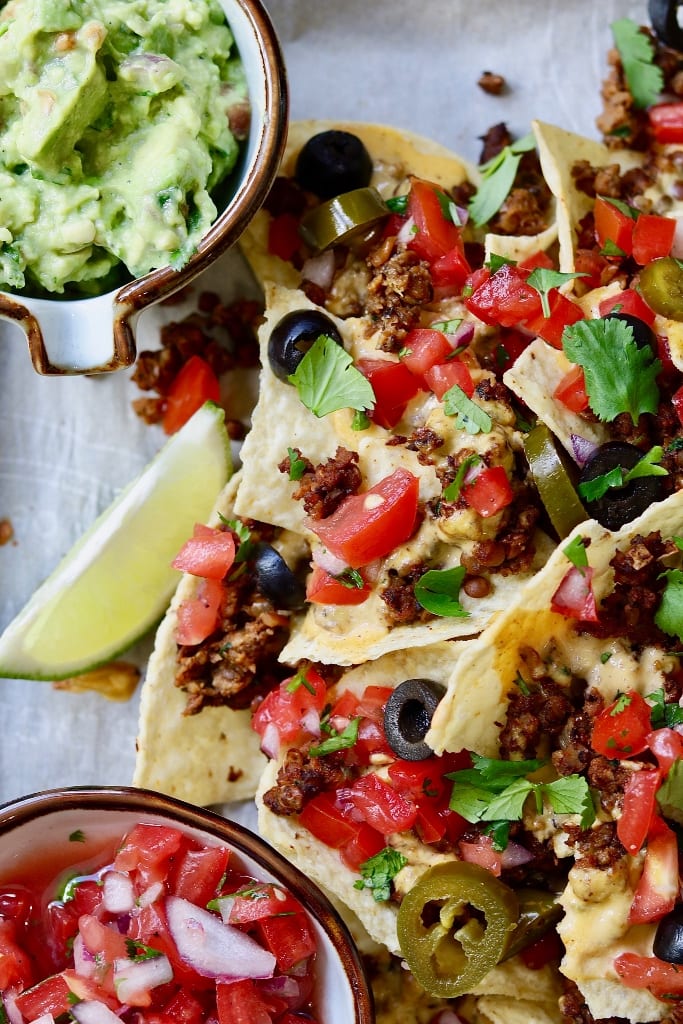 Vegan taco meat is the star of this recipe but honestly, all the other ingredients play an important role! You'll love the combination of soft veggies, crunchy tortilla chips, spicy pico de gallo and jalapeños, and melty vegan cheese sauce.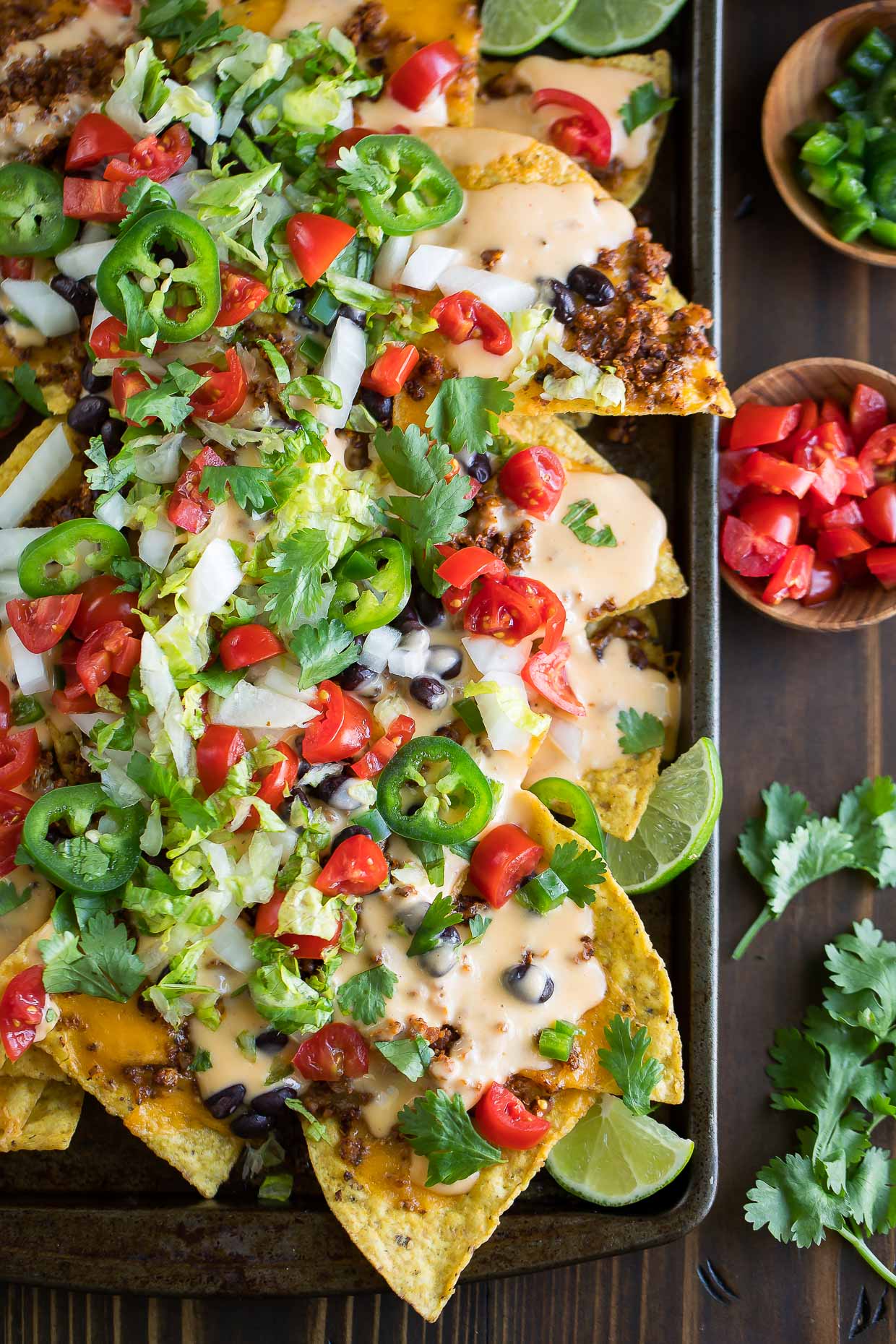 Black beans, vegetarian cauliflower walnut taco meat, and an amazing homemade nacho cheese sauce combine in a comforting dinner that's basically impossible to mess up.
1