Chicken and Dumplings was not a dish I grew up eating, so I can't exactly vouch for the authenticity of this Vegetarian Chicken and Dumplings recipe. It could be way off from the "real thing," but I can assure you that authentic or not, it's tasty in a stick-to-your-ribs winter meal kind of way.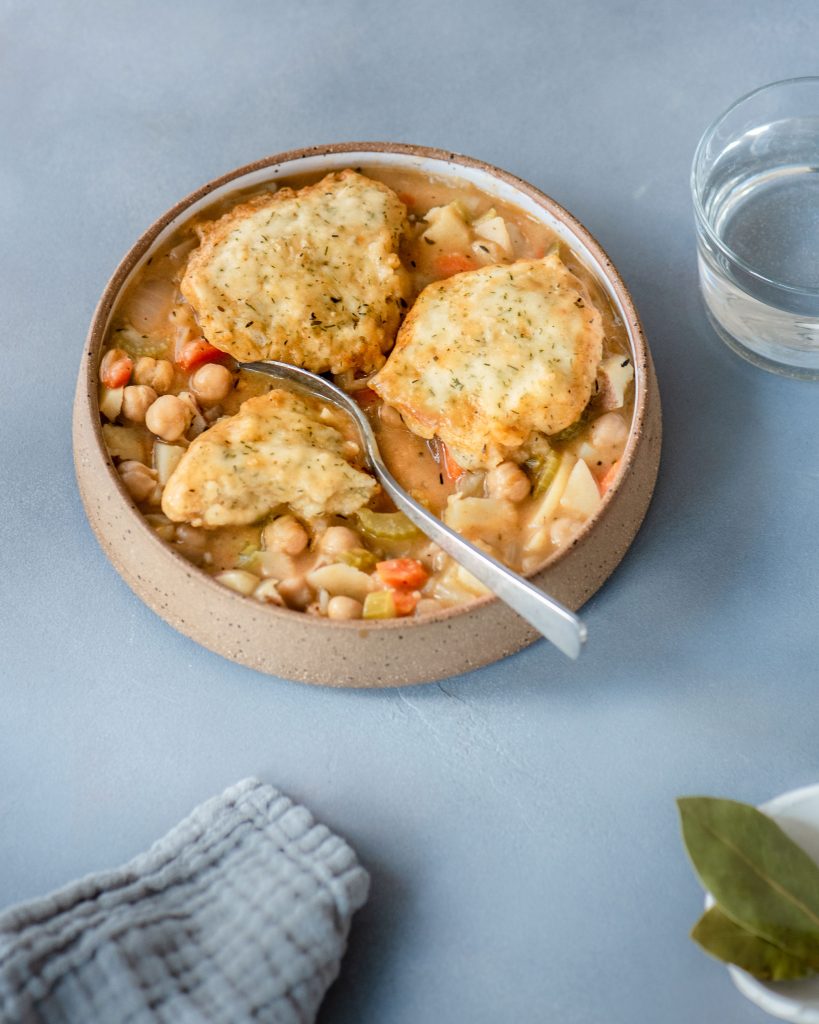 A few months ago I wrote about how to make just about any recipe vegetarian with real food meat substitutes. For me, soup is one of the trickiest foods to give a vegetarian makeover.
First, there's the broth. It's hard to replicate the flavors of chicken and beef broth without chicken and beef. I often turn to packaged no-chicken and no-beef broths; if you don't have access to those, I've found that mushroom broth will work in place of beef and a vegetable broth with a little bit of turmeric (for color) will do for chicken.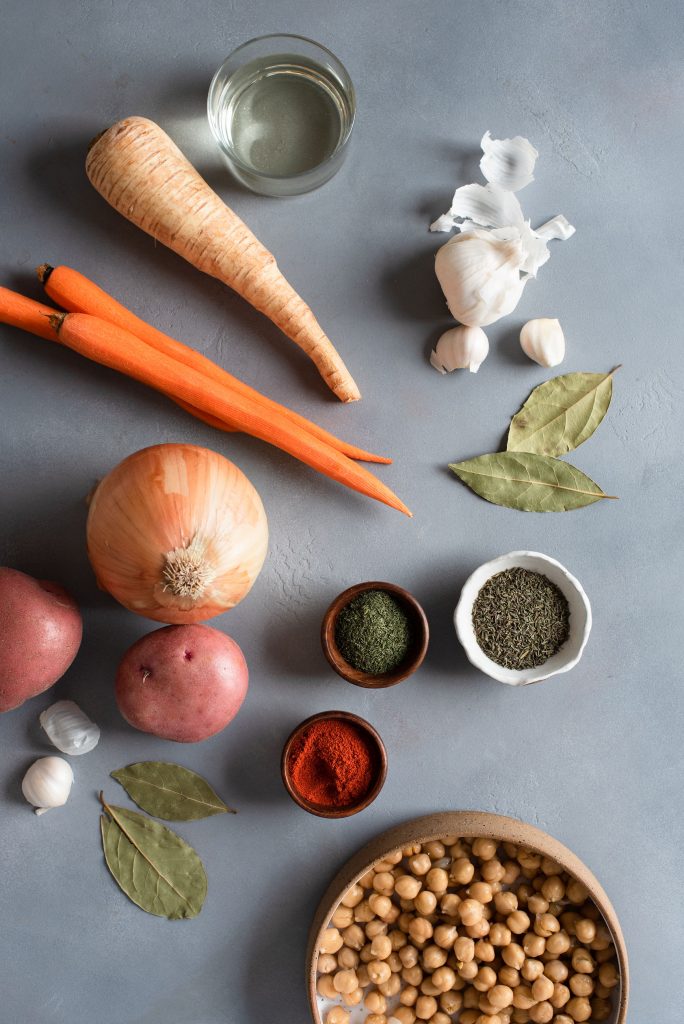 Then, there's the meat itself. Because it's soaking in broth, a lot of store-bought meat substitutes won't work out–they'll just fall apart or the texture will be less than pleasing. Tofu works, but it doesn't add much flavor. Vegetables, like mushrooms, can be used, but adding a protein is nice to make the recipe more satisfying.
For this Vegetarian Chicken and Dumplings recipe, I went with chickpeas. My go-to in chicken noodle soup is tofu, but I didn't think tofu would work well with the dumplings. Chickpeas are a nice option here–they're readily available, inexpensive, they add some flavor, and they've got protein and fiber too.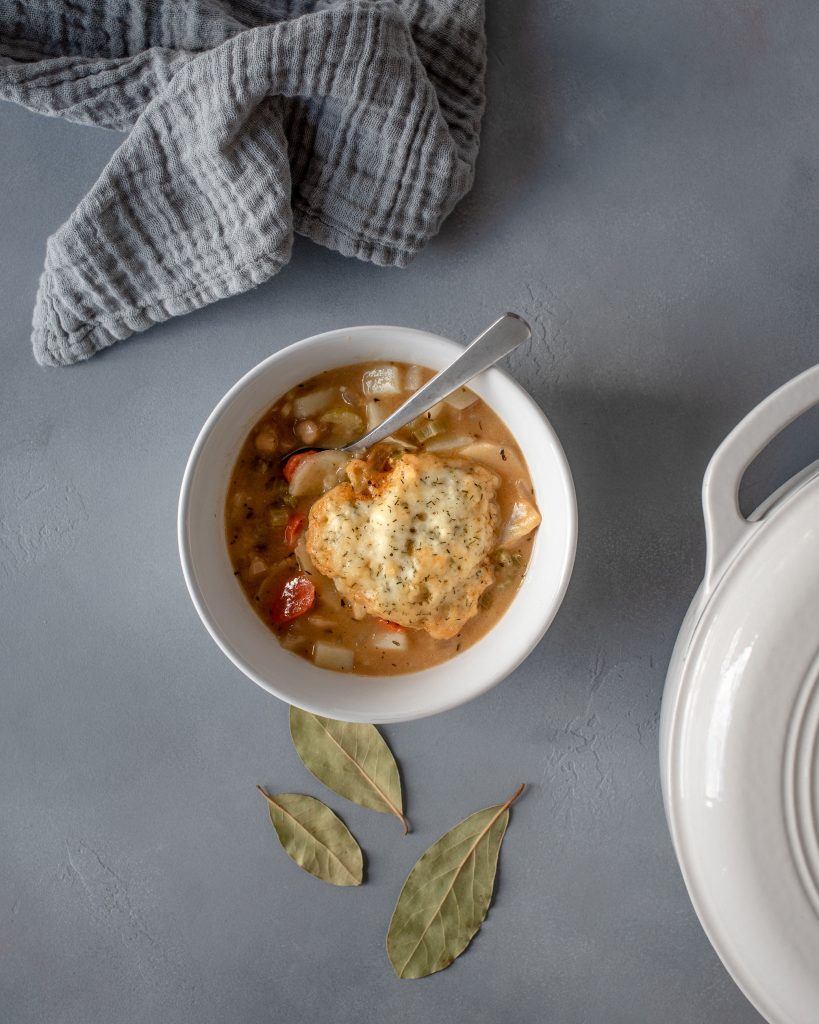 Photos by Sunny Frantz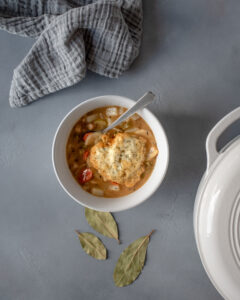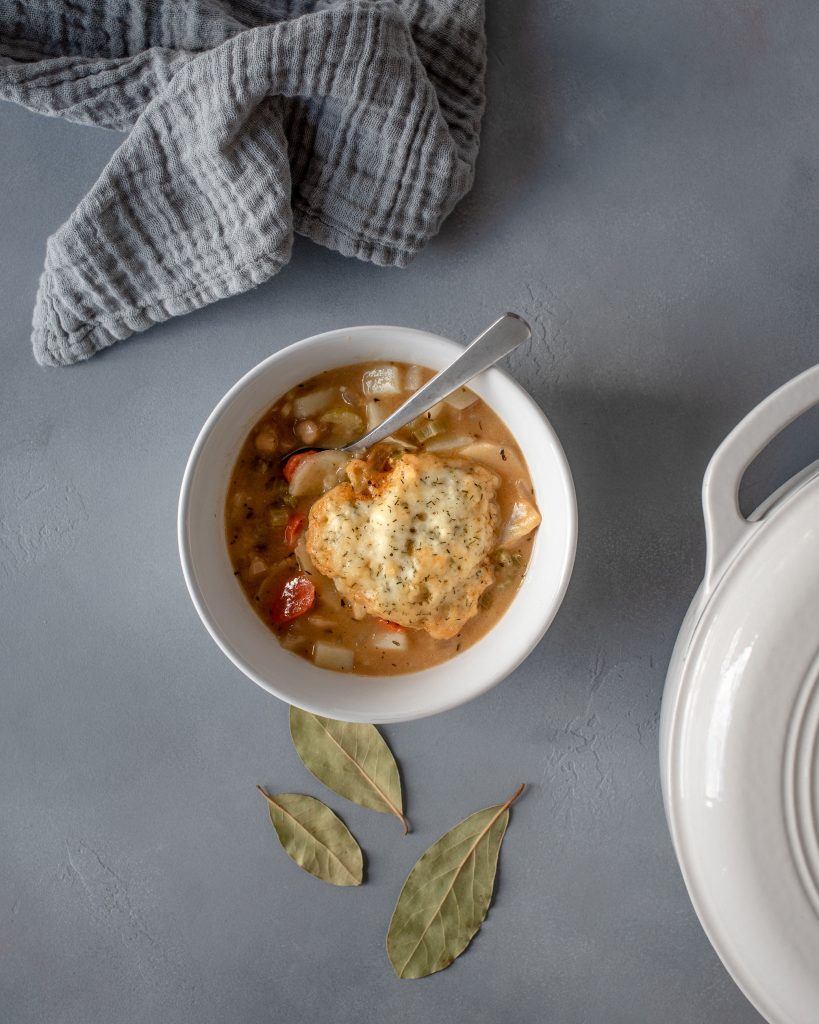 Print
Chickpeas and Dumplings
Yield 4-6 servings
A hearty chickpea-and-veggie stew topped with homemade dumplings.
Ingredients
3 tablespoons unsalted butter
1 medium onion, diced
2 cloves garlic, minced
3 medium carrots, peeled and sliced
1 large parsnip, peeled and sliced
2 small red potatoes, diced
3 ribs celery, sliced
1 teaspoon dried thyme
2 dried bay leaves
1 cup all-purpose flour, divided
1 3/4 teaspoons baking powder
1/2 teaspoon salt
3/4 teaspoon dried dill weed
1/2 cup + 2 tablespoons milk
1/2 cup dry white wine
3 cups no-chicken broth
1 (15-ounce) can chickpeas
1/2 teaspoon smoked paprika
Salt and pepper, to taste
Instructions
Melt the butter in a large pot over medium heat. Add the onion,garlic, carrots, parsnip, potatoes, celery, thyme, and bay leaves. Cook until the onions are translucent, about 6 minutes, stirring occasionally.
Whisk together 3/4 cup flour, baking powder, salt, and dill in a medium bowl. Use a fork to gradually stir in 1/2 cup of milk. The batter should be a bit thicker than pancake batter, but still drop easily from a spoon; if it's too thick, add the additional milk 1 tablespoon at a time. Set aside.
Sprinkle the remaining flour over the vegetables and stir to coat; cook for about a minute, or until the flour is golden brown. Pour in the wine and cook until it has evaporated, about 2 minutes.
Add the broth, chickpeas, paprika and salt and pepper to the pot; bring just to a boil, then reduce the heat to a simmer.
Drop the dumpling batter into the pot in heaping spoonfuls. You'll have enough batter for about 8 dumplings. (Keep them evenly spaced so they don't stick together as they cook.)
Cover the pot and continue to simmer for 20 minutes, or until the potatoes are tender and the dumplings are firm to the touch and baked through. Remove the bay leaves and season with additional salt and pepper, if desired.
Courses Soups & Stews
Nutrition Facts
Serving Size 1/4 of recipe
Amount Per Serving

Calories 429

% Daily Value

Total Fat 11 g

17%

Saturated Fat 5.8 g

29%

Total Carbohydrates 67.5 g

23%

Dietary Fiber 7.9 g

32%

Sugars 8.6 g

Protein 10.7 g

21%
* Percent Daily Values are based on a 2,000 calorie diet. Your daily values may be higher or lower depending on your calorie needs.
2