Cold peanut noodles are a staple at my house. We eat them quite often because they are SO easy to put together in about 15 minutes, give or take. I mean, what's not to love about a quick and easy meal that tastes great? Oh, and did I mention – no oven required! Perfect for a late summer night that feels like you're in an oven already.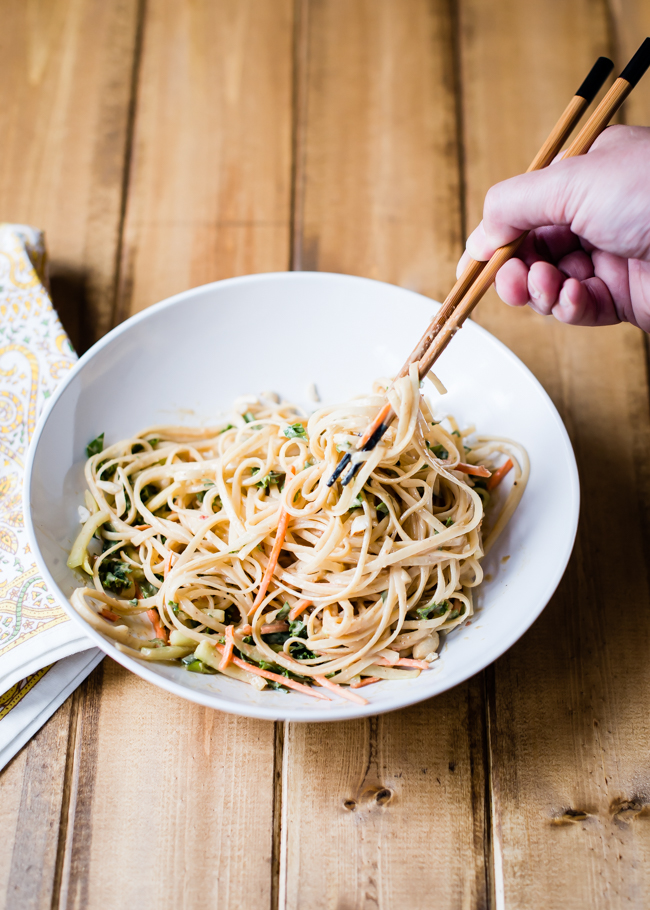 I like to add a lot of raw veggies to the noodles for extra crunch, flavor, and to make it more filling. Any veggies can be used, but I really love adding julienned carrots and cucumber along with chopped raw kale. The sauce has a hint of sweetness and a little spicy kick.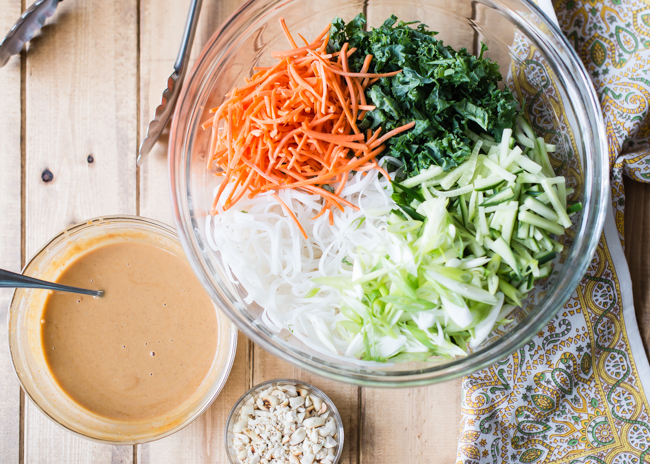 If you've never worked with rice noodles before, here are a few pointers:
You will find them in most well-stocked grocery stores in the Asian food section
They come in several different widths. I've used a medium noodle here, thinner or wider noodles are great, too.
This recipes calls for 8 ounces of rice noodles; take note of the size on the package because they come in several different sizes.
Rice noodles don't require cooking, but they do require soaking in hot water. I usually just bring about 3-4 quarts of water to a boil in a pan and place the noodle in a wide bowl. When the water is just about at a boil, I pour it over the noodles and let them soak for about 10 minutes, a little longer than they would if you were making pad thai. (Same type of noodles!)
The trick with the noodles is to let them soak just long enough to soften, but not too long for them to become mushy. It takes a little practice, but I always err on the side of firm vs. too soft.
Test after 10 minutes, then soak longer if needed. From there, everything gets tossed in a big bowl and dinner is ready in a flash.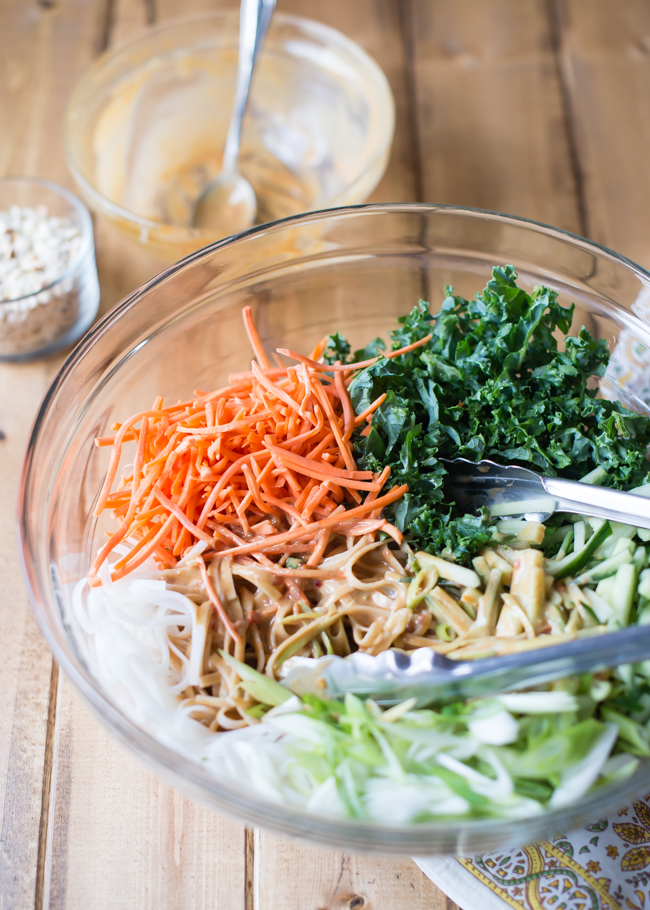 The sauce itself is a pretty traditional peanut sauce. It might seem like a lot of sauce, but remember that all those fresh, crunchy veggies are in the mix, too. And if peanut butter isn't your thing, swap it for sunflower or almond butter—even tahini will work great. For an extra spicy sauce, just add more chili paste.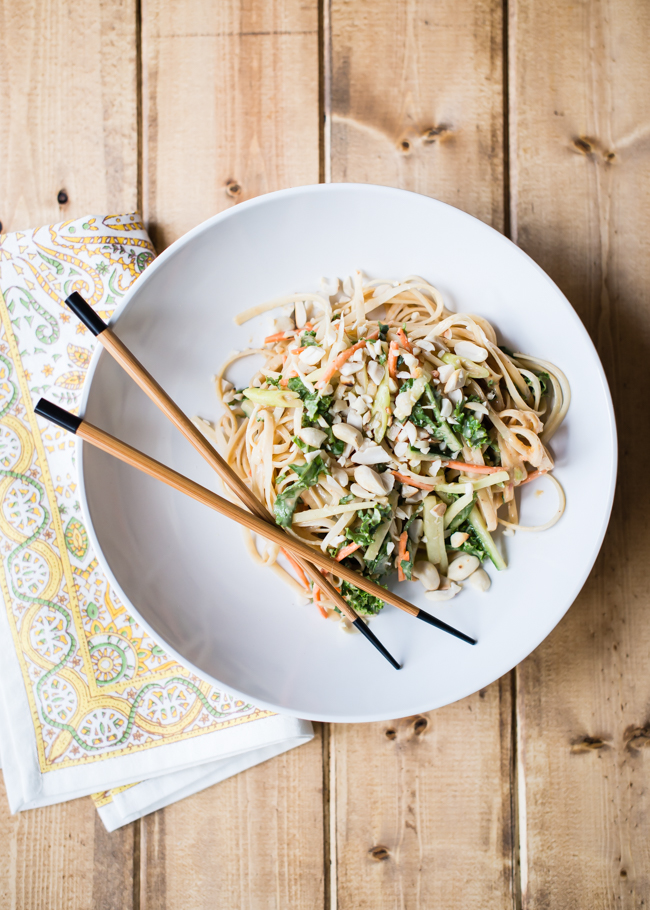 Sweet and Spicy Cold Peanut Noodles
A very fast and easy cold noodle dish loaded up with healthy fresh veggies and a flavorful sweet and spicy peanut sauce.
Ingredients
3-4

quarts

very hot water

plus more for thinning sauce

8

ounces

flat rice noodles

1/2

cup

plus 2 Tablespoons natural peanut butter

4

tablespoons

rice wine vinegar

4

tablespoons

brown sugar

4

tablespoons

soy sauce

1

tablespoon

freshly grated ginger

2-3

teaspoons

red chili paste

sambal oelek

1

garlic clove

minced

2

cups

kale

stems removed, chopped or thinly sliced

1

medium cucumber

julienned

1

cup

julienned carrots

1

small bunch green onions

thinly sliced on the diagonal

1/2 to 3/4

cup

chopped peanuts
Instructions
Place rice noodles in a wide, deep bowl. Pour the very hot water over the noodles and let stand for about 8-10 minutes, depending on the width of the noodles. (Refer to package directions, if needed.) Taste to see that they have softened enough - they should be al dente. Drain in a colander and rinse with cold water. Place noodles back in bowl and add the veggies.

While noodles are soaking, stir together the peanut butter, brown sugar, soy sauce, ginger, chili paste, and garlic in a medium bowl. The mixture will be thick. Add some water a little at a time until it reaches the desired consistency - not too thick, but thin enough to coat the noodles. Usually 1/4 to 1/2 cup is all that is needed. (The flavor will be strong, but will be diluted when tossed with the noodles and veggies.)

Pour the sauce over the noodles and toss to coat. Sprinkle with peanuts. Chill until ready to serve, or serve immediately.
8