I'm literally counting down the days until my CSA box starts. You know when all those fresh veggies start rolling in every week that summer is finally here. And I am ready for it! I'm ready for the warmer days and I'm ready for the bounty of fresh tomatoes, corn, muskmelon, and greens every week.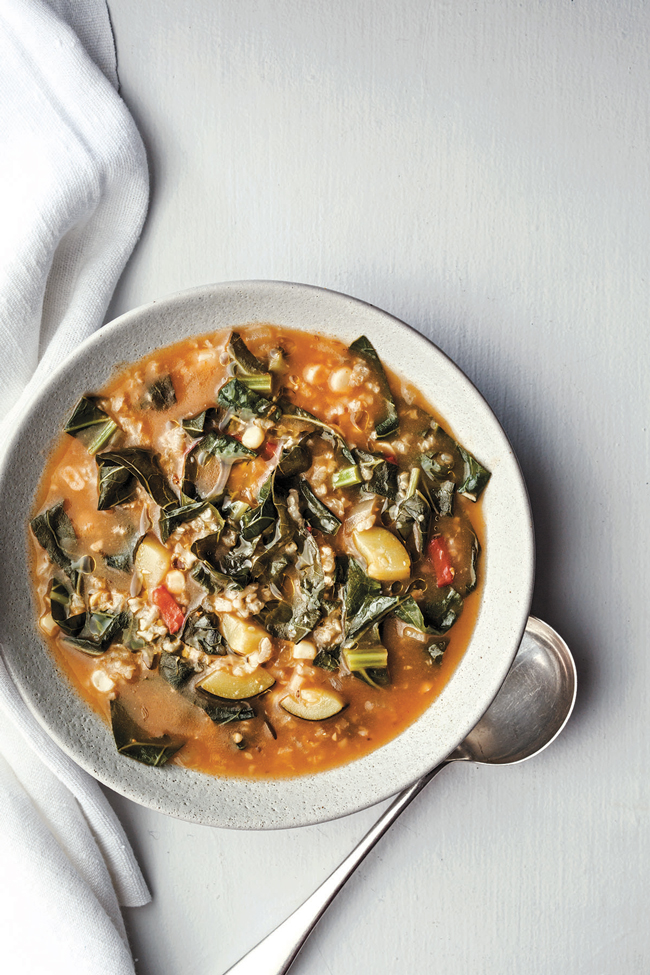 As much as I love belonging to a CSA, there are two small problems: first, midway through the summer, we start getting so much produce, it's hard for our small family to use it all. This Summer Vegetable Minestrone is the perfect solution that that problem—it uses lots of fresh summer vegetables, like zucchini, tomatoes, collards and bell pepper, and since it's a soup and soups almost always freeze fantastically, you can make a big batch and save some for later.
The second problem with belonging to a CSA? Sometimes you get vegetables that you just don't know what to do with. The first year we were members of a CSA, that vegetable was pea greens. Every week, we'd get a big bag of them and I had no clue what to do with them. And then there was bok choy—so much bok choy! How many stir fries can one family eat?!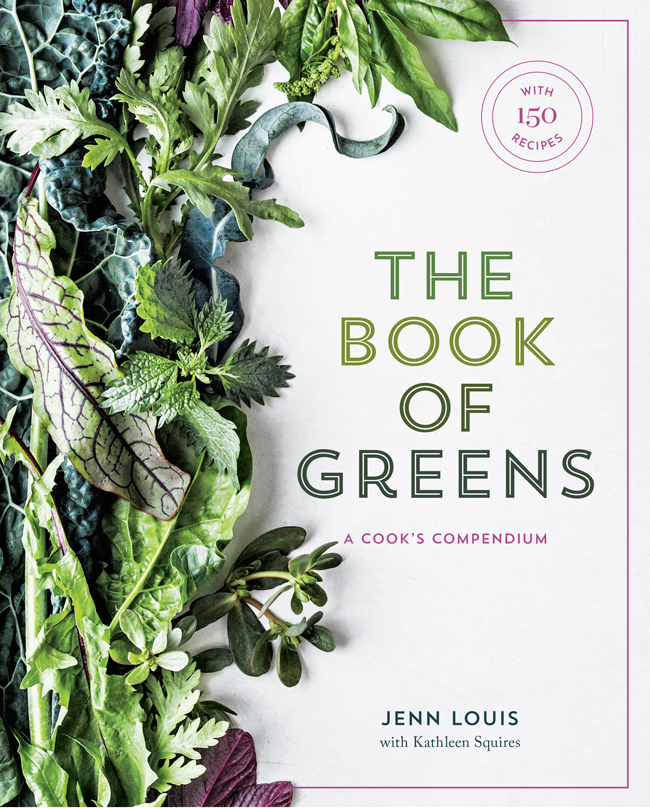 This is why I'm so giddy about Jenn Louis' The Book of Greens. It's not just a cookbook, but a reference book on all kinds of greens, both familiar and unheard of. Kale! Collard greens! Gai lan! Cabbage! And of course, those pea greens that totally stumped me a few years ago. This is a beautifully photographed, substantial volume—the kind of book that makes a great gift for the cooking enthusiast in your life. (Hint, hint: Mother's Day and Father's Day are both coming up soon!)
Purchase The Book of Greens: A Cook's Compendium of 40 Varieties, from Arugula to Watercress, with More Than 175 Recipes by Jenn Louis on Amazon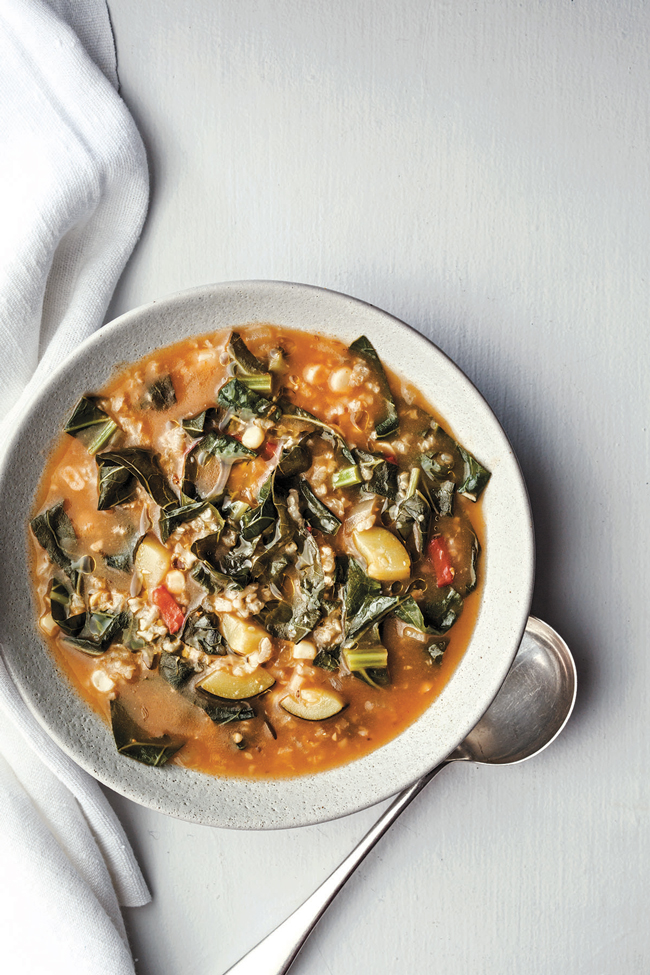 Summer Vegetable Minestrone
Reprinted with permission from The Book of Greens by Jenn Louis, copyright © 2017. Photography by Ed Anderson. Published by Ten Speed Press, an imprint of Penguin Random House LLC.
Ingredients
3

tablespoons

olive oil

1/2

yellow onion 2 cloves garlic

1

large sweet bell pepper

diced

1/2

teaspoon

dried red pepper flakes 4-inch [10-cm] sprig rosemary

4

sage leaves

2

sprigs thyme

1

teaspoon

fresh or dried oregano 3 bay leaves

1

teaspoon

fennel pollen or toasted and ground fennel seed

1

small zucchini

6 ounces/170 g, diced 1 cup [175 g] fresh corn kernels

1

pound

[455 g] fresh tomatoes

pureed and strained (about 2 cups)

4 to 6

cups

[960 ml to 1.4 L] chicken stock or vegetable stock

2-

ounce

[55 g] piece Parmigiano-Reggiano rind

optional

1/2

cup

[100 g] Arborio rice

1

pound

[455 g] collard greens

stems discarded and leaves cut into 1/2-inch [12 mm] ribbons

1/2

cup

[15g] lightly packed finely grated Parmigiano-Reggiano

for garnishing

Kosher salt and freshly ground black pepper

1/4

cup

[60 ml] olive oil

for garnishing
Instructions
In a large pot, warm the 3 tablespoons olive oil over medium-high heat. And the onion, garlic, pepper, dried red pepper flakes, rosemary, sage, thyme, oregano, and bay leaves and cook until the onion is translucent, about 4 minutes. (If the garlic or onion begins to brown, decrease the heat.) Add the zucchini and corn and cook just until zucchini begins to soften, 3 to 4 minutes. Add the tomato puree, 4 cups [960 ml] of the chicken stock and Parmigiano-Reggiano rind. Bring to a gentle simmer, then stir in rice. Cook, stirring occasionally, until the rice just starts to become tender, 10 to 12 minutes.

Add the collard greens to the soup and continue cooking until the greens are tender, about

minutes. Add additional stock, as needed, to thin the soup. The rice may absorb broth and the soup can become too thick.

Remove the bay leaves, Parmigiano-Reggiano rind, and herb stems from the soup and season with salt and pepper.

Ladle the soup into bowls and garnish with Parmigiano-Reggiano and a drizzle of extra-virgin olive oil.
Recipe Notes
OTHER GREENS THAT WORK IN THIS RECIPE kale, spinach
0