While we love our roasted root veggies as they are, we are always looking for more interesting ways to make the whole family love them. This vegetable galette is our new favourite way to incorporate veggies into the diet – a recipe that's easy to make, packed with Fall flavours, and satiating enough to make a dinner on its own. Roasted root vegetables (sweet potatoes, carrot, parsnip), spiced chickpeas, caramelised onion, dried cranberries, crumbled goat cheese – everything cozily wrapped in a buttery dough, with a drizzle of honey on top. Did we convince you yet?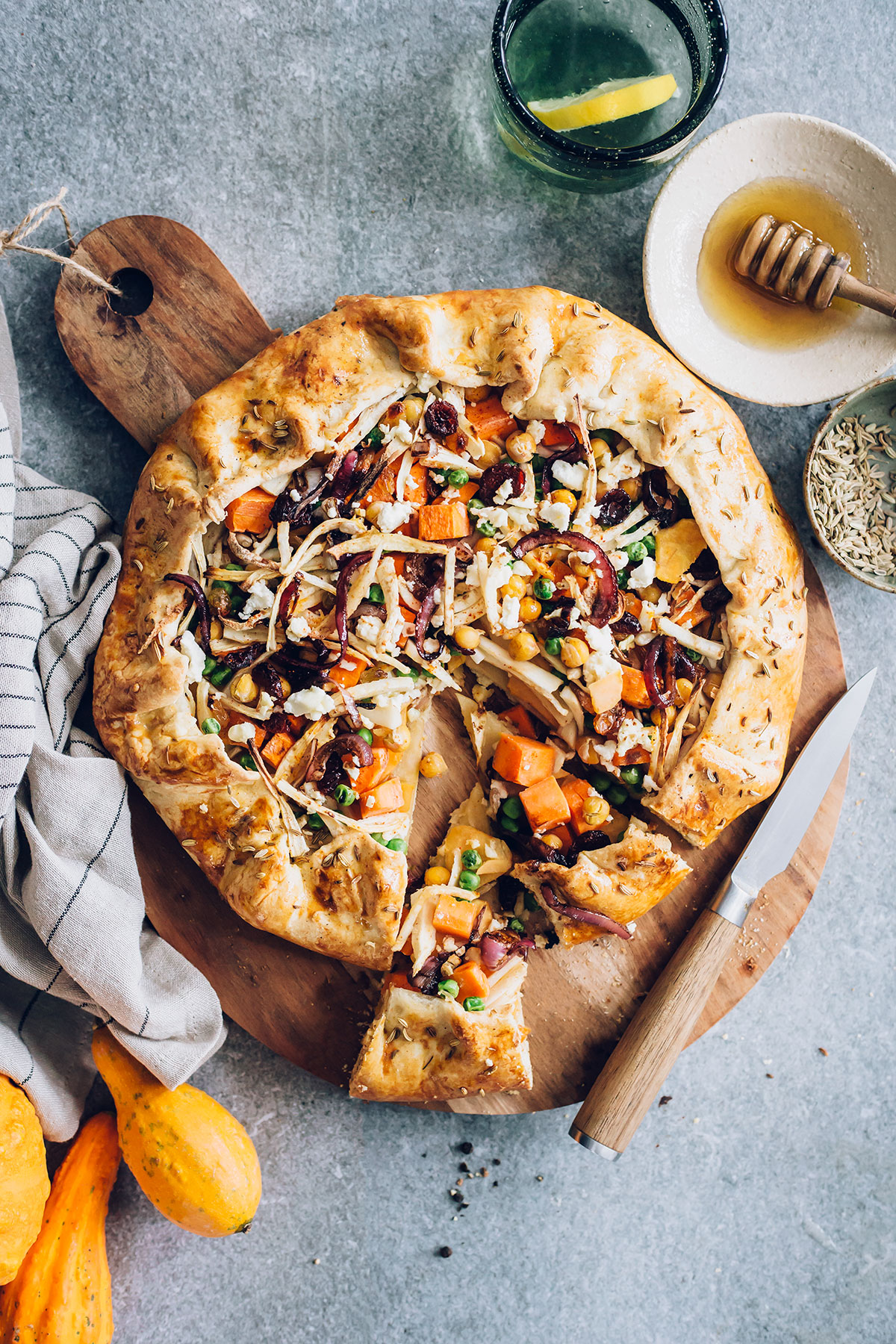 HOW TO MAKE A VEGETABLE GALETTE
Depending on the vegetables you use, we recommend that you cook the vegetables before adding them to the galette. The buttery dough cooks pretty quickly, without leaving too much time for the veggies to cook completely. We used root vegetables and they definitely needed a quick roast before adding them to the recipe. So, there are four basic steps for making a vegetable galette:
Cut and cook the vegetables – sweet potatoes, carrots and parsnips have similar cooking time, so you can add them all together onto a baking tray, drizzle with olive oil and roast for 15 minutes.
Prepare the dough – this is a simple dough, made with plain flour, butter and ice cold water. You can make it in a food processor, then wrap it in plastic foil and keep in the freezer until the vegetables are ready.
Assemble the galette – make a mix of vegetables, chickpeas, peas, dried cranberries and spices.
Bake
What we really love about this galette is that you can prepare its ingredients ahead and assemble whenever you feel like having a hearty, rustic dish. For instance, you can freeze the dough for up to three months for later use. And we all make large batches of roasted vegetables during our weekend meal prep, that we can use throughout the week in different ways. Assembling them for making this vegetable galette is definitely a great way to get out of your usual meals schedule and surprise everybody in the family with a special dinner.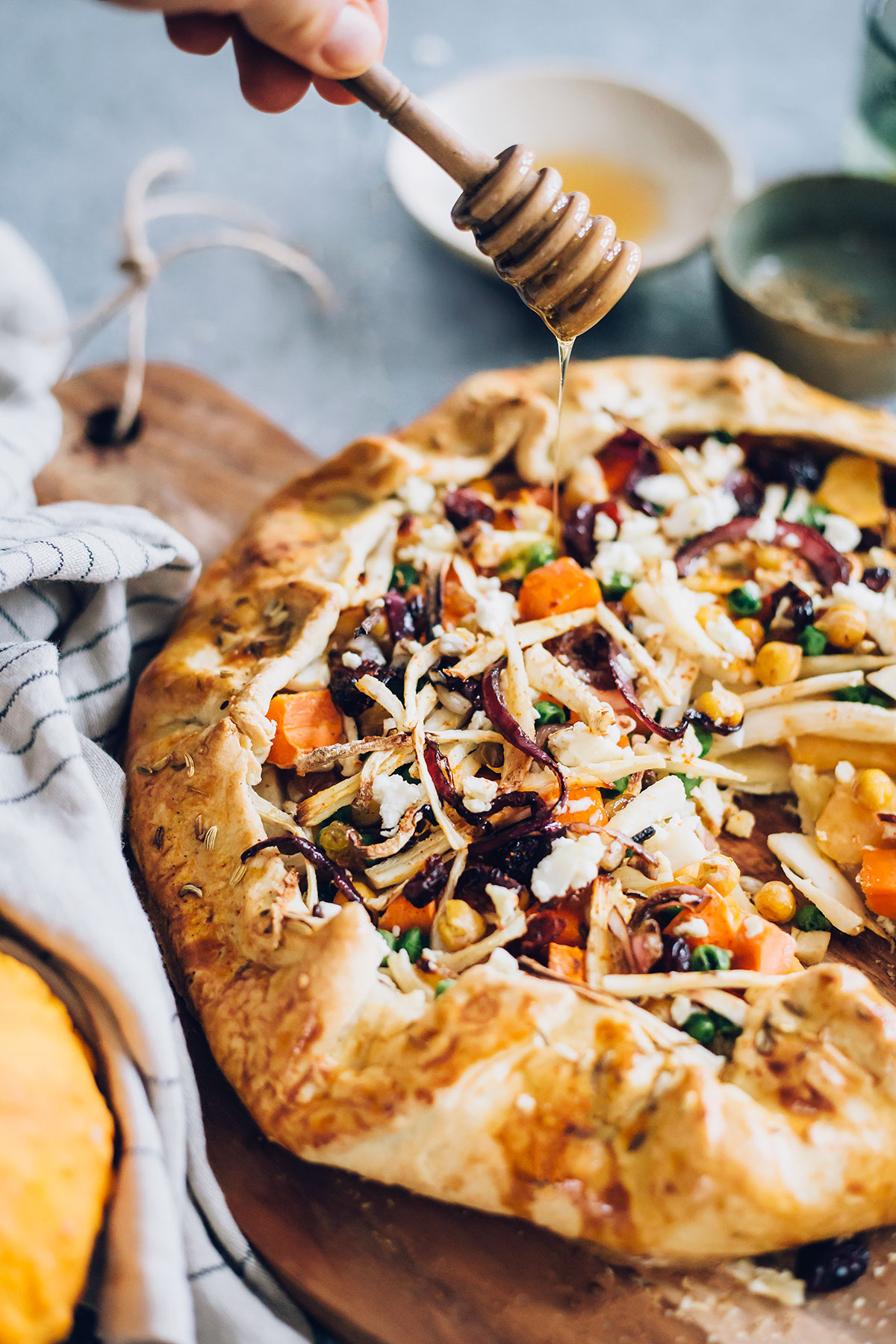 THE BENEFITS OF EATING ROOT VEGETABLES
We always advise eating seasonal, and this vegetable galette is definitely an example of getting the most out of seasonal veggies. Throughout the winter, the root vegetables preserve better than any other veggie in their raw version, and they are widely available for adding to soups, for roasting or simply eating raw, grated in salads. All the root vegetables are packed with fibre, minerals (especially potassium, manganese and copper) and vitamins (especially biotin). The health benefits of eating root vegetables span from preserving a healthy microbiome and boosting the immune system, to lowering the blood sugar levels, the risk of heart disease and the risk of Type-2 diabetes.
Looking for more inspiring rustic dishes? Try our Slow Cooker Tuscan Bean Soup, Lentil Grain Broth, or our Vegan Shepherd's Pie with Beet and Lentils.
Did you try this recipe? Post your photo and tag us #helloveggieblog on Instagram so we can share it with our community.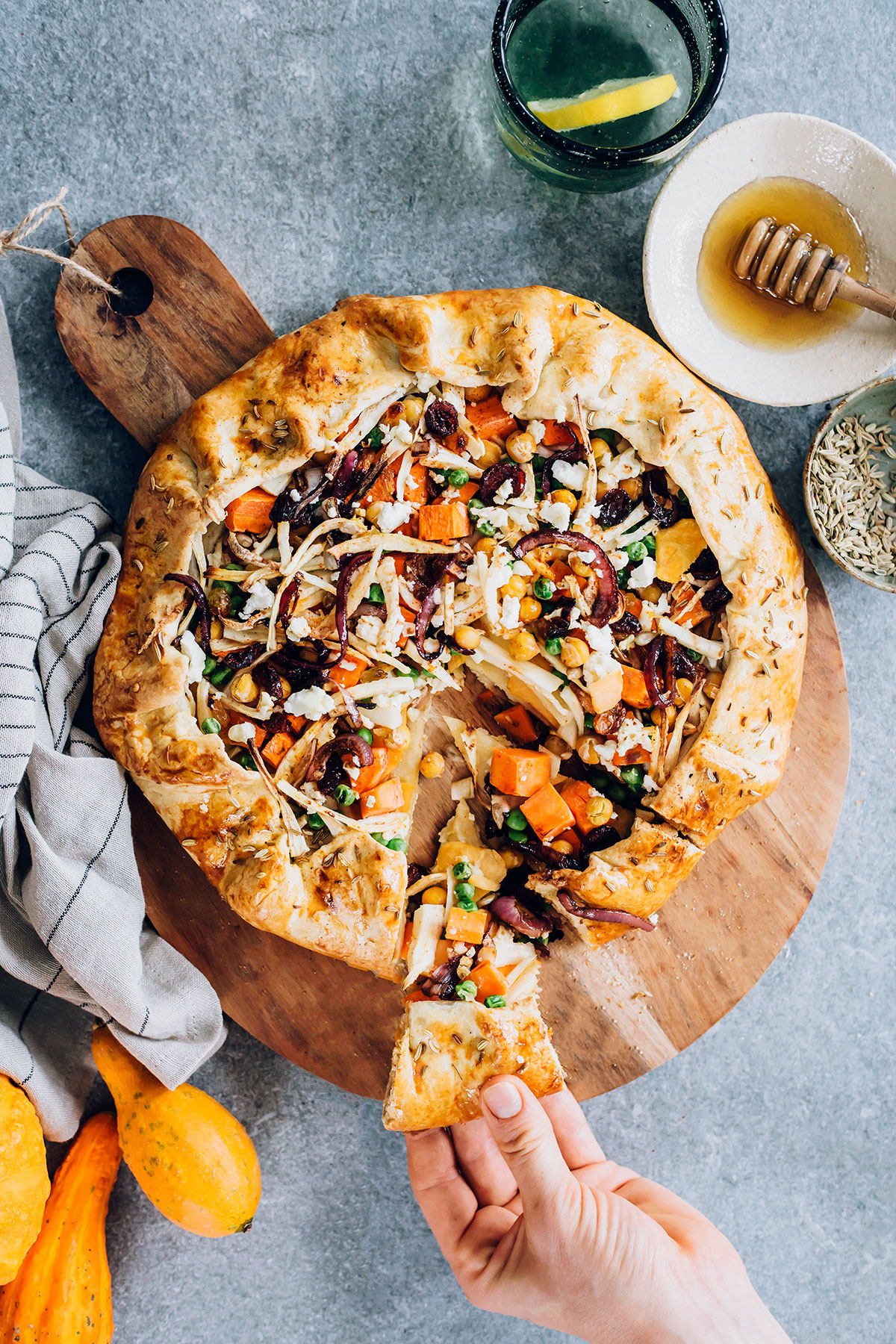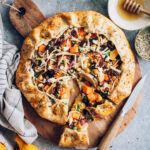 Rustic Root Vegetable Galette with Chickpeas and Cranberries
This vegetable galette is a hearty, filling and delicious way to eat more veggies! Roasted carrots, sweet potato and parsnip pair with chickpeas and dried cranberries, wrapped in a buttery dough and drizzled with honey.
Ingredients
2

cups

plain flour

2/3

cup

butter

1/2

tsp

salt

2/3

cup

water

ice cold

4

carrots

cut into cubes

2

sweet potatoes

cut into cubes

2

tbsp

peas

frozen, defrosted

1

cup

chickpeas

cooked

1

tbsp

dried cranberries

2/3

cup

goat cheese

crumble

3

garlic

cloves, diced

1

egg yolk

1

tsp

cumin

1/2

tsp

cayenne pepper

1

tbsp

fennel seeds

1

tsp

turmeric

2

red onions

diced

1

tbsp

balsamic vinegar

2

parsnips

cut into strips

1

tbsp

honey
Instructions
Preheat the oven to 180C/356F. Line a baking sheet with parchment paper.

Add the carrots, sweet potatoes and parsnips onto the baking sheet, drizzle with olive oil and toss to combine.

Roast for 15 minutes (they will continue the cooking process during the galette baking).

While the vegetables are roasting, prepare the galette dough.

Add the flour and butter into the food processor and pulse to obtain a crumble.

Add the water and salt and pulse to incorporate and create a dough.

Cover the dough with foil and refrigerate.

Remove the vegetables from the oven and transfer into a large bowl.

Add the chickpeas, peas, cranberries, cheese, garlic and spices, and toss to combine.

Remove the dough from the refrigerator and add onto a floured surface.

Roll into a 12 inch circle, about 1/4 inch thick, and transfer onto the baking sheet.

Arrange the filling on top of the dough, leaving a 2-inch border around the edges.

Fold up the dough border over the filling, and brush with egg yolk to get a golden crust.

Bake for 30 minutes until golden.

While the galette is baking, prepare the caramelised onion.

Cook the onion in a non-stick skillet with a tablespoon water, over medium heat, stirring continuosly, until translucent

Add the balsamic vinegar, stir to combine and cook two more minutes over low heat. Turn off the heat and set aside.

Cut into slices and serve warm, topped with caramelised onion and drizzled with honey.
Nutrition Facts
Rustic Root Vegetable Galette with Chickpeas and Cranberries
Amount Per Serving
Calories 780
* Percent Daily Values are based on a 2000 calorie diet.
13