With all of the so-called superfoods being touted as miracle cures for this and that and the other, it's hard to know what's actually legit and what's just a bunch of hype (and a waste of money).
The truth is, there's probably at least some merit to most things out there, and if it's working for you (or you feel like it is) then that's great. Equally though, there's a lot of money to be made by peddling snake oil, and a lot of supplements and "superfoods" tend to fall into that category.
So, I don't believe in trendy superfoods per se, but I do have my favorites that I think truly deliver and are worth keeping in rotation on a regular basis.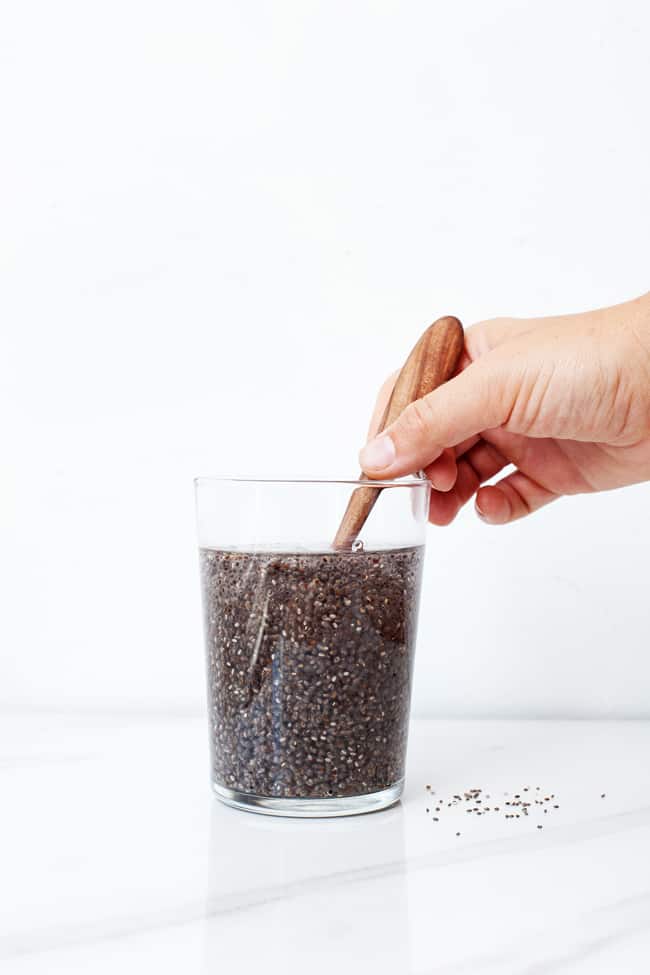 1. Chia Seeds
Yes, the gelatinous little wonder-seeds really are worth the hype!
Not only are chia seeds packed with minerals including calcium, magnesium, iron, and potassium, but they're also super high in dietary fiber.
In the fiber department, chia seeds are unique in that they have an ideal balance of soluble and insoluble fiber. These fibers act as prebiotics, which means they help feed the beneficial bacteria in our intestines.
The combination of soluble and insoluble fiber also means chia seeds can help regulate your bowel movements, whether your stools are too loose or too firm.
You've probably noticed that when you add chia seeds to a liquid like water, a little layer of gel forms around the seed. This gel retains water as the chia seeds move through your digestive tract, which helps to normalize digestion and maintain hydration.
Chia gel also helps to moderate (slow down) how quickly carbohydrates are digested and absorbed, which helps to regulate blood sugar. Taking some chia seeds before a meal has been shown to be helpful for blood sugar regulation.
Because chia seeds hold up to 10x their weight in water, these little fiber bombs enter your system already hydrated. This means that rather than absorbing liquid from your digestive tract, the seeds actually provide liquid. This is incredibly helpful with hydration, and maintaining a healthy gut.
*Please note that our bodies are not very efficient at converting ALA to DHA, the omega-3 fatty acid that's essential for brain health. If you're vegan or don't eat fish, don't depend on chia or other plant sources of ALA for your omega-3 intake. Seek out a good-quality algae oil supplement, which is the only reliable plant-based source of DHA.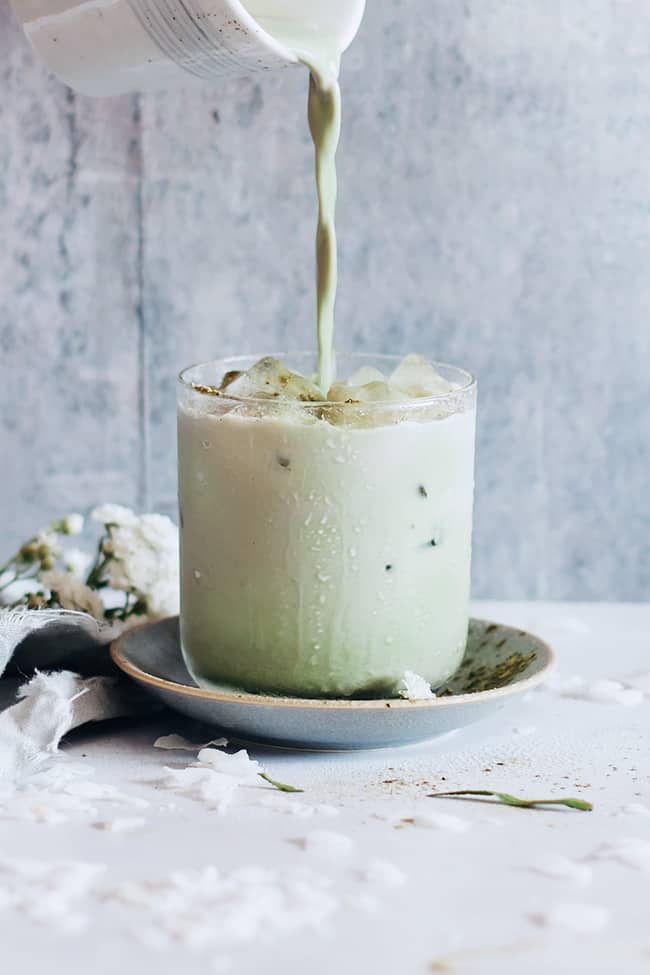 2. Matcha
Green tea lovers rejoice! Matcha, the high-quality stone-ground tea leaves used in Japanese tea ceremonies, is a worthy superfood.
Matcha is packed with antioxidants, including L-theanine, which is known to have a relaxing and calming effect on both body and mind. Matcha is naturally high in caffeine, but the relaxing effect of theanine counters this effect, all the while increasing serotonin, dopamine, and glycine levels in the brain.
In other words, matcha makes you feel good, helps with concentration, and is just generally amazing stuff! In addition to all those antioxidants, matcha is also rich in vitamin C, selenium, chromium, zinc, and magnesium.
Since you're not straining the leaves out when you drink matcha, it's much more nutrient dense than standard green tea and you'll want to spring for the really good stuff. Unless you're cooking with it, opt for ceremonial grade matcha, which is the brightest green color. It's expensive, but a little goes a long way.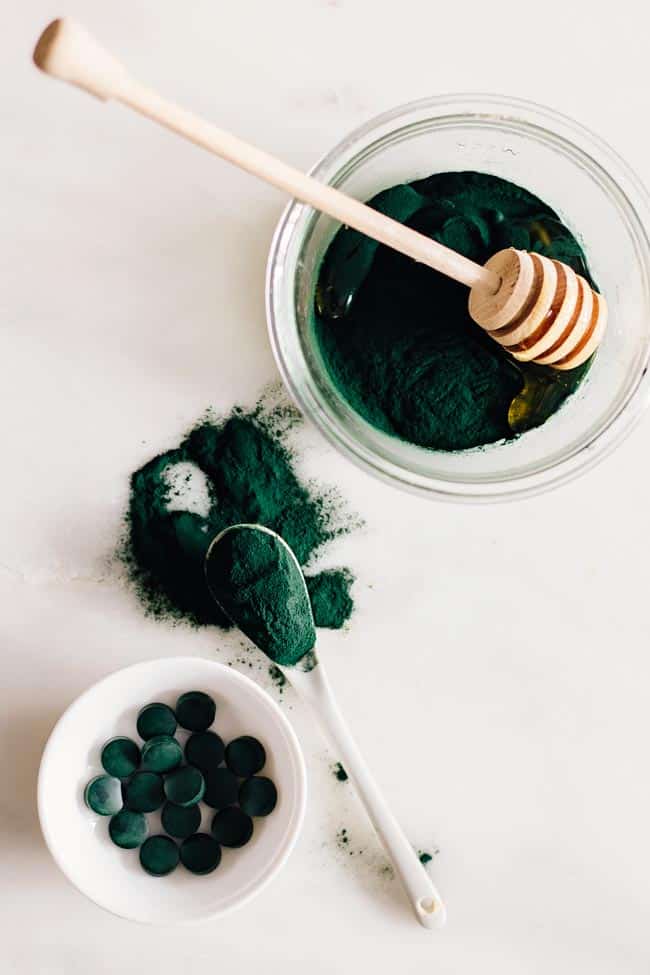 3. Spirulina
Since we're talking about green powders, I'd be remiss if I didn't mention spirulina. This blue-green algae is trendy right now, but it's been around and in use as a food and supplement for thousands of years.
Spirulina grows on fresh-water ponds around the world, and today is a cultivated crop, but traditionally the biggest concentrations were found in Central America and Africa. It grows on the surface of the water and can be skimmed off and dehydrated – so, yup, this super food is quite literally pond scum!
Spirulina packs a pretty incredible nutritional punch. It's 50-70% protein by weight, and the protein is complete (contains all essential amino acids) bioavailable and easy for most people to digest.
Spirulina is also a good source of healthy fats, including omega-3 and omega-6 fatty acids, vitamins A, C, E, and K, as well as iron, magnesium, potassium, and manganese. In fact, the iron found in spirulina is more bioavailable and readily absorbed by our bodies – without causing tummy troubles – than many commercial iron supplements.
In fact, one study compared a group of pregnant anemic women that were given 1500mg of spirulina per day with another group given a conventional iron supplement (90mg) and the spirulina group had much better outcomes.
It's important to note that spriulina isn't a reliable source of vitamin B12, as the B12 present is pseudovitamin B12. Spirulina also has many other health benefits thanks to its high antioxidant content, and anti-inflammatory properties, and may even help your body clear away unwanted toxins and heavy metals.
When purchasing spirulina it's important to buy from a trusted brand that grows organically. Since it's grown in and harvested from water, it can be contaminated by heavy metals in the surrounding water, or from microcystins, free toxins floating in the water.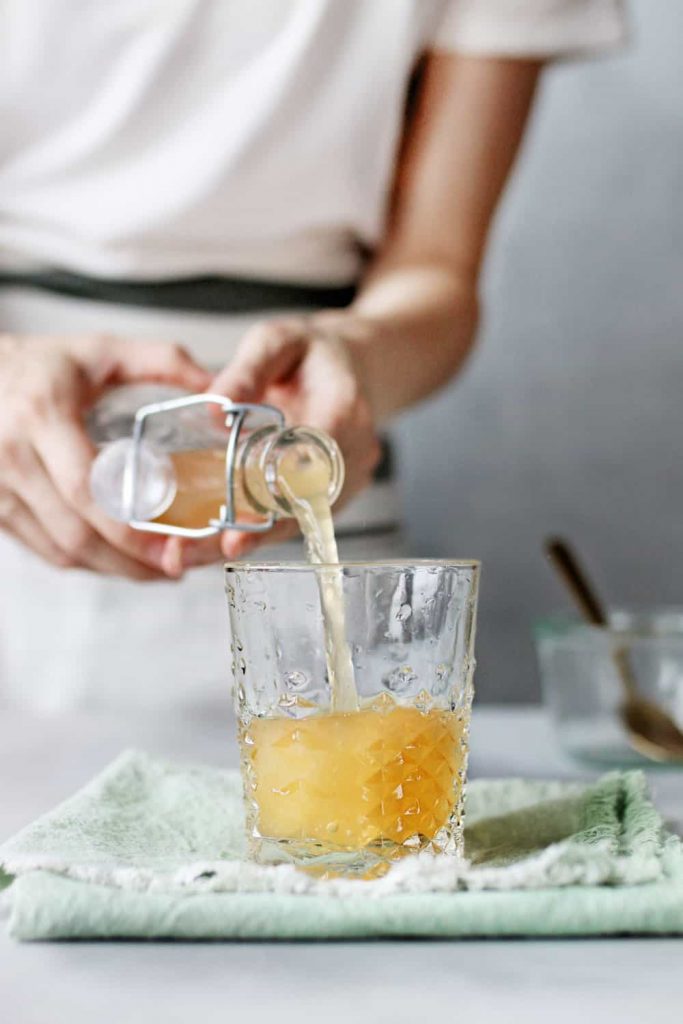 4. Apple Cider Vinegar
Yep, your friend who swears by beginning their day by chugging a glass of water with apple cider vinegar is on to something.
The apple cider vinegar in question is typically natural, murky looking, unfiltered vinegar containing "the mother" of vinegar. What's the deal with the mother? It's the starter that gets the fermentation process going (similar to a SCOBY in kombucha making) by providing friendly bacteria.
The mother consists of strands of proteins, enzymes, and gut-friendly bacteria, which some people believe are responsible for most of the health benefits. Since the mother is a source of bacteria, apple cider vinegar is in turn a good source of plant-based probiotics.
Some people believe that taking apple cider vinegar can soothe an upset stomach, and there may be some merit to this claim. Though it may seem counter intuitive, the acetic acid in vinegar can actually help neutralize the acid in your stomach, and may be able to relieve heartburn – but only the type of heartburn triggered by something you ate. If you've got stomach ulcers or other sores in your digestive tract, adding vinegar will aggravate the situation.
When you're taking apple cider vinegar, it's important that it's well-diluted in water. 1-2 teaspoons in a large glass of water is about the concentration we're after. Taken too concentrated the vinegar can burn your esophagus, and can throw off the pH in your stomach.
Beyond creating a happy gut environment, taking apple cider vinegar has been shown to be helpful in blood sugar regulation and stabilization. When consumed before a meal, acetic acid can help to slow the uptake of sugar into your blood stream. Acetic acid also interferes with enzymes in your stomach that are responsible for breaking down starch, which means you don't absorb the sugars from carbohydrates in your meal.
5