Recently I talked about my quest to makeover my family's breakfast options because I'm totally over cereal and frozen waffles. And while we were on the great muffin hunt, I had an epiphany. Something as simple as a muffin can totally turn around a bad day. The foods we eat don't just impact our waistline, they can impact our brain chemistry and our mood.
Okay, part of the appeal might be satisfying your sweet tooth (because these chocolate chip banana muffins are delicious!). But they also help turn around a crappy mood because they contain several feel-good ingredients: banana, chocolate and yogurt. No wonder these muffins were such a big hit!
Chocolate Chip Banana Muffins Recipe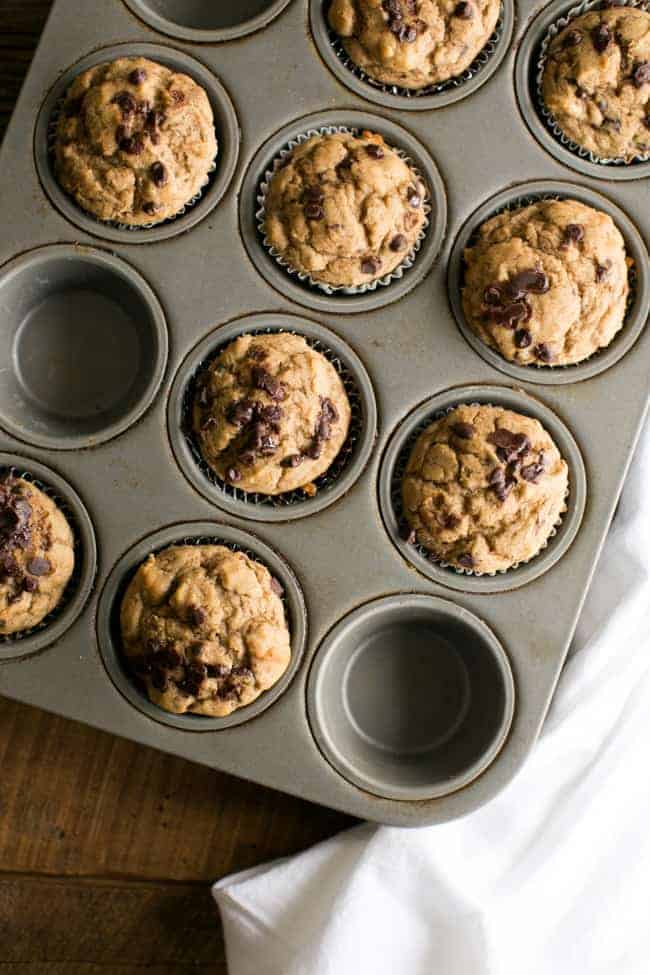 These chocolate chip banana muffins are a hit with my picky eaters. We cut out some of the sugar by adding banana, used a gluten-free flour, and added dairy-free yogurt to make them super moist.
Banana
Bananas contain fiber, healthy carbohydrates, vitamins A, B6 and C, potassium, iron and tryptophan. That combination works on mood in several ways. The sugars provide a quick energy boost while the fiber helps you avoid the energy crash (and resulting grumpy mood). Carbohydrates aid in the absorption of tryptophan in the brain, and vitamin B6 helps convert the tryptophan into mood-lifting serotonin.
Chocolate
No joke, there are brain reactions that occur when you eat chocolate – or even just think about eating it. Your brain releases endorphins in the body that make you feel good and improve mood. Chocolate also has caffeine, sugar and fat that give you an energy boost. So don't feel bad for wanting chocolate when you're feeling down!
Yogurt
Yes, even yogurt can make you happy! It's not just the good bacteria either. Scientists think it's related to the unexpected pleasant feeling we get when we're surprised at how good yogurt tastes – because we were expecting something different. If you can't handle regular yogurt, you'll definitely be pleasantly surprised at how good dairy-free yogurt is. Try the vanilla flavor to promote relaxation. Adding the yogurt to the muffins gives them a nice boost of plant-based protein.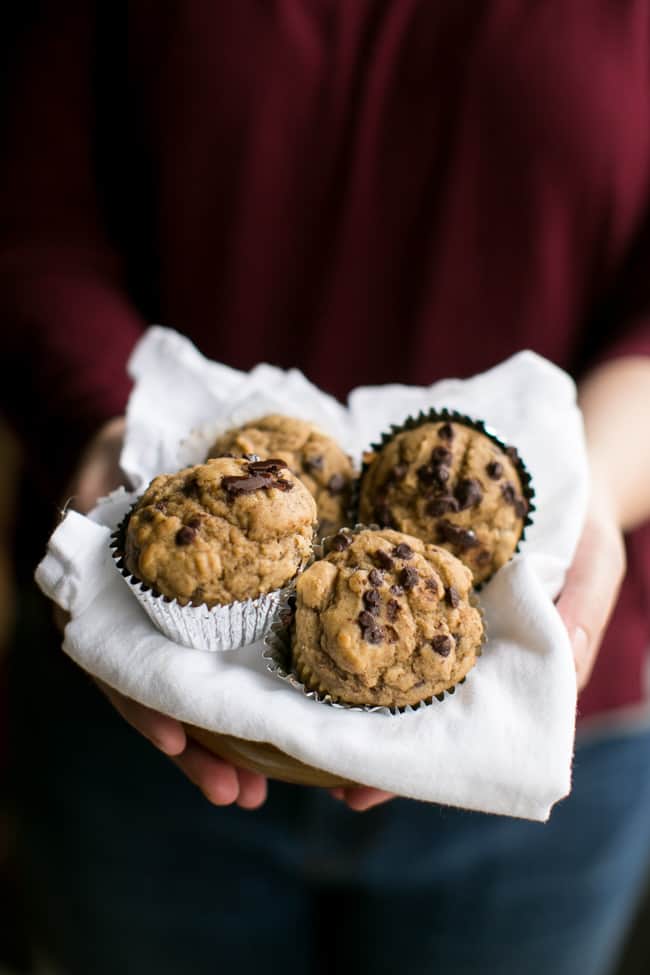 For crazy dine-and-dash mornings, you can't beat the convenience of a muffin. I was planning to freeze a few muffins, but then I realized that they're also good for afternoon snacks and late night cravings. I may or may not have eaten more than my share of these – thinking of a muffin as healthy is a little dangerous, am I right??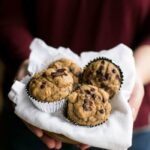 Gluten-Free Chocolate Chip Banana Muffins
Ingredients
2

ripe bananas

1

cup

Silk dairy-free yogurt

2

large eggs

½

cup

brown sugar

2

cups

Bob's Red Mill Gluten Free Baking Flour Mix 1 to 1

½

teaspoon

baking soda

1 ½

teaspoon

baking powder

2

teaspoon

cinnamon powder

½

teaspoon

salt

½

teaspoon

vanilla

½

cup

mini chocolate chips
Instructions
Preheat oven to 350 degrees F. Line a 12 cup muffin tray with liners. If you're using regular liners, spray with non-stick cooking spray. Otherwise they will stick to the liners due to the lack of oil in the batter.

In a large bowl, combine banana, sugar, yogurt, vanilla extract and eggs. Mix until bananas have been fully mashed.

In a separate bowl, combine remaining dry ingredients – gluten free baking mix, baking soda, baking powder, cinnamon and salt.

Slowly add the dry mixture into the wet mixture, adding ½ cup at a time.

Once fully mixed, fold ½ cup mini chocolate chips.

Using the same measuring cup, add ¼ cup batter to each muffin cup. Top each muffin with some extra chocolate chips.

Bake 15-20 minutes, or until toothpick removes clean from center
1