These pretty gluten-free appetizers are just what you need to please a crowd, without wasting too much time in the  kitchen! Mini blinis are versatile because they can be topped with anything you wish. We've chosen a delicious miso beet paste, dollops of horseradish yogurt, and quick pickled red onion. So simple yet impressive, this recipe is the best option to start festive dinner with.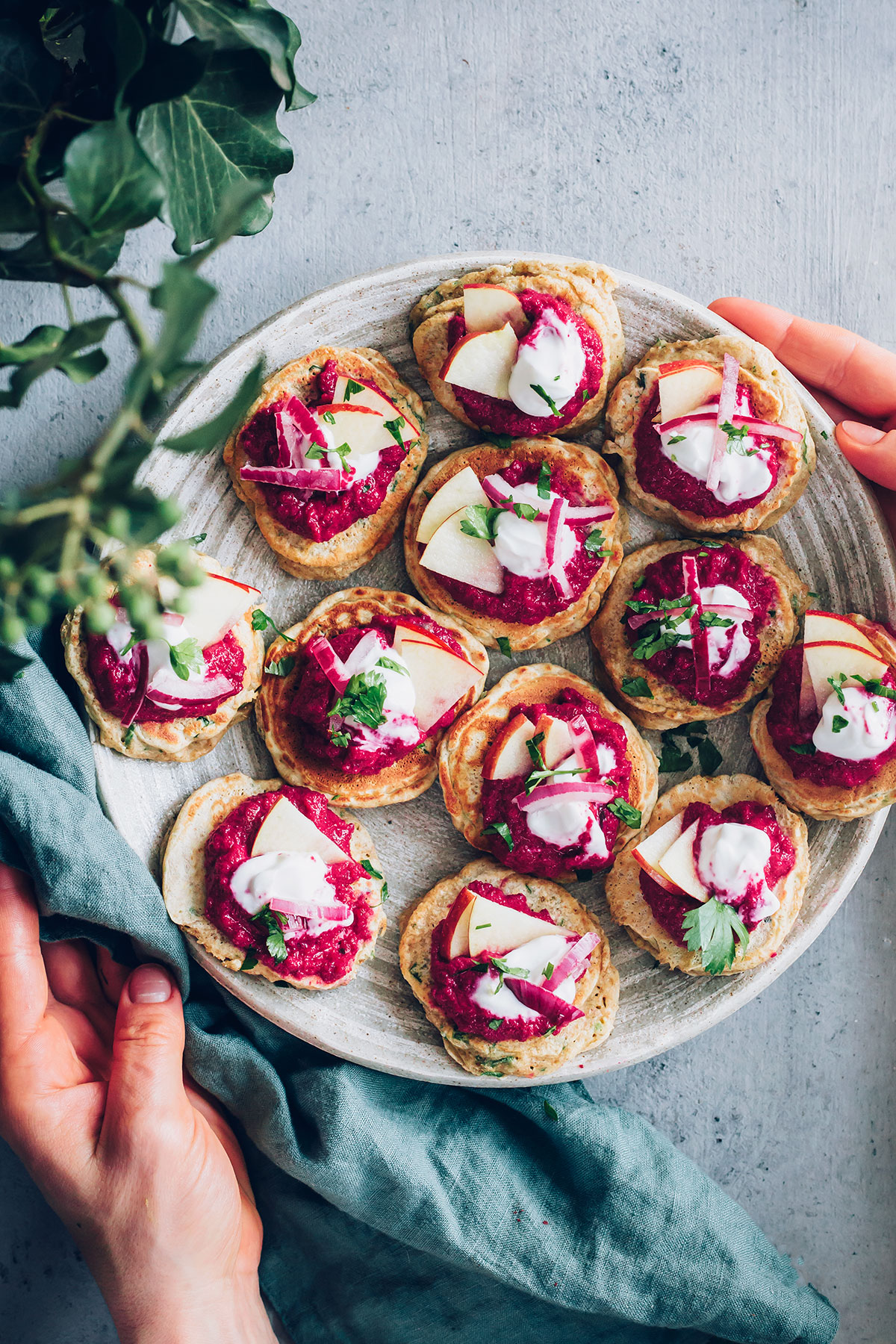 WHAT ARE BLINIS MADE OF?
Traditionally, blinis are gluten-free Russian pancakes made with buckwheat flour and yeast, and served with smoked salmon or caviar. We adapted the recipe to create an appealing appetizer. We used gluten-free buckwheat flour, but replaced yeast with baking soda, and added chopped parsley to the mix, both for color and for the taste. The rest of the composition is similar to the pancakes – eggs, plant milk, and a pinch of salt.
ARE BLINIS SERVED HOT OR COLD?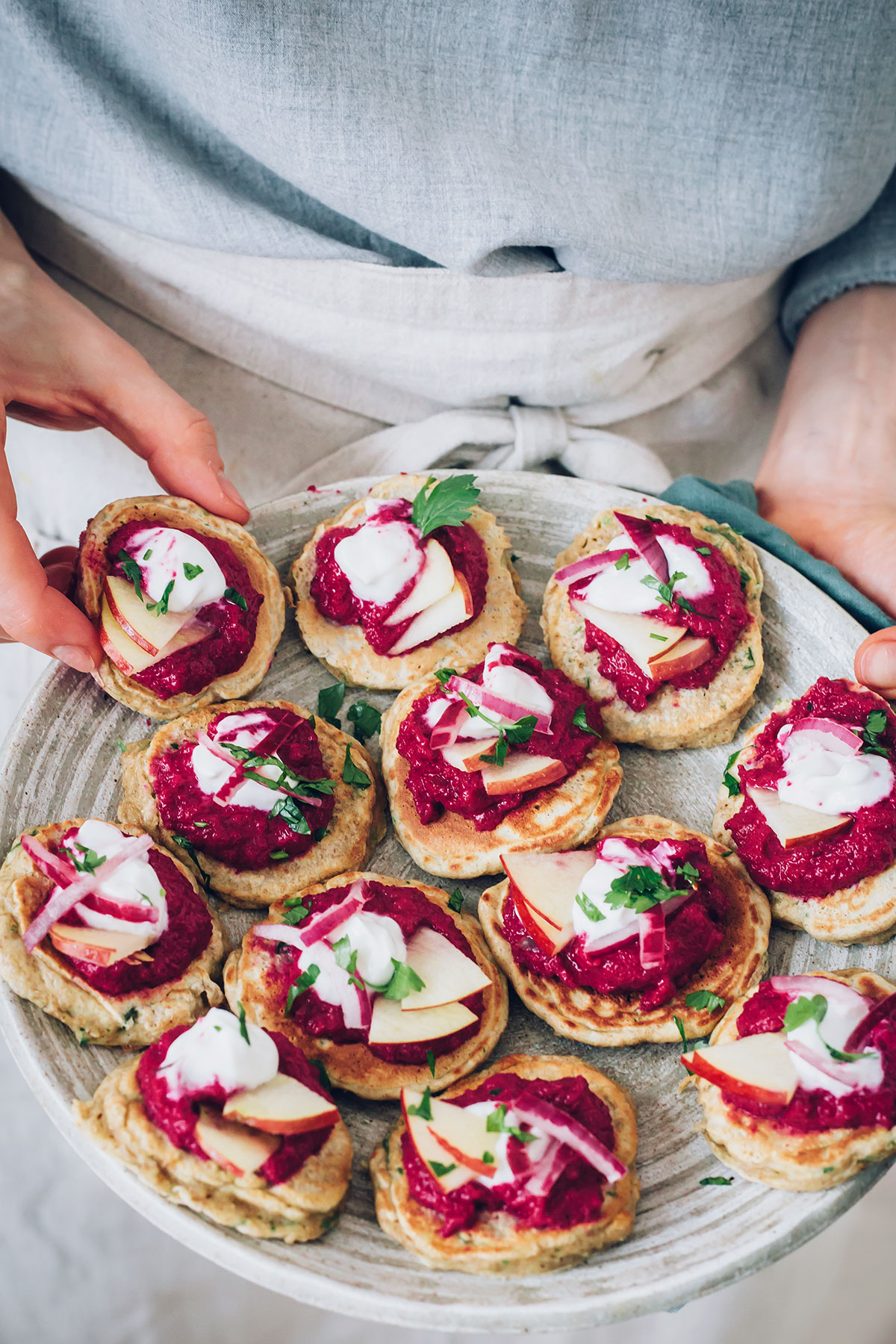 You can serve blinis according to your own preferences, and considering the toppings you use. We like to make the blinis in large batches and serve them cold, to make sure the toppings don't change the texture. You can also cook them and keep warm in the oven heated to max 140F, add the toppings and serve immediately.
HOW TO MAKE MINI BLINI APPETIZERS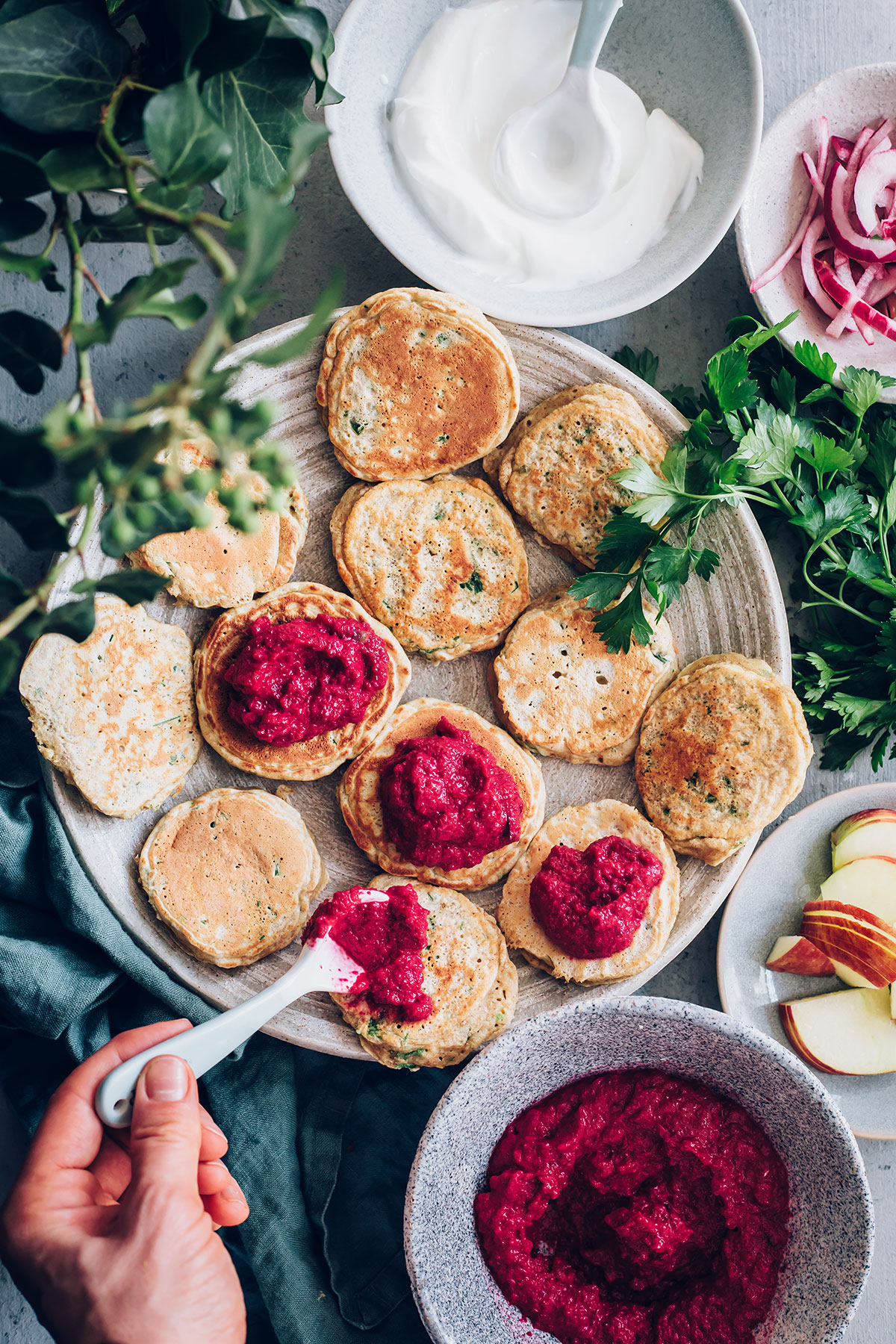 The process of making mini blini appetizers is very similar to the one of making pancakes. Here are the steps:
In a medium bowl, beat the eggs and mix with milk and melted butter.
Sift the buckwheat flour with salt and baking soda into a large bowl, then incorporate and egg mixture, add the chopped parsley, and mix to obtain a thick batter.
Spray a non stick pan with coconut oil, then scoop the batter using a large spoon, to form mini blinis of about 2 inches. Cook for 3 minutes, then flip over and cook for 2 more minutes.
Top the mini blinis with your favorite ingredients and serve.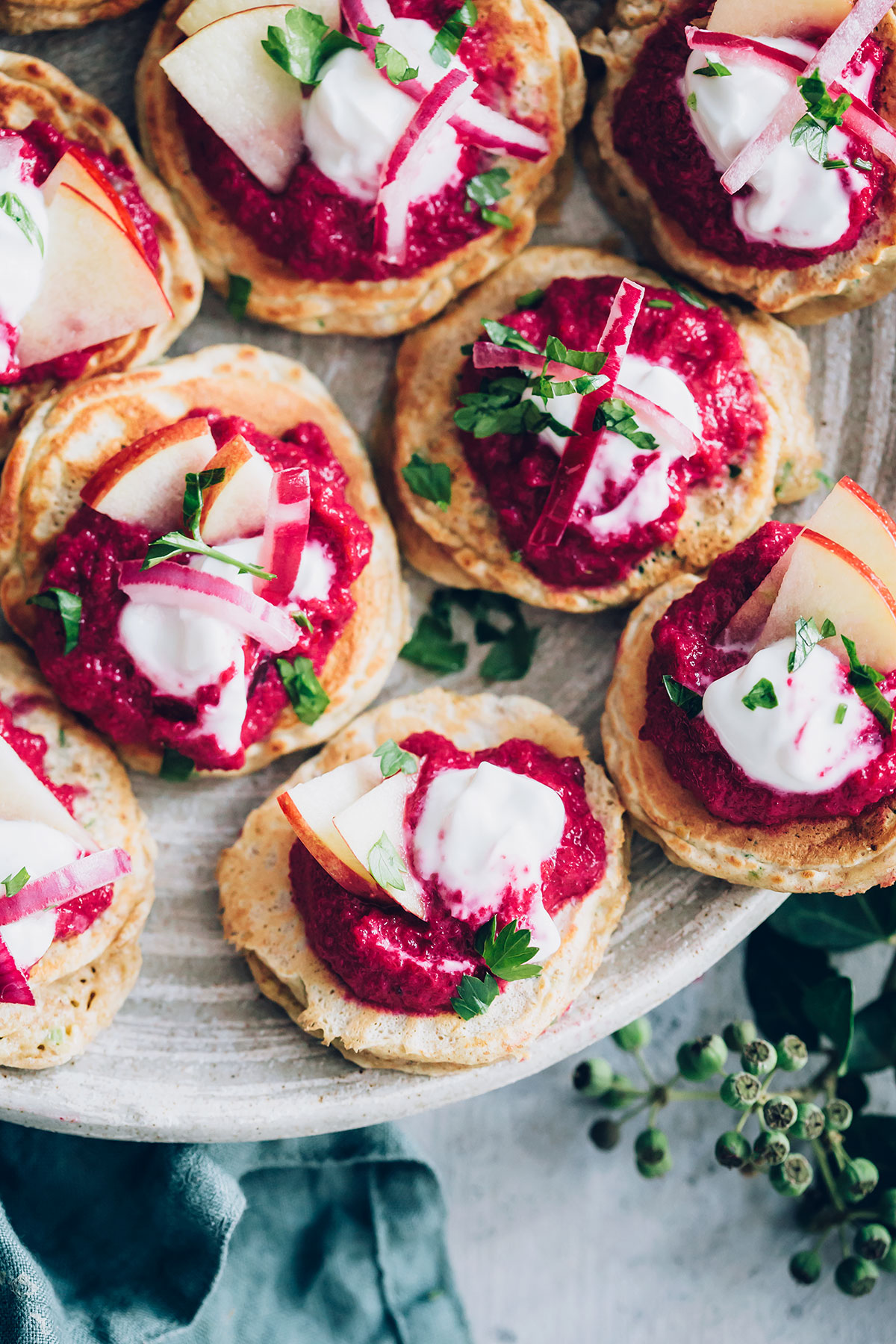 Looking for more inspiring appetizers for your festive dinner? Try our Spicy Roasted Carrot Hummus, our Carrot Walnut Meatballs, or our Roasted Winter Vegetable Kabobs.
Did you try this recipe? Post your photo and tag us #helloveggieblog on Instagram so we can share it with our community.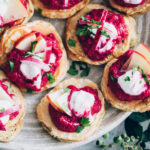 Mini Blinis with Miso Beet Spread and Horseradish Yogurt
This mini blini recipe makes a delicious gluten-free appetizer to please the whole family. The mini blinis are similar to pancakes and can be customised with your favourite toppings.
Ingredients
For the Mini Blinis
1/2

cup

buckwheat flour

2

free range eggs

1

tsp

baking soda

1

bunch

fresh parsley

finely chopped

2

tsp

melted butter

1

cup

almond milk

1/2

tsp

salt
For the Miso Beet Spread
2

medium beets

cooked, peeled

2

tsp

white miso

1

tbsp

Greek yogurt

1

tbsp

apple cider vinegar
For the Horseradish Yogurt
4

tbsp

Greek yogurt

1

tsp

freshly grated horseradish
Extra toppings: pickled red onion, diced apple, chopped fresh parsley
Instructions
In a medium bowl beat the eggs, and mix with melted butter and almond milk.

Sift the buckwheat flour with salt and baking soda in a large bowl, then add the egg mixture and whisk to incorporate and obtain a batter.

Add the parsley and mix to combine.

Spray a non-stick skillet with coconut oil, and scoop the batter into little pancakes of about 2 inch diameter.

Cook for 3 minutes, then flip over and cook 2 more minutes. Continue the same with the rest of the butter.

Prepare the miso beet cream - add all the ingredients into a food processor and pulse to obtain a creamy mixture.

In a medium bowl mix the grated horseradish with the Greek yogurt.

Arrange the mini blinis on a large serving plate, add the miso beet cream, top with horseradish yogurt, diced apple, pickled onion and garnish with chopped fresh parsley.
Nutrition Facts
Mini Blinis with Miso Beet Spread and Horseradish Yogurt
Amount Per Serving
Calories 55
* Percent Daily Values are based on a 2000 calorie diet.
1