This holiday season, we're collaborating with Lee Kum Kee to create a festive twist on traditional holiday flavors.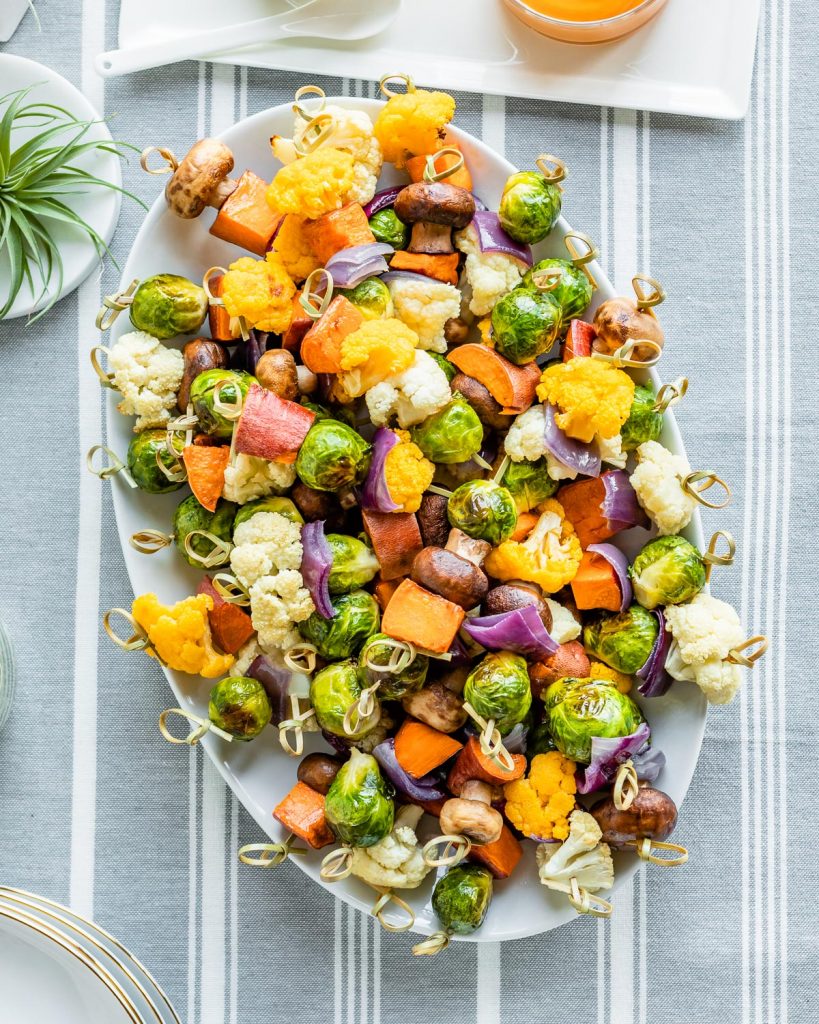 The holidays seem to usher in a whole host of overly rich party foods. When I used to cater, I noticed that during the holidays the desserts weren't as popular as vegetable appetizers or salads. Who knew, right?! My theory is that we're all so overloaded with decadent desserts over the holidays that we're automatically drawn to healthy, colorful veggie appetizers when we see them.
That's why I know these vegetable kabobs will be a hit at your next party. You simply can't go wrong with bite-size roasted veggie skewers paired with flavorful dips.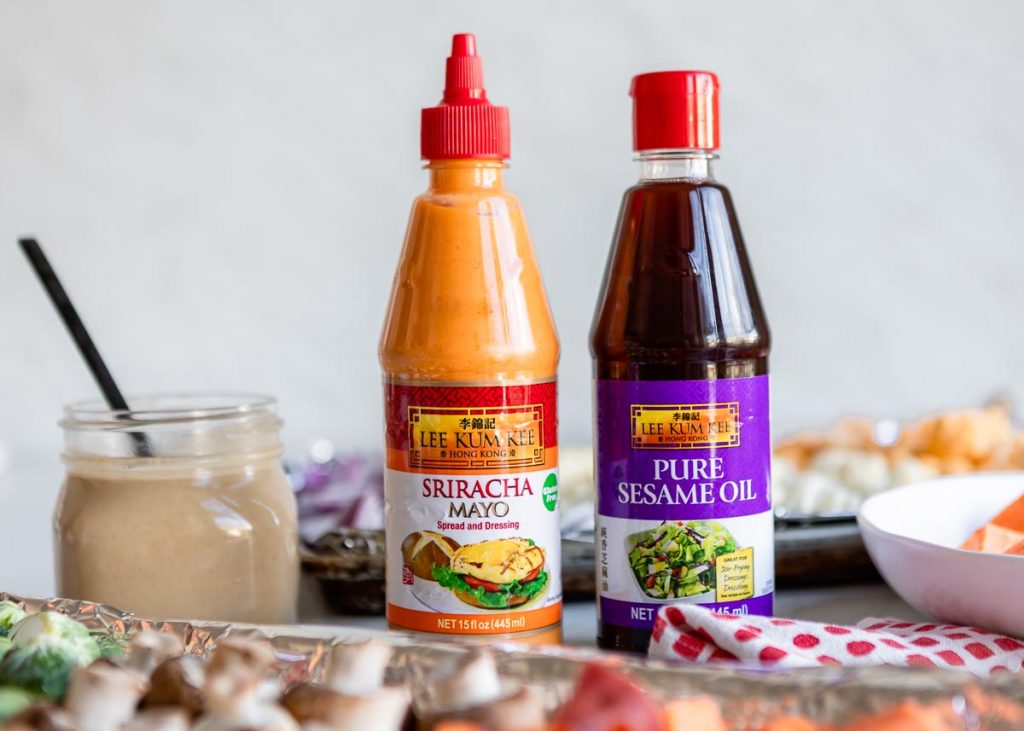 I chose some of my favorite winter veggies for these vegetable kabobs, but feel free to substitute your own favorites or whatever you find available locally. Just make sure everything is cut into uniform sizes and you're good to go!
I also went with veggies that were colorful and that I knew would complement the Sesame Tahini Sauce and Sriracha Mayo dipping sauces. (Have you tried Sriracha Mayo?! If you haven't you've been missing out!)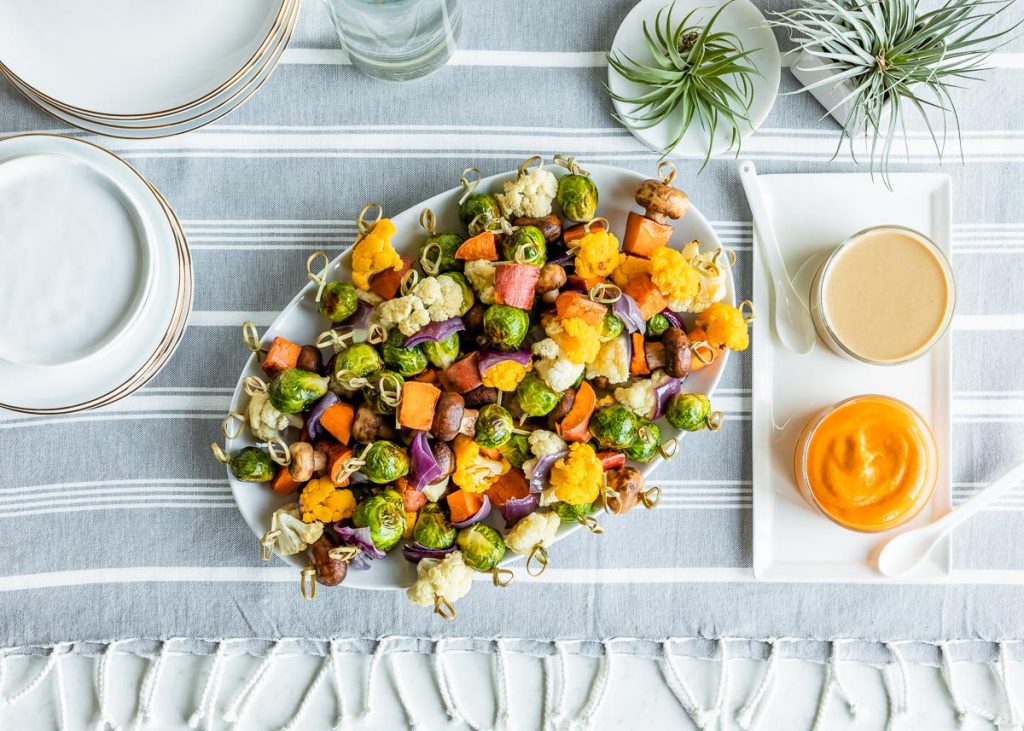 We created this recipe in partnership with Lee Kum Kee, purveyor of delicious (not to mention authentic!) Asian sauces and condiments for over a century. This year the brand is celebrating 130 years of authentic flavor and quality sauces. What I love about using Lee Kum Kee Pure Sesame Oil and Sriracha Mayo in this recipe is that it gives a fun twist on what could otherwise be a ho-hum appetizer option. They really help the flavors shine for these vegetable kabobs and that's why I love keeping these sauces on hand for everyday meals too. Find Lee Kum Kee products at your local grocery store in the Asian food aisle and learn more about the brand at https://usa.lkk.com/en/.
How To Make The Best Vegetable Kabobs Ever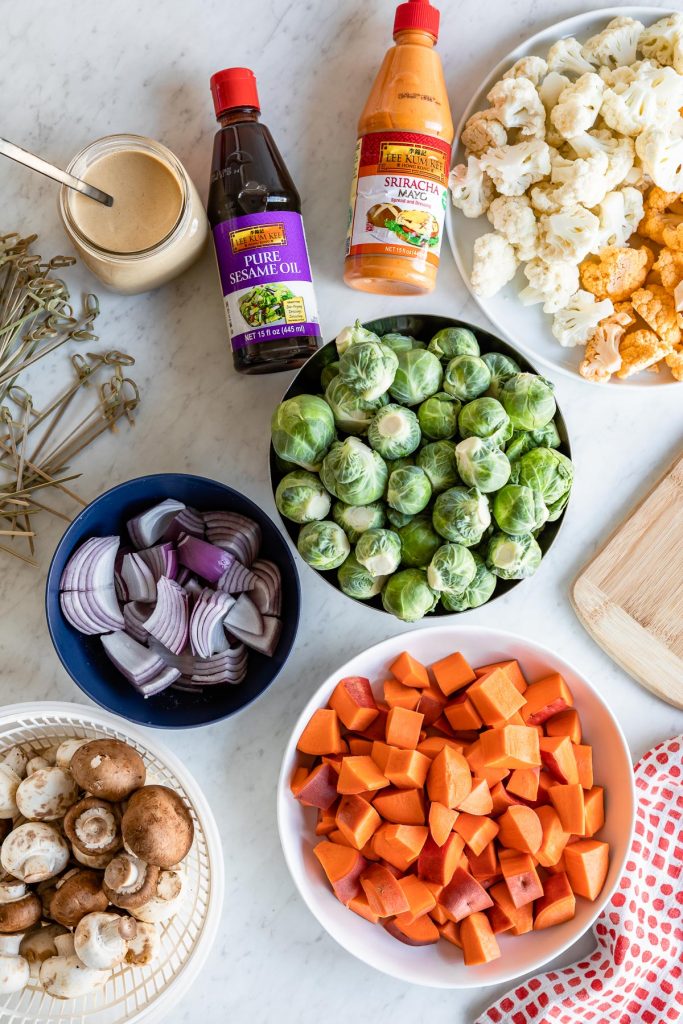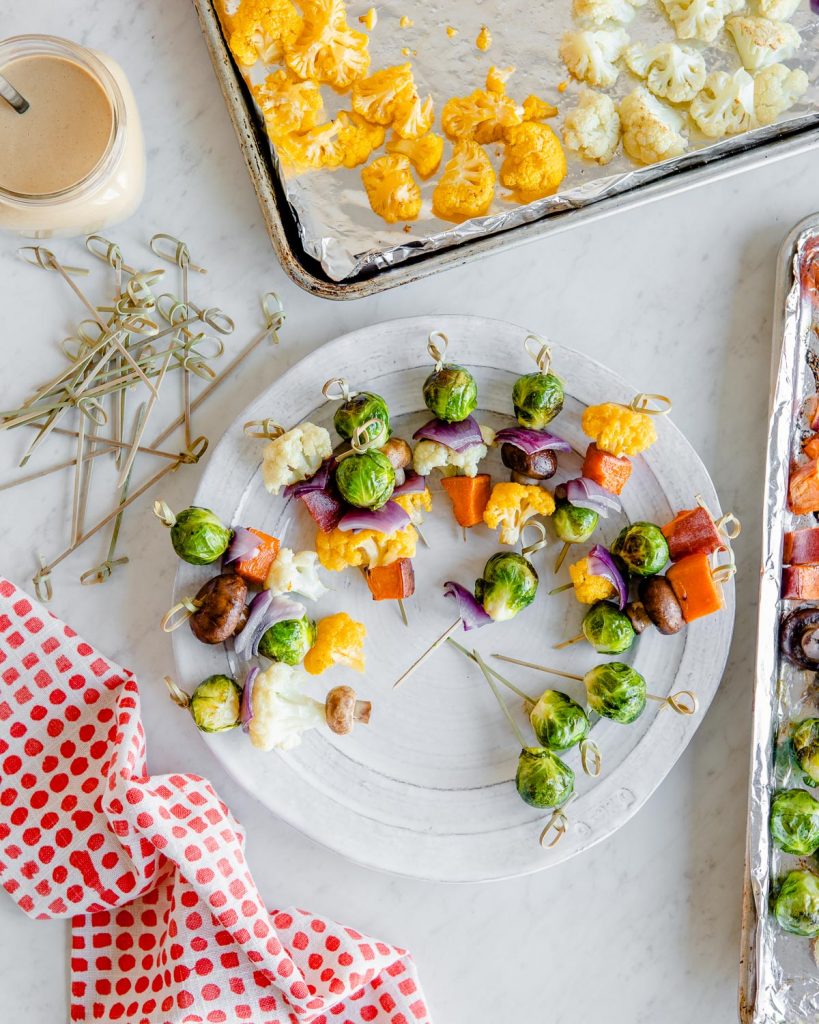 When roasting veggies, it's important to toss them with a little oil–in this case Lee Kum Kee Pure Sesame Oil and avocado oil. Because they will be roasted at high heat, you want to use oils that are stable at high temps. Plus, sesame oil packs a huge punch in the flavor department, delivering a delicious toasted sesame flavor. The oil helps the veggies brown, but also keeps them from drying out.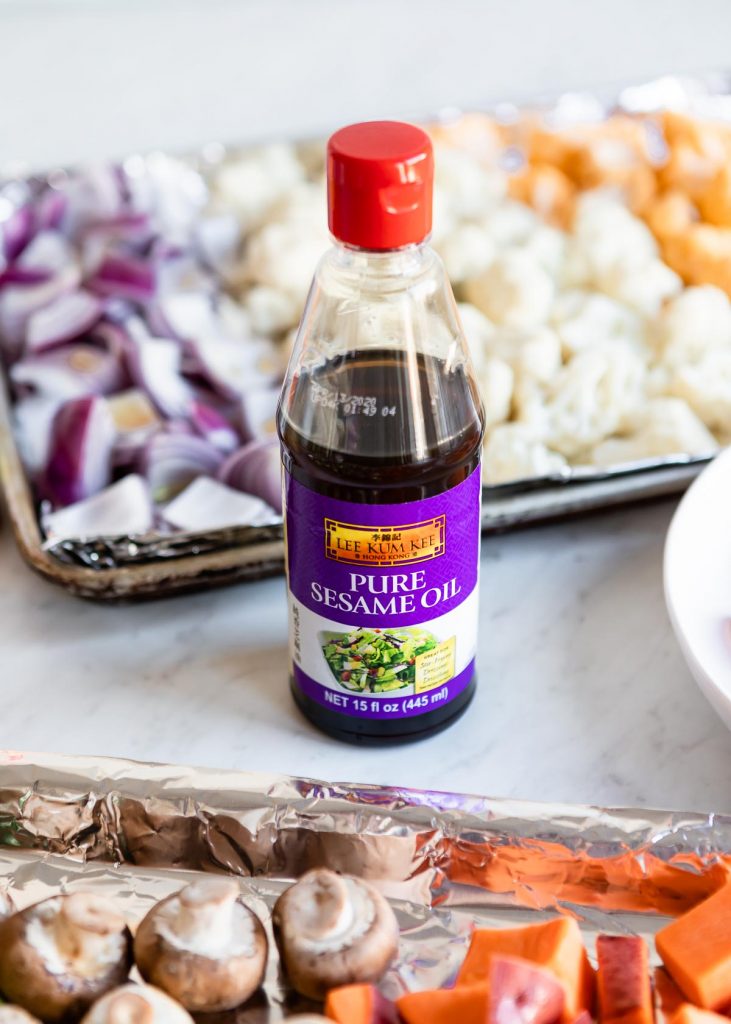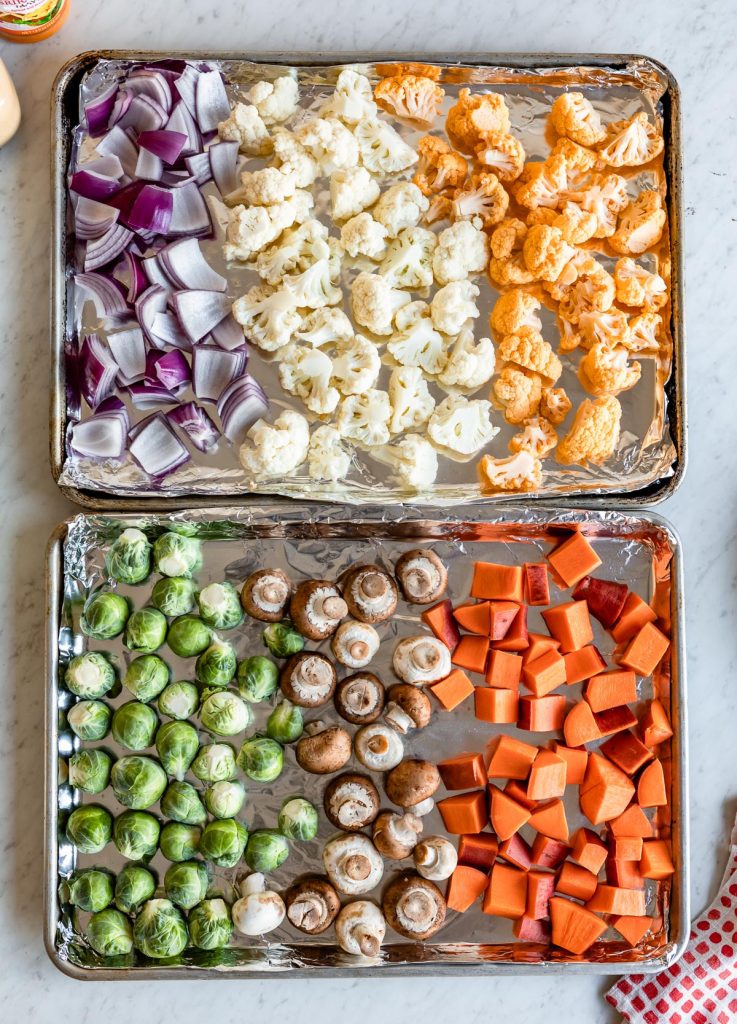 As I mentioned before, the size of the veggies is important. Smaller cubes and florets cook more evenly and are easier to eat as an appetizer. (No one likes wrangling an unwieldy veggie in the middle of party conversation!) Roasting the veggies then threading onto the skewers may seem like more work, and you can certainly use oven-safe skewers and thread them before, I prefer this way to make sure the veggies have enough room to roast and not steam, which can happen if the veggies are packed too closely as they cook.
Dipping Sauces Are Super Important!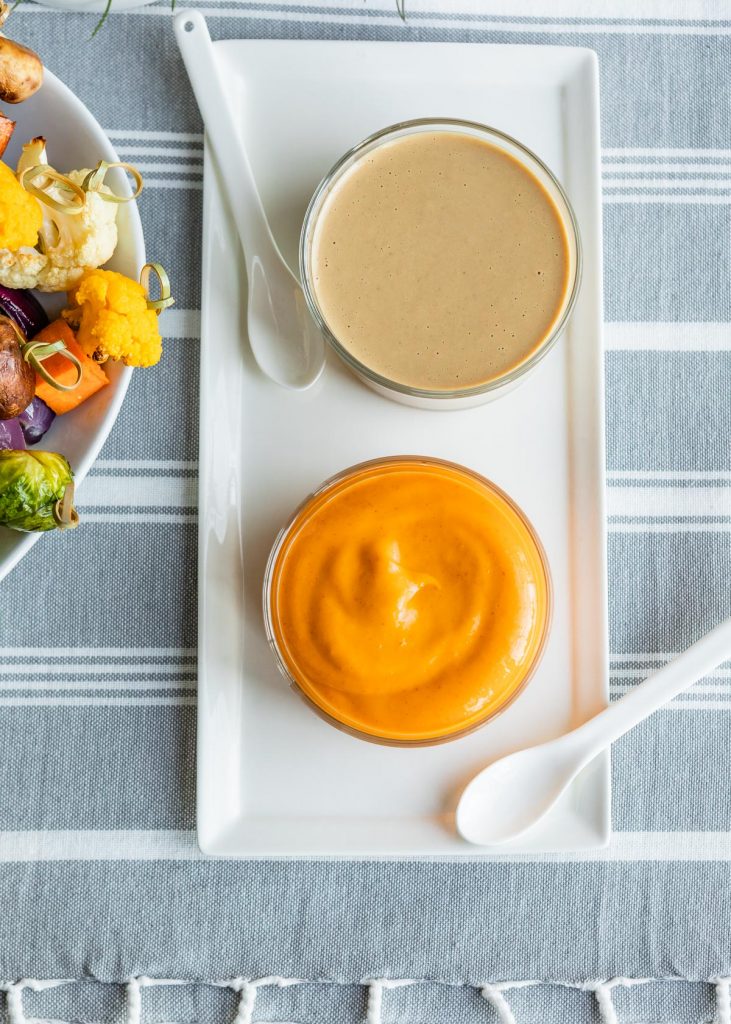 Now let's talk about the dipping sauces.
The Sesame Tahini Dipping Sauce has some serious sesame flavor from both the tahini and the Lee Kum Kee Pure Sesame Oil. I love the depth of flavor the sesame oil adds. It's lightly sweet thanks to a bit of pure maple syrup with a hint of tang from the lime juice, and of course it's hard to make Asian-inspired recipes without using plenty of ginger and garlic.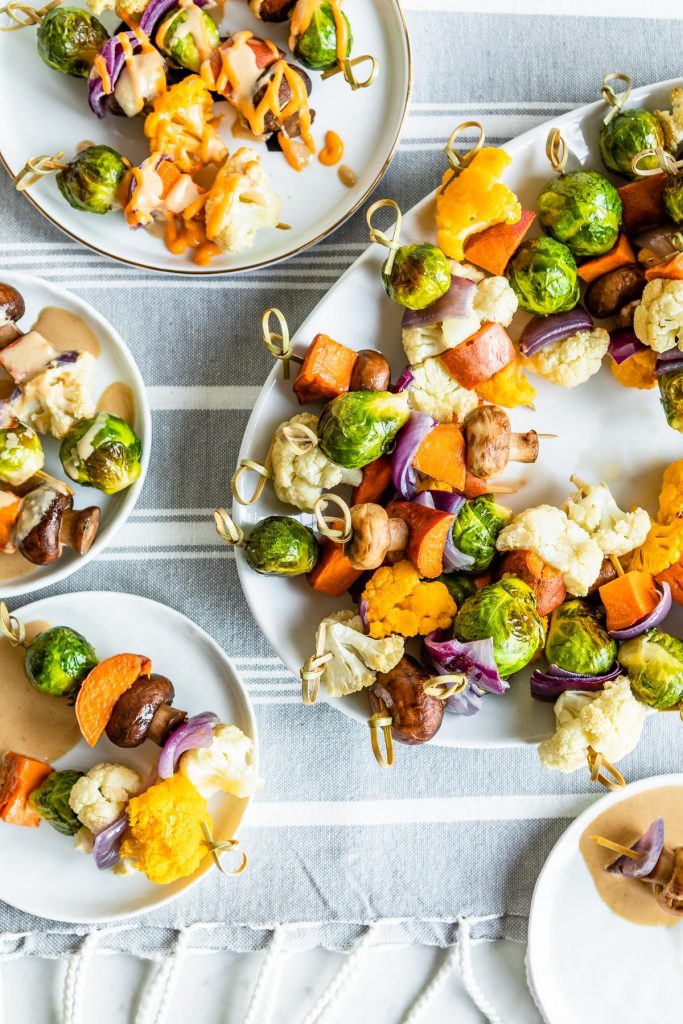 The Sriracha Mayo comes readymade from Lee Kum Kee. I'm normally not a huge fan of mayo, but add some sriracha to it and I'm all in! It combines the traditional flavors of Sriracha with the cool and creamy texture of mayo to offer a spicy yet versatile condiment. It's made with only premium-quality, non-GMO ingredients, and is also gluten free. The creaminess and spiciness play off each other and the sriracha may goes splendidly with the veggies and the other sauce. You can certainly double dip in this case.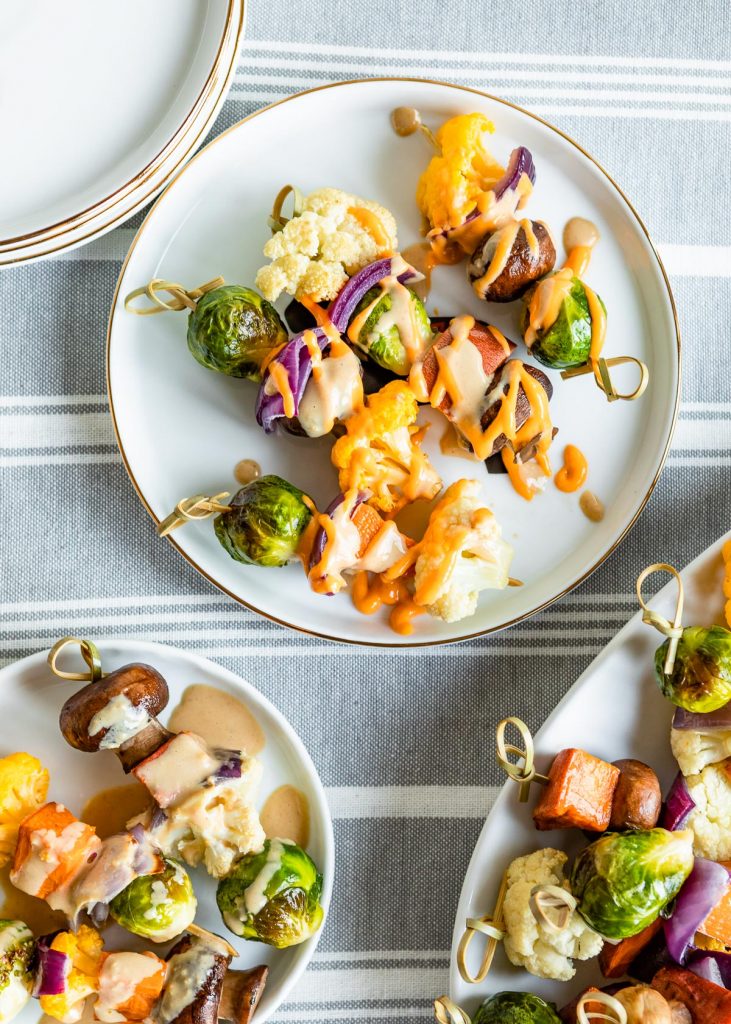 All in all, this is an easy appetizer to put together. The vegetable kabobs can be served warm or at room temperature, making them a great addition to a buffet table. They are a nice way to add in some veggie goodness without sacrificing any flavor or allowing them to be overshadowed by other holiday fare.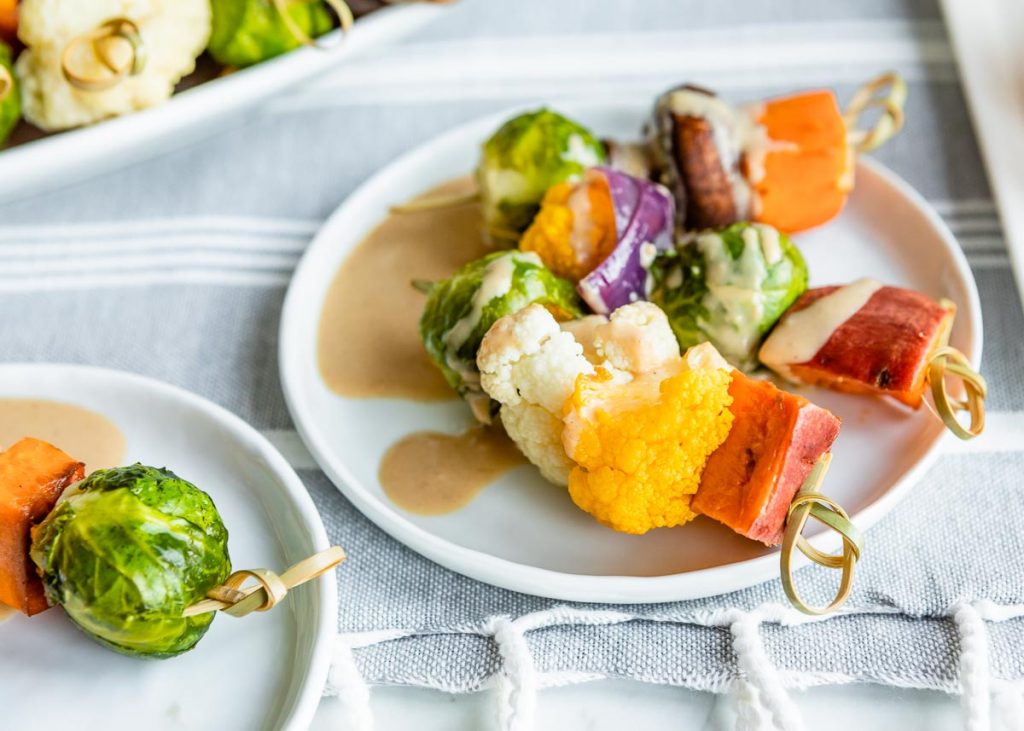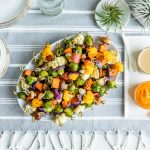 Roasted Winter Vegetable Kabobs with Sesame Tahini Dipping Sauce and Sriracha Mayo

Add some flavor and veggie goodness to your holiday party with these tasty veggie skewers with two dipping sauces: a Sesame Tahini Sauce and Lee Kum Kee Sriracha Mayo. 
Ingredients
For skewers:
2

tablespoons

savocado oil


2

tablespoons 

Lee Kum Kee Pure Sesame Oil

24

Brussels sprouts

halved
 if large

1

large sweet potato

3/4-inch cubes

1

large or 2 small heads cauliflower

broken into florets


8

ounces

small cremini or white button mushrooms


1

large red onion

cut into 1 1/2-inch dice


Salt

for sprinkling

6-

inch

bamboo skewers

Lee Kum Kee Sriracha Mayo

for serving

For Sesame Tahini Dipping Sauce:

1/2

cup

tahini


6

tablespoons

water


4

tablespoons

Lee Kum Kee Pure Sesame Oil


1 1/2

tablespoons

fresh ginger

grated or minced


2

garlic cloves

minced

2

tablespoon

tamari or soy sauce


plus more to taste

1

tablespoon

maple syrup


1

tablespoon

fresh lime juice


1

tablespoons

rice wine vinegar
Instructions
Preheat oven to 450°F. Line two rimmed baking sheets with foil. Combine the avocado and sesame oils. Place the veggies in a large bowl and pour the oil over the top. Toss to coat.

Arrange the veggies in a single layer on both baking sheets. Sprinkle with salt. Roast for 10 minutes, then switch pans top to bottom. Roast for an additional 10 minutes, or until veggies are tender and golden. (Don't overcook!) Remove any veggies that have cooked more quickly and allow the others more time.

While the veggies are roasting, prepare the Sesame Tahini Dipping Sauce. In a bowl, stir together tahini, water, and sesame oil. If the mixture is too thick, add a little more water to thin it out. It shouldn't be too thick or too thin. Stir in the remaining ingredients. Taste and adjust seasonings, if needed, to taste.

To serve: Thread the roasted veggies onto the bamboo skewers. Try alternating veggies by color or making some with just one type of veggie. Arrange on a platter with the Sesame Tahini Dipping Sauce and Sriracha Mayo in bowls in the center for dipping.
Recipe Notes
Other winter veggies can be substituted for the ones listed above. 
If desired, use oven-safe skewers and thread the veggies before hand. Be sure to soak skewers in water for at least 30 minutes to prevent them from burning.
Test the veggies for doneness during roasting time. Some veggies may cook more quickly than others, for example, the sweet potatoes may need a little extra time. Remove the other veggies from the baking sheet and allow the sweet potatoes to cook awhile longer.
16