Packed with vegetables, flavored with Indian spices, and wrapped in a simple dough that you can customize with holiday decorations, this sweet potato samosa pie makes a great vegetarian dish to crown your Christmas table with!
WHAT IS SAMOSA?
You've probably heard about or already ordered samosa at your favorite Indian restaurant, and if you didn't, you will discover now your new vegetarian favorite! Samosa is a popular appetizer, made from baked or fried pastry, filled with vegetables (or meat), which can take the form of a cone or half moon. Traditionally, Indian restaurants serve it with chutney, so we're planning to serve this Christmas samosa pie with our delicious gingered cranberry chutney.
WHAT ARE THE INGREDIENTS FOR SAMOSA?
The vegetarian samosas are usually made with a spicy boiled potato filling, which can be varied by adding other winter vegetables, such as sweet potatoes, carrots, frozen peas, cauliflower or green beans. The secret to getting a really flavorful mixture is to add Indian spices, such as ginger, garam masala, coriander seeds, and red hot pepper powder. When it comes to the pastry, it's a mix of plain flour, oil and water, and doesn't require kneading.
HOW TO MAKE SAMOSA PIE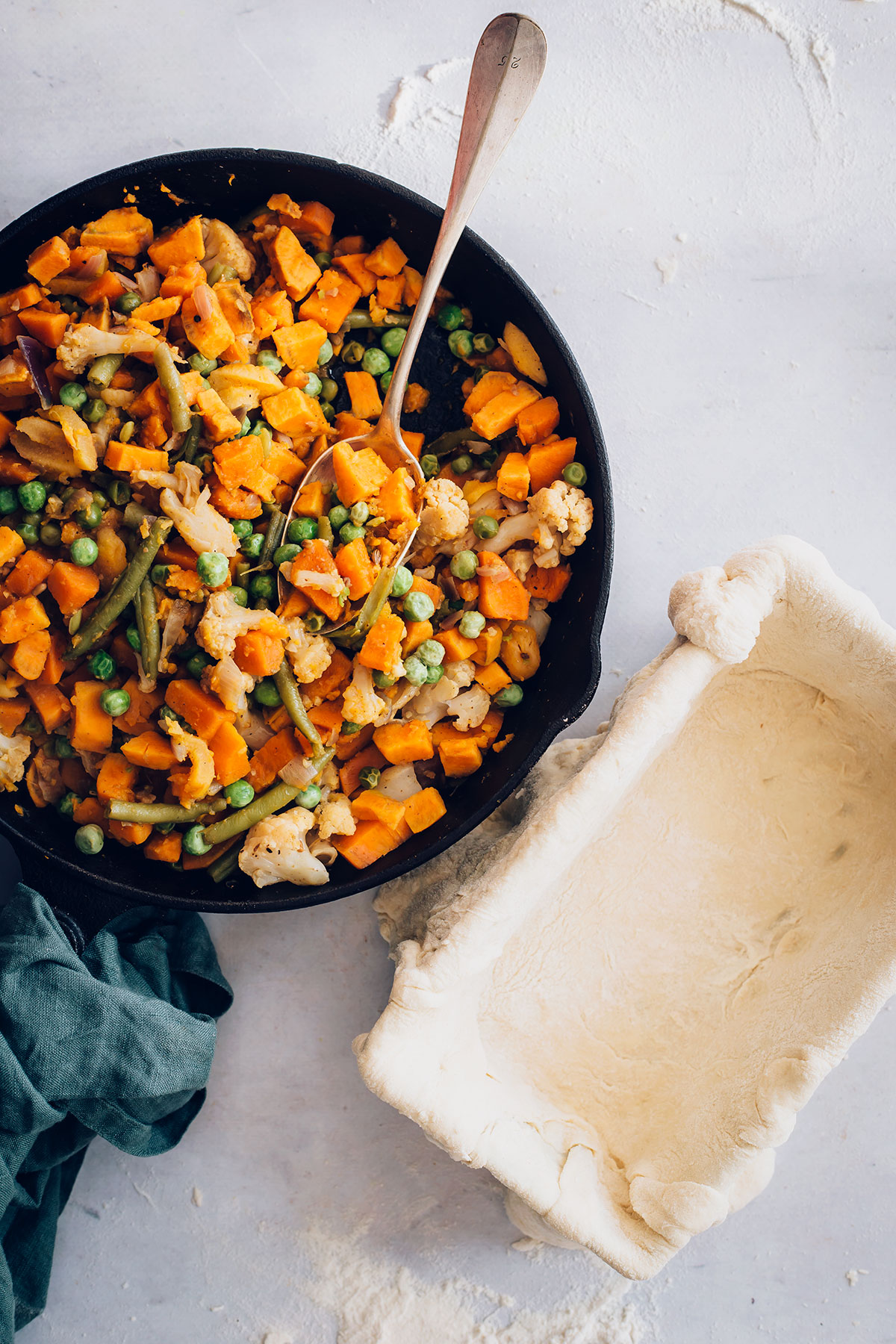 While we love the traditional recipe using boiled potatoes, we decided to replace these with sweet potatoes to get a more colorful, festive dish. We also added peas, cauliflower, onion and green beans. What we really like about this recipe is that it doesn't require a lot of steps and special skills, and that you can get an impressing dish for a festive dinner without too much of an effort. Here are the simple steps of making a samosa pie:
Prepare the dough: mix plain flour with oil to obtain a crumble, then add water to obtain a dough. No kneading needed!
Prepare the vegetables: heat coconut oil into a large skillet, add the spices and cook for a minute to enhance the flavor. Add the sweet potatoes, peas, cauliflower, and onion, and cook for 10 minutes. Add water, bring to boil, then cover the skillet and cook for 15 minutes until the liquid is absorbed and the veggies are well cooked. Us a fork to mash some of the sweet potato cubes – this will help the filling stay together.
Roll the dough into a rectangle, and place it in the pie pot. Fill the pot with the sweet potato mixture, cover with dough and bake for 20 minutes.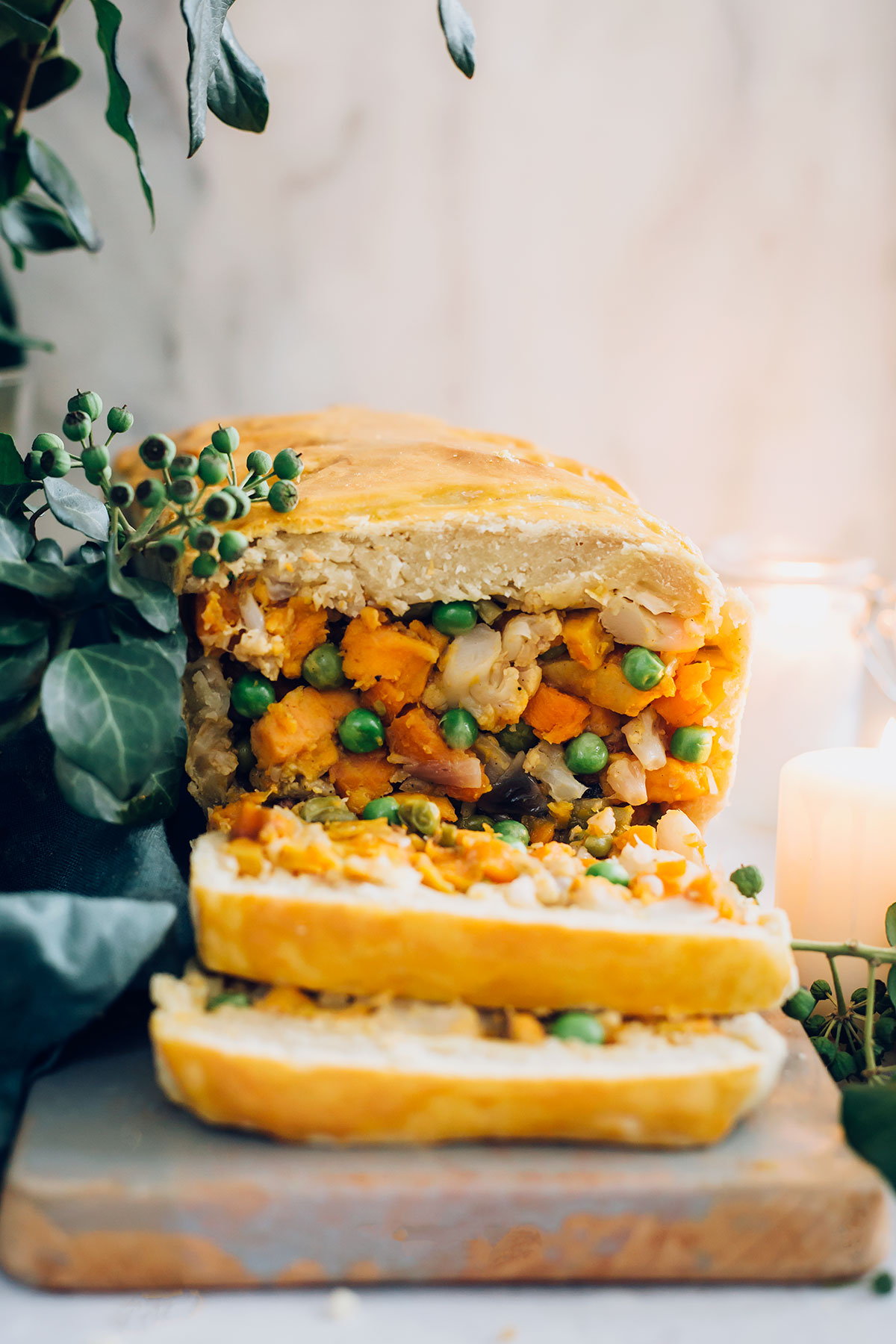 TIPS TO IMPROVE YOUR SAMOSA PIE
Add dried apricots or raisins to the mix to get an interesting sweet twist.
Add butter instead of oil, for a richer wrapping dough taste.
Serve the pie with a drizzle of raw honey to enhance its taste.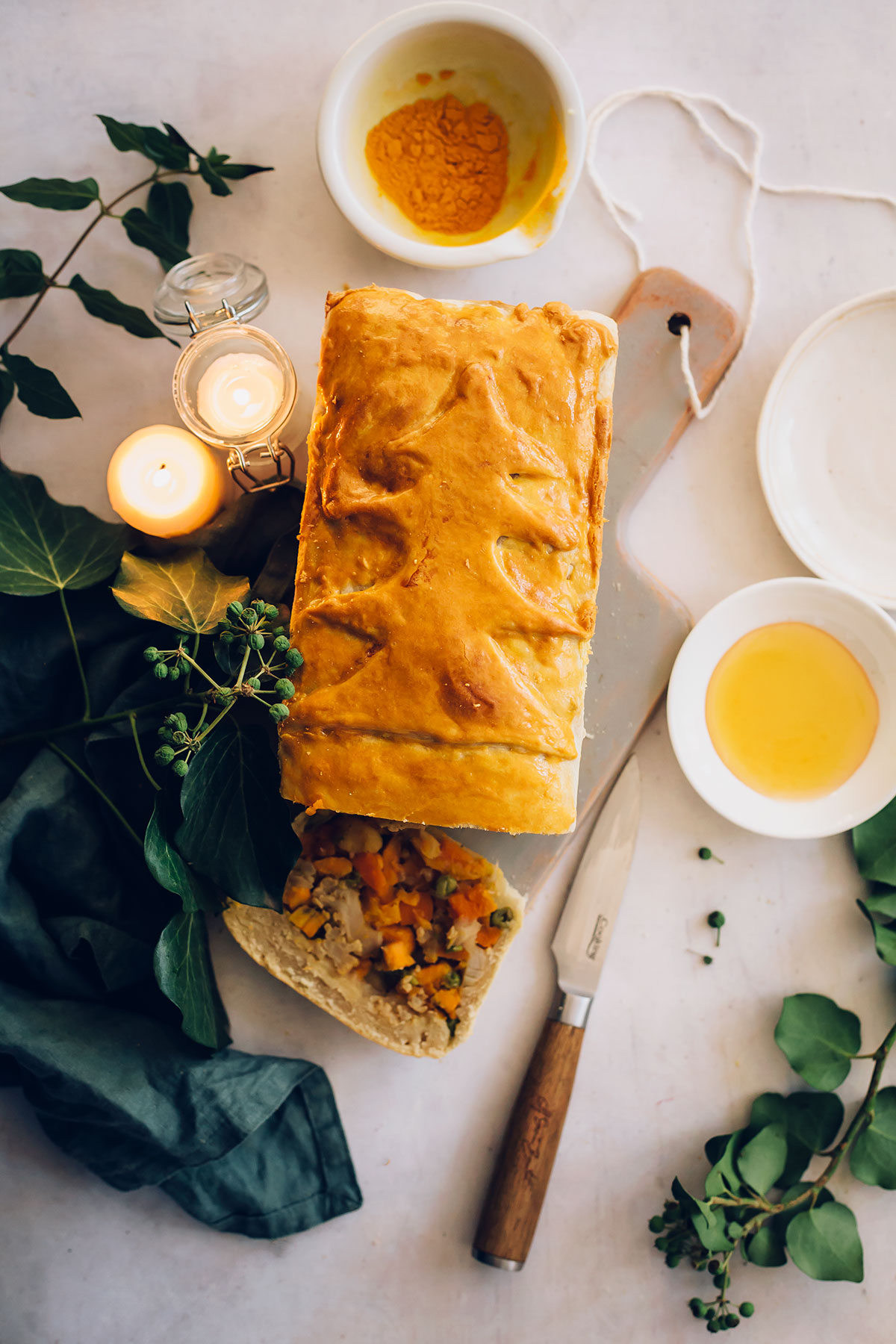 Looking for more inspiring comforting vegetarian pie dishes? Try our Rustic Root Vegetable Galette, our Vegan Chicken Pot Pie, or our Vegan Shepherd's Pie.
Did you try this recipe? Post your photo and tag us #helloveggieblog on Instagram so we can share it with our community.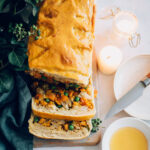 Sweet Potato Samosa Pie
An impressive vegetarian dish, this sweet potato samosa pie is made with seasonal vegetables, is spiced with Indian flavours and wrapped in a buttery dough.
Ingredients
For the Dough
2

cups

all purpose flour

1/2

tsp

salt

2

tbs

extra virgin olive oil

2

tbsp

butter

cold, cut into cubes

6

tbsp

water
For the filling
3

sweet potatoes

peeled, cut into cubes

1

red onion

finely diced

1

cup

frozen peas

defrosted

1

small cauliflower head

cut into small florets

1/4

cup

dried apricots

diced

1

tsp

coriander seeds

2

tsp

turmeric powder

1/2

inch

ginger

peeled, grated

2

tsp

garam masala

2

tbsp

coconut oil

1/2

tsp

salt

1/2

tsp

red hot pepper powder

1

egg yolk

for brushing the dough
Instructions
Preheat the oven to 180C/356F. Grease a baking pan with coconut oil and set aside.

Prepare the dough - start by mixing the flour with salt into a large bowl.

Add the olive oil and butter and use a fork to incorporate them, until you obtain fine crumbles.

Add the water and mix to obtain a dough. Cover with plastic foil and place in the refrigerator.

Heat the coconut oil into a large skillet and add the spices. Cook for a minute over low heat stirring frequently, to enhance their flavour.

Add the vegetables, peas and apricots, and mix. Cook for 10 minutes over low heat, stirring frequently.

Add 1/2 cup water, bring to boil, then cover the skillet and simmer for 15 minutes, until the veggie are tender.

Use a fork to mash some of the sweet potato cubes. Mix and remove from the heat.

Divide the dough into halves. Roll one half into a rectangle, and place it on your baking pot.

Divide the rest of the dough into halves again. Roll one half into another rectangle that will serve as the pie top, and the other half into another rectangle from which you can prepare your Christmas decoration using a sharp knife. We decided to go for a Christmas tree!

Fill the pot with the vegetable mix, then add the pie top and use your finger to seal the dough. Top with the Christmas tree made of dough, brush it with egg yolk and bake for 20 minutes until golden.

Remove from the oven, cut into slices and serve drizzled with honey.
Nutrition Facts
Sweet Potato Samosa Pie
Amount Per Serving
Calories 321
* Percent Daily Values are based on a 2000 calorie diet.