As someone who's been a food blogger for quite some time and reading food blogs for even longer, there are certain bloggers who just speak to my food-loving soul. I'm sure you have some too–where every recipe they publish makes you say to yourself, "Yep, I would eat that!" Cotter Crunch is one of those blogs for me and when I heard Lindsay was working on a cookbook? I was pretty darn excited about it.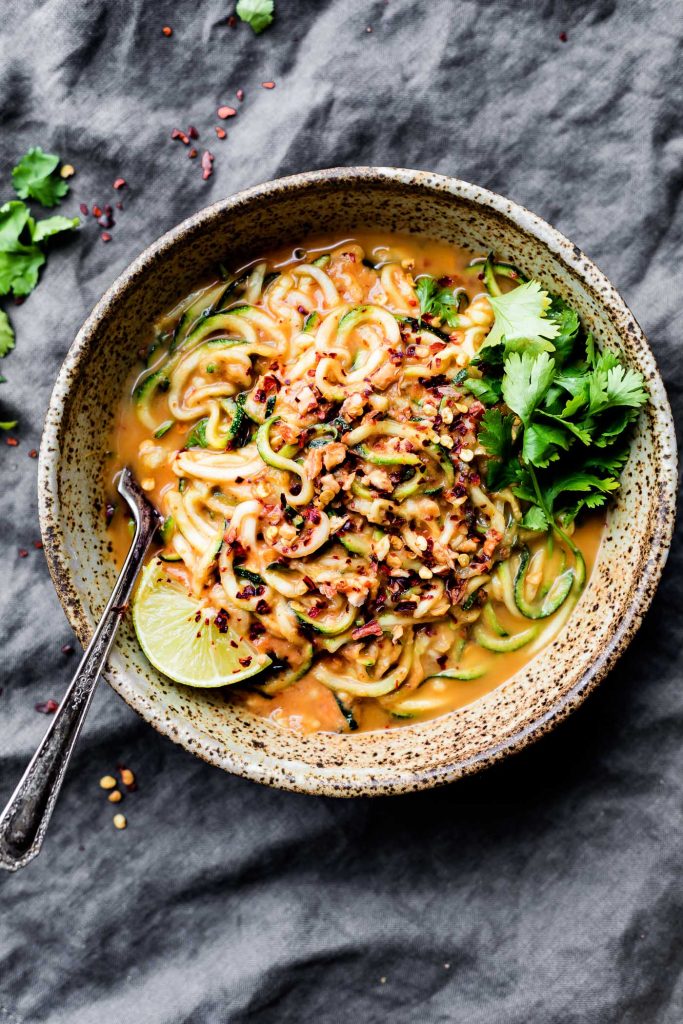 Nourishing Superfood Bowls is exactly what you'd expect from a Cotter Crunch cookbook–it's full of gorgeous photos, vibrant colors, creative ingredient combinations, and modern spins on classic dishes. While the book isn't vegetarian, enough of it is either meatless or easily adapted to be meatless that it's definitely worth picking up even if you don't eat meat. I mean, just look at some of these recipes:
Midnight Mocha Oatmeal Bowls
Quick Zesty Apple Kimchi Salad Bowls
Kale Pesto Sweet Potato Spaghetti Bowls
Creamy Red Pepper Carrot Pappardelle Pasta Bowls
Whipped Ricotta and Honey-Glazed Pears Bowl
Basically, if you are all about that bowl life, you need this book.
These Curried Satay Veggie Bowls take the familiar flavors of a Thai curry and transform them into something completely different. Stir fried zucchini noodles are served in a creamy sauce made with pureed chickpeas, red curry spaces, coconut milk, peanut butter, and spices. Garnish with fresh cilantro, crushed peanuts, and a lime wedge and you've got a 15 minute dinner that's way better than takeout.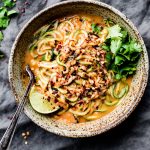 Curried Satay Veggie Bowls
Ingredients
SATAY SAUCE
1

15-oz [425-g] can chickpeas

1

tbsp

15 g red curry paste

1

tsp

minced garlic

Pinch

fresh grated ginger

or ¼ tsp ground

1

tbsp

15 ml avocado or coconut oil

1

tsp

mustard

2 to 3

tbsp

45 ml coconut milk

1

tbsp

12 g creamy natural peanut butter

Dash of lime juice or rice vinegar

Fine sea salt or kosher salt

to taste

Pepper

to taste
BOWLS
2

small zucchinis

see note

1

tsp

olive oil

1

tsp

tamari
TOPPINGS
Handful ribbon-cut or julienne-sliced veggies

carrot and summer squash work great

Cilantro

Crushed nuts

Crushed red pepper flakes

Sriracha

optional
Instructions
To make the satay sauce, combine the chickpeas, red curry paste, garlic, ginger, oil, mustard and 2 tablespoons (30 ml) coconut milk in a food processor or blender. Blend until mixed. With the food processor on low, slowly add the peanut butter, vinegar, salt and pepper. Blend again until creamy. For thinner sauce, add 1 tablespoon (15 ml) or more of coconut milk. Stop and scrape sides once or twice if needed. Put the sauce in a bowl and set aside. Extra sauce can be stored in the fridge for up to 5 days.

For the bowls, spiralize the zucchini, then press with a paper towel to remove the excess water.

In a large skillet or wok, add the oil and stir-fry the zucchini noodles with the tamari for 2 to 3 minutes, or until zucchini noodles are soft, but not mushy. Remove and place zucchini noodles in one large serving bowl or 2 smaller serving bowls.

Drizzle each bowl with the creamy satay sauce and top with a handful of ribbon-cut vegetables, cilantro, crushed nuts and crushed red pepper flakes. Add a dash of Sriracha, if desired.

Once you add the sauce, serve immediately. Due to the high water content in the zucchini noodles, the sauce will become soupy if left to sit. Simply add more zucchini noodles to thicken the sauce, or spoon out a few tablespoons of liquid. But not to worry: even the thinned out sauce is delicious with the noodles. Totally slurp worthy!
Recipe Notes
To make zucchini noodles without a spiralizer, simply julienne slice them or use a potato peeler to create long flat shavings or ribbons.
5