It's perfectly acceptable to have toast for any meal, or even as a healthy snack. Even if it's a simple concoction, there's just something satisfying about crusty bread with toppings. (When I cut out gluten for a while last fall, toasted gluten-free bread with almond butter is what saved me from a sad, toastless existence for 5 weeks.)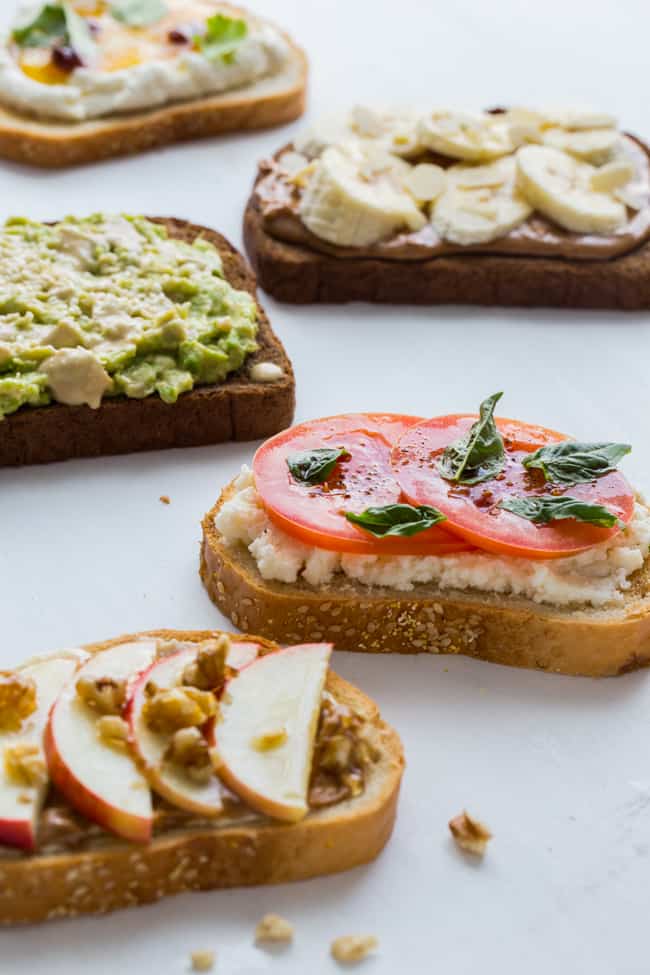 The toast trend is currently taking Pinterest—and the culinary world—by storm (even the New Yorker is weighing in). There's a toast bar here in Minneapolis that provides bakery-fresh bread and delicious toppings like homemade almond butter, local honey, avocado, grass-fed butter and local jam; at the risk of sounding like a Portlandia character, I'll admit that I go there all the time. (Not because it's trendy, but because who doesn't love toast?) A staple of the also-trendy Scandinavian cuisine is open-faced sandwiches called smørbrød (basically dinner toast) topped with veggies, cheeses, meats—pretty much anything.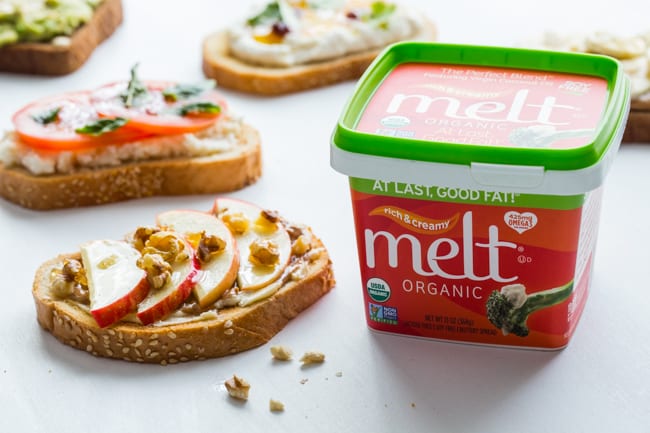 Of course, it's important to stick to healthy toppings if you're going to be eating toast all the time, which is why I'm so glad MELT Organic spreads came into my life when they did. I've tried (and liked) dairy-free spreads before, but I also tend to avoid soy, and it can be difficult to find one that is also soy-free. MELT, which comes in an original Rich & Creamy flavor (vegan) as well as Chocolate and Honey (not vegan), is free of gluten and soy, and includes heart-healthy oils like coconut and flaxseed. It lives up to its name and melts, as they say, like buddah. Plus, it's GMO-free, organic and the oils are Fair Trade certified, which is another quality I try to look out for.
5 Healthy Toast Recipes
Here are 5 of my favorite healthy toast recipes to go with the trend. I've suggested bread pairings below, but feel free to mix it up with your favorite healthy recipe or store-bought bread.
1. Nutty Banana Toast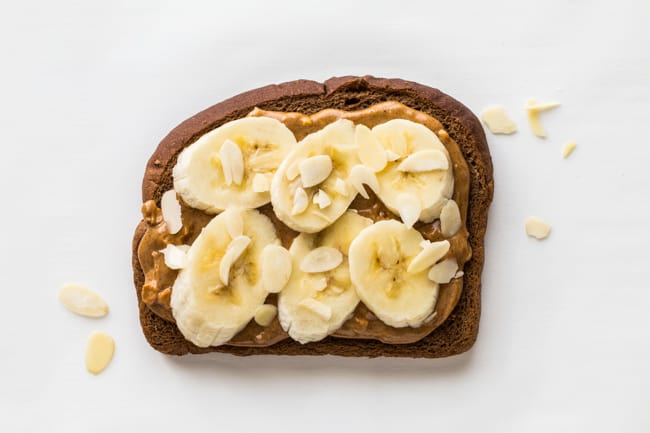 Spread your toast slice with your favorite nut butter (I love almond, peanut or cashew). Top with banana slices and sliced almonds. For chocolaty flavor, spread on MELT Organic Chocolate spread and let it melt before you add the nut butter. (Dessert toast!)
Pair with: A hearty whole wheat.
2. Ricotta Tomato Basil Toast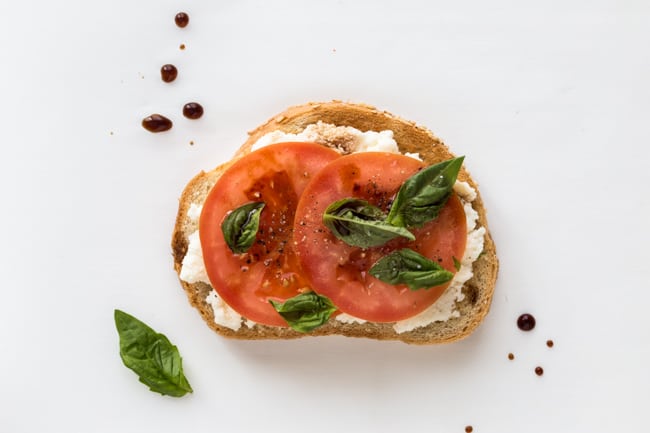 Spread a thin layer of ricotta cheese on your toast, and top with a big ol' slice of tomato and a sprinkling of chopped basil leaves. Drizzle with balsamic and you're all set with a savory snack!
Pair with: Sourdough
3. Apple Honey Walnut Toast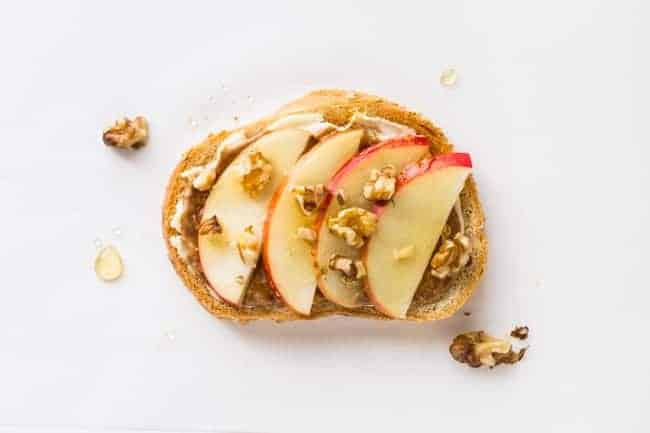 If you're feeling ambitious (honestly, it only takes a few minutes), first whip up a batch of homemade walnut butter. Or simply grab your favorite natural store-bought nut butter. Toast your bread, then spread on MELT Organic Honey and let it melt. Add the nut butter, a few apple slices and a few chopped raw walnuts. Drizzle on some more honey if you like it sweeter.
Pair with: A soft wheat bread. We like this whole wheat Walnut Bread from the New York Times.
4. Sesame Avocado Toast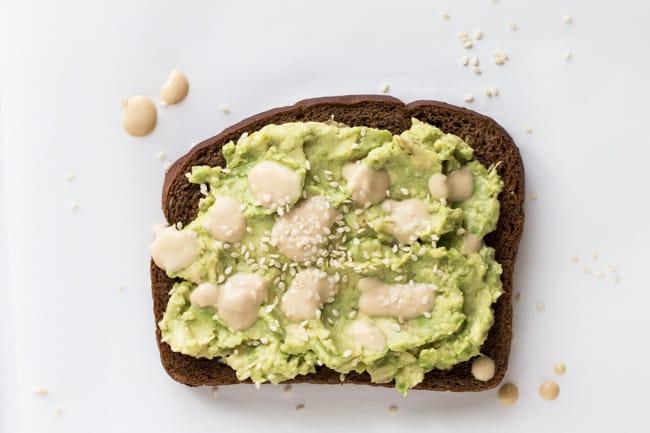 Depending on how pretty you like your avo, either slice it and splay atop your toast, or go for the "mash and spread" method. In a small bowl, whisk a teaspoon of tahini (this will be easier if it's room temperature) with about 1/4 teaspoon water and 1/4 teaspoon lemon juice until it resembles a thin paste. (Or make this Creamy Tahini Dressing ahead of time!) Drizzle over the avocado and sprinkle with sesame seeds. A cashew cream or Cashew-Lime Dressing could also work here.
Pair with: pumpernickel or light rye
5. Goat Cheese + Chutney Toast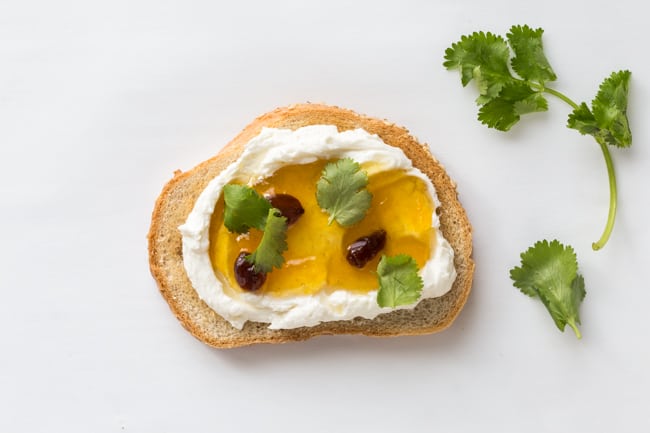 A neighbor made this as a party hors d'oeuvres over a decade ago, and I still crave it pretty much every week. Toast baguette slices in the oven (or cut them the long way and use the toaster). Spread on MELT Rich & Creamy, let it melt, then spread on plain chèvre and top with a dollop of chutney—mango, tomato or Major Grey will all work. Top with a few pieces of cilantro and raisins (optional). If you're not a fan of goat cheese, use thin slices of sharp cheddar instead. For what I like to call "toast nachos," melt the MELT and cheese on top of the toast in the oven before adding the chutney and cilantro.
Pair with: Crispy sliced baguette or sourdough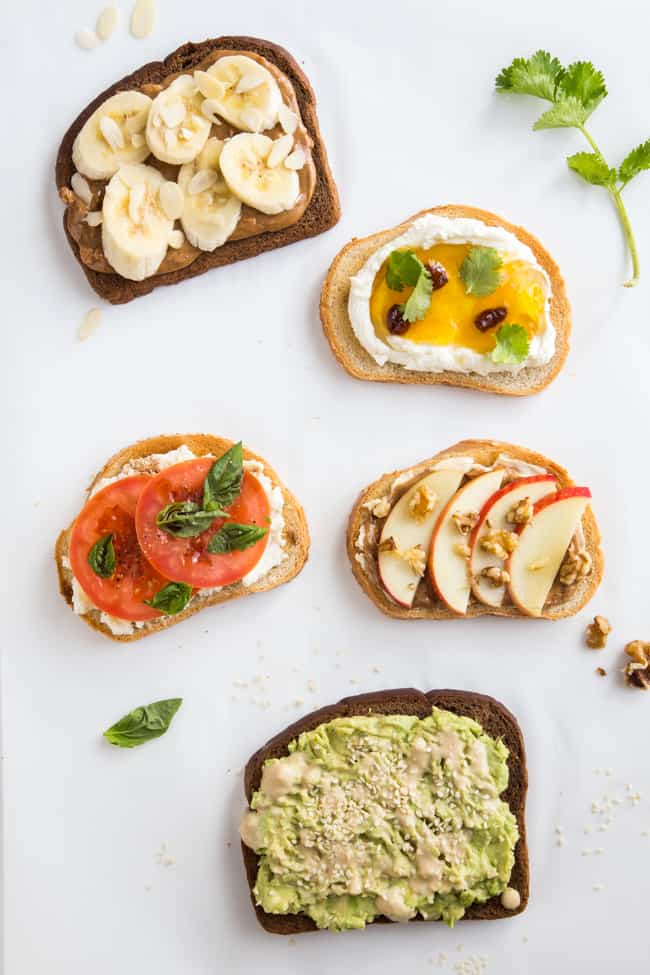 Want even more healthy toast recipes, maybe one for each day of the week? You might want to try this ricotta toast with fresh peaches or the simply glorious avocado toast.
Photos by Emily Caruso
0