Admittedly, avocado toast is the food trend of the 2010s. Smashing some fruit onto a piece of toast may not seem like a big deal, but somehow it became the signature food of a generation. In defense of this 'basic' food, it's an easy to prepare, nutritious breakfast or lunch, that looks really good in photos, and tastes really good, too. And then there's the health benefits…
Avocados are packed with nutrients, including vitamins K, C, E, B5 and B6, folate, potassium, and smaller amounts of manganese, iron, magnesium, vitamin A, and zinc. With lots of fiber and protein, they make a great vegan-friendly food. They are rich in good fats but free of cholesterol and sodium. And, needless to say, they're a go-to beauty food.
The question is, in 2020, can you make a simply glorious avocado toast?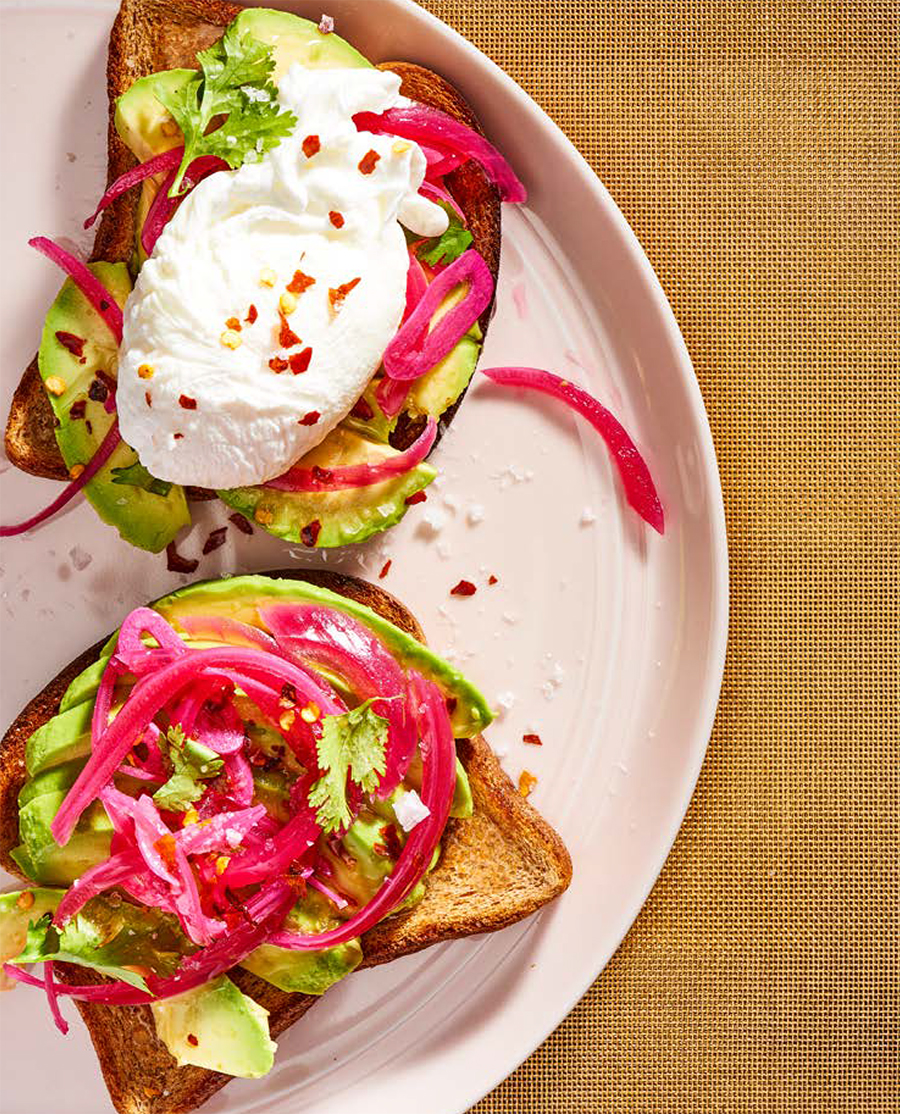 Simply Glorious Avocado Toast
Joey Skladany's book, 'Basic Bitchen' proves that yes, you can still take your avo toast to the next level. You can do the same with your cauliflower pizza, hummus, pancakes, or any other 'basic' food, as the cookbook author shares his favorite recipes in a clever and humorous way.
What makes this avocado toast recipe unique is the homemade red pickled onions, the topping you didn't realize you needed in your life until you've tasted it. Some fresh cilantro, red pepper flakes, and maybe a poached egg will make you feel like you're at your favorite brunch place, only you didn't just spend $20 on toast.
Scroll down for the full ingredient list and instructions, and consider getting 'Basic Bitchen' from amazon or wherever books are sold.
Simple Glorious Avocado Toast
Reprinted with permission from 'Basic Bitchen' by Joey Skladany.
Ingredients
For the Pickled Onions
1

red onion

peeled and thinly

sliced

1 1/2

cups

distilled white vinegar

1/4

cup

sugar

2

teaspoons

kosher salt

1

cup

water

1

bay leaf

1

teaspoon

whole coriander

1/2

teaspoon

mustard seeds

1/2

teaspoon

black peppercorns

2

garlic cloves

thinly sliced
To Assemble
1/2

ripe avocado

thinly sliced

1

slice

whole-grain bread

toasted

1

teaspoon

freshly squeezed

lemon juice

from 1 small lemon

Pickled red onions

for garnish

Micro cilantro

for garnish

Flaky sea salt

for garnish

Red pepper flakes

for garnish
Instructions
First make the pickled red onions: Add the red onions to a large glass bowl. Set aside.

In a medium stockpot, combine the vinegar, sugar, salt, water, bay leaf, coriander, mustard seeds, black peppercorns, and garlic. Bring to a boil and stir until the sugar and salt dissolve. Remove from heat and pour over the red onions. Let sit until the liquid reaches room temperature. Transfer to an airtight container and refrigerate at least 2 hours.

Mash the avocado slices onto the toast. Drizzle with lemon juice and season with salt. Top with pickled red onions, micro cilantro, flaky sea salt, and red pepper flakes. Serve.
Recipe Notes
You'll want to use perfectly ripe avocados for your toast. If there are any brown spots, cut them out.
Salt and acid are key when making avocado toast. Whether you are mashing the avocados or slicing them, make sure that you are seasoning as you go.
There are a world of possibilities on how to make your avocado toast, so don't limit yourself! If you prefer a more guacamole vibe, mash your avocado in a separate bowl with the addition of some lemon and salt before spreading it onto your toast. If mashed avocado isn't your thing, feel free to thinly slice and fan out the avocado. It not only looks pretty but tastes great!
Looking to add more protein to your avocado toast? Mash up some chickpeas with your avocado or add a fried egg.
1