If this year has taught me anything, it's that I need to start relying less on buying and more on making. Especially when it comes to food! Many of us have been faced with the sudden need to experiment with sourdough starter, trying to make pasta from scratch, or re-growing veggies from scraps. And while these may not be the most convenient methods, they're methods that have been used for centuries, they're environmental friendly, they reduce food waste, and they put us more in touch with the way we consume.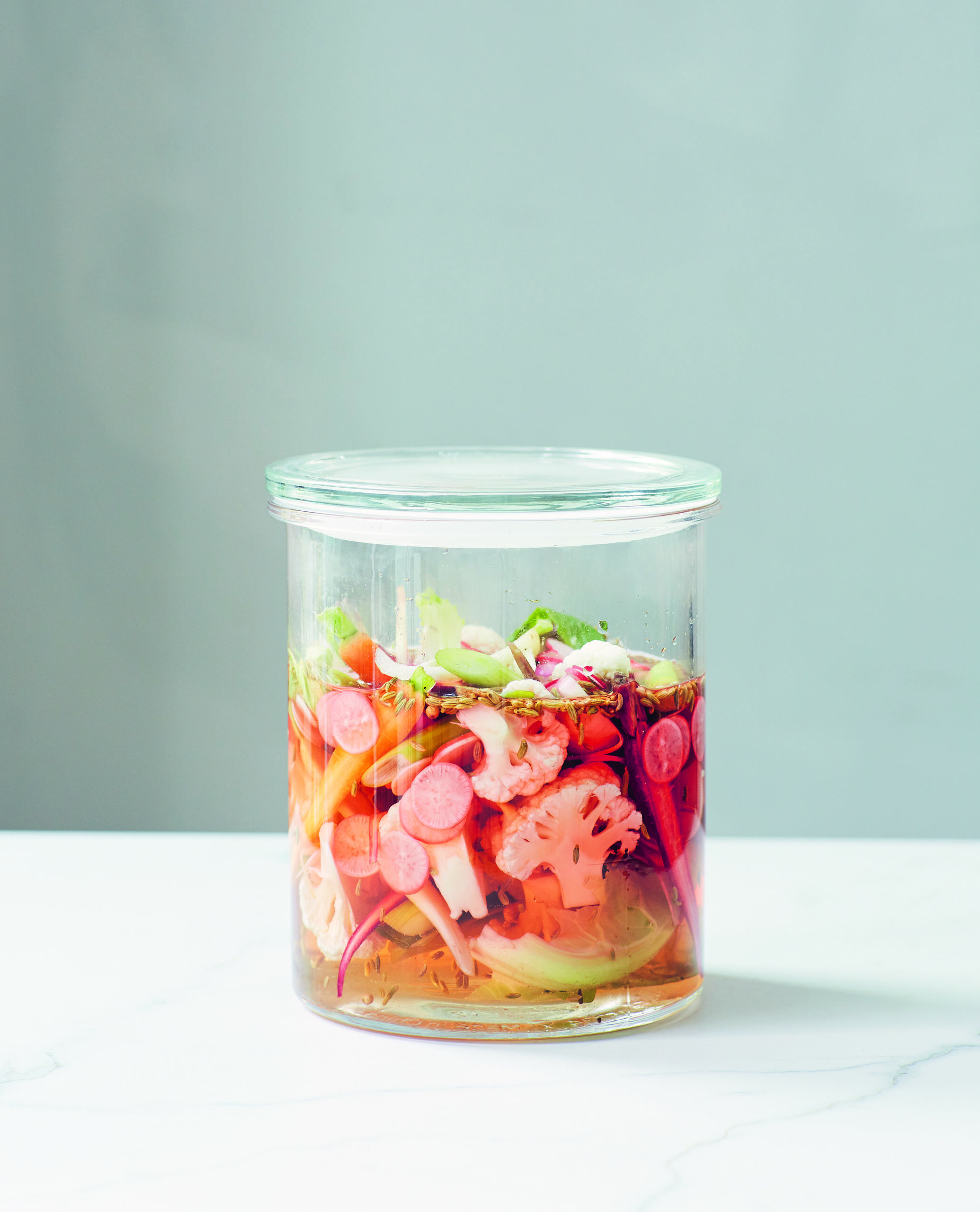 Another such method is pickling. And when they're preserving new season vegetables for a short while, the Swedish call them primörer. They won't keep through the winter like some other pickles, but they will still add some time to your farmer's market haul. They make a tasty side dish, and a colorful addition to a casual cheese board or crudité platter.
While my experience with Swedish food has been limited to IKEA veggie balls up until now, I've just had a revelation in the form of a new cookbook: Smörgåsbord, a term which loosely translates as 'bread and butter table'. The book from Peter's Yard features Scandinavian recipes that are perfect for no-fuss summer entertaining. In this day and age, few people still enjoy the restrictive style of classic entertaining – the one where the host chops, boils and bakes for days on end before the big event, and the guests are all dressed-up on their pre-assigned sits, slowly going through a three-course meal. The modern smörsgåsbord, on the other hand, is all about light tapas and mezze, it's about having fun and coming together over a plate of good food, with no pretension and little effort. Isn't that what get-togethers should be all about?
The book includes primörer, and we're happy to share the whole recipe and method below. You can purchase Smörgåsbord: Deliciously simple modern Scandinavian recipes on amazon, or anywhere books are sold.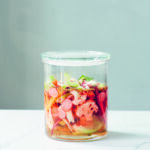 Preserved new-season vegetables (Primörer)
Published with permission from Smorgasbord: Deliciously Simple Modern Scandinavian Recipes By Peter's Yard with Signe Johansen , Kyle Books. Photography by Ali Allen (p26-2)
Ingredients
6

baby carrots

cleaned and quartered lengthways

6

baby daikon/mooli

cleaned and quartered lengthways (or 100g (3½oz) regular daikon, sliced)

6

radishes

thinly sliced

3

spring onions

sliced into 2cm (¾ inch) long batons

100

g

3½oz cauliflower, broken into very small florets

300

ml

½ pint white wine vinegar

150

g

5½oz caster sugar

2

tsp

fennel seeds

10

white peppercorns

pinch

of chilli flakes

optional
Instructions
Prepare all the vegetables. Pour the white wine vinegar into a medium-sized pan and add the sugar, spices and ½ teaspoon of salt. Bring to the boil and simmer until the sugar has dissolved. 

Tip in the carrots and daikon and cook in the vinegar for 2 minutes. Remove the pan from the heat and add the remaining vegetables and leave for 5 minutes before transferring to a large sterilized jar. 

Cool, then seal and store in the fridge where the pickles will keep for up to a week. 
7