A few weeks ago I had the best veggie burger I've ever eaten. It wasn't from a restaurant, it didn't come out of the freezer–it was Le Parisien burger from Nina Olsson's new cookbook Veggie Burger Atelier.
O.M.G. Let me tell you about this burger. It starts with a puy lentil and brown rice patty made with Herbes de Provence and fried shallots. This is topped with Gruyere (because of course Gruyere!), caramelized onions, apricot jam, and root veggie crisps. I am always a sucker for a completely over-the-top burger and this fits the bill. Messy, the perfect balance of sweet and savory, substantive–basically, this burger has it all.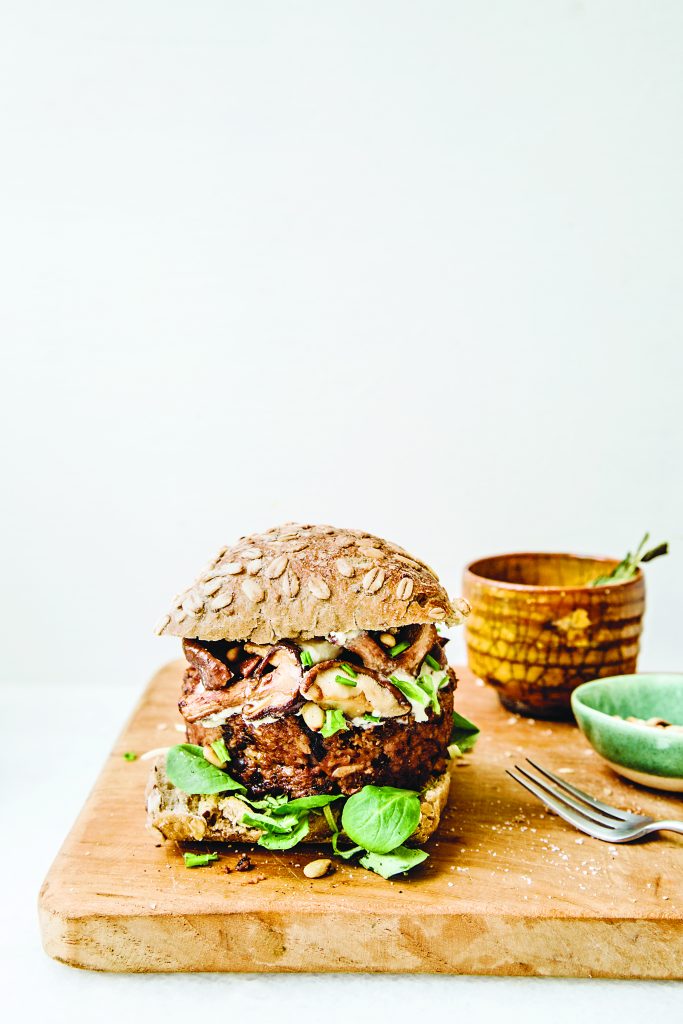 You're going to have to buy Nina's cookbook for the recipe (but trust and believe: it's worth it), but I can share another recipe from the book here: the Basic Veggie Burger. I've never been a fan of veggie burgers that try to mimic the taste of ground beef–instead, I love the ones made with an earthly blend of pulses, grains, and vegetables, like this one. With a good basic burger recipe under your belt, the world is your oyster. Or something like that.
Back to the book: I've only had Veggie Burger Atelier in my hands for a little over a month, but I can already tell you it's going to be one of the most used cookbooks in my collection. The recipes travel the world region-by-region, starting in Northern Europe with my beloved Le Parisien and the Stroganoff Burger, winding through Asia (Banh Mi Burger!), and ending in the United States (Watermelon Poke Burger!). There is an endless amount of inspiration here for my fellow veggie burger fanatics.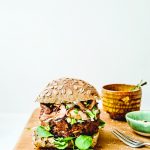 Basic Veggie Burger
Ingredients
10 1/2

ounces

300 g roughly chopped sautéed mushrooms, eggplant, onions, or beets, plus more as needed

1 1/3

cups

298 g drained and rinsed canned beans or lentils, mashed with a fork, plus more as needed

About 1/3 cup

2 1/2 ounces, or 70 g cooked brown rice, bulgur, or freekeh, plus more as needed

About 1/4 cup

40 g rolled oats or other flakes, plus more as needed

3

cloves

garlic

crushed

2

tablespoons

8 g nutritional yeast or grated Parmesan cheese

2

tablespoons

30 ml soy sauce or tamari

3/4

teaspoon

salt

plus more to taste

1/4

teaspoon

freshly ground black pepper

plus more to taste

Herbs

spices, cheeses, or other defining tastes (optional)

Olive oil or ghee

for frying

4

buns

halved and lightly toasted
Instructions
In a large bowl, combine all the patty ingredients, except the oil or ghee. Working in batches, pulse the mixture in a food processor for a few seconds to get a crumbly texture—don't over blend into a flour. Transfer each batch back to thebowl. Make a test patty to see how it holds together. Adjust firmness by adding more dry grains if the mixture is too wet; add juicy elements if the mixture is toodry. Taste and adjust the seasonings with salt or other flavoring ingredients if the mixture tastes too plain—make it exciting for your palate.

Refrigerate the mixture for 15 minutes, or up to 24 hours covered. Divide the mixture into 4 equal portions and shape each of them into a patty.

Place a skillet over medium-high heat and add a drizzle of oil. Fry the patties for 3 to 4 minutes per side until golden. Alternatively, preheat the oven to 375°F (190°C). Place the patties on a rimmed baking sheet and bake for 15 to 20 minutes, carefully flipping halfway through the cooking time. You could also use a combination of cooking methods: Preheat the oven to 375°F (190°C) and place a skillet over medium-high heat. Add a drizzle of oil to the skillet and fry the patties carefully 2 to 3 minutes total, turning, until golden. Transfer the patties to a rimmed baking sheet and bake for about 10 minutes, carefully flipping halfway through the cooking time. This method adds a nice frying surface to the burgers and bakes them through.

Lightly toast the buns and assemble the burgers with the buns and toppings.
Photo and recipe by Nina Olsson
2