Eating a vegetarian, whole-food diet is not only good for you, but also for the environment. The way we shop, the produce we pick, the recipes we make are all part of the bigger picture. Grains and greens are two food categories with endless versatility, but they're also packed with nutrients, they're frugal, and they're a smart choice for the planet.
Nina Olsson's latest cookbook, 'Bowls of Goodness: Grains + Greens', talks at length about the subject of food in relation to climate change. More than that, it offers concrete solutions in terms of what we should be eating to minimize our carbon footprint. For her recipes, she uses combinations of whole grains and greens for every meal, for a healthy mind, body, and planet. Our favorite from the whole book? This Aztec bowl of goodness, with grilled corn, three grains, and a delicious lime dressing.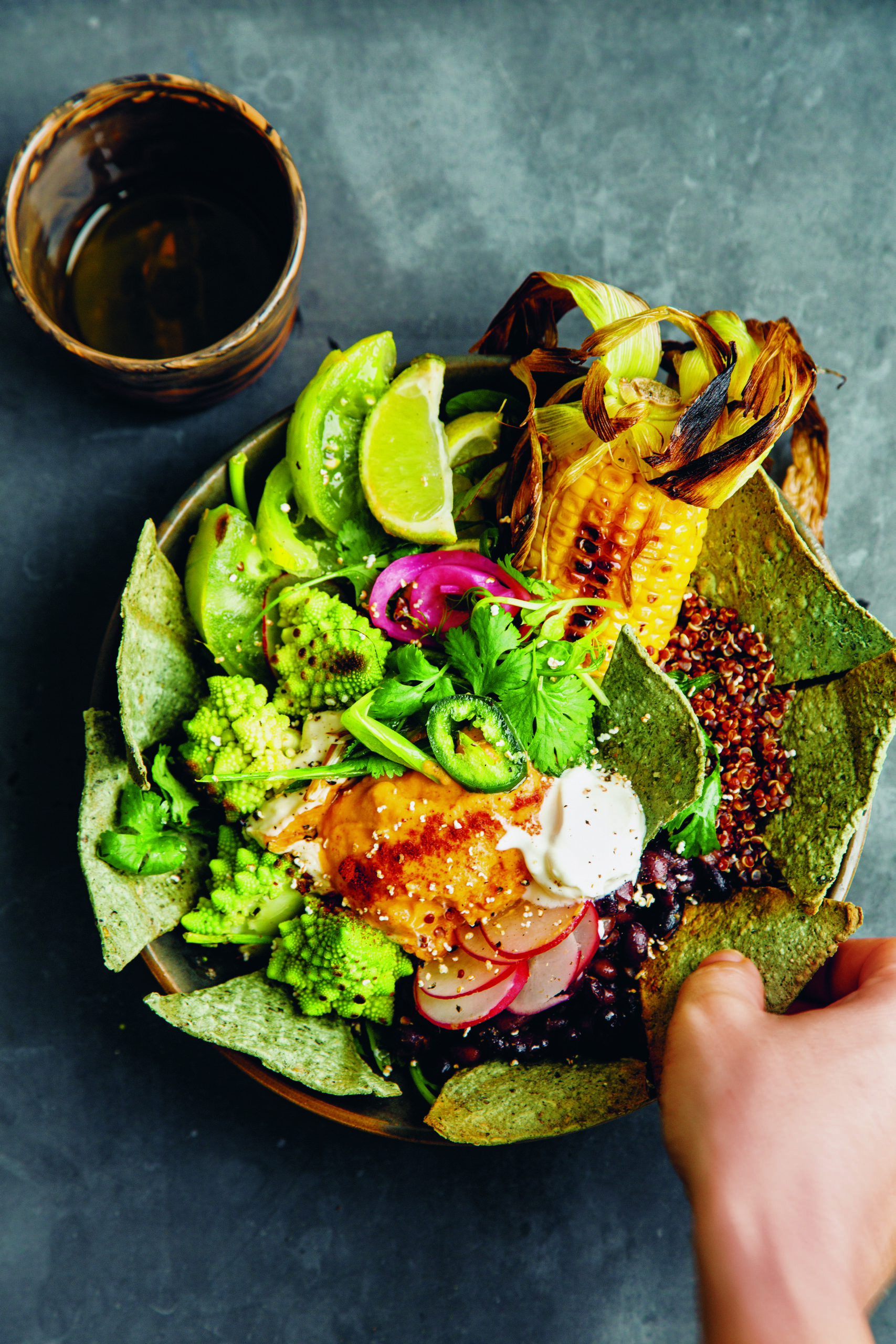 Aztec Bowl With Grains + Greens
Says Nina Olsson: 'Mexican flavors have the superpower of making everything they touch mouth-watering. Spicing vegetables with cumin, oregano and paprika has long been one of my secret tricks to get my children to eat root vegetables and other new foods they would otherwise be less than excited about!
Here, I've combined spicy roasted sweet potato with romanesco and typical Mexican foods such as black beans, herbs, tomatoes and tortilla chips. The creamy sweet potato adds a smoky effect and lime brightens up the spicy flavors.
There are no less than three starring grains in this bowl: sweetcorn, quinoa and amaranth, all native to South America. While you're most probably cooking quinoa already, and grilling corn in the summer, you might not have tried amaranth yet. This tiny grain encapsulates an impressive arsenal of nutrients. I've used popped amaranth as a sprinkle in this bowl, but you can also cook raw amaranth with quinoa.
If you can't cook whole corn-on-the-cob on a barbecue, the most delicious way to prepare sweetcorn is to sear the kernels in a pan, which gives it an incredibly buttery taste. Don't skip this step because it makes this bowl super delicious.' 
We recommend making this Aztec bowl asap and buying Nina Olsson's newly released 'Bowls of Goodness Grains + Greens' at Target or on amazon.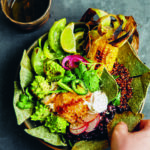 Aztec Bowl
Reprinted with permission from 'Bowls of Goodness Grains and Greens' by Nina Olsson, Kyle Books. Photo credit: Nina Olsson
Ingredients
6

oz

quinoa

1 ¾

oz

amaranth

optional

7

oz

sweet potato

cut into chunky pieces

1

tablespoon

olive oil

plus extra for frying

1

teaspoon

smoked paprika

7

oz

romanesco

chopped

1

tablespoon

lime juice

¾

teaspoon

ground cumin

1

teaspoon

dried oregano

1½

tablespoons

water

2

corn cobs, halved

or 7oz can sweetcorn, drained and rinsed

2

spring onions

thinly sliced, both the white and green parts

salt

to taste
for the lime dressing:
juice of 3 limes

2

garlic cloves

peeled

1

tablespoon

extra virgin olive oil

1

teaspoon

agave syrup

¾

teaspoon

salt
optional extras:
parsley or coriander, tortilla chips or toasted flatbread, pickled or raw red onion slices, lime wedges, 200g (7oz) tomatoes, 3–4 radishes, 4 tomatillos, 1 small jalapeño pepper, 2–3 tablespoons popped amaranth or quinoa
Instructions
Preheat the oven to 325°F, Gas Mark 3, and line a baking tray with baking paper. Blend all the dressing ingredients together into a smooth sauce and set aside.

Simmer the quinoa and amaranth (if using) in 18fl oz water with a pinch of salt for 15 minutes or 20 minutes if you added amaranth. Drain off any remaining water. Set aside.

In a bowl, toss the sweet potato with ½ tablespoon of the olive oil and the smoked paprika and sprinkle with salt. Arrange the sweet potato and romanesco on the lined baking tray. Drizzle the remaining ½ tablespoon olive oil on the romanesco and sprinkle with salt. Bake for 15–20 minutes, turning the vegetables after 10 minutes.

Blend the sweet potato with lime juice, cumin, oregano and a little water to create a dip. Taste and adjust to taste with salt.

Meanwhile, heat a large frying pan on a medium-high heat. Add a splash of olive oil and fry the corn cobs or spread out the sweetcorn in an even layer in the pan (fry in batches or use two pans if needed). Fry for 9–10 minutes, stirring and adding more oil if needed, then sprinkle with salt.

Layer the cooked quinoa and amaranth (if using) with the spring onions, tortilla chips (if using) and any other optional extras. Top with the beans, corn, sweet potato dip, jalapeño and romanesco. If you like, garnish with fresh coriander and sprinkle with popped amaranth. Drizzle over the lime dressing.
Recipe Notes
Tip: If preferred, you could substitute corn for 14oz can of black beans or another legume, such as chickpeas.
3