October is all about the pumpkins, and ovens are working hard to roast all those orange fleshed beauties you can find everywhere at the farmers' market. A pumpkin pizza came natural as an idea of a  Halloween treat, a cozy and delicious one that will please the whole family. It is packed with nutrients, it comes with a crispy crust, it uses the extra pumpkin puree that you just don't know what to do with and it's very easy to make. A Fall dish at its best!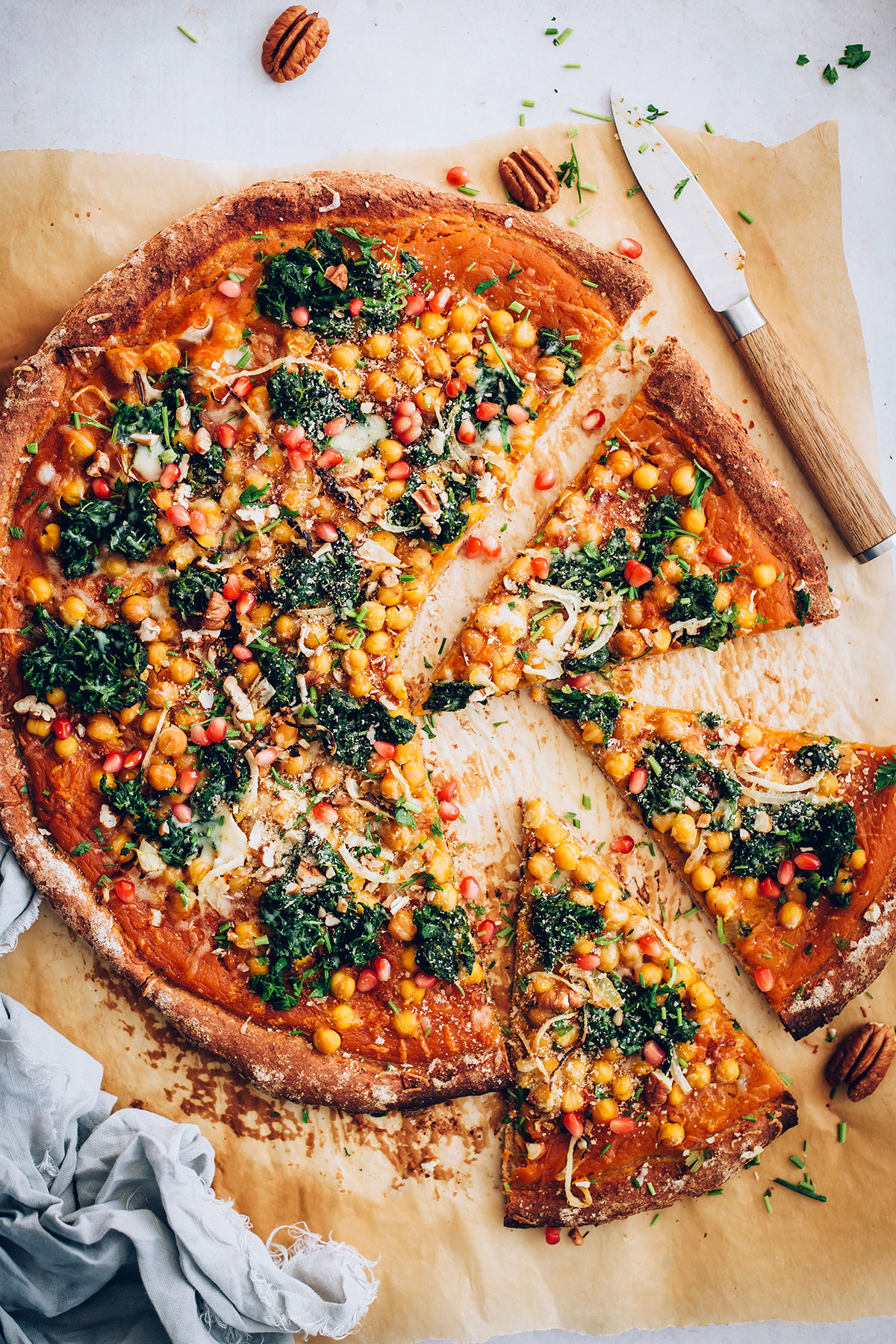 QUICK AND EASY PIZZA CRUST
For some it may sound like rocket science, but there's nothing easier than making a crispy pizza crust. All you need is some good quality ingredients, a food processor with standing mixer or your hard-working hands, and a well heated oven. The ingredients for making the pizza crust are very basic:
All purpose and whole wheat flour
Extra virgin olive oil
Dry active yeast
Salt
Sugar
Warm water
The whole idea behind making a crispy pizza crust is to knead it very well, so that the flour starches are liberated to form the gluten networks. The more kneading, the more gluten liberated and the firmer and crispier the pizza dough.
So, how to actually make the pizza dough? Start by adding all the ingredients into the standing mixer bowl and processing with a dough hook everything is well incorporated. Mix on medium speed for 5 minutes, then transfer into a bowl, cover with a clean towel and let rise at room temperature. If you are no using a mixer, add all the ingredients into a bowl and mix with a fork to incorporate, then knead with your hands for five minutes (you can use this activity as your mindfulness technique of the day :). The dough should double its size in about 60 minutes of rising, and it's ready to be shaped into a pizza crust.
Using a mix with whole wheat flour makes the pizza dough more easier to digest by increasing fibre quantity. When using whole wheat the pizza dough will have a brownish colour.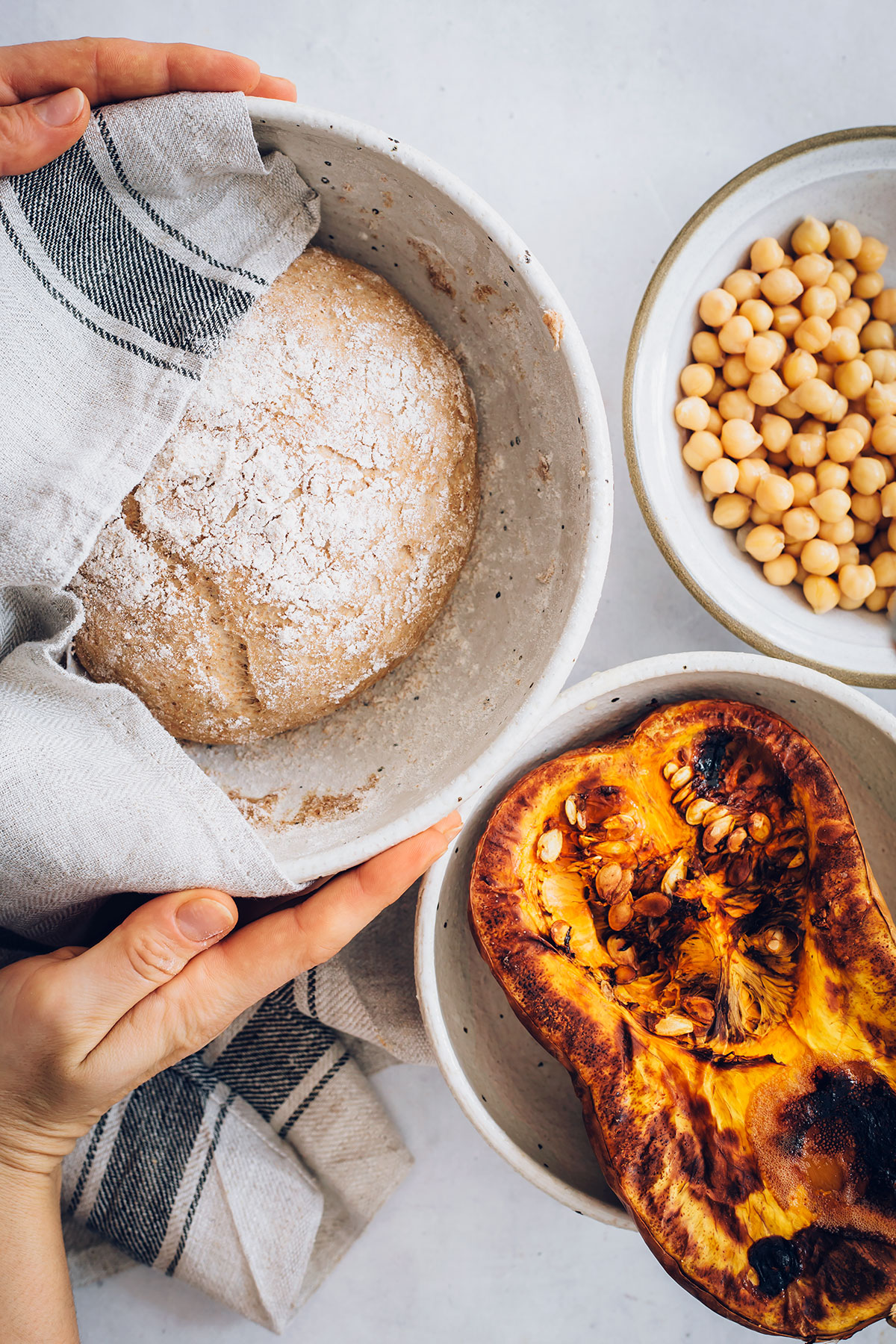 HOW TO MAKE PUMPKIN PIZZA SAUCE
During fall, when pumpkin season is in full bloom, we really love adding pumpkin puree to our tomato sauces, to add more creaminess, sweetness and nutrients to all the dishes we're going to bath in tomato sauce. In terms of nutrients, pumpkin enriches the tomato sauce with fibre, minerals (copper, manganese and potassium) and vitamins (especially beta-carotene and vitamin K). To make the pumpkin pizza sauce, simply mix pumpkin puree with your favourite tomato sauce into a blender to get a smooth, intense-orange coloured sauce. Spread it onto pizza, or save for later to use with meatballs, pasta or curries.
PUMPKIN PIZZA TOPPINGS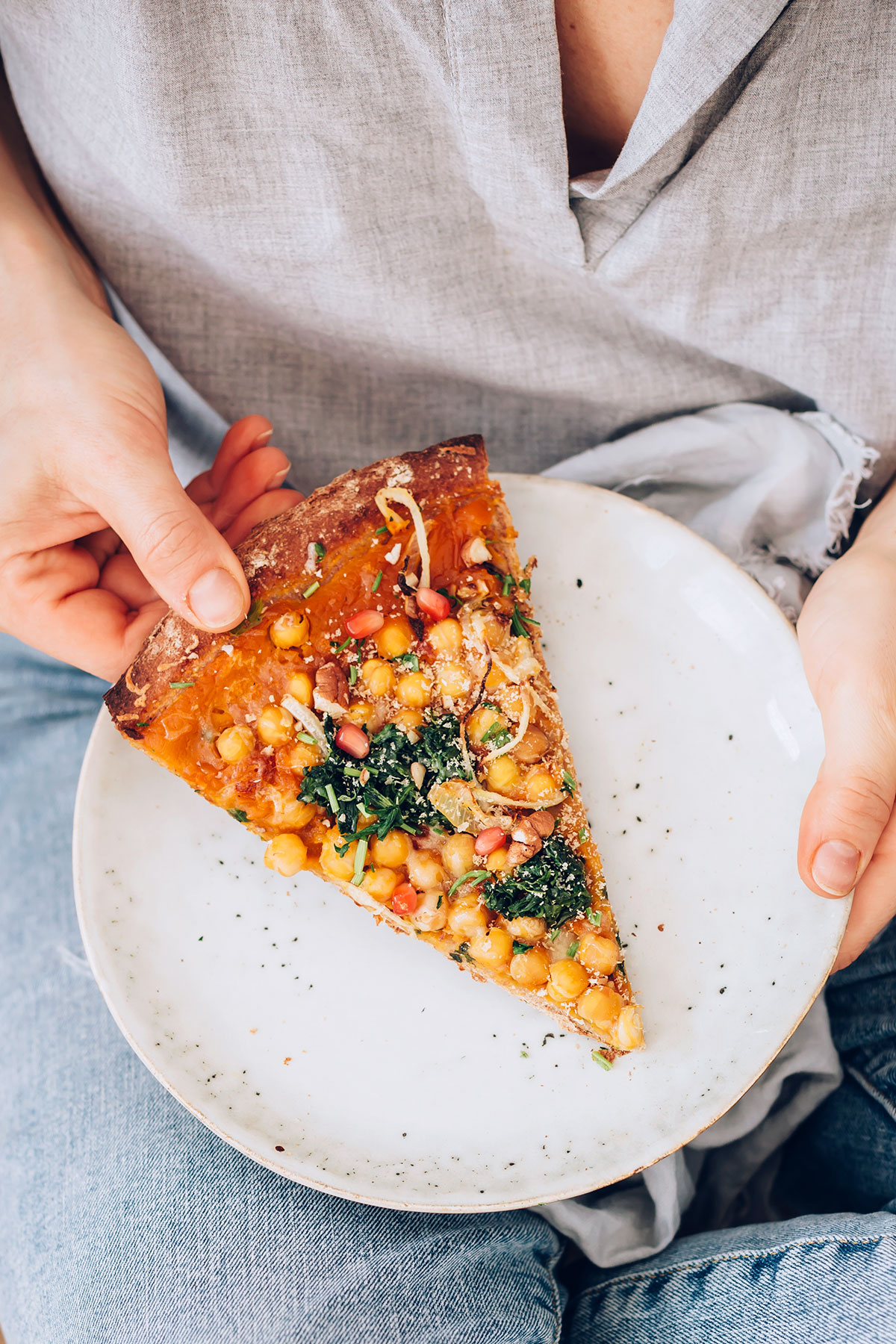 Wondering what toppings goes well with pumpkin pizza? Here are some of our favourites:
Chickpeas – they will roast in the oven and become crispy, pairing perfectly with the smoothness of the pumpkin sauce. Chickpeas also increase the fibre, minerals and protein of your healthy pumpkin pizza.
Spinach – something green on every dish is our motto, so we added defrosted spinach for an extra calcium and fibre load.
Pomegranate seeds – a sweet crunch pairs perfectly with these ingredients, and pomegranate also adds a nice pink colour splash to the whole picture.
Nutritional yeast – we wanted our pizza all-vegan, so we skipped the mozzarella and went for a good scoop of nutritional yeast for the umami taste and some B vitamins.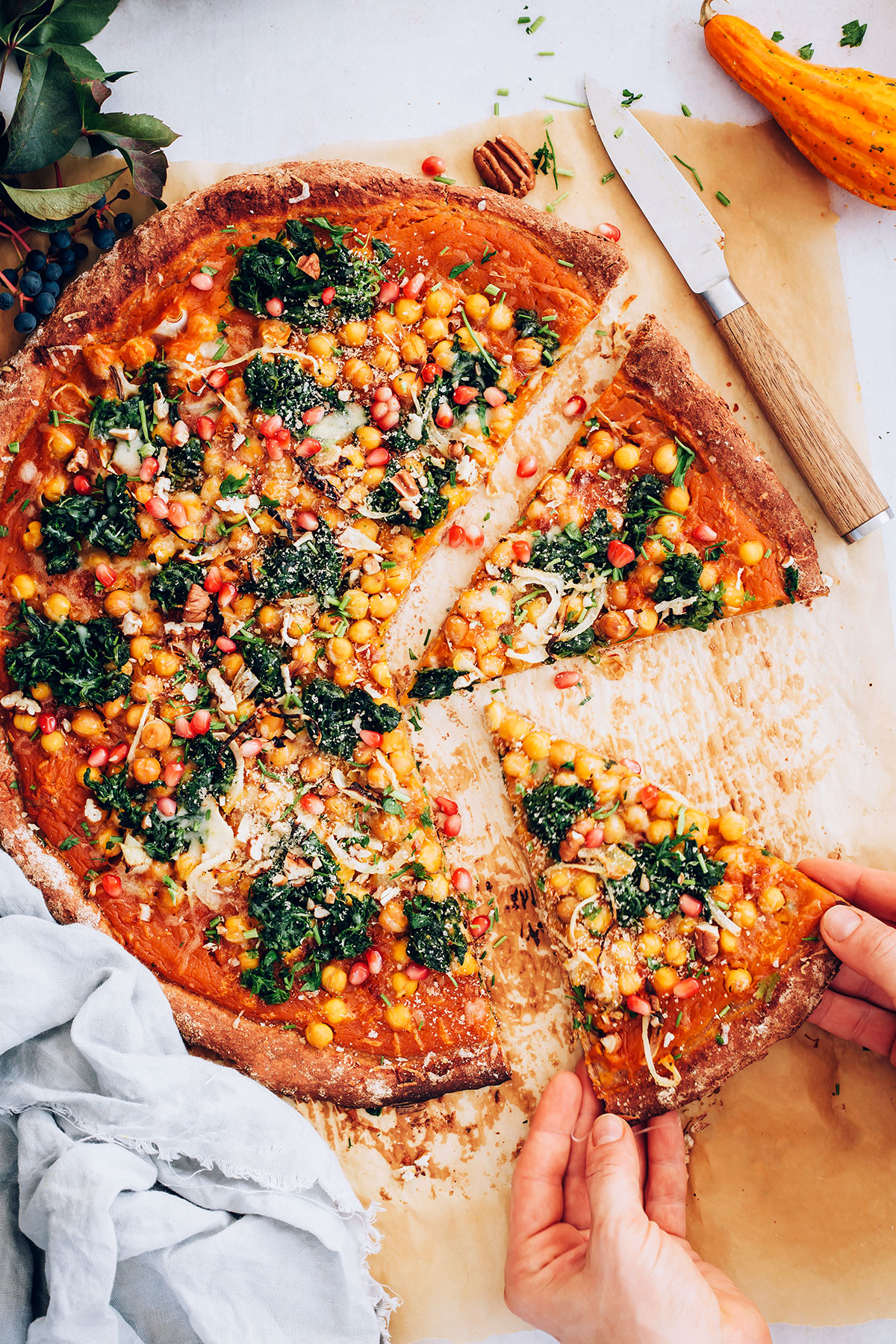 Looking for more pizza ideas with a twist? Try our Brussels sprout and apple pizza with walnut pesto, our No-Fail Guide to Make Quinoa Pizza Crust or our Peach Caprese Pizza Naans.
Did you try this recipe? Post your photo and tag us #helloveggieblog on Instagram so we can share it with our community.
Savoury Pumpkin Pizza with Chickpeas and Spinach
A vegan pumpkin pizza recipe, using an easy, crusty pizza dough with whole wheat and topped with chickpeas, spinach and nutritional yeast.
Ingredients
1

cup

all purpose flour

plus extra for dusting

2

cups

whole wheat flour

1&1/2

cups

warm water

2

tbsp

extra virgin olive oil

plus extra, for drizzling

1 /2

tsp

salt

2

tsp

coconut sugar

1

tbsp

dry active yeast

2

cups

chickpeas

cooked

2

cups

frozen spinach

defrosted

3

tbsp

nutritional yeast

1

yellow onion

cut into thin rings

2/3

cup

tomato sauce

4

tbsp

pumpkin puree

1

tsp

ground cumin

1

pomegranate

seeds only

1/2

cup

pecans

lightly toasted, crushed
Instructions
Preheat the oven to 246C/475F and line a baking sheet with parchment paper.

Add the flours, salt, water, active yeast and sugar into a large bowl, and mix with a fork to incorporate all the ingredients and form a sticky dough.

Knead the dough with your hands for 5 minutes (or use a standing mixer with bowl), to form an elastic dough, shape it into a ball, then cover the bowl with a clean towel and let it rise at room temperature for 60 minutes.

Add the tomato sauce, cumin and pumpkin puree into a blender and process to obtain a smooth sauce. Set aside.

When the dough doubled its size, punch it down to release the air, and place it on a floured surface. Roll it with a dough roller into a 13 inch pizza crust or two 6 inch ones.

Transfer onto the baking sheet, and spread it with pumpkin tomato sauce.

Add the chickpeas, spinach and onion rings, drizzle with olive oil and bake for 15 minutes.

Remove the pizza from the oven, top with nutritional yeast, crushed pecans and pomegranate seeds, cut into slices and serve warm.
Nutrition Facts
Savoury Pumpkin Pizza with Chickpeas and Spinach
Amount Per Serving
Calories 441
* Percent Daily Values are based on a 2000 calorie diet.
3