Are you looking for an easy-peasy dessert to impress a crowd? You're in the right place! This healthier, easy chocolate fudge recipe (Christmas edition!) comes together in minutes and its gorgeous colors will definitely gain everyone's interest. It's made without condensed milk, but using healthier fats, and natural ingredients instead.
WHAT IS CHOCOLATE FUDGE?
First of all, let's get one thing straight – what exactly is chocolate fudge? Traditionally, chocolate fudge is a sugar candy made with chocolate and condensed milk or cream, heated, then beaten to obtain a creamy yet solid texture. We try to avoid refined sugar and cholesterol-heavy ingredients, while also keeping things simple. This is why we used vegan dark chocolate, almond butter, and coconut oil in this version.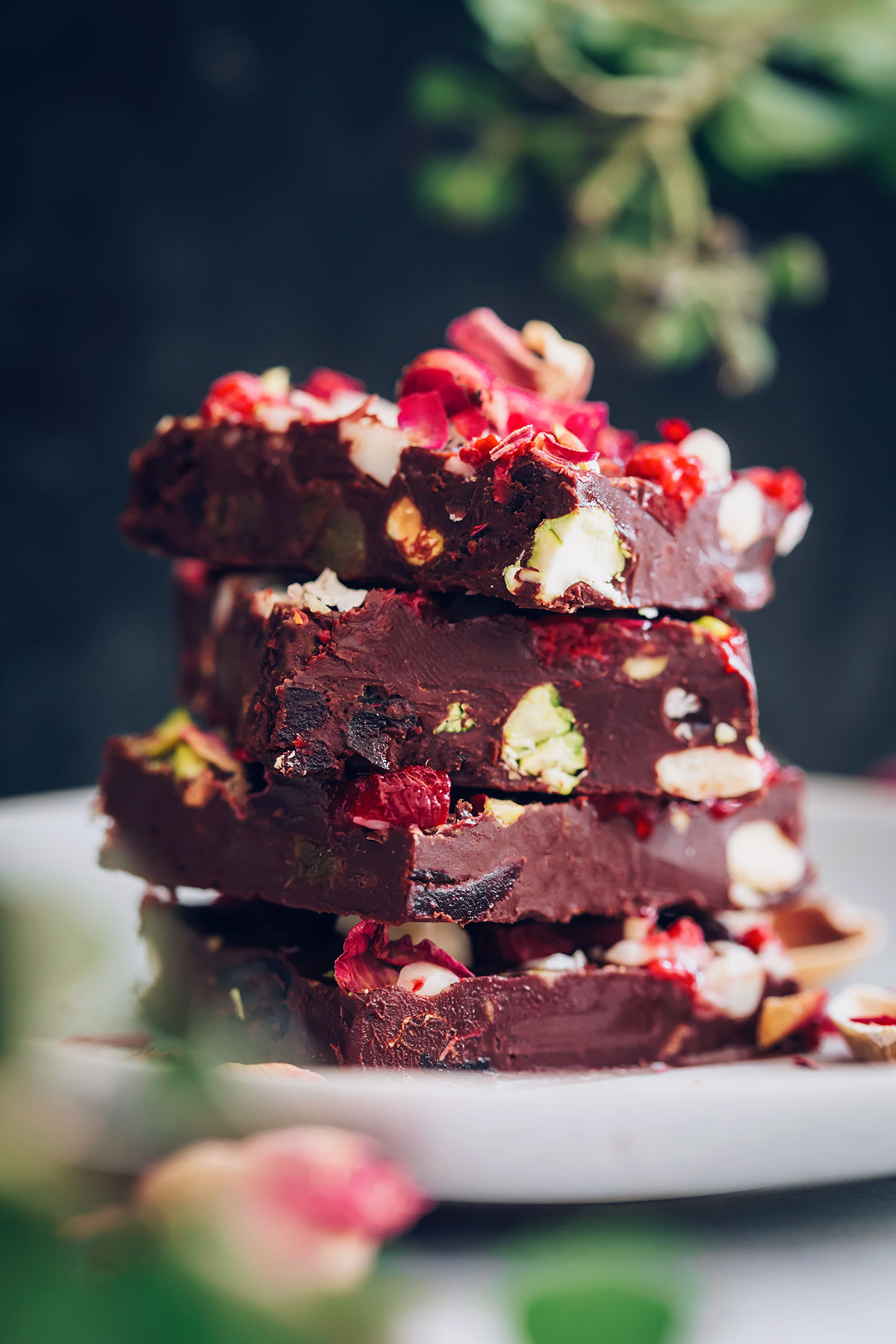 HOW DO YOU HARDEN FUDGE?
You don't need to do anything special or add any preservatives – the natural ingredients will work their magic to harden the fudge. Coconut oil and chocolate can be melted, but they solidify when refrigerated, so no special skills needed here. The almond butter doesn't allow the ingredients to thicken like chocolate bark, giving them a creamy, fudge texture instead.
THE BENEFITS OF EATING DARK CHOCOLATE
This easy chocolate fudge recipe is also keto approved, and its natural, unrefined ingredients will nourish your body cells, instead of burdening digestion and adding empty calories (like refined sugar-packed fudge does). Healthy fats from coconut oil contribute to a healthier hormone production, the magnesium in almond butter balances your mood, and the antioxidants in dark chocolate contribute to a healthier cardio-vascular system. Dark chocolate is also packed with essential mineral magnesium, with blood flow-improving and blood pressure-lowering effects.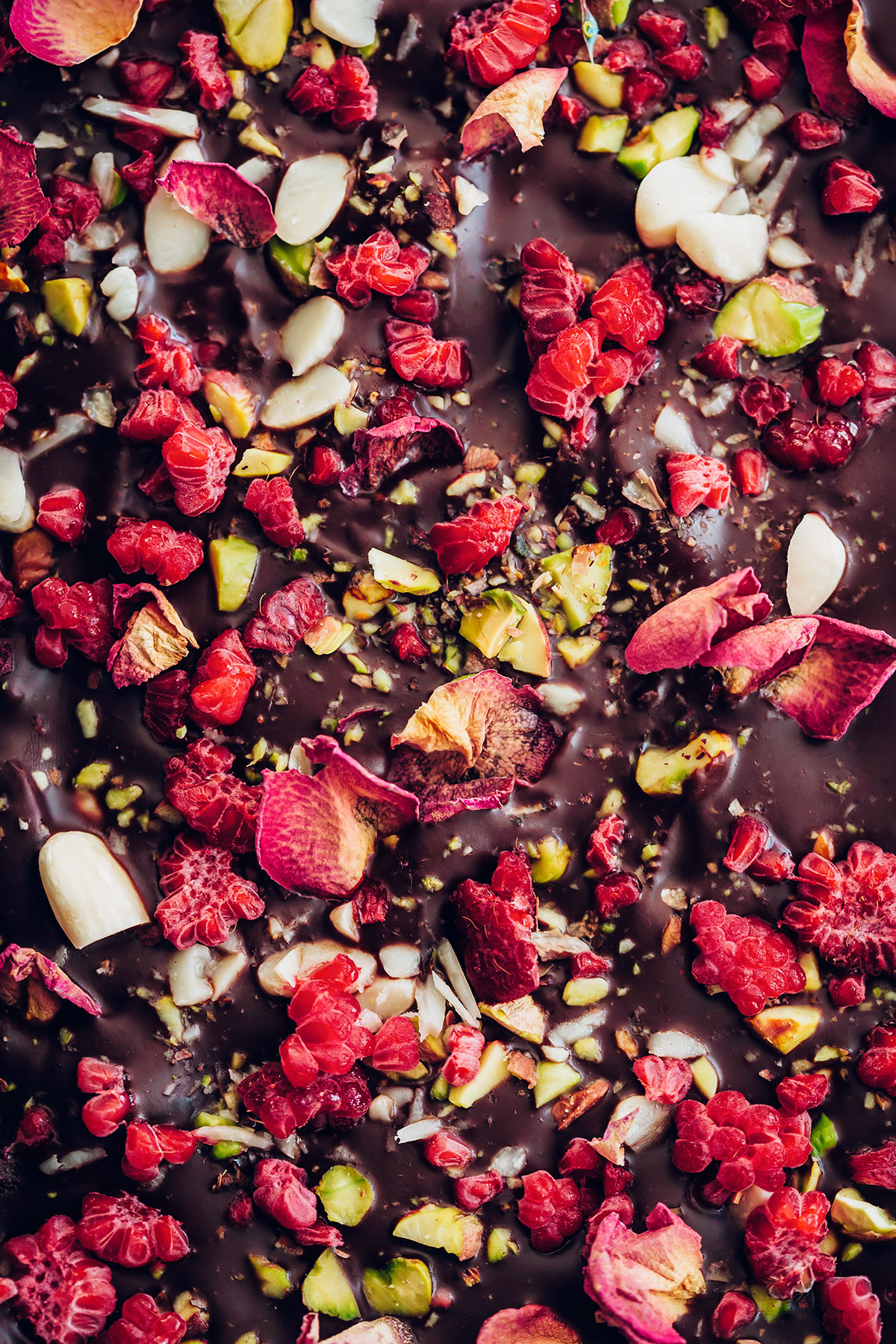 Looking for more healthier chocolate desserts? Try our Vegan Chocolate Hazelnut Fudge, our Vegan Triple Chocolate Donuts, or our Chocolate Dipped Chai Spiced Raw Macaroons. You might also want to check our 13 Homemade Vegan Candy Recipes.
Did you try this recipe? Post your photo and tag us #helloveggieblog on Instagram so we can share it with our community.
Healthier Chocolate Fudge, The Christmas Edition
An easy chocolate fudge recipe, vegan and keto approved, made without condensed milk or refined-sugar, but using healthy ingredients like almond butter and coconut oil.
Ingredients
6

tbsp

coconut oil

1/2

cup

almond butter

6

oz

dark chocolate

chopped

1

tbsp

erythritol

2

tbsp

pistacchio without shells

crushed

2

tbsp

raw almonds

crushed

2

tbsp

dried unsweetend cranberries

1

tbsp

dried rose petals

1/2

cup

frozen raspberries

crushed
Instructions
Bring water to boil into a medium pot.

Add the chopped chocolate and the coconut oil into a medium glass bowl, and place over the boiling water pot.

Let the chocolate and coconut oil melt, stirring frequently to combine.

Transfer into the blender, add the almond butter and erythritol, and pulse to combine.

Transfer back into the bowl and add the pistacchio, almonds, cranberries and raspberries, saving some for garnishing.

Line a 9x13' rectangle pan with parchment paper, and pour the chocolate mixture.

Top with the saved nuts, fruits and rose petals, then cover with plastic foil and freeze for an hour.

Remove from the freezer, cut and serve.
Nutrition Facts
Healthier Chocolate Fudge, The Christmas Edition
Amount Per Serving
Calories 255
* Percent Daily Values are based on a 2000 calorie diet.