Let's talk baked pasta dishes for a minute. Or longer, cause you know I could go on and on on this topic… I adore a good homemade mac 'n cheese and am always down for a big pan of baked ziti. Those two dishes just scream comfort food to me, and with lockdown in full force, everyone needs a little soul warming comfort food right now.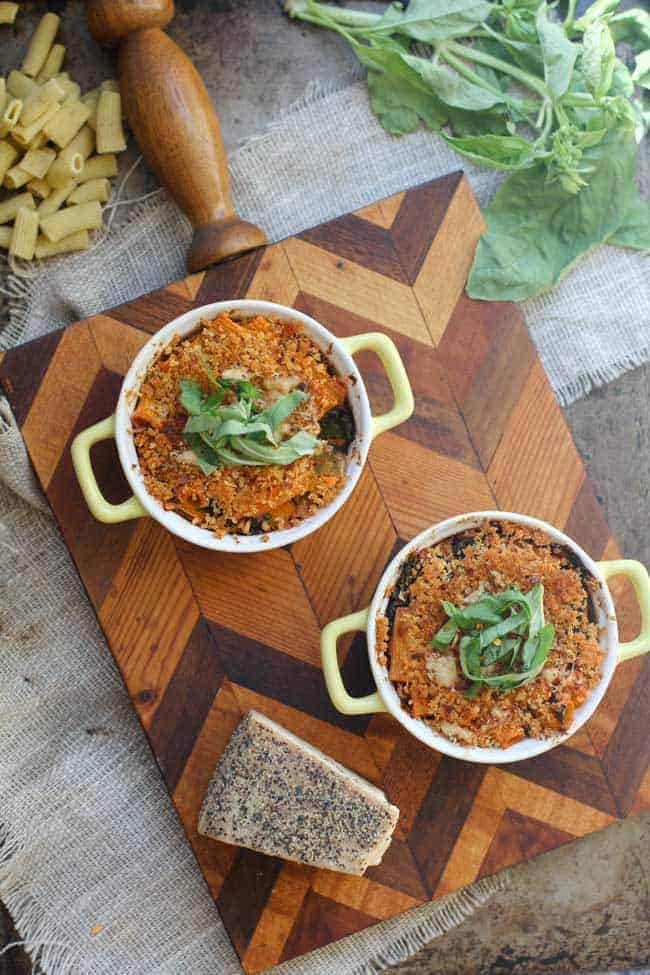 Vodka Pasta Mac'n Cheese Bake
The only problem is that I don't always have the time or energy to boil and simmer and bake for hours. I'm sure you can relate. So what happens when I get the hankering for mac-n-cheese, baked ziti and vodka pasta at the same time but don't want to spend all day in the kitchen? Luckily, an amazing solution does exist.
A simple pasta bake like this one combines the best of both dishes in one easy dinner. You can't beat loads of pasta tossed in a garlic and cream sauce with some sautéed kale for good measure. It's a weeknight dinner perfection in a casserole dish! It doesn't take an eternity to make, it's gluten free, and utterly delicious. Scroll down for the full recipe: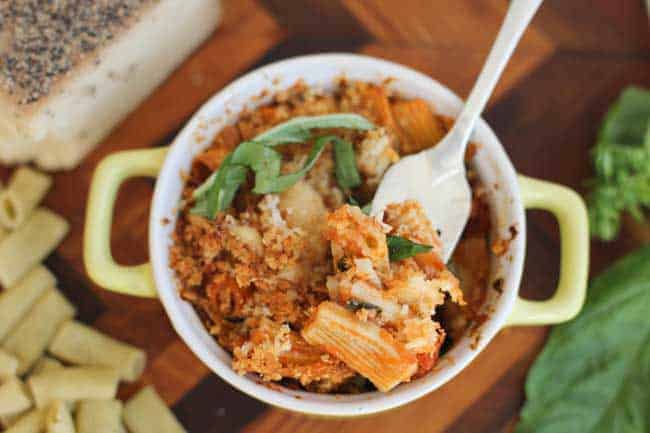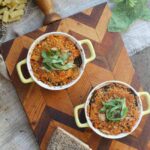 Vodka Pasta -N-Cheese Bake
Ingredients
olive oil

1

tablespoon

unsalted butter

2- 2 1/2

cups

chopped kale from 1 large bunch

1

pound

uncooked gluten free or whole wheat pasta

preferably elbow

2 1/2

cups

store bought vodka sauce or homemade

1/2

cup

shredded Monterey Jack cheese

1/2

cup

shredded white cheddar cheese

1

cup

breadcrumbs

if gluten free process 1 Udi's bagel in the food processor until it resembles traditional bread crumbs

1/2

cup

Parmesan cheese

Fresh basil for garnish
Instructions
Preheat the oven to 375°F and generously grease a large 13 x 9 x 2-inch baking pan with olive oil, set aside.

Bring a large pot of salted water to a rolling boil, then cook the pasta in the boiling water until al dente. Pour into a colander and shake it a few times to drain really well. Place the cooked pasta in a large mixing bowl.

Meanwhile, heat a large skillet over medium heat with 1 tablespoon olive oil and 1 tablespoon butter. Once the butter has melted add the chopped kale. Gently move the kale around the pan until it is slightly wilted and almost cooked through about 3 minutes. Remove the pan from the heat and add the kale to the mixing bowl with the pasta.

Mix the pasta with the kale and vodka sauce thoroughly. If the mixture seems a little dry to you add more sauce a 1/4 cup at a time.

Pour half of the pasta and kale mixture in the baking pan, top with the Monterey Jack and White Cheddar cheese, then layer the remaining pasta over the top and spread it out evenly in the pan.Top the pasta with breadcrumbs and the Parmesan cheese then bake for 30-35 minutes until the top is golden and crispy.

Top with fresh basil and serve immediately.
0