We already know that seaweed is good for the skin–you can use it to make sheet masks and body wraps. And sea vegetables have numerous health benefits when eaten, including helping support the body's natural detoxification process. But here's something you may not have thought of: seaweed also happens to be low in carbs, making it great for keto and low carb wraps and salads–like this Seaweed Salad with Miso Dressing from Annie Bell's Low Carb Express.

Let me tell you, you've never had salad like this before–instead of lettuce, kaiso mix seaweed is topped with tomatoes, cucumbers, avocado and chili peppers for heat. A gingery miso dressing finishes it off. (Miso is a great source of plant-based probiotics, giving this salad even more of a health boost.) The combination makes a great lunch or a side salad to accompany grilled fish or shrimp.
Fast, easy, and healthy–what could be better, right?
If you're looking for low carb recipe inspo, you'll appreciate Low Carb Express. Tired of keto pizzas? Try a pizza omelette! Looking for a new twist on guac? The Avocado and Coconut Dip in this book is perfect for all your crudite needs. Rainbow Spaghetti with Parmesan, Parsley, and Crispy Bacon is sure to be a winner with every member of the family, as are the Skinny Mac Cheese Fritters.
Purchase Low Carb Express: Cut the Carbs with 130 Deliciously Healthy Recipes by Annie Bell on Amazon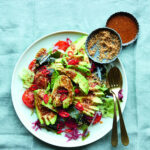 Seaweed Salad with Miso Dressing
Ingredients
Salad
8

g

dried kaiso mix seaweed

4

small tomatoes

sea salt

¼

cucumber

peeled and very finely sliced

1

large or 2 small avocados

halved 
and stoned

1

teaspoon

finely sliced medium-hot red chilli

2

teaspoons

sesame seeds
Dressing
1

teaspoon

finely grated fresh ginger

1

level tablespoon brown miso 


e.g. barley or rice

2

teaspoons

sherry vinegar

2

tablespoons

peanut oil
Instructions
Put the seaweed in a medium bowl, cover plentifully with cold water and soak for 20 minutes, then drain and spin dry in a salad spinner. Meanwhile, thinly slice the tomatoes, season with a little salt in a bowl and set aside for 15 minutes. Whisk all the ingredients for the dressing together, with 2 tablespoons of water, in a medium bowl.

Combine the tomatoes and cucumber on a large plate and mix in the seaweed. Slice the avocado into long, fine strips in the skin, then use a dessertspoon to remove the slices in one go and arrange these in a pile in the middle of the salad. Drizzle over the dressing and scatter with chilli and sesame seeds.  
Recipe Notes
It's best to eat this salad immediately, but if you're making for one, store leftover salad and dressing separately in the refrigerator for up to 2 days.
0