It's important to stay cool and hydrated as the weather warms up. Our preferred summer afternoon snack is homemade popsicles. We love fun rainbow yogurt pops, but these get a fun makeover into spa pops.
They are healthy, hydrating, and 100% natural. You'll be surprised how quickly they disappear from the freezer!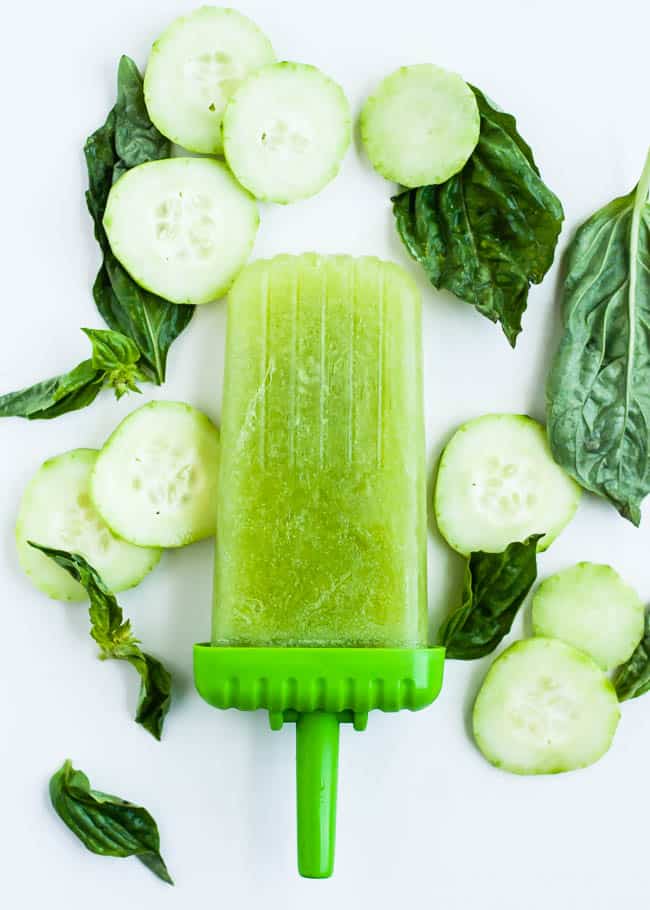 Cucumber Popsicles
Cucumber and melon are two of my summer favorites. Both have a high water content naturally, making them a great base for popsicles. I added basil and lemon to these cucumber pops so they taste just like infused water – not sweet, but utterly refreshing.
Feel free to add a bit of natural sweetener if you like yours on the fruitier side. Agave, coconut sugar syrup or even a bit more fruit (more melon is an obvious choice but something like kiwi or pineapple would be uh-mazing in these) should do the trick.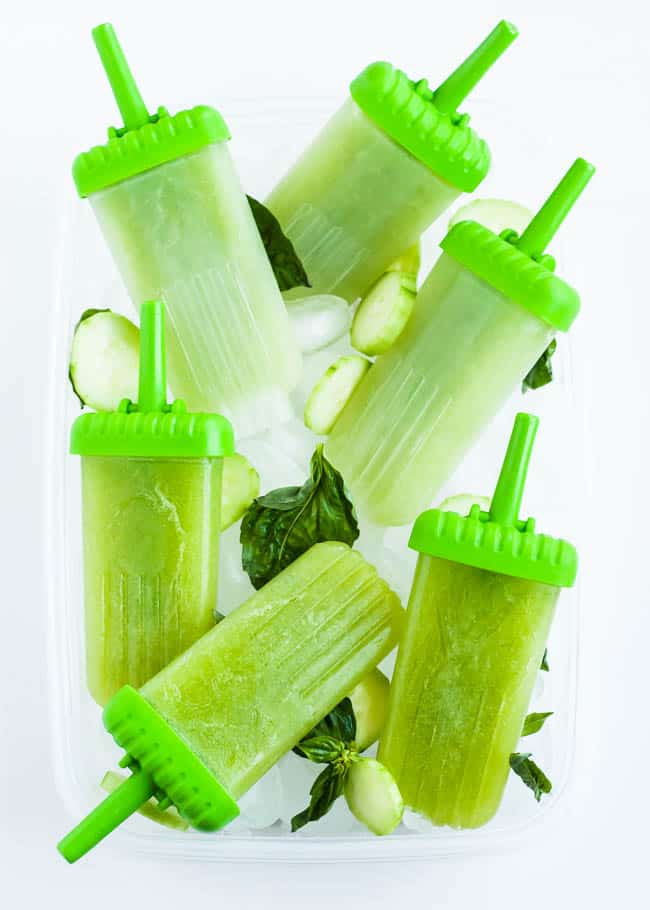 Simply puree the ingredients in a blender or food processor, then pour into your popsicle molds. If you don't have plastic popsicle molds, you could always use small paper cups instead.
Simply pour the liquid into the cups and wrap the top with tin foil. Then make a small hole in the foil through which you can insert a wooden popsicle stick.
While it does create a little extra trash, I find the cups are easier to use if you have small children since they create smaller portions. As a bonus, just hold the cup under the popsicle and let it acts as a drip-catcher.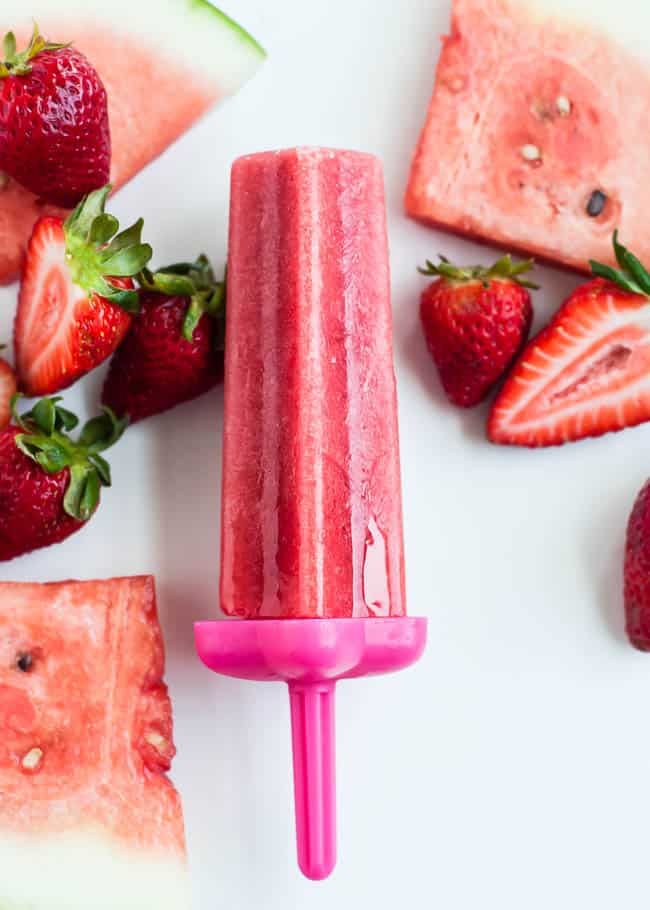 Watermelon Strawberry Popsicles
To the watermelon pops, I added strawberries – a perfect summery combo!
You could definitely use other varieties of melon, berries, or other fruits. Other fresh herbs like mint, or even edible flowers would make pretty spa pops too. I use these molds which hold about 4 ounces of liquid in each one. The exact amount may vary a little bit due to natural variations in water content in the fruits and cucumber.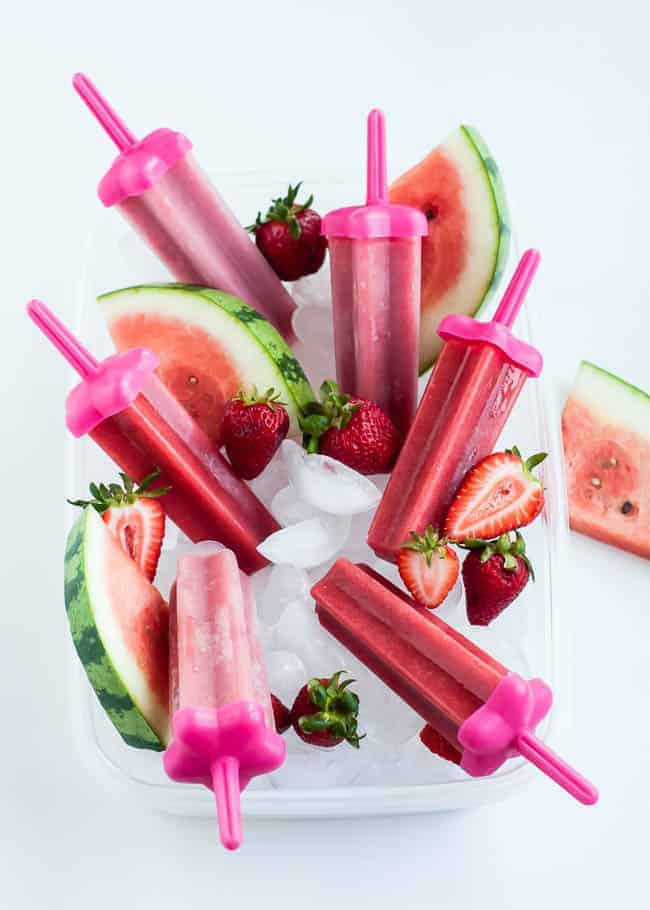 Some different combinations to try:
-Lemon with edible flowers like pansies or lavender
-Cucumber and mint
-Melon with slices of strawberry or other fresh fruit chunks
-Add extra water or coconut water for added hydration benefits. Just be forewarned, more liquid means longer to freeze. And if you have kids champing at the bit, this may or may not be worth it!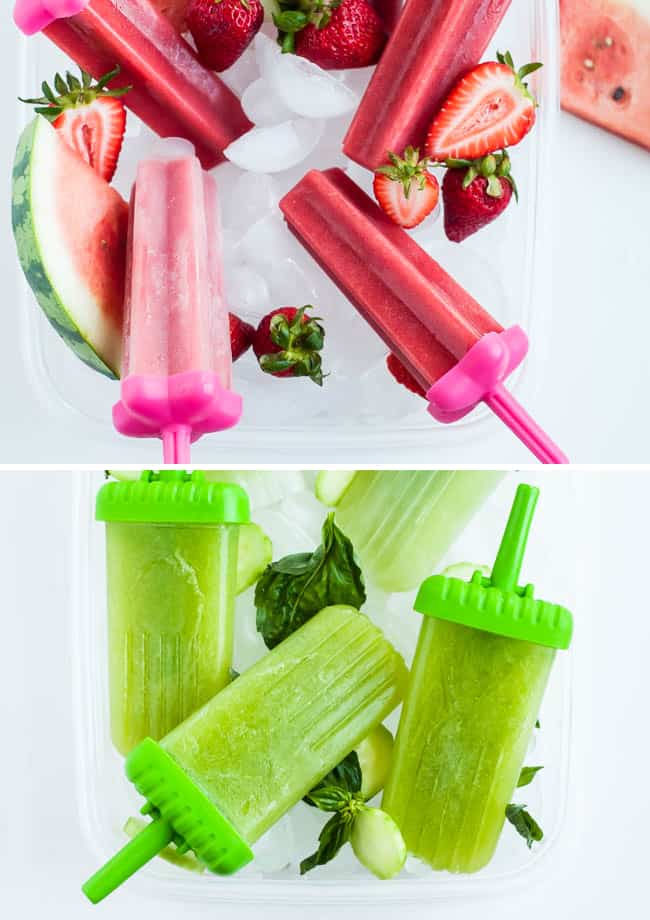 Want more popsicle ideas?
Cherry Berry Lime Cocktail Popsicles – these fruity, fun cocktail popsicles with lime, cherries and raspberries make a great grown-up summer treat.
Rainbow Layered Yogurt Superfood Pops – almost too pretty to eat!
Antioxidant-Rich Berry Ginger Popsicles – Turn your smoothies into ice cream! Berries, ginger, mint, rose water, and coconut yogurt – simple and clean ingredients to create a delicious guilt-free summer dessert.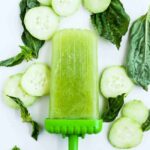 Watermelon Strawberry + Basil Cucumber Popsicle Recipes
Cool off with refreshing popsicles that are healthy, hydrating and 100% natural.
Ingredients
Cucumber Basil Spa Pops
2

large cucumbers

peeled and diced

juice of 1-2 lemons

to taste

smal handful basil leaves

1/2 to 1

cup

water

if needed for blending
Watermelon Strawberry Spa Pops
4

cups

watermelon

cubed

2

cups

strawberries
Instructions
Cucumber Basil Spa Pops
Puree cucumber, lemon juice, and basil in blender. Add water if needed. Pour into popsicle molds and freeze.
Watermelon Strawberry Spa Pops
Puree watermelon and strawberries until very smooth. Pour into popsicle molds and freeze until firm.
Recipe Notes
-Fresh cucumber juice can also be used, or the mixture can be strained, if desired, before pouring into the molds.
0