One of my favorite weeknight dinners is a simple pasta recipe with cabbage, grated Parmesan cheese, and plenty of freshly cracked black pepper. There's not much to it, but that's what makes it delicious. This Lemon, Black Pepper, Pecorino & Cabbage Rice reminds me of that pasta dish–the ingredient list is relatively short, but the finished dish is rich, creamy, and brightened up with fresh lemon zest.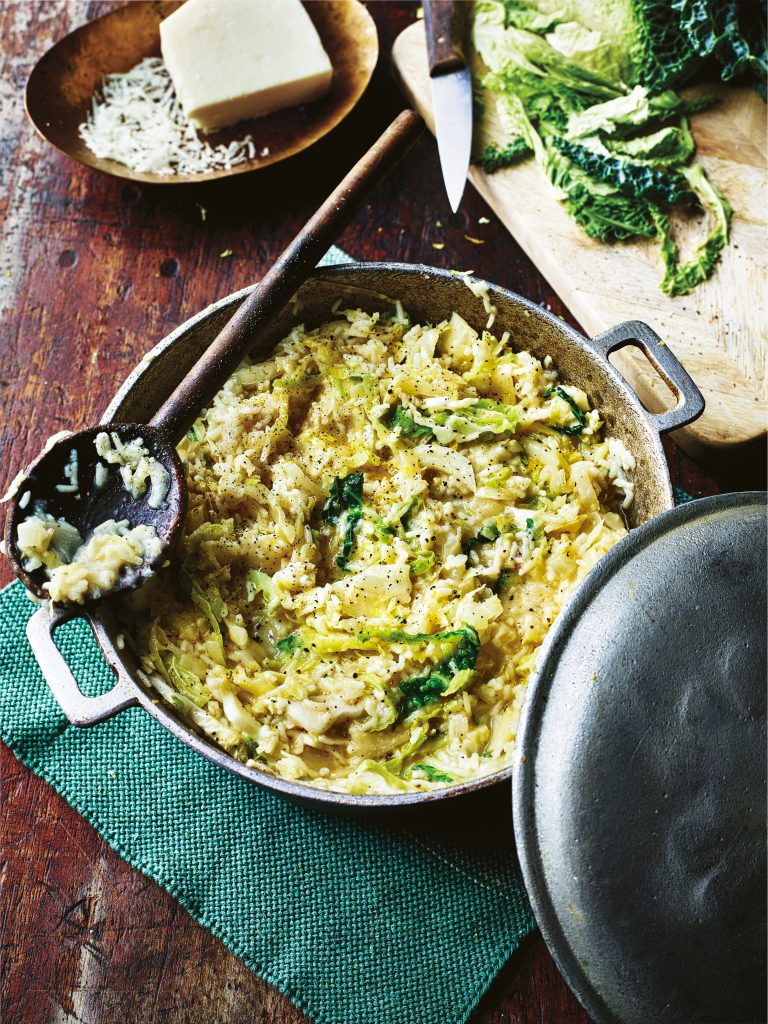 This recipe comes from Sabrina Ghayour's new cookbook, Bazaar; although the release date is today, I got a sneak peek and let me tell you, this cookbook is worth buying–it's a hefty volume that consists entirely of Persian-inspired vegetarian recipes. There is so much I want to cook from this book.
But back to the Lemon, Black Pepper, Pecorino & Cabbage Rice. You might notice that the technique for this recipe is that of making risotto, but the rice in the ingredient list is basmati. That is not an accident! Basmati rice works for making risotto too and since I tend to have basmati rice on hand because it can be paired with so many different dishes and cuisines, I love this swap.
Purchase Bazaar: Vibrant Vegetarian Recipes by Sabrina Ghayour on Amazon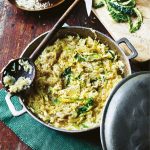 Lemon, Black Pepper, Pecorino & Cabbage Rice
Ingredients
olive oil

1

white onion

very finely chopped

1 1/2

cups

basmati rice

1/2

cup

butter

divided

1 1/4

–1 1/2 quarts boiling water

1

teaspoon

freshly ground black pepper

mill it coarsely

3 1/2

ounces

pecorino cheese

finely grated, plus extra (optional) to serve

1/2

large Savoy cabbage

shredded 
into ribbons

finely grated zest of 1 unwaxed lemon
Instructions
Heat a large saucepan over a medium-low heat and add enough olive oil to coat the base of the pan. Add the onion and cook for about 8–10 minutes, or until soft and translucent, without browning.

Add the rice and half the butter to the saucepan and stir gently for a minute or so. Then begin adding the boiling water a ladleful at a time, stirring constantly, ensuring that each ladleful of water is absorbed before adding the next. Don't be tempted to increase the heat to speed up the process – you don't want the liquid to evaporate too quickly, as the rice won't cook properly. Once you have used one-third of the water, check the rice to see if it has cooked through (the grains should not be hard in the center). Continue stirring and adding water this way until the rice is cooked to your liking.

Add the pepper and pecorino and stir rapidly to ensure the mixture becomes creamy and smooth. Now stir in the cabbage, followed by the remaining butter. Lastly, mix in the lemon zest. Take the pan off the heat and ladle the risotto into serving bowls. Drizzle a little olive oil over each serving, then scatter over some pecorino, if desired. Serve immediately.
4