Some people need a little something sweet after every meal. I am totally one of those people. The downside of this is that all those calories add up over time, so I'm always seeking treats that satisfy my sweet tooth while still being reasonably healthy. These 5-Ingredient Peppermint Patties from Minimalist Baker's Everyday Cooking fit the bill.
We all know the benefits of ingredients like dark chocolate and coconut oil, but what I really love about this recipe is the peppermint oil. Food-grade peppermint oil is perfect for soothing upset stomachs and that strong mint flavor has a way of putting the brakes on your eating—because everything tastes a little bit off after you've eaten something minty, right? Having a minty treat like this after dinner helps signal to your brain that you're done eating for the night.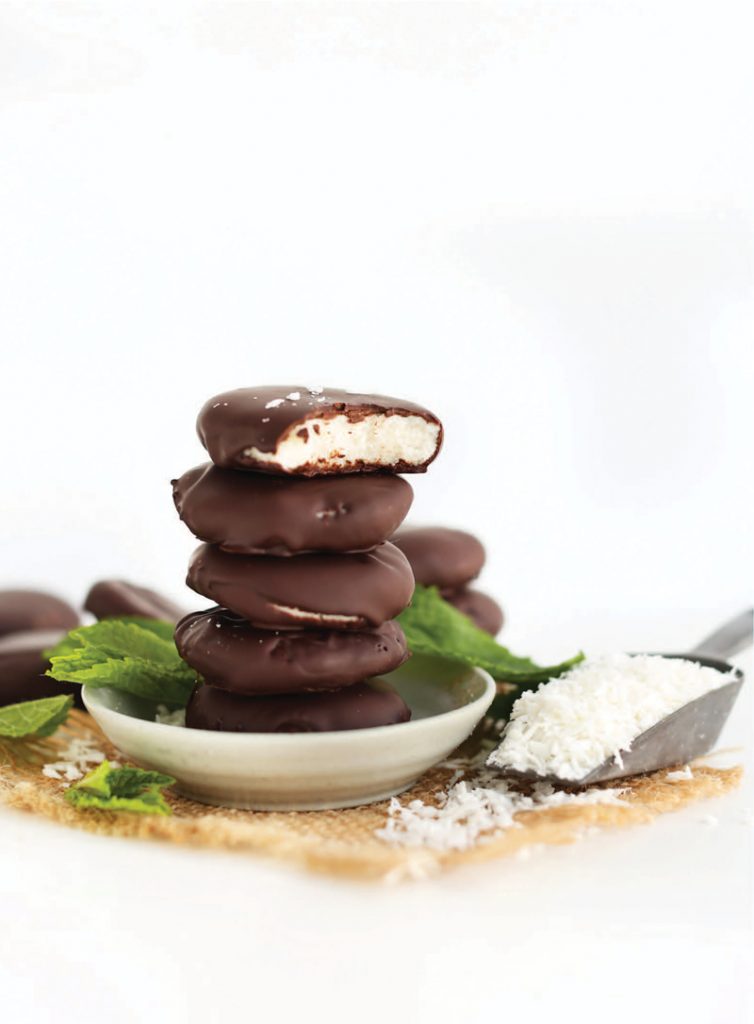 Minimalist Baker's Everyday Cooking is all about easy vegan recipes that require fewer than 10 ingredients, less than 30 minutes to prepare, or only 1 bowl or pot. Bonus: most of the recipes are also gluten-free. If you're trying to eat healthier, but have difficulty finding the time or motivation to do it, this cookbook will become a fast favorite.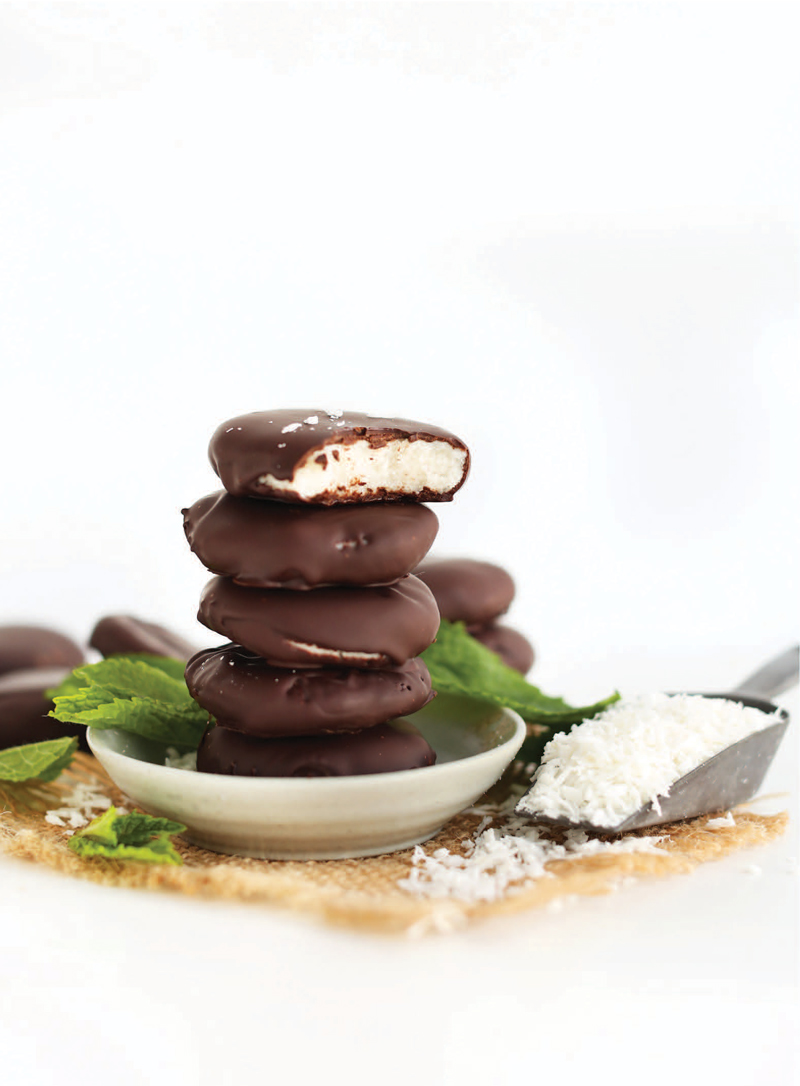 5-Ingredient Peppermint Patties
Reprinted from Minimalist Baker's Everyday Cooking by arrangement with Avery Books, a member of Penguin Group (USA) LLC, A Penguin Random House Company. Copyright © 2016, Dana Shultz
Ingredients
3

cups

240g shredded unsweetened coconut

2

Tbsp

30ml maple syrup

1

⁄2-3⁄4 tsp peppermint extract for best quality, use food grade peppermint oil

2

tsp

coconut oil

divided

1

cup

120g vegan dark chocolate, chopped
Instructions
Add shredded coconut to food processor or high-speed blender. Blend, scraping down sides as needed, until a paste forms. The texture should feel like dough when squeezed between fingers. It may be necessary to encourage it along by scraping down the sides as it's blending.

Add maple syrup, peppermint extract, and 1 tsp melted coconut oil. Mix again until incorporated. Again, look for a dough-like consistency. Scrape down sides as needed. Scoop out mixture and pack firmly using a tablespoon. Then roll between palms to form a ball, and gently press down to form a disc. Use fingers to gently pat down so patties are not too tall.

Lay down on parchment-lined baking sheet or plate, and continue until all coconut is used—recipe should make about 14 patties. Place in freezer to set for 10 minutes.

Melt chocolate and remaining 1 tsp coconut oil over a double boiler or in microwave in 30 second increments until melted.

Individually place a chilled patty on the prongs of a fork to dip into chocolate. Tap off excess and set back on parchment. Continue until all bites are coated.

Place in refrigerator or freezer to set for 8-10 minutes or until chocolate is firm.

Peel away from parchment and transfer to serving platter. Serve at room temperature or chilled. Patties will keep covered at room temperature for 3-4 days, or in the freezer (my preference) up to 1 month. Best when fresh.
Nutrition Facts
5-Ingredient Peppermint Patties
Amount Per Serving (1 patty)
Calories 122
* Percent Daily Values are based on a 2000 calorie diet.
4