While there are many pasta dishes that can be easily tweaked to vegetarian, carbonara is rarely one of them. How can you replace pancetta with something that tastes equally good? And don't get us started on vegan versions – replacing eggs and parmesan is a tough job for any cook. But what would you say if we told you the perfect vegan carbonara does exist? That it's creamy and comforting just like the traditional recipe?
Collard Green Vegan Carbonara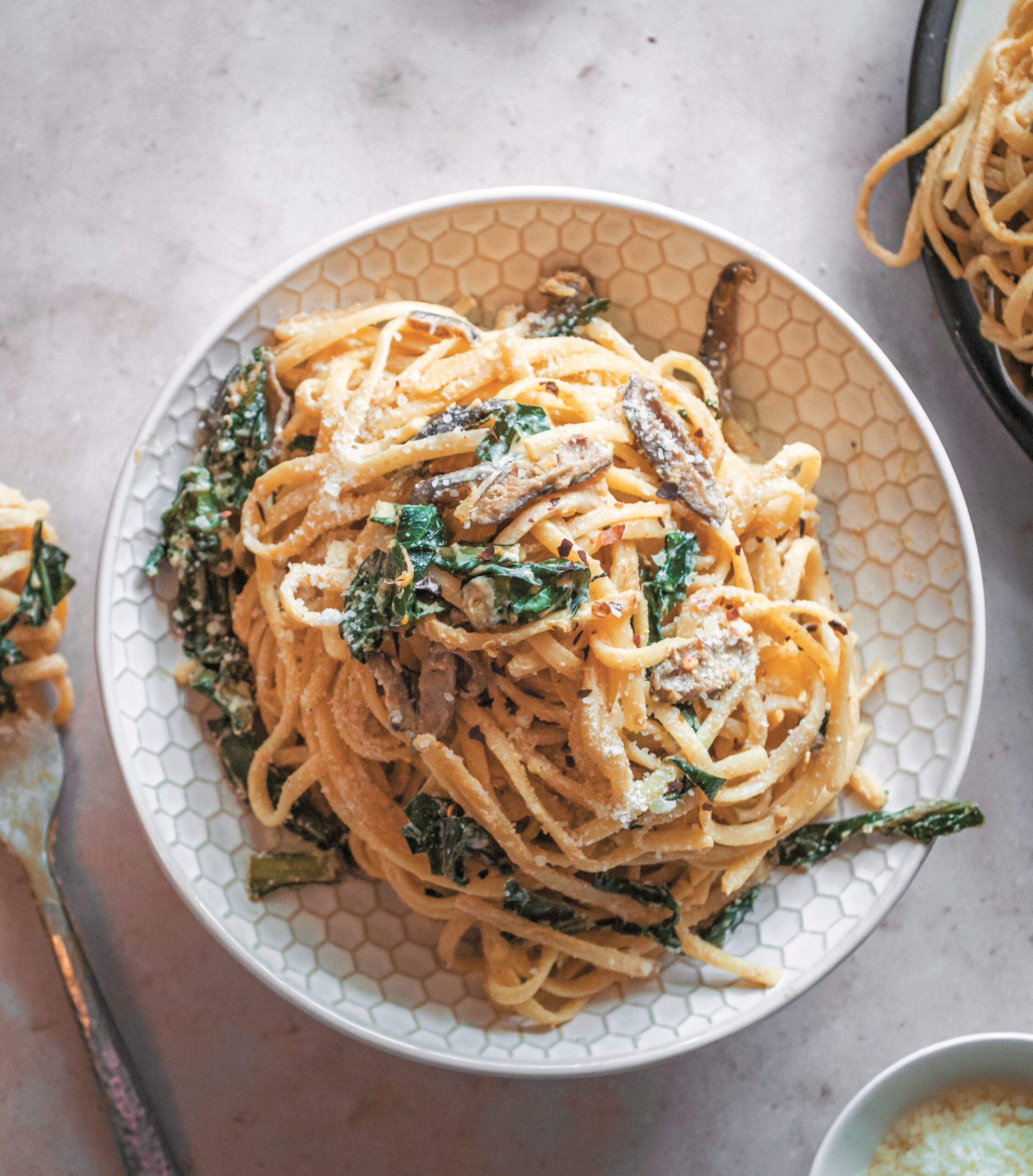 This vegan carbonara recipe is based on a tofu, nutritional yeast, and smoked paprika sauce that hits all the right spots. You won't miss the bacon, which is replaced here with protein-packed shtiitake mushrooms. And as if that weren't enough, the recipe is elevated with collard greens, the one ingredient you didn't know your pasta was missing.
The recipe comes from a just-published cookbook with lots of potential: Southern Vegan: Delicious Down-Home Recipes for Your Plant-Based Diet, by Lauren Hartmann. The book takes classic southern dishes and reinterprets them for a plant-based diet. That means you'll get all the rich, decadent flavors you're used to – think Pimento Cheese Spread, Mississippi Mud Cheesecake, or Red Velvet Funnel Cake – while still eating vegan. Consider us converts.
Here's what Lauren says about this recipe:
"I am obsessed with making the perfect vegan carbonara. This southern version may have brought that obsession to an end. The sauce does an amazing job of mimicking the egg and cheese sauce that is traditional in a carbonara. The shiitake "bacon" provides the salty and sweet component, while the collard greens take the dish to the next level. Time for me to retire as the self-appointed vegan carbonara tester—this is the recipe."
Get the recipe for the perfect vegan carbonara below, and purchase Southern Vegan: Delicious Down-Home Recipes for Your Plant-Based Diet on amazon or in bookstores.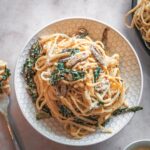 Collard Green Carbonara
Reprinted with permission from Southern Vegan by Lauren Hartmann, Page Street Publishing Co. 2020. Photo credit: Lauren Hartmann and Julie Grace
Ingredients
8

oz

firm tofu

1/2

cup

vegetable broth

2

tbsp

dill pickle juice

1/4

cup

nutritional yeast

1/2

tsp

smoked paprika

1/2

tsp

salt

+ more as necessary

pinch

red pepper flakes

1

lb

linguine, fettuccine or spaghetti

2

tbsp

olive oil

4

oz

shiitake mushrooms

thinly sliced

2

tbsp

liquid aminos or soy sauce

1

tbsp

liquid smoke

1

tbsp

 pure maple syrup

3

cups

finely chopped collard greens

black pepper

to taste

vegan parmesan

as needed
Instructions
Squeeze the tofu with your hands, removing as much moisture as you can. Add the tofu to a blender. Add the broth, pickle juice, nutritional yeast, smoked paprika, salt and red pepper flakes.Blend on high for 2 to 3 minutes, until the sauce is completely smooth. Set the sauce aside

Cook the pasta according to package directions.

Heat the oil in a large nonstick skillet over medium-high heat. Add the mushrooms and sauté, reducing the heat as needed to prevent burning, for about 10 minutes, or until the mushrooms are starting to brown.

Add the liquid aminos, liquid smoke and maple syrup. Toss to coat the mushrooms.

Add the collard greens and toss to combine them with the mushrooms and seasonings. Sauté for about 10 minutes, or until the collard greens are tender. Season them with the salt and black pepper.

When the pasta is done, drain it and reserve the pasta water. Add the pasta to the skillet. Toss to combine the pasta with the mushrooms and collard greens

Pour the sauce and 1⁄4 cup (60 ml) of the reserved pasta water over the pasta. Toss to coat all of the pasta in the sauce. Add a little more pasta water if needed. Taste and adjust the seasonings

Serve the carbonara topped with the Parmesan (if using).2 / 2
1