There's no small kitchen appliance I use more than my blender—but only because my husband and I both have smoothies everyday. If it weren't for that smoothie habit, my blender would probably be sitting in the back of a cabinet somewhere with my pasta maker and food dehydrator. I totally need to up my blender game because there are so many ways to use it, beyond smoothies and the occasional margarita. There's soups! And dips! We even used a blender to create a DIY dry shampoo.
Tess Masters' The Perfect Blend: 100 Blender Recipes to Energize and Revitalize, the follow up to her first cookbook, The Blender Girl, is packed cover-to-cover with healthy ideas for putting your blender to good use. I love that each chapter of the book addresses a different health-related goal, whether it's losing weight, reducing inflammation, or upping your protein intake. The recipes are creative, delicious, and fresh—and they all involve a blender.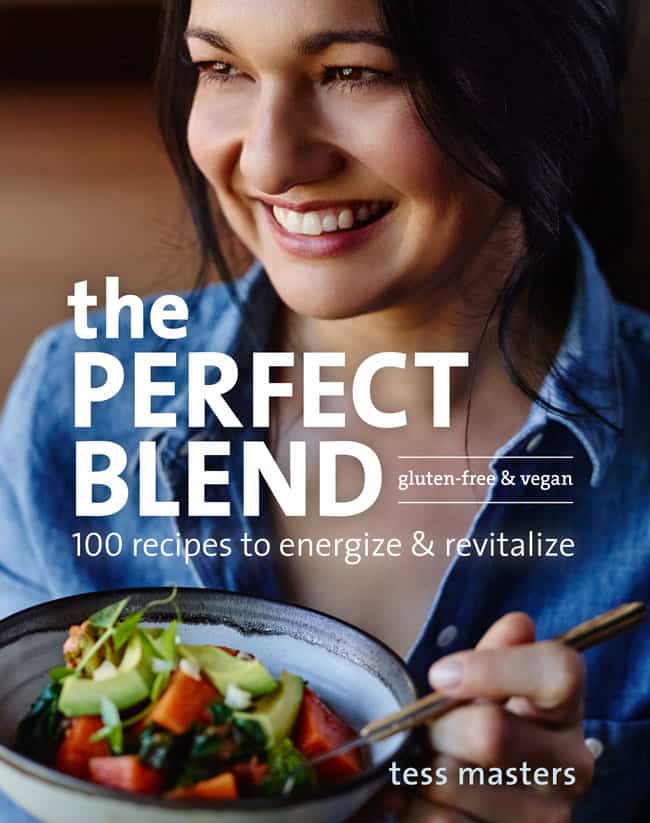 This Sustenance Stew recipe is perfect for winter—not only is it hearty and comforting, but it'll also give your immune system a boost (and with the germs that have been going around in my house lately, I know we need it!). It's high in protein and alkalizing ingredients too, with healthy fats from avocado and almonds. While the list of steps may look intimidating, you can use frozen cauliflower rice instead of making your own and save a little time.
Purchase The Perfect Blend: 100 Blender Recipes to Energize and Revitalize by Tess Masters on Amazon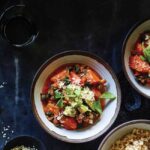 Sustenance Stew
Reprinted with permission from
The Perfect Blend
, copyright 2016 Tess Masters. Published by Ten Speed Press, an imprint of Penguin Random House LLC. Photography copyright 2016 by Anson Smart
Ingredients
cauliflower rice
2

medium heads cauliflower

cut into florets

¼

cup

60ml extra-virgin olive oil

1

teaspoon

natural salt

plus more to taste
stew
1

tablespoon

grapeseed oil or extra-virgin olive oil

1

medium yellow onion

roughly chopped

2

teaspoons

minced garlic

about 2 cloves

Natural salt

3

cups

720ml vegetable broth

2

14.5-ounce/411g cans whole tomatoes with their juice

1½

tablespoons

minced fresh ginger

¼

teaspoon

red pepper flakes

4

cups

570g peeled and roughly diced orange-flesh sweet potatoes

3

cups

210g chopped broccoli florets

4

cups

120g Swiss chard, stalks removed, leaves cut into ribbons (about 1 large bunch)

1/3

cup

43g roasted almond butter

½

cup

14g loosely packed finely chopped cilantro

1

medium avocado

pitted, peeled, and sliced

½

cup

80g sliced raw almonds
optional boosters
¼

cup

35g shelled hemp seeds

1

tablespoon

chia seeds

black or white

¼

cup

10g pea greens
Instructions
To make the cauliflower rice, preheat the oven to 375°F (180°C). Line a large baking sheet with a silicone liner or parchment paper.

Put the cauliflower florets in a food processor and pulse about 5 times, until the cauliflower has the texture of couscous. You may have to process in two batches. Transfer the cauliflower to a large bowl and stir in the oil and 1 teaspoon of salt until well combined.

Transfer the "rice" to the prepared baking sheet and bake for 15 minutes. Stir with a spatula

or wooden spoon and continue to roast for another 15 minutes, until the "rice" begins to brown. Set aside until ready to serve.

To make the stew, in a large pot over medium heat, warm the oil and sauté the onion and

garlic with a pinch of salt for about 5 minutes, until the onion is soft and translucent.

Meanwhile, add the broth, tomatoes, ginger, and red pepper flakes to your blender and pulse a few times on low until rustically chopped and combined but not blended. Stir the sweet potatoes and broth mixture into the sautéed onion. Increase the heat to high and bring the mixture to a boil. Lower the heat to medium, add 1/2 teaspoon of salt, and simmer, uncovered and stirring occasionally, for about 15 minutes, until the sweet potato is just tender. Add the broccoli and simmer for another 5 minutes. Stir in the chard and almond butter and simmer for another 5 minutes, until the chard is just wilted. The broth should be absorbed and you

should have a creamy vegetable dish. Stir in the cilantro and tweak the salt to taste.

To serve, spoon equal amounts of the cauliflower rice into bowls and spoon the stew next to or

over the "rice." Top with the avocado and sliced almonds and sprinkle with the hemp seed and chia seed boosters. Finish by topping with the pea greens booster.
0