I've never been a big fan of eggs unless they're in a quiche. I think it's because all the vegetables and cheese and milk or cream help offset some of that egg-y flavor—instead of being the star of the dish, they're more of a supporting player. Because I eat a low carb, high fat diet, finding a grain-free quiche crust that didn't disintegrate into crumbs has been a challenge—until I found this keto quiche crust made with sunflower seeds.
Sunflower seeds? Yes! They're ground to a flour, then combined with grated parmesan and a few other ingredients before being baked in a pie pan and then filled with whatever quiche recipe your heart desires. (A good template to work with for a keto quiche is 6 eggs, a cup of cream, 1-2 cups of shredded cheese, and your favorite low carb veggies and/or meat.)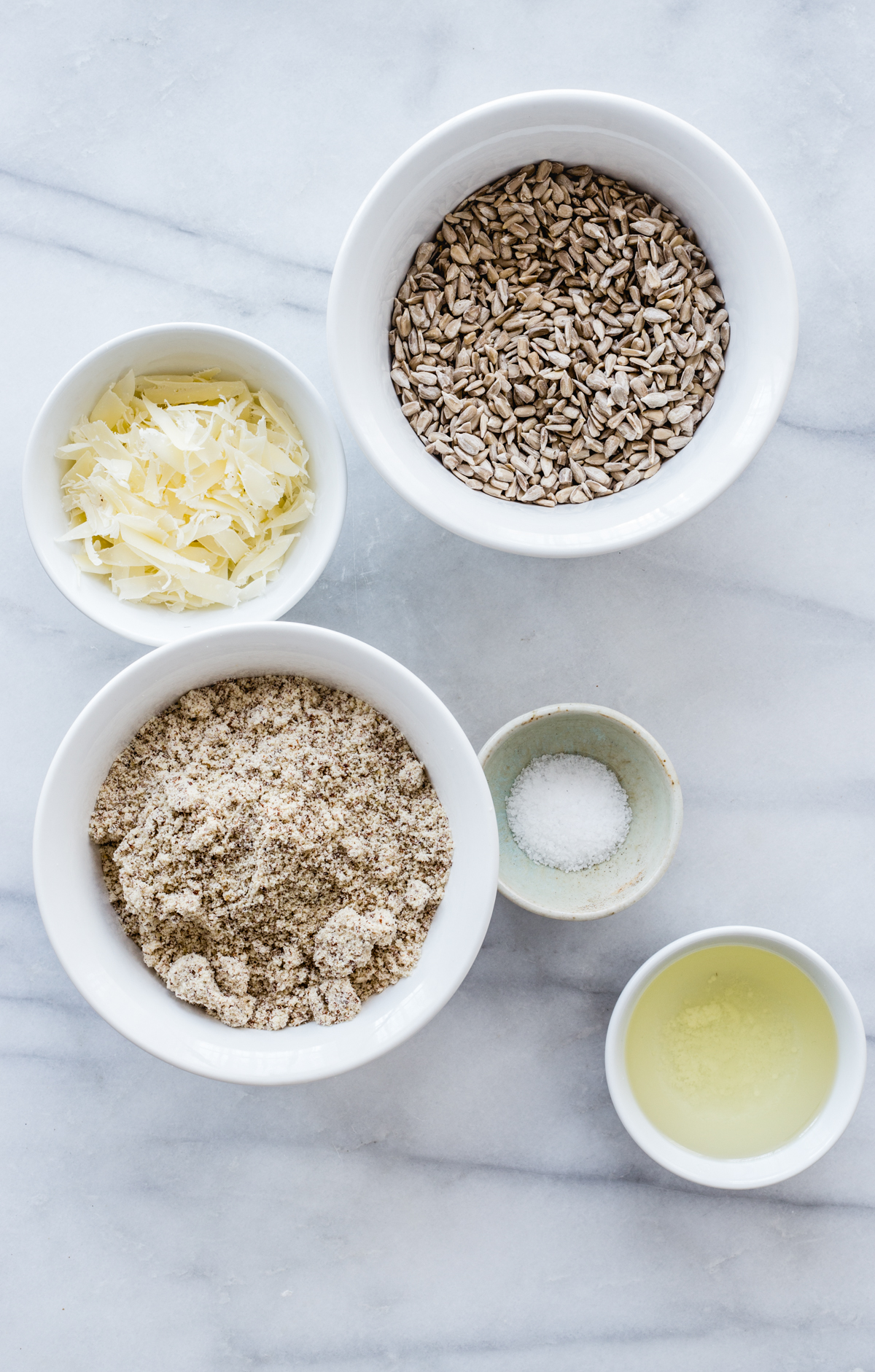 While I've tried a few keto quiche crust recipes in the past, this is the only one that held together for me without crumbling. And it's no wonder it worked—it's from Dana Carpender's new book 500 Ketogenic Recipes: Hundreds of Easy and Delicious Recipes for Losing Weight, Improving Your Health, and Staying in the Ketogenic Zone. Dana has been writing low carb cookbooks for years—she knows her stuff.
As a vegetarian, I'm never shocked when a ketogenic cookbook is mostly meat-based, but with 500 recipes, there's literally something in here for just about everyone, along with a nice primer on how to do the whole keto thing if you're new to it. Some of the recipes on my must-try list include Ricotta Herb Dip, Chipotle Fautatoes (AKA mashed cauliflower!), Asparagus with Hazelnut-Balsamic Butter, and Pot de Chocolat.
And, of course, I'll be making this keto quiche crust again and again.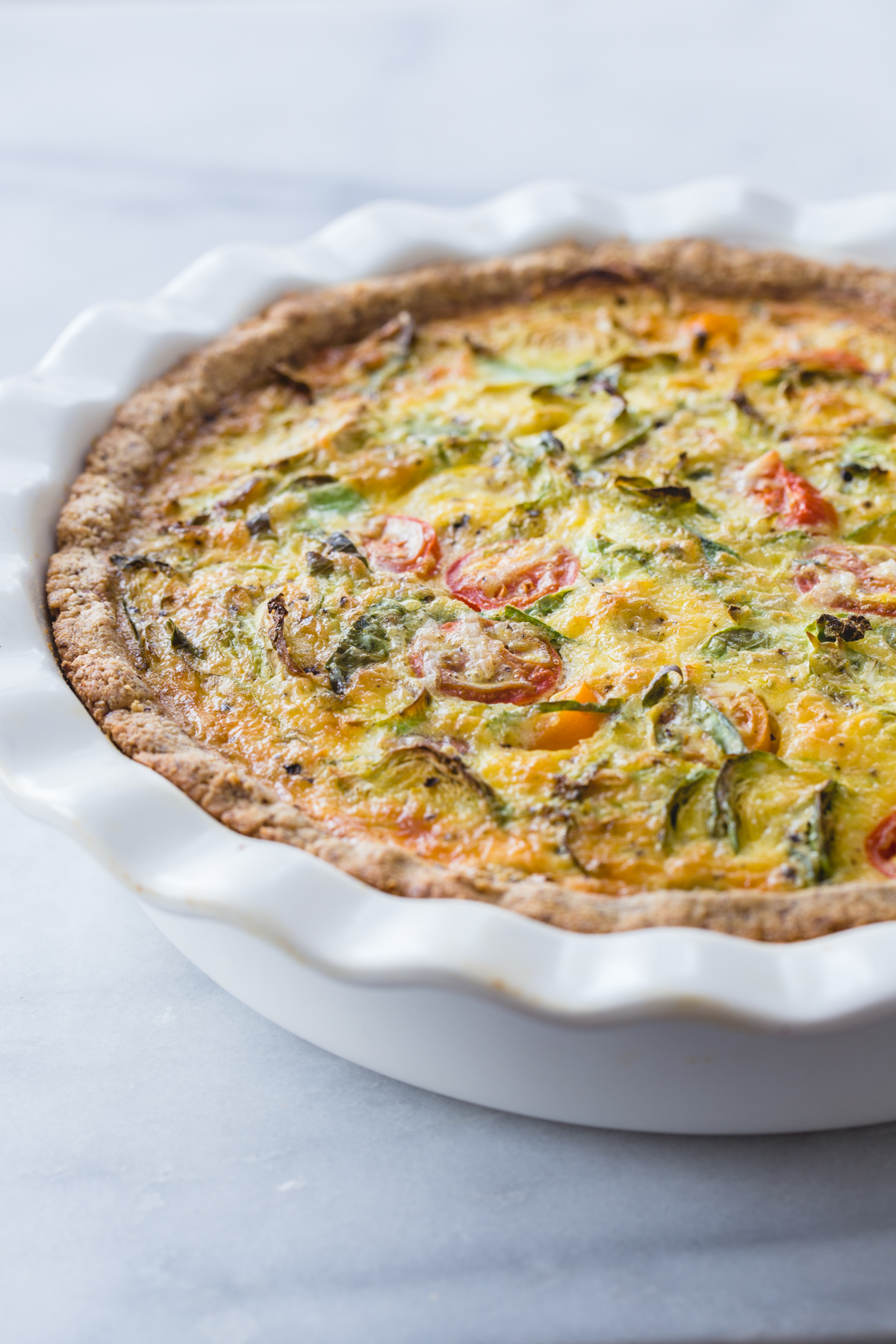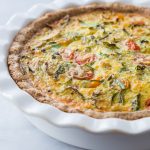 Almond-Sunflower Quiche Crust
Ingredients
1

cup

145g raw sunflower seeds

1½

cups

144g almond meal

¼

cup

56g coconut oil

½

cup

50g grated Parmesan cheese

½

teaspoon

salt

1

tablespoon

15ml water
Instructions
Preheat the oven to 350°F (180°C, or gas mark 4). Coat a 10-inch (25cm) pie plate with nonstick cooking spray. (I also have a 9½-inch [24cm] deep-dish pie plate, which works fine.)

Put everything but the water in your food processor. Process until it's the consistency of a fine meal. With the food processor still running, drizzle in the water. When you have a soft dough, turn off the machine.

Turn the dough out into the pie plate. Use clean hands to press it firmly into an even layer across the bottom and up the sides—you may need to nip a little off here and move it over there to get it even. End at the top edge of the plate; don't try to build up a crimped edge like you might with a wheat flour pie crust.

Bake for 15 to 17 minutes until very lightly gold. Fill and bake again.
Nutrition Facts
Almond-Sunflower Quiche Crust
Amount Per Serving
Calories 193
Calories from Fat 135
% Daily Value*
Fat 15g23%
Carbohydrates 7g2%
Protein 11g22%
* Percent Daily Values are based on a 2000 calorie diet.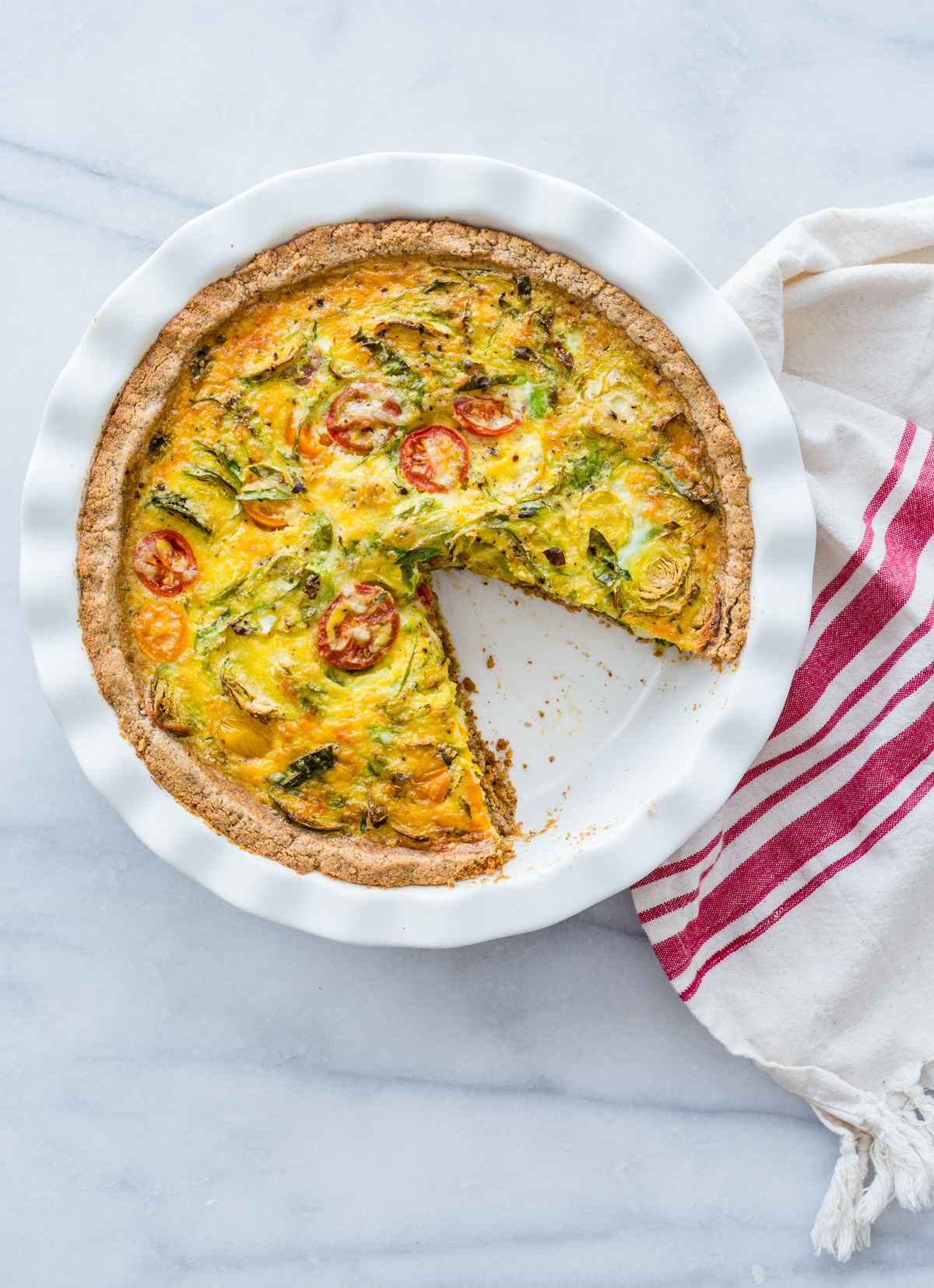 Photos by Emily Caruso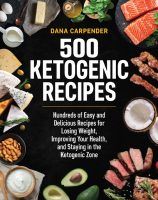 Purchase 500 Ketogenic Recipes: Hundreds of Easy and Delicious Recipes for Losing Weight, Improving Your Health, and Staying in the Ketogenic Zone by Dana Carpender on Amazon or wherever books are sold.
5