Unlike paleo and vegan diets, following the pegan philosophy is less restrictive, combining the best of both worlds. This diet includes unlimited low-glycemic, and occasional high-glycemic fruits and veggies; limited dairy; whole foods; small amounts of gluten-free grains, legumes, nuts, and seeds, as well as fish and eggs. It excludes gluten and most processed sugars. And if you're not sure what that could look like in real life, here's a recipe that serves as a great example: eggplant "meatballs" with zoodles.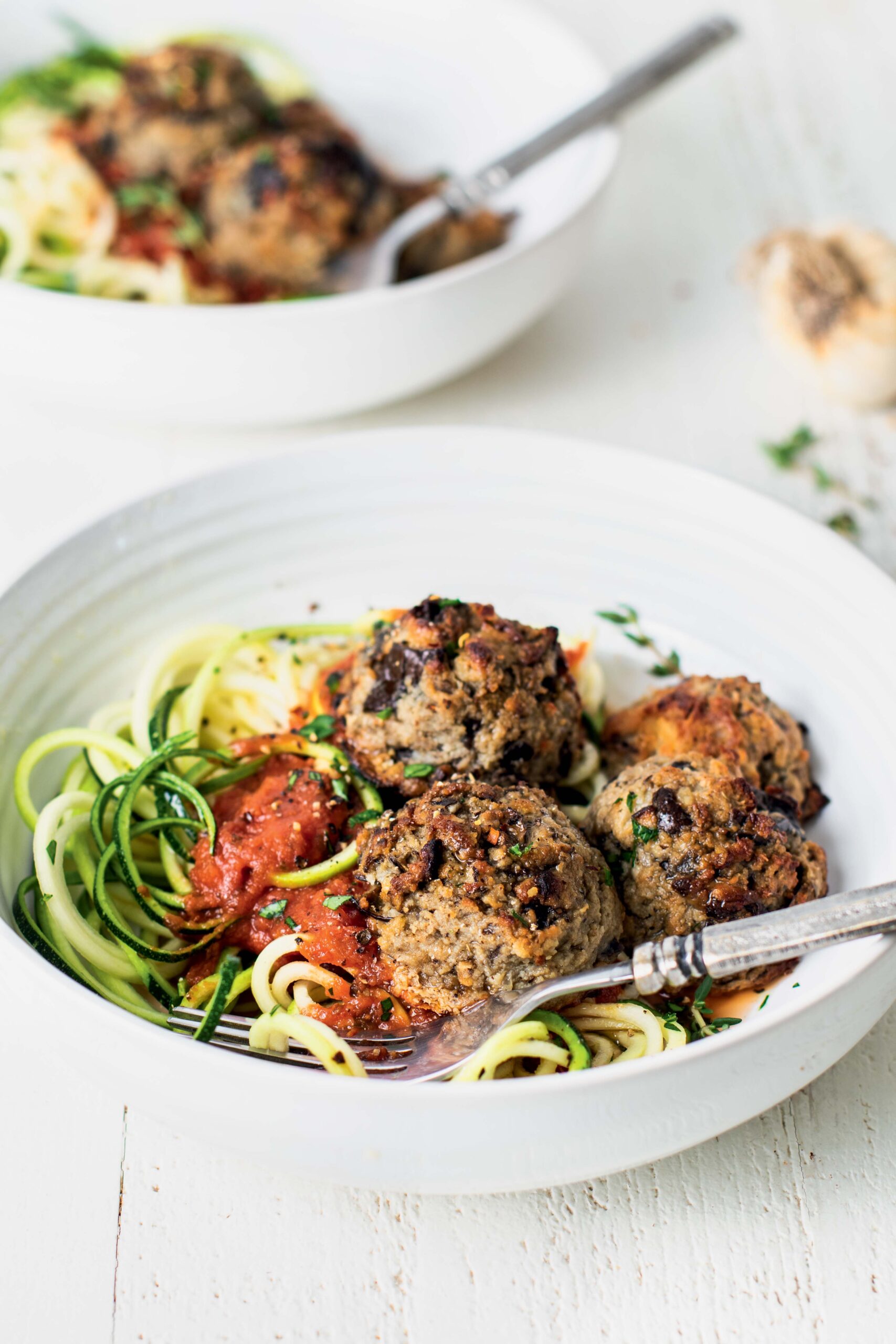 Pegan Eggplant Meatballs with Zoodles
Eggplant meatballs are surprisingly delicious and – while they don't taste like meat, they provide an excellent alternative! The often neglected and underused vegetable is packed with antioxidants and fiber, but it's still low-carb. If you've been avoiding buying eggplants because you're never sure how to cook them, this recipe is here to change your mind!
Eggplant meatballs, prepared here with classic onion, garlic, and Italian spices, taste amazing next to a plate of zucchini noodles. Just add some marinara sauce on top and you've got a guilt-free, utterly delicious meal for the entire family.
Need more pegan recipes to help you ease into this diet? Then you'll love Michelle Miller's new cookbook, The Beginner's Pegan Diet Cookbook : Plant-Forward Recipes Combining the Best of the Paleo and Vegan Diets for Lifelong Health. The cookbook is chock-full of amazing pegan recipes, which celebrate plant-based, high-fiber food, and limit sugar intake.
"Eggplant is a delicious low-carb vegetable, high in antioxidants and fiber. Learning how to cook eggplant well is a skill. This fun eggplant "meatball" recipe is easy to make, delicious, and a great topping for a plate of zucchini noodles", says cookbook author Michelle Miller. Scroll down for the eggplant meatballs recipe and check out The Beginner's Pegan Diet Cookbook on amazon or Target.
Eggplant Meatballs with Zoodles
Reprinted with permission from The Beginner's Pegan Diet Cookbook by Michelle Miller
Ingredients
For the meatballs
1

large eggplant

(about 11 /4-pound, or 560 g) cut into 1-inch (2.5 cm) cubes

1

cup

(160 g) diced onion

3

garlic cloves

minced

1

tablespoon

(15 ml) olive oil

Sea salt and black pepper to taste

3/4

cup

(72 g) almond flour

1

large egg

1

teaspoon

Italian seasoning
For the zoodles
2

large zucchini

12

ounces

(340g) organic marinara sauce
Instructions
For the eggplant meatballs
Preheat the oven to 400°F (200°C, or gas mark 6). Line a sheet pan with parchment paper or a silicone mat. Set aside.

On a large sheet pan, combine the eggplant, onion, and garlic. Drizzlewith the oil and season with salt and pepper to taste.

Bake the eggplant for 30 minutes. Reduce the oven temperature to 375°F (190°C, or gas mark 5).

Transfer the baked eggplant, onion, and garlic to a food processor andadd the almond flour, egg, Italian seasoning, and 1/2 teaspoon of salt.Pulse 10 to 12 times until the mixture is well mixed but the eggplant is still slightly chunky. Don't form a smooth paste, but rather a chunky but sticky mixture.

Use a 2-tablespoon (30 ml) cookie or ice-cream scoop to portion the eggplant mixture onto the prepared sheet pan. Wetting the scoop with water before scooping helps the mixture come out more easily.

Bake the meatballs for 40 minutes until they begin to crisp up onthe outside.
To make the zoodles
Spiralize the zucchini and divide it among theplates raw.

Heat the marinara sauce until very hot and top the zoodles with it right before serving. This will heat up the dish without overcooking the zoodles, which makes them watery.

Top the zoodles and marinara sauce with the meatballs.
Recipe Notes
If you don't have a spiralizer for the zucchini noodles, use a vegetable peeler to make long strands of squash. Another low-cost option for making vegetable noodles is to use a julienne peeler.
Nutrition Facts
Eggplant Meatballs with Zoodles
Amount Per Serving
Calories 252
Calories from Fat 144
% Daily Value*
Fat 16g25%
Carbohydrates 24g8%
Protein 10g20%
* Percent Daily Values are based on a 2000 calorie diet.
2