Health food trends come and go, so it can be kind of overwhelming to try and keep up with what you should be eating right now. While some health foods are totally worth the hype, others aren't, and aren't even as healthy as you might think.
If you already eat a balanced, vegetable-forward diet, you're doing a great job! Focus on getting a variety of vegetables, a decent amount of fruit, protein, healthy fats, and fiber. Beyond that you don't really need to worry about packing your diet with exotic superfoods and expensive or hard to find ingredients.
Which so-called healthy foods aren't worth the hype? Check out the list below. But! If these are foods you enjoy eating, like the taste of, and (you believe) make you feel good, then by all means include them in your diet. Just don't feel like you have to include anything on this list in order for achieve or maintain good health.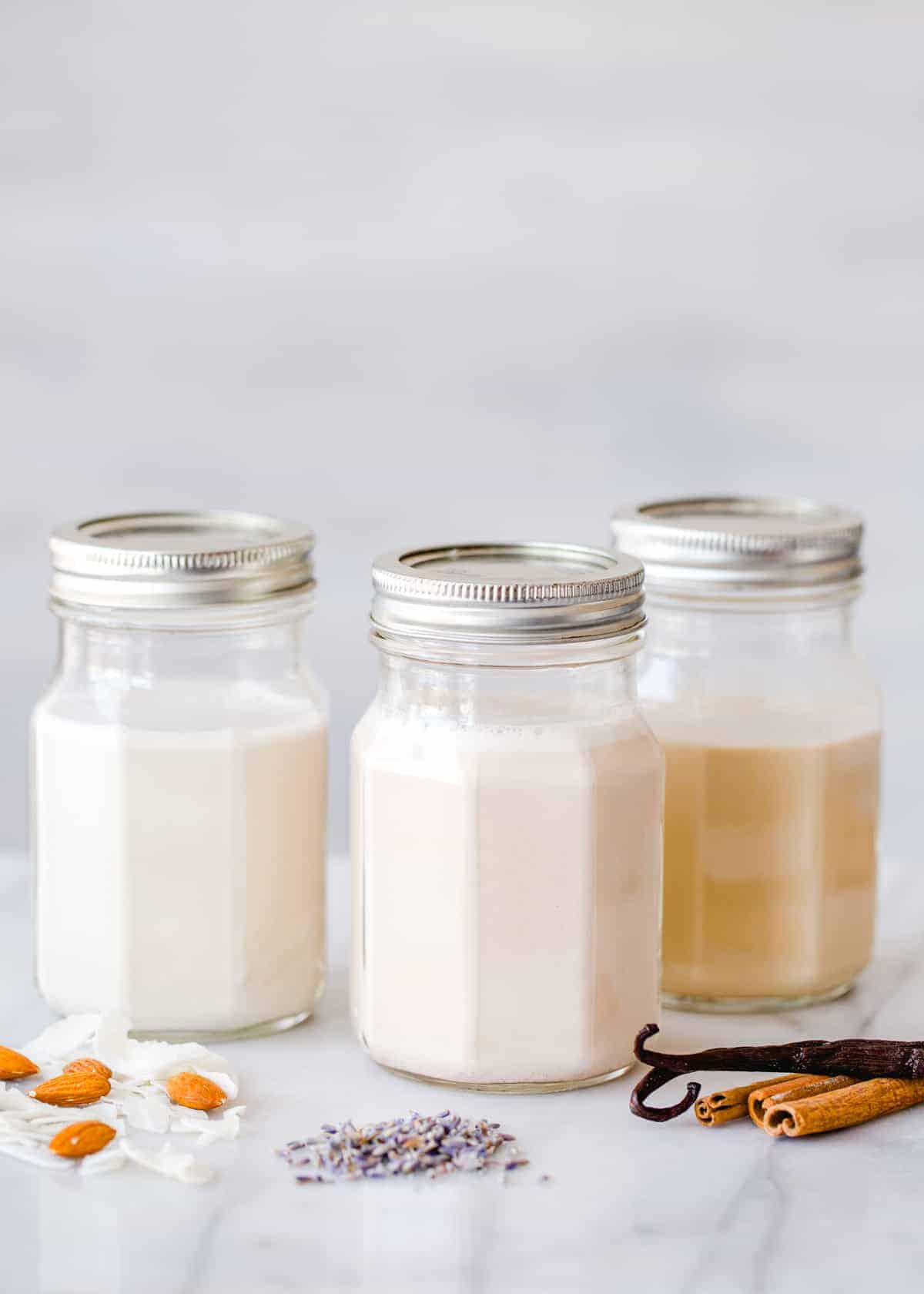 1. Nut Milks
Nut milks and other plant-based milks are a great option for people who don't consume dairy, but it's a jungle out there! One of the biggest misconceptions I hear from people over and over again is the idea that nut milks are high in protein. They're not!
To put things into perspective, a one-cup serving of cow's milk offers up eight grams of protein, whereas the same serving of almond milk provides only one gram. While a handful of almonds is a great source of protein and healthy fats, there is very little actual almond in almond milk.
Many plant-based milks are also loaded with sugar, stabilizers (including carrageenan, which many people try to avoid), and other additives. As a result they tend to be very high in calories with very little in the way of protein to offset it.
Making your own nut milk is a great way to ensure you have a healthier option; otherwise read your labels very carefully when making your selection.
2. Celery Juice
The celery juice trend can be traced back to Anthony William, AKA The Medical Medium, who, as it happens, has no medical or nutrition credentials, but is the best-selling author of several wellness books. Many celebrities have jumped on the celery juice bandwagon, and unless you've been living under a rock I'm willing to guess you've seen the latest spin on green juice popping up in your social feeds.
Williams claims that celery juice has "potent healing properties" and "flushes out viruses" (you don't flush viruses, but I digress), fights cancer, and improves gut health.
In reality, celery provides a lot of water, and is a good source of vitamins A, K, and C. Celery consumption may help with water retention, reduce oxidative stress, and reduce inflammation. As do most vegetables.
If you like the taste of celery juice – or any green juice – and enjoy drinking it, then by all means down a tall frosty glass whenever the craving strikes. Or you could, you know, just drink a glass of water and munch on some cool crunchy celery stalks, which provide the same nutrients as celery juice plus a good amount of dietary fiber – which will do far more for your gut health than drinking a glass of juice. 
3. Smoothies
I love smoothies, but they're only as healthy as you make them. The thing is that it's so easy to take a smoothie from a healthy blended drink to a fully-loaded calorie bomb that you slurp down in no time at all. Add a bunch of fruit, and sugary plant-based milk, and your morning smoothie – green though it may be – isn't as healthy as you think.
Remember also that liquids clear your stomach four times faster than solids do, so your morning smoothie will leave you hungry again much sooner than if you'd eaten the same foods as solids.
To make a healthy smoothie focus on vegetables first. I love using frozen cauliflower in place of bananas – it turns out just as creamy but with way less sugar! Use water in place of fruit juice and check the labels on your plant-based milk, and add be sure to add a source of protein if your smoothie is intended to be a meal.
4. Egg Whites
Egg whites were the darling of the low-fat nutrition paradigm in the 90's. While I think that egg white omelettes are less in vogue now, there are still plenty of yolk-fearing folks out there.
Here's the thing, egg whites are totally healthy! They're a fantastic source of high-quality protein. But, Mother Nature is pretty dang smart, and she coupled them with yolks for a reason. The yolk is a rich source of B-vitamins, B12, omega-3 fatty acids, and the all-important nutrient choline, which is every bit as important for neural tube development as folate.
So eating whole eggs is much healthier than simply eating the whites. If you're nervous about the cholesterol content in egg yolks, don't be! Recent research has thoroughly disproven the idea that dietary cholesterol increases the risk of heart disease. In fact, the opposite may be true!
And more importantly, our brains need cholesterol: 25% of the cholesterol in our bodies is found in the brain, where it plays a vital role in normal neural function. So if you eat eggs, eat 'em whole!
5. Low-Fat Dairy Products
Did anyone else grow up drinking skim milk? Now I'm all about full-fat dairy products when I do consume them. Much like eggs, dairy comes packaged with fat for a reason. Consider the nutrients that are most abundant in dairy. In addition to calcium, dairy is a good source of fat-soluble vitamins A, D, E, and K, as well as some vitamins, and iodine.
And guess what? You need fat in your diet in order to absorb and use fat-soluble vitamins. Yup, once again Mother Nature has provided the complete package. If you strip the fat away from dairy products, you don't benefit from these fat-soluble vitamins.
If you do include dairy in your diet, go for fermented dairy such as yogurt, kefir, and aged cheeses. The fermentation process not only provides probiotics, but fermented dairy products also contain more vitamin K2 (important for bone health) since the fermentation process makes it more bioavailable.
16