It is so easy to get lost in a bag of chips, especially when we're talking Super Bowl weekend. The snacks are the best part of the game! (Okay, commercials might be a close second.) The good news is that you can still get that satisfying, salty crunch with a healthy chip recipe. Add a savory bean-free dip for a perfect pairing.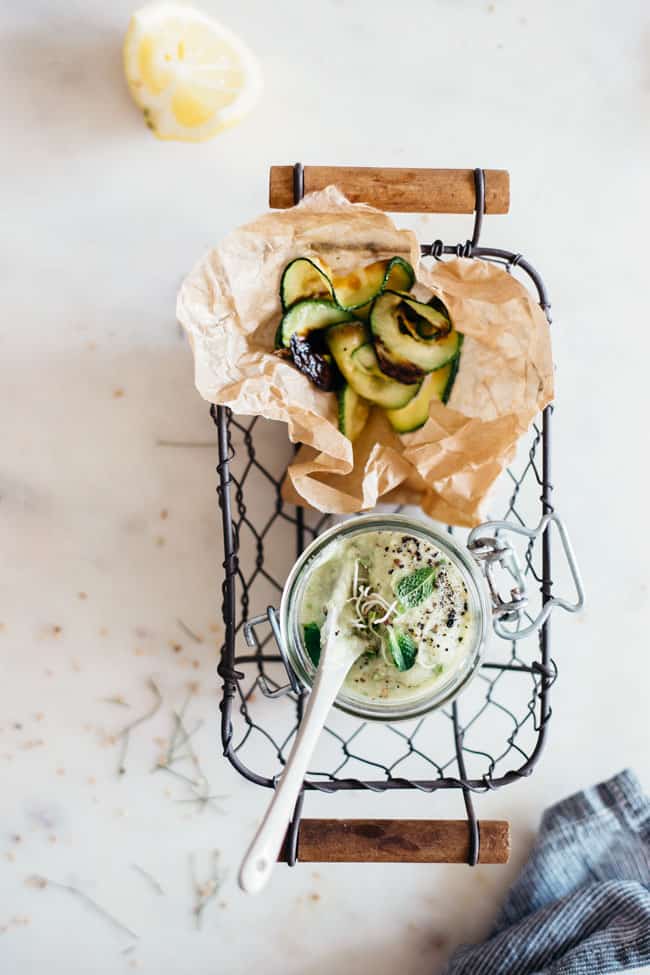 Rosemary Garlic Bean-Free Hummus
Yes, you can make hummus without the garbanzo beans. If you have trouble digesting beans, then a bean-free dip is the way to go. Replace beans with zucchini and garlic for a tasty dip without the bloating and stomach discomfort.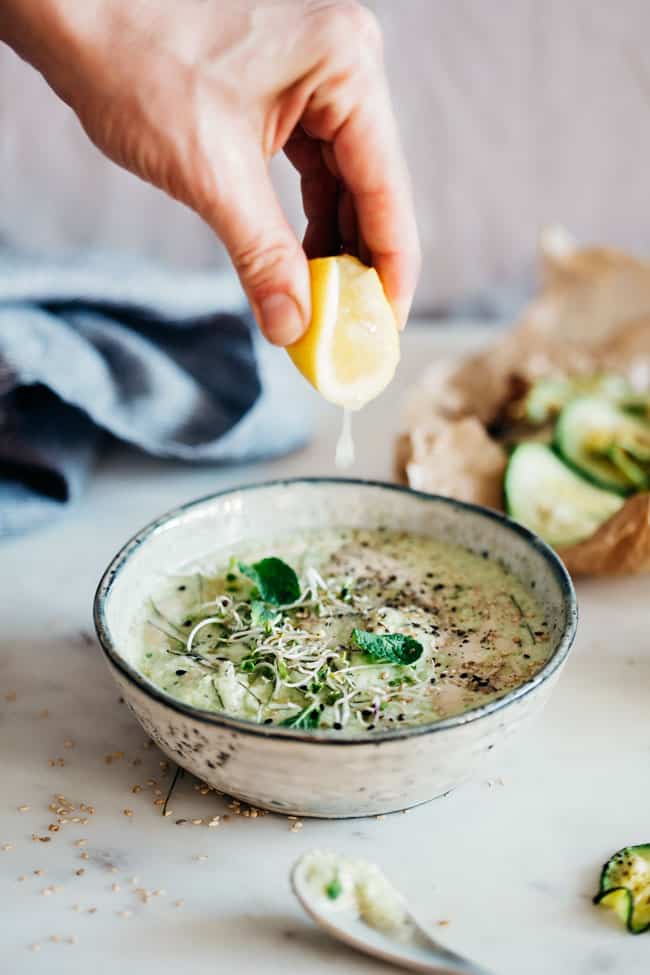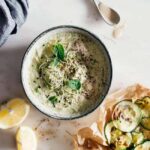 Garlic Bean Free Hummus
Ingredients
2

raw zucchini

chopped

3/4

cup

tahini

1/4

cup

extra virgin olive oil

1

teaspoon

rosemary

fresh or dried

1/2

cup

fresh lemon juice

2

teaspoons

sea salt

2

garlic cloves

Garnish with fresh mint

sprouts and black sesame, if desired
Instructions
Add all the ingredients to a blender or food processor. Blend until smooth.
Crispy Zucchini Chips
You won't miss the potatoes with these crispy zucchini chips. The other advantage of this snack is that these chips are BAKED. Here's to saving our calories for sriracha wings! You can also add radish chips into the mix for a bit of added color.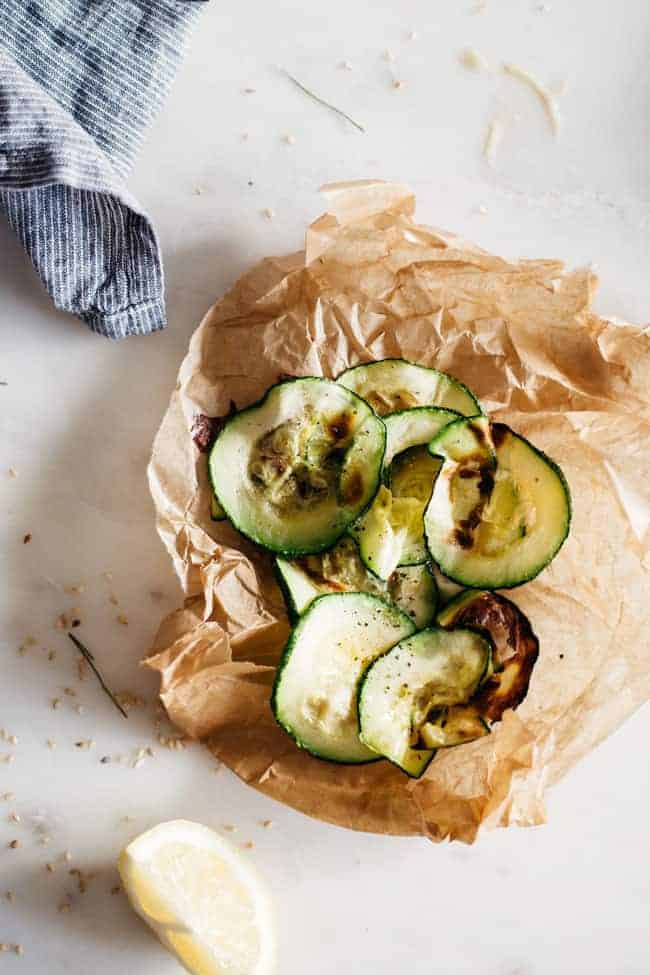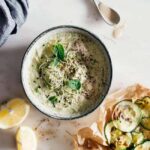 Zucchini Chips
Ingredients
1

medium zucchini

1

tablespoon

olive oil

½

teaspoon

garlic powder

¼

teaspoon

sea salt
Instructions
Preheat oven to 225. Line a baking sheet with parchment paper, and set aside. Using either a mandolin or a knife, thinly slice the zucchini. The thinner the slices, the better they'll crisp up in the oven. Once sliced, place the zucchini on sheets of paper towels and sprinkle the tops of each lightly with salt. Use no more than ¼ teaspoon total for all of the slices and allow the slices to sit for about 10 minutes. This will help draw out the liquid so they'll cook faster and help them become crisper.

Blot the slices dry with additional paper towels to remove the excess moisture. Place slices in a bowl and toss with olive e oil to get an even coat and sprinkle with seasoning. Bake for about 2 hours or until they've reached your desired crispiness. Remove from the oven, let them cool, and then serve.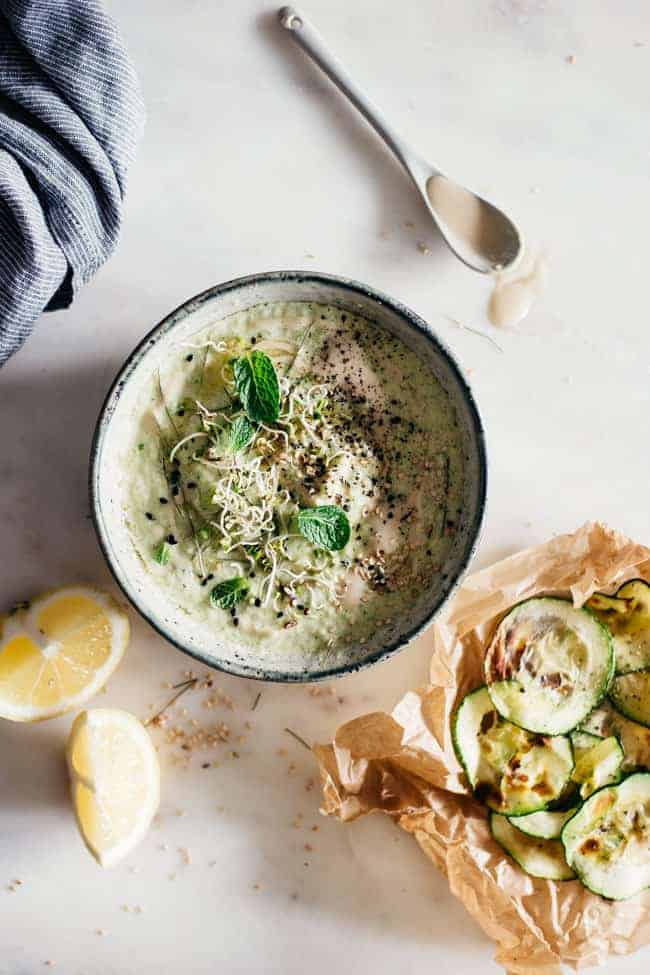 Photos by Ana Stanciu
1