After years of hoarding kitchen tools, moving to a house with a smaller kitchen made me pare things down. But you know what? I like it this way! Now, I'd much rather have one good set of knives versus eleventy-billion gadgets that have only one, very specific use. (I'm looking at you, mango pitter!)
Despite this, there are some cooking tools that are totally worth it–ones that I use on a weekly, and sometimes even daily, basis. Here are my must-haves: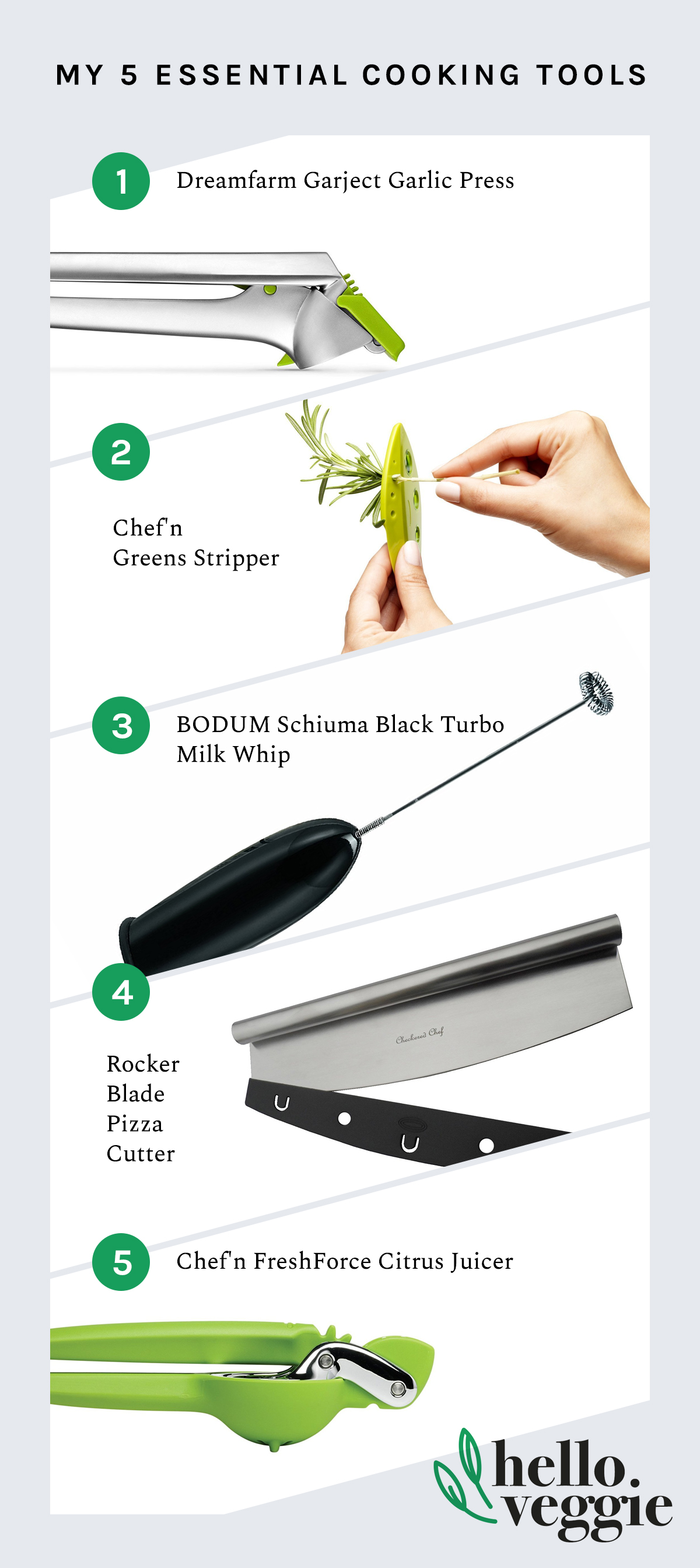 Dreamfarm Garject Garlic Press // I've had this thing for years now and I use it almost daily. (What can I say? We love garlic in my house!) What makes it superior to all the other garlic presses I've owned is that it has a little button you press to eject the garlic peel. It also has a plastic part that can be pushed back through the holes on the press to clean them out. Best. Garlic. Press. Ever.
Chef'n Greens Stripper // I really hate stripping the leaves off of herbs and kale by hand, so this greens stripper is a game-changer. It makes prep work a breeze and it's also a nice tool to give your kids when they want to help you in the kitchen.
Bodum Schiuma Milk Whip // There are a lot of dirt cheap made in China frothers on Amazon, but this one is legit. It's the best way to whip butter into your coffee, but I also love it for making chai lattes, getting all the lumps of cocoa out of hot chocolate, and even emulsifying a small batch of salad dressing.
Rocker Blade Pizza Cutter // I used to love my rolling pizza cutters, but I'm a total convert to the rocker blade. It makes it so easy to cut even slices of pizza, but you can use it for cutting so many other things–brownies, dough for scones, quesadillas.
Chef'n FreshForce Citrus Juicer // This is another tool I've had for years–all my other citrus juices would get corroded and gunky in a short amount of time, but this one keeps truckin'. It's so much faster than using a citrus reamer and it catches all the seeds so you don't have to fish them out of the juice.
0