You can eat incredibly well and make a significant contribution to saving the planet. Celine Steen's uplifting No-Waste Save-the-Planet Vegan Cookbook: 100 Plant-Based Recipes and 100 Kitchen-Tested Methods for Waste-Free Meatless Cooking shows you how with the most earth-friendly, and most utterly delicious, ways that we can live and thrive as food shoppers, food growers (if you garden), food cooks, and – our personal favorite – food eaters.
One of our favorite recipes from this vegan cookbook is this frangipane galette. We love that you can make it with any fruit – cause honestly, how often does it happen that a single ingredient makes you skip an entire recipe? For me, that's very often. But now that summer is in full swing, you can easily use any of the fresh fruit available. Make a strawberry frangipane galette this week, and go for peaches or other stone fruit next week. The possibilities are endless, as you can even continue making this galette in the fall, using plums or apples or whatever is available in your area.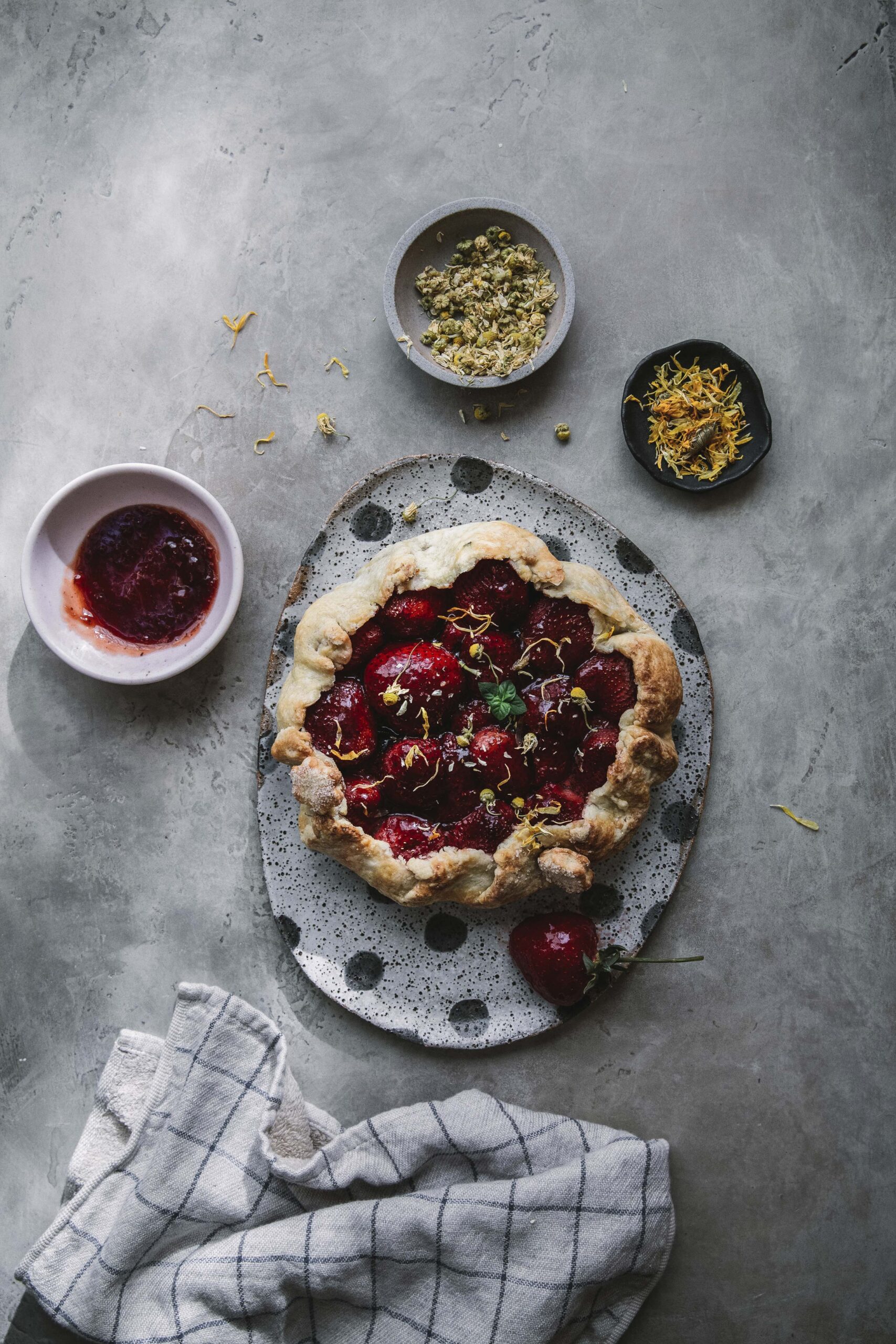 How to Make a Frangipane Galette with Any Fruit at Hand
You may be asking yourself, what's a frangipane? That's a great question. Frangipane is a type of custard originating in the 17th century, made with egg, butter, sugar and ground almonds. This modern version is enriched with chamomile flowers and kombucha; and if those are ingredients you never thought you'd use for baking, you might want to include them in your repertoire from now on.
Grab the recipe for this summer galette below, and consider buying Celine Steen's No-Waste Save-the-Planet Vegan Cookbook wherever you buy your books.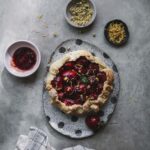 Any Fruit Frangipane Galette
Reprinted with permission from No-Waste Save the Planet Vegan Cookbook by Celine Steen.
Ingredients
For Frangipane Filling
1/2

cup

almond meal

3

tablespoons

organic culinary-grade chamomile flowers

crumbled between your fingers into a powder

2

teaspoons

organic cornstarch

optional

1/2

teaspoon

pure almond extract

optional

1/4

cup

plus 2 tablespoons granulated pure cane sugar

divided

Cold kombucha

flavored

sparkling water

or plain water, as needed

6

apricots or plums

or 4 peaches or nectarines, pitted and sliced, or 11/2 pounds (681 g) fresh strawberries, hulled and halved
For the Crust
1 1/4

cups

all-purpose flour

1

tablespoon

granulated pure cane sugar

1/2

teaspoon

Diamond kosher salt

2

teaspoons

apple cider vinegar

1/4

cup

roasted walnut oil or other oil

1/4

cup

cold kombucha

flavored

sparkling water

or plain water, as needed
Instructions
Preheat the oven to 375F (190C, or gas mark 5). Have a rimmed baking sheet handy, along with a silicone baking mat or piece of parchment paper.

To make the frangipane filling: In a medium-size bowl, combine the almond meal, chamomile, cornstarch (if using; for thicker results, less likely to ooze out of the crust), almond extract (if using; for more genuine frangipane flavor), and 1/4 cup (50 g) of sugar. Stir to mix well.

Add kombucha, 1 tablespoon (15 ml) at a time, to obtain a somewhat dry paste. I usually need 2 tablespoons (30 ml) of liquid in all. Set aside.

In another medium-size bowl, gently stir together the apricots or other fruit and remaining 2 tablespoons (25 g) of sugar to release the juices. Set aside.

To make the crust: In a medium-size bowl, whisk to combine the flour, sugar, and salt.

Add the vinegar and oil. Stir to distribute the oil throughout the flour, creating little pebbles in the process. Do not overwork the dough. Slowly add the kombucha and stir just until a dough forms: it shouldn't be too wet, nor too dry. Transfer to the silicone baking mat or parchment, form the dough into a disk, and roll it into a roughly 10-inch (25 cm) circle. Prick the dough all over with a fork.

Place the frangipane mixture evenly in the center, leaving 11/2inches (3.5 cm) from the edge.

Drain the extra liquid from the fruit (reserve for smoothies, if desired) and arrange the fruit evenly on top of the frangipane. Use the baking mat or parchment paper to fold the edges of the galette partially over the fruit. Transfer the galette to the baking sheet, using the mat or paper to lift it.

Bake for 55 minutes, or until golden brown. Bear in mind the juices might escape, which is a common issue with galettes. Don't sweat it!Rustic is the name of the game. Let cool for 30 minutes before slicing and serving with a big scoop of vanilla ice cream, if desired.
Recipe Notes
Not fond of chamomile? That's okay, we all have our quirks. Replace it with other teas that might be lurking in the dark recesses of your cupboards. Usually one to two herbal teabags' worth of whatever you have won't be too overwhelming, unless we're going into black tea territory. Show some restraint if using those, about 2 teaspoons to 1 tablespoon(1 g) instead. You don't want the frangipane to take a turn for the bitter.
5