When it comes to healthy diets, potatoes are most often excluded, given their starchy texture and carbs content. However, if you take a closer look at their nutritional value, you'll find that they're actually loaded with potassium, iron, fiber, vitamins B6 and C. They even contain antioxidants, not to mention that they're naturally gluten-free. That's right, potato lovers, good news at last! They're not just empty carbs, but nutritional, too. Of course, deep frying your potatoes will add more fat to your meal, but boiling or baking are excellent (and still tasty) alternatives.
For a nutritious weeknight dinner, combine potatoes with greens or lightly steamed veggies, and add small portions of quality protein (think quinoa or chickpeas) for satiety.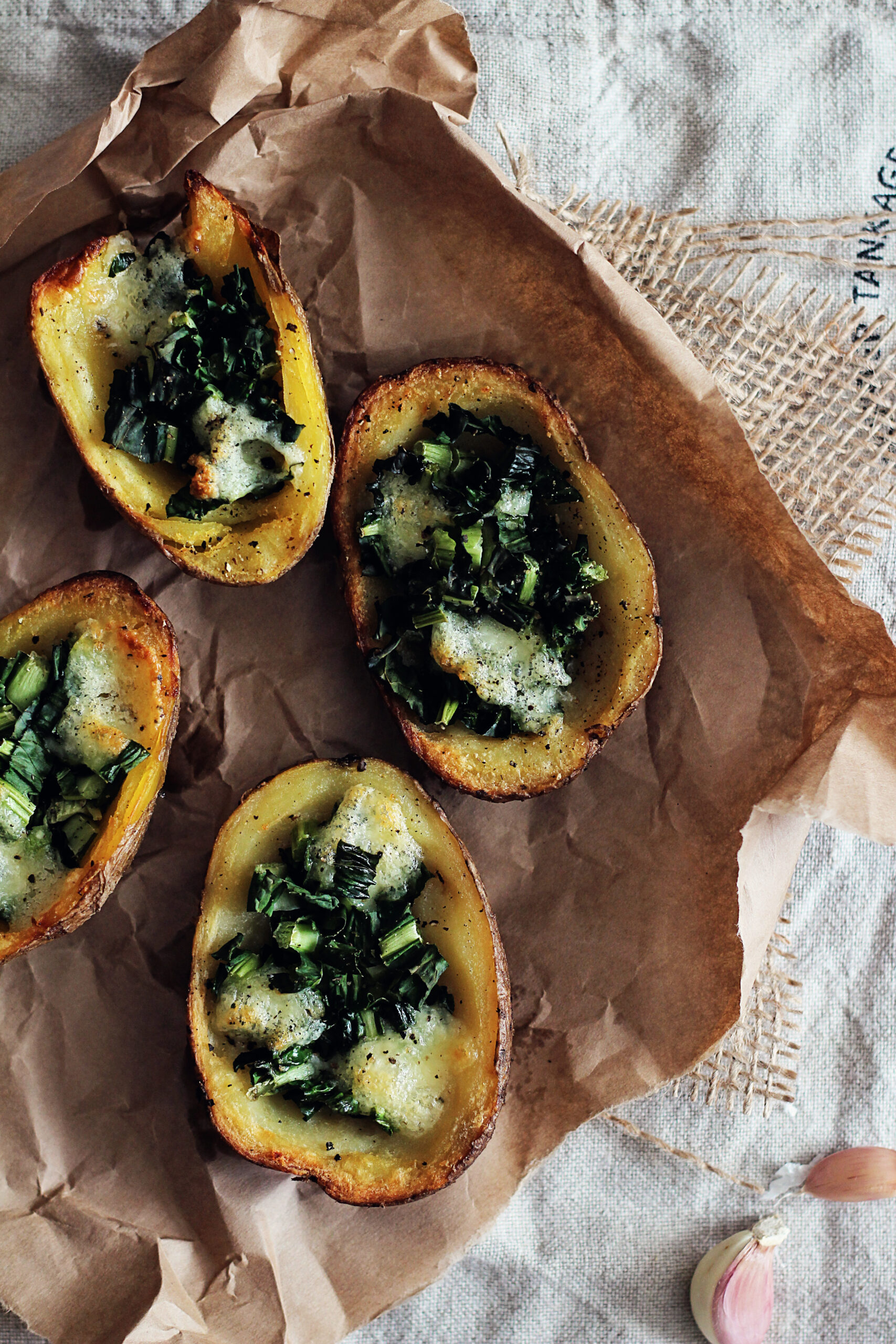 Weeknight Cheesy Kale Potato Skins
For this easy dinner recipe, we kept it simple, with few ingredients and minimal prep. While the potato skins are roasting in the oven, make a no-fuss sauté with your kale and garlic. Use it to fill the potato skins, add cheese, and bake for another 10 minutes, and voila! Your meal is ready.
We love that you can make these for a big family in the same time you would make them for just one person. And you won't even need a recipe after you've made them once, it's that easy.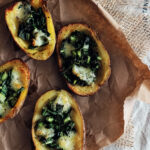 Cheesy Kale Potato Skins
Potato skins are filled with sautéed kale, garlic and mozzarella for a comforting weeknight dinner.
Ingredients
2

large russet potatoes

2

cups

kale leaves

roughly chopped

2

cloves

garlic

minced

1

cup

mozzarella cheese

shredded

1

bunch

fresh parsley

roughly chopped

1

tsp

coconut oil

1/2

tsp

sea salt

black pepper

freshly ground
Instructions
Wash the potatoes and boil them whole for 30 minutes.

Preheat the oven to 180 degrees C/350 degrees F.

Cut the potatoes in half, scoop out most of the flesh (save for later). Season with salt and place in the oven on a baking sheet for 15 minutes.

Rinse the kale leaves and drain well.

Heat the coconut oil in a cast iron skillet, add the garlic and fry for a few seconds. Add kale and cook for 5 minutes, tossing frequently. Season with salt and pepper and set aside.

Remove potato skins from the oven. Fill them with cooked kale and top with mozzarella. Season with salt and pepper and bake for another 10 minutes.

Remove from the oven and sprinkle with fresh parsley.
1