If you've never heard about mujadara before, this recipe will open your eyes to a whole new world of deliciousness. The rice and lentils dish is traditionally made in Middle Eastern countries, and it's equally nutritious and tasty. We found this version in Kirsten Kaminski's new book,
The Traveling Vegan Cookbook: Exciting Plant-Based Meals from the Mediterranean, East Asia, the Middle East and More
, launching this week.
Author Kirsten Kaminski managed to combine two of her passions, traveling and vegan food, into an exciting cookbook. It's basically like traveling, without actually traveling (very convenient for these times, no?) – and without any animal ingredients either.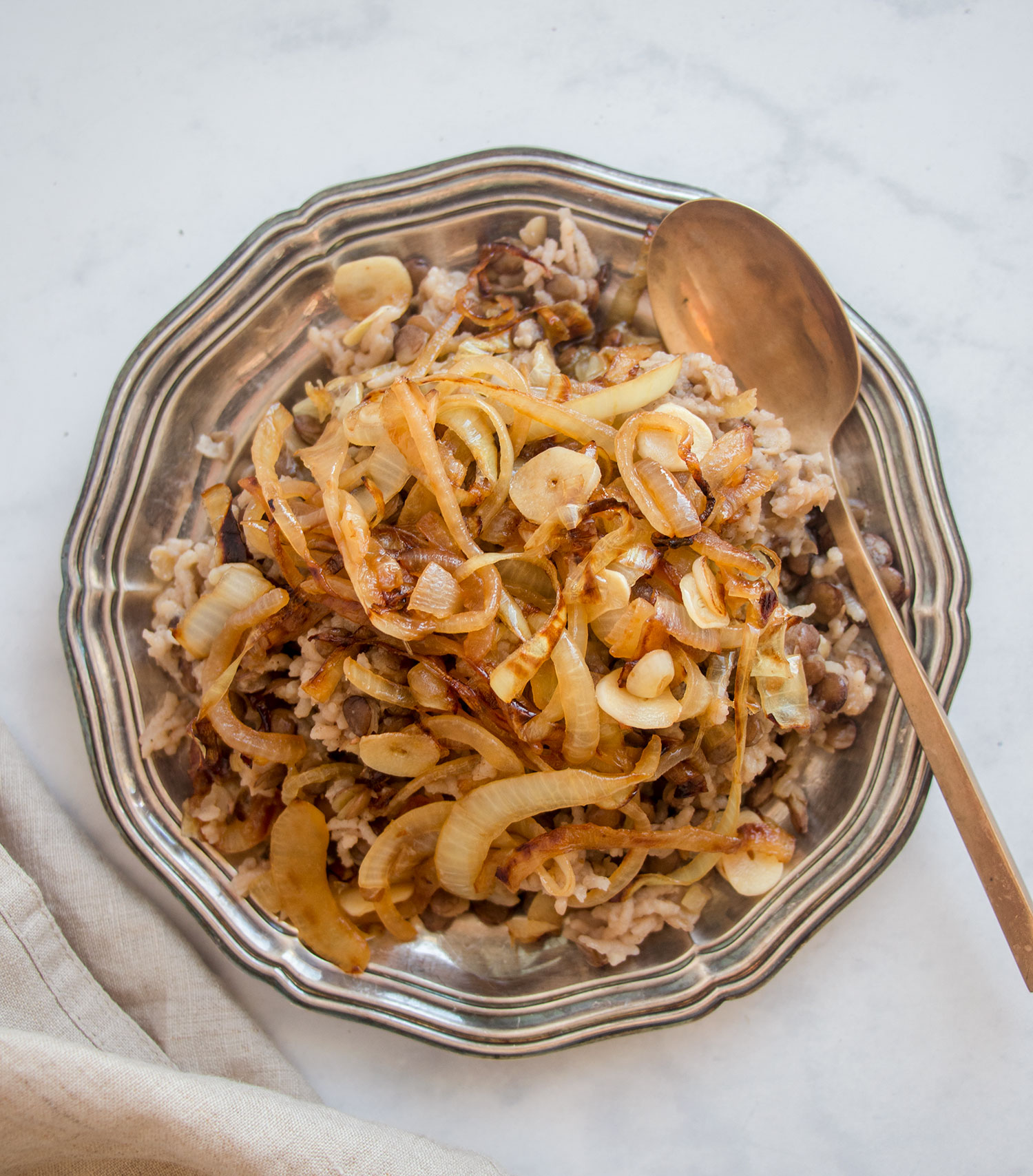 Vegan Mujadara Recipe
Using pantry staples that are available year round, this vegan mujadara recipe is spiced with a flavorful combination of garlic, cumin, cinnamon and coriander.
"Mujadara is everything I love about home-cooked Middle Eastern food. This delicious signature dish is made of flavor-packed layers of rice and lentils with heaps of caramelized onions on top. It's nutritious and delicious and the perfect hearty meal. It also goes very well with a big side of deliciously creamy tahini," Kirsten says.
Scroll down for the full mujadara recipe, which we think will quickly gain a spot in your rotation, and consider buying The Traveling Vegan Cookbook on amazon or wherever you buy books.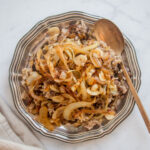 Vegan Mujadara
Reprinted with permission from The Traveling Vegan Cookbook by Kirsten Kaminski, Page Street Publishing, Co. 2021. Photo credit: Kirsten Kaminski.
Ingredients
3

tbsp

extra virgin olive oil

1

large yellow onion

diced

3

cloves

garlic

minced

3

cloves

garlic

sliced

1

tsp

salt

1

tsp

ground cumin

1

tsp

cinnamon

½

tsp

ground coriander

1

cup

basmati rice

rinsed and drained

1

cup

green lentils

soaked in water 4 to 6 hours, then rinsed and drained
Caramelized Onions
2

tbsp

extra virgin olive oil

3

large onions

sliced
Instructions
Place the oil in a medium pot over high heat. Add the onion and sauté for 1 to 2 minutes, until it's golden brown. Add all the garlic and sauté for another minute. Then add the salt, cumin, cinnamon and coriander, and sauté for another minute until fragrant. Add the rice and lentils and sauté for another 30 seconds, then add 3½ cups (840 ml) of water. Bringt o a boil, then reduce the heat to low and cook for 17 to 20 minutes. Check with a fork after 17 minutes to see if the rice and lentils are cooked.

In the meantime, in a large frying pan, place the oil over medium heat. Add the onions and sauté for 10 to 15 minutes, stirring often, until they're caramelized. When the mujadara is cooked, either mix the onions into it or serve them on top.
Looking for more Middle-Eastern-inspired vegan recipes? You might like these veggie meal bowls with freekeh and tahini sauce!
7