We're all about ice cream this summer – especially if it's dairy-free. The refreshing flavor of mint turns this vegan ice cream into a light and airy summer delight. It is ready literally in minutes (except the freezing time) and you don't need an ice cream machine to make it. And it comes bathed in delicious chocolate sauce!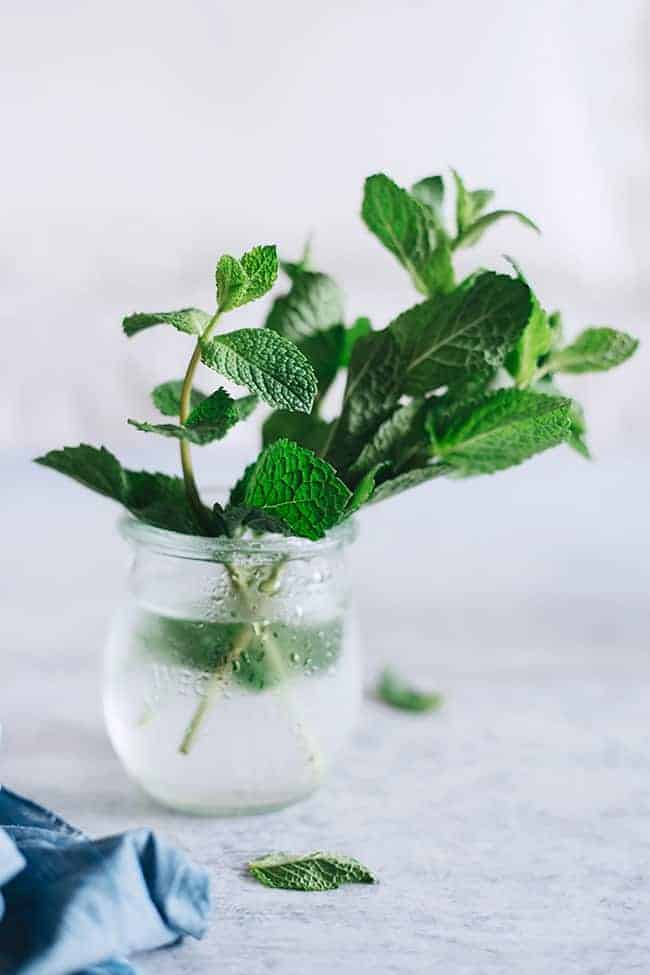 Cool, refreshing, purifying. These are the main words that describe this delicate aromatic herb we use so much in our food and beauty products.
While I always have a fresh bunch in the refrigerator for cocktails and smoothies, sometimes I buy mint just to keep it in a glass with water, to enjoy its scent and the way it brightens the whole room. And yes, I tend to use it in as many DIY products as well, especially while in season during summer.
The health and beauty benefits of mint go way beyond refreshing and cooling. Its essential oils have anti-microbial and digestive soothing properties, and you can easily calm your tummy issues with a fresh mint tea.
7 Benefits of Mint Inside + Out
I like to use mint in my beauty products, from face masks to body scrubs. Sometimes I use mint essential oil, sometimes the fresh leaves, but the results are always the same – calming, refreshing, purifying. Here are some of the ways your skin can benefit from the mint properties:
1. The monoterpene phytonutrient in mint has cancer inhibiting properties
2. The high concentrations of rosmarinic acid offer your cells antioxidant and anti-inflammatory protection, reducing the free radical damage and blocking the production of pro-inflammatory chemicals.
3. Your airways also benefit from mint essential oils; it helps keep them open for easy breathing and relieves allergy symptoms.
4. Mint acts as an anti-pruritic and antiseptic agent, soothing and calming itchy or infected skin. Perfect for soothing mosquito bites!
5. The vitamin A in mint reduces oily skin, and also strengthens, rejuvenates and refreshes the tissue.
6. Concentrated mint tea soothes cracked heels, balances foot perspiration and removes odor.
7. The fragrance of mint calms your mind and balances hormone production, making your skin glow from inside out.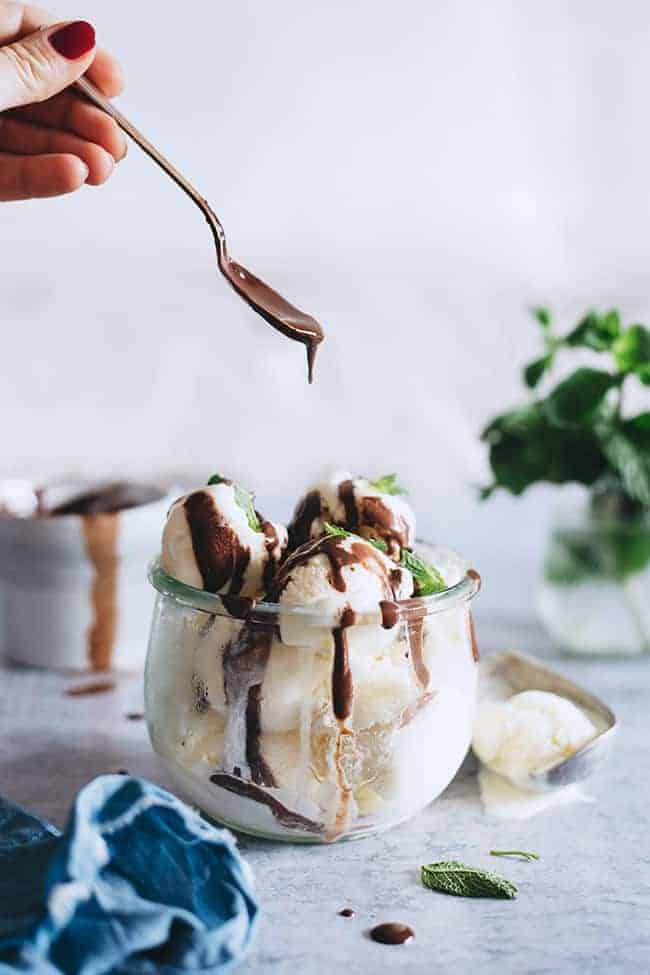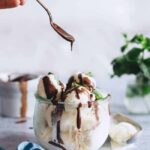 Vegan Mint Chocolate Ice Cream
Prep Time
2
hours
5
minutes
Total Time
2
hours
5
minutes
Ingredients
4

ripe bananas cut into small chunks

frozen

1/2

cup

full fat coconut milk

refrigerated

1

tsp

organic peppermint extract

5

oz

vegan chocolate

Fresh mint leaves

to garnish
Instructions
Add the bananas and coconut milk into the food processor (without adding any other liquid) and process until you obtain a smooth cream.

Add the peppermint extract and pulse to incorporate.

Transfer the mixture into an ice cream container and freeze for at least two hours.

Melt the chocolate in a sauce pan over low heat.

Scoop the ice cream into serving bowls, drizzle with melted chocolate, garnish with fresh mint leaves and serve.
Photos and recipe by Ana Stanciu, beauty recipe by Deborah Harju
0