With over 10 years of nutrition education under my belt and many years of counselling nutrition clients, I do a fair amount of myth-busting on a day-to-day basis. And there are so. many. nutrition myths out there that are accepted as simple truths.
I think we'd all be healthier, happier people if we stepped back and looked at the big picture, stopped trying to oversimplify things, and could see the wonderful world of food and nutrition as the magnificently complex thing it really is. Here are five things I wish my nutrition clients–and pretty much everyone else–knew.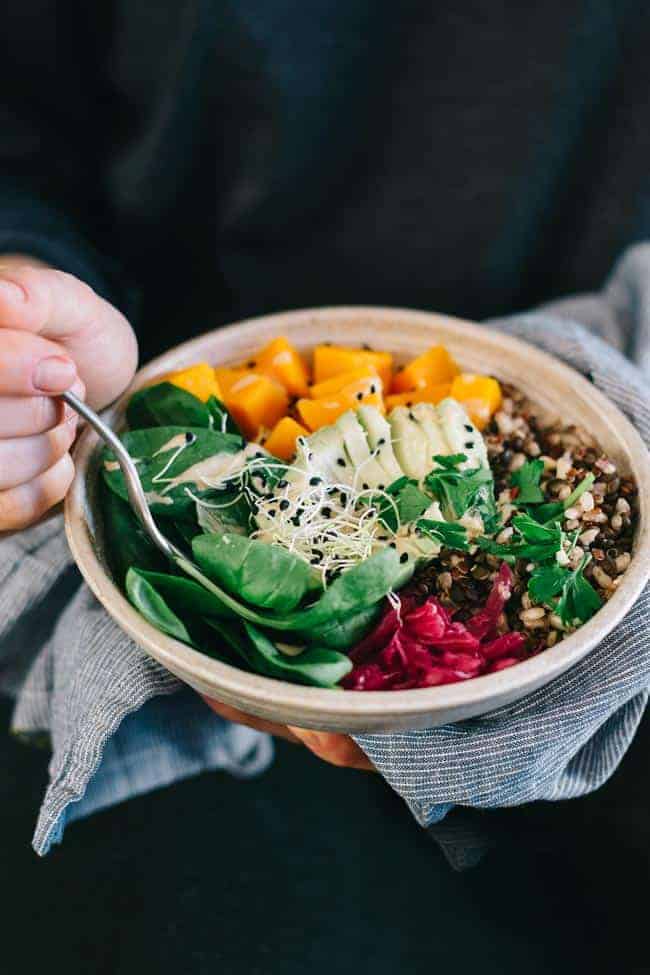 The latest fad diet is not a magic pill
This! This! A thousand times this!
In the years that I've been studying and working in nutrition, we've been through countless iterations of fad diets. Atkins, South Beach, Wheat Belly, Whole 30, LCHF, Intermittent Fasting, Keto… and dozens more not listed.
And, listen, I think there's nothing wrong with trying out different ways of eating to see how you feel. I try out many different ways of eating so that when someone asks me about them I can provide the most informed answer. Having done that I know for certain that veganism isn't for me and that I feel rotten when I don't include grains in my diet. So, please, experiment!
Having said that, I think we need to reframe it as exactly that; experimentation, trying out new ways of eating. Thinking of it instead of a miracle diet, the answer to effortless and sustained weight loss, or a problem-solving mechanism is dangerous because when you try it and it doesn't work for you, it creates a mind-set of failure.
Gluten-free/raw/refined-sugar-free does not equal healthy
Nor does gluten-containing/cooked/sugar-sweetened necessarily equal unhealthy!
I see so many people who whip up some "healthy" treats and then mindlessly overconsume them because they're made with almond flour instead of wheat flour, or sweetened with honey instead of sugar. I've definitely been guilty of this in the past myself, eating with abandon a raw, date-sweetened cheesecake that I realized later worked out to my entire energy intake for the day in just two slices!
I also used to have a separate Pinterest board for "healthy" desserts, but I've since gotten rid of it and now just have one for desserts, no matter what's in them. I feel much better (and do much better with intuitive eating) when I call a spade a spade… or a dessert a dessert.
Nutrition isn't as simple as individual micro or macronutrients
So much of nutrition in the news is based on studies highlighting a particular ingredient or nutrient. I think it's generally pretty well-accepted now that it's not as simple as calories in = calories out, but we still tend to get hung up on certain macronutrients, nutrients, or ingredients without stepping back to look at the bigger picture.
For example, carrots are a good source of vitamin A, and we could say that people who eat lots of carrots are healthy and have good eyesight, therefore we should all be taking vitamin A supplements. But this approach is far too reductionist.
Is it the vitamin A in the carrot that's so good for us, or is it how the vitamin A interacts with the fiber, the naturally occurring sugars, other nutrients, or any other part of the carrot?
Nutrition is complicated, and so are people. Who exactly eats that carrot, what else they've eaten over the past day that's going to interact with the carrot in the digestive tract, lifestyle factors, gut health, and so much more all comes into play.
In general, I think we do well to respect the complexity of nutritional science and strive to eat a wide variety of whole foods.
Carbohydrates are not the enemy!
Since so many of the aforementioned fad diets are a variation of low carb, we've had many, many carb-phobic years of late. But carbs are not the enemy! Not even a little bit.
When digested, carbohydrates are broken down into glucose, which is your brain and body's primary source of fuel. Our brain is not able to store glucose, so in order to function property it needs a steady supply of carbs.
If you aren't getting enough carbs, your body will break down protein in your muscles for energy, and your brain will send out a red alert, releasing chemicals that cause cravings for carbohydrates. Answer them!
Your body needs energy from carbohydrates in order to function and thrive–but we're not talking bread and pasta here. Go for complex carbs such as whole grains (farro, spelt, kamut, brown rice, wild rice), tubers (potatoes, sweet potatoes), vegetables, fruits, etc. Eat the carbs!
It's ok to cut corners
One of my former clients was working so incredibly hard to eat well and feed her family healthy food, that she was breaking down. The thing was, in her definition of healthy she had to make basically everything from scratch. She was making all of her marinara sauce from scratch, all of her almond milk from scratch, and was even hand rolling fresh pasta to feed her kids.
Ultimately, she was looking for permission to not do it all–and I gave it to her with my magic nutritionist fairy wand. Poof! You don't need to do it all!
But seriously–it's ok to buy your almond milk! I love making homemade from time to time–it tastes great and it's fun to make–but by and large I use the store-bought stuff. Similarly, I love homemade pasta sauce, but there are some really great brands on the shelf without a whole lot of junk added.
It's totally possible to eat well, be super healthy, and still cut corners to save time and your sanity. I mean, you can buy cauliflower rice already chopped up and ready to go. There are no-boil lasagna noodles. And frozen vegetables are a dream in soups and smoothies!
So, please, cut some corners from time to time. Don't feel that you have to be Pinterest perfect because the truth is nobody is!
0