It's no secret I love desserts. I love them so much, I wouldn't mind having one for every meal. Unfortunately, that's not possible. On the one hand, I know too much sugar is bad for me. On the other hand, I just can't keep up with the baking. Does that sound familiar? It's the modern girl's dilemma.
So when I heard that you can actually make vegan banoffee pie without even turning on the oven, I was intrigued. Really, no-bake, vegan, and still delicious? Will this be the one dessert to rule them all?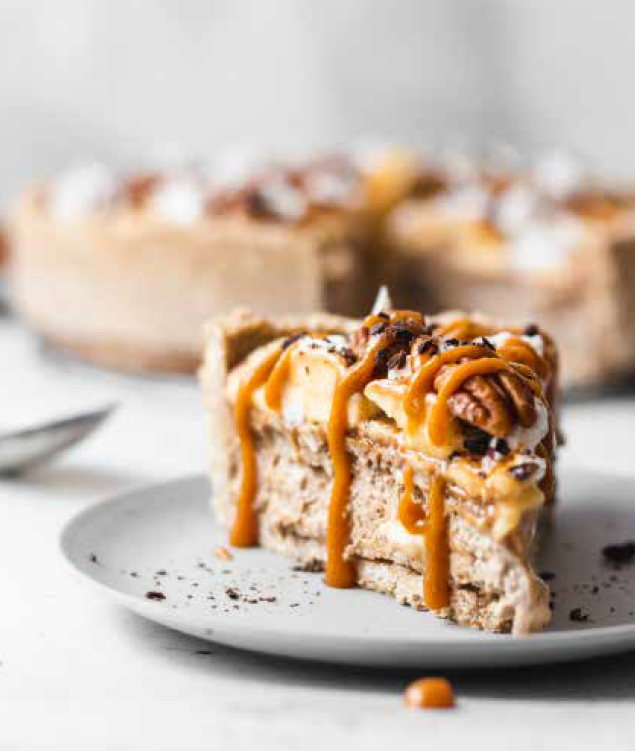 No-Bake Vegan Banoffee Pie
Christina Leopold's cookbook, No-Bake Vegan Desserts: Incredibly Easy Plant-Based Cakes, Cookies, Brownies and More, makes all my dessert dreams come true. You can make pretty much any dessert no-bake and vegan, whether it's layered cake, donuts or cupcakes. What a dream!
"This no-bake version of traditional banoffee pie tastes just as good as the real thing and is sure to hit the spot for any banoffee lovers out there. The layers include an oat-y base, a creamy filling and sticky date caramel topped with fresh banana, coconut cream, caramel sauce and chocolate shards. This combination not only makes this pie irresistible but also super-easy to make, as it doesn't even require you to turn on the oven!", Christina says.
Needless to say, this recipe is holiday worthy! If you're planning on moving away from tradition this year, this no-bake vegan banoffee pie is just what you need. Get the recipe below and check out Christina Leopold's No-Bake Vegan Desserts on amazon or wherever you buy your books.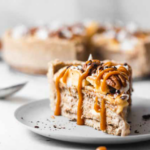 No-Bake Vegan Banoffee Pie
Reprinted with permission from No-Bake Vegan Desserts by Christina Leopold, Page Street Publishing Co. 2020. Photo credit: Christina Leopold
Ingredients
CRUST
1

cup

(168 g) roasted buckwheat or raw buckwheat

toasted according to instructions provided

2

cups

(200 g) rolled oats

(use gluten-free if required)

½

tsp

pink Himalayan salt

4

tbsp

(56 g) coconut oil

(solid)

3

tbsp

(45 ml) maple syrup

¼

tsp

ground nutmeg
FILLING
1½

cups

(219 g) cashews

(dry weight)

2

large ripe bananas

1

cup

(240 ml) vanilla soy milk

or regular soy milk

1

tsp

vanilla extract

1

tbsp

(14 g) coconut oil

(solid)

1/2

tsp

ground cinnamon

2

tbsp

30 ml maple syrup
CARAMEL
9

Medjool dates

pitted

½

cup

(129 g) peanut butter

½

cup

maple syrup

plus 3 tbsp

1

tsp

pink Himalayan salt
TOPPING
2

large bananas

Juice of ½ lemon or 1 lime
COCONUT CREAM
1

can

(13.5-oz/400-ml) chilled coconut milk

(using only the thick cream from the top of the can)

½

tsp

vanilla extract

1

tsp

maple syrup
SAUCE
2

tbsp

(32 g) peanut butter

4

tbsp

(60 ml) maple syrup

dark chocolate chunks for garnish

(optional)
Instructions
Ahead of time, begin by preparing the cashews for the filling. Soak the cashews in water for a minimum of 4 hours before rinsing with clean water and draining them, or quick soak in boiled water for 1 hour.

If you are using raw buckwheat groats, you will need to toast them. Using a pan over medium heat, roast them in batches for 4 to 5 minutes until they begin to brown, tossing them so they brown evenly. Allow them to cool before using.

To prepare the crust, put the buckwheat, oats and salt in your food processor and blitz until they form a tight crumb consistency. Add in the coconut oil, maple syrup and nutmeg and blend until the mixture begins to stick together to form a dough.

Line the bottom of a 9 x 3–inch (23 x 7.5–cm) cake pan with some parchment paper before pressing the dough into the bottom and approximately 2½ inches (6.5 cm) up the sides of the pan. Use the flat bottom of a glass to smooth out the dough evenly. Trim the top edges with a knife to make them smooth and even. Set aside in the freezer while you make the rest of the pie.

For the filling, put all the filling ingredients in your high-speed blender and blitz until smooth and creamy without any lumps. Pour the mixture into the pan and tap the tin on your counter to knock out any air bubbles. Place in the freezer to set for 2 hours.

Clean your blender and next make the caramel by putting all of the ingredients in it and blitzing them until they form a smooth paste. Remove the pie from the freezer, spoon the caramel on top of the pie and smooth out using a spatula. Place the pie back in the freezer to set fully for another 2 hours.

Once ready, remove the pie from the pan while still frozen. Slice the bananas into coins and dip them into the lemon juice. This will prevent them from discoloring. Put them on a sheet of parchment paper to remove any excess moisture. Arrange the banana coins in a circular design to cover the entire top of the tart.

For the cream, put the coconut milk, vanilla extract and maple syrup in a bowl and whisk using your electric mixer until soft peaks form. Transfer the cream to a piping bag fitted with an open star tip and pipe some peaks on top of the pie.

Lastly, to prepare the sauce, put the peanut butter and maple syrup in a bowl and whisk until smooth. Drizzle the sauce on top of the pie, sprinkle with dark chocolate chunks, if desired, and serve.
Recipe Notes
This pie will store for a few days refrigerated in an airtight container, or alternatively freeze and defrost as needed.
Makes one 9-inch (23-cm) pie.
2