While I'm a big fan of Indian cuisine, I have to admit cooking it can be intimidating. What if the one spice I lack is the one that makes or breaks the dish? That's why I was excited to get my hands on Indian in 7 by Monisha Bharadwaj, a cookbook that promises authentic recipes with 7 ingredients or fewer. The promise is kept! And not just any ingredients – they're actually easy to source from most supermarkets.
And while the book is filled with comfort food, vegan dishes, quick or hearty recipes, it was these Indian butter cookies (nankhatai) that really stuck with me. Monisha says: "My grandmother was an exceptional nankhatai maker and I remember her baking these for us as a teatime snack when we got home from school. They were crisp and crumbly with a melt-in-the-mouth texture that made them completely irresistible." Doesn't that sound like something you want in your kitchen asap?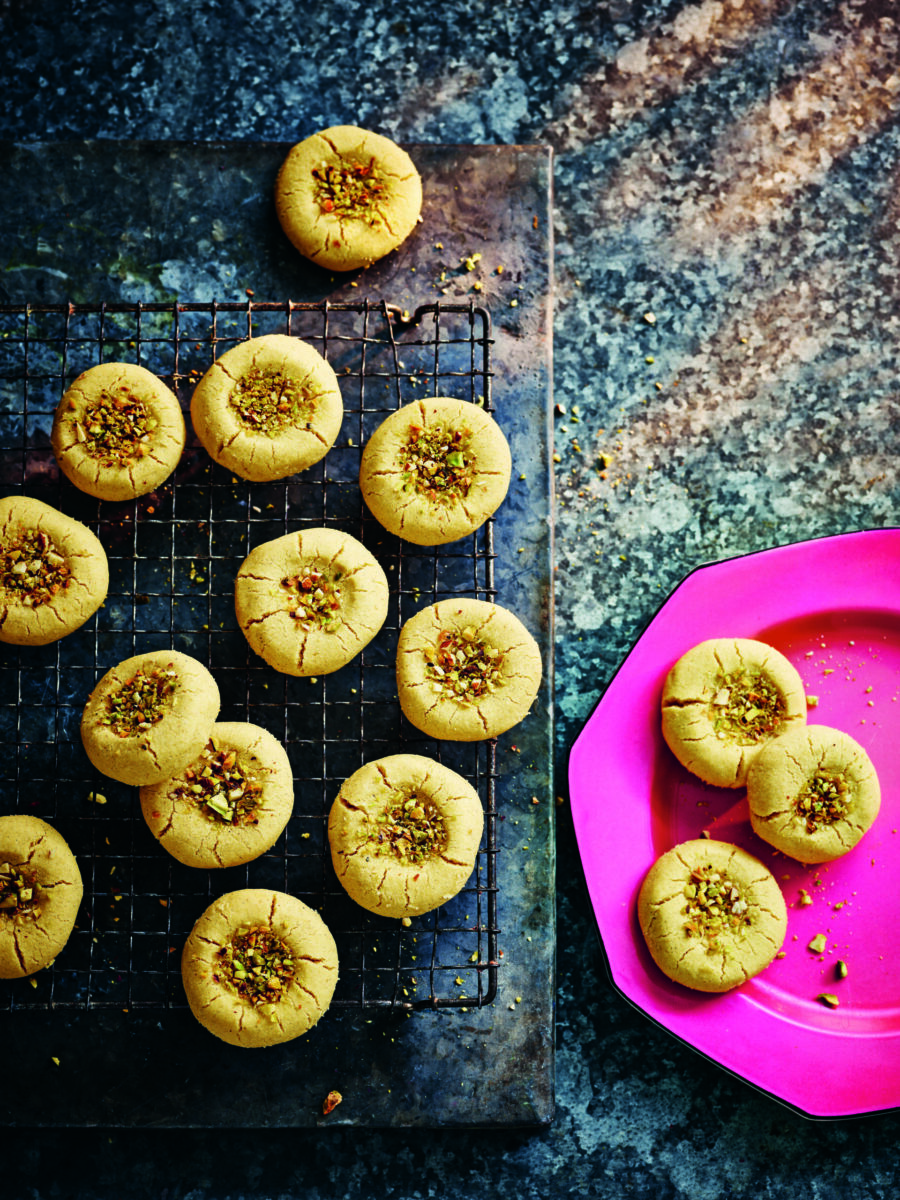 Indian Butter Cookies
From all the sweets out there, there's just something about butter cookies. They're comforting, and they make a great sidekick to your cup of coffee or tea. They come together in no time, and if we're being honest, they're gone in no time, too. And you'll notice that about these Indian butter cookies, which are wonderfully spiced with cardamom, and flavored with both crushed pistachios and almonds.
Get the recipe for Indian butter cookies below and purchase Indian in 7 by Monisha Bharadwaj on amazon.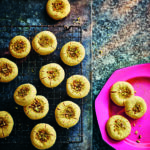 Indian Butter Cookies
Reprinted with permission from 'Indian in 7' by Monisha Bharadwaj. Photography by Gareth Morgans.
Ingredients
1

cup

all purpose flour

1/2

cup

gram flour

scant

1/4

cup

fine semolina

scant

9

tbsp

powdered sugar

1

tsp

cardamom

ground

1/2

cup

ghee or unsalted butter

2

tbsp

mixed pistachios and almonds

crushed or very finely chopped
Instructions
Preheat the oven to 300°F. Line a baking sheet with wax paper.

Put the all-purpose flour, gram flour, semolina, powdered sugar, cardamom, and a large pinch of salt into a large mixing bowl and mix well. Rub in the ghee or butter to make a stiff dough. Refrigerate, covered, for 15 minutes.

Divide the dough into 15 equal portions, each about 1¼ inches in diameter. Shape each portion into a flat, round shape and place on the prepared baking sheet. 

Press an indent in the top of each round with your finger and fill with chopped nuts. Press them down slightly into the dough.

Bake in the oven for 20 minutes, or until cracks appear on the top of each cookie. Transfer to a wire rack and let cool. The cookies will be soft as they come out of the oven but will crisp up as they cool. When completely cool, store in an airtight container and consume within a week.
1