Just because summer is over doesn't mean we can't still enjoy the flavors of grilled veggies! We've been grilling everything lately, including fruit and greens, so it shouldn't come as a surprise that we want to hang on to this effortless way of cooking for as long as possible.
One thing we hadn't tried up until now? Veg kebab with an Indian twist! And we gotta tell you – it is so good! Marinated with a combination of yogurt, tandoori masala, and chili powder, then sprinkled with a light yogurt and cumin dressing, these veggie skewers are a flavorful dinner we want to make over and over.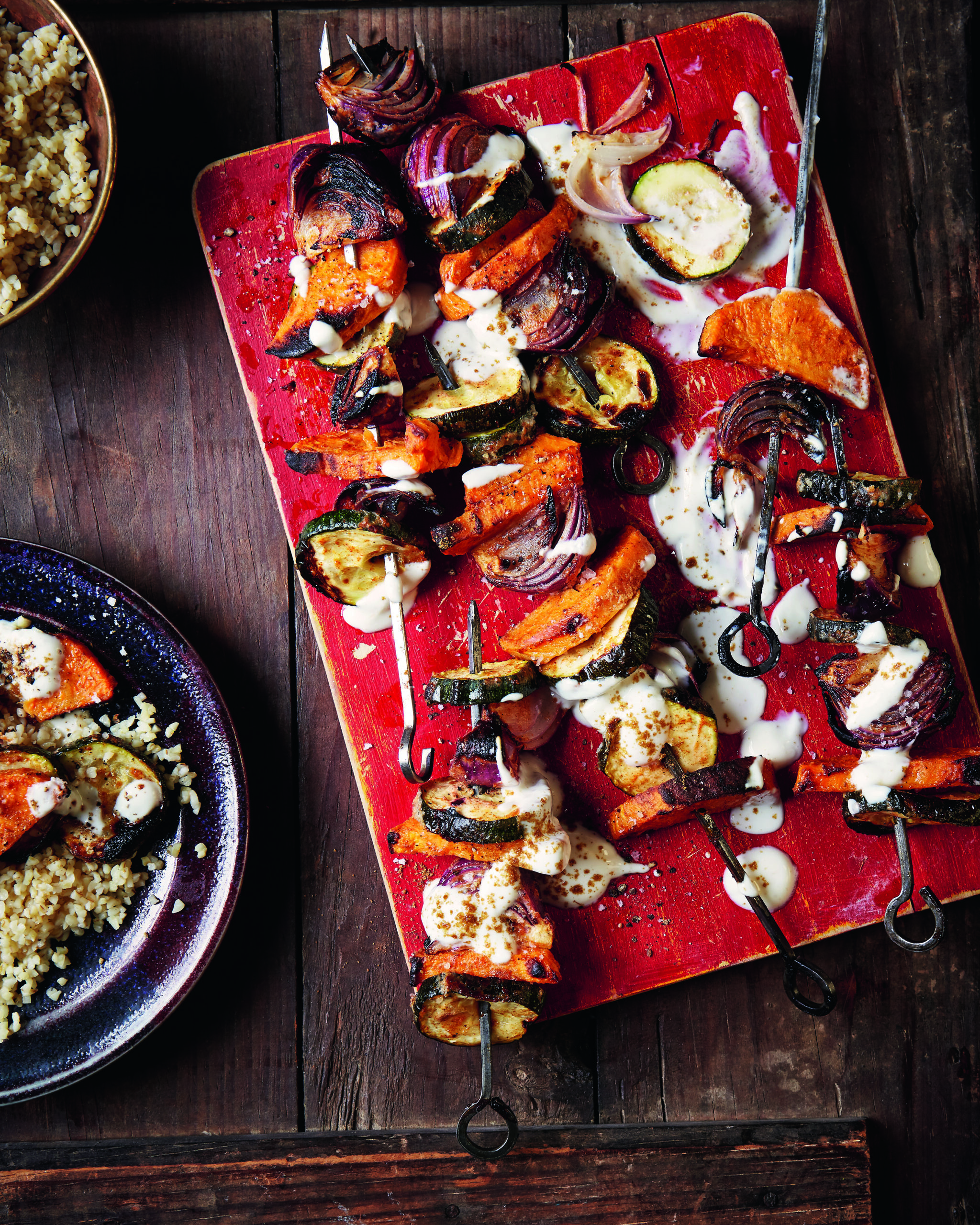 Tandoori Veg Kebab Recipe
If you want to try more vegetarian Indian recipes, then 'Chetna's Healthy Indian: Vegetarian' is the right cookbook for you! It comes with over 80 recipes that vegetarian and meat-eaters alike will enjoy, showing just how creative you can be with even the most humble vegetable. This book is packed with flavor and innovative ideas, yet easy and accessible for home cooks.
"You don't really need a barbecue to enjoy these vegetable kebabs. They can also be cooked under a grill or in a frying pan – whatever you have handy. The combination of courgettes, sweet potatoes, red onions and tandoori masala is so simple yet so amazing. I've made this a substantial main course by serving the kebabs with bulgur wheat. You'll find the yogurt dressing adds a lovely finish and flavor," says author Chetna Makan.
Scroll down for the full tandoori veg kebab recipe, and order the book on amazon or wherever books are sold.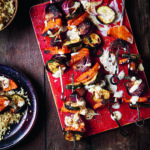 Tandoori Veg Kebab
Reprinted with permission from 'Chetna's Healthy Indian: Vegetarian" by Chetna Makan.
Ingredients
For the bulgur wheat
5 1/2

oz

bulgur wheat

1 1/2

pint

boiling water

1

tbsp

lemon juice

1

tbsp

rapeseed oil

1/4

tsp

salt

1/4

tsp

black pepper

freshly ground
For the skewers
1

sweet potato

halved lengthways and cut into 1/2 inch slices

1

courgette

cut into 1/4 inch circles

1

red onion

cut into thin wedges

3 1/2

oz

natural yogurt

1

tbsp

tandoori masala

1/4

tsp

chili powder

1/4

tsp

salt

oil

for brushing
For the dressing
3 1/2

oz

natural yogurt

1/4

tsp

ground cumin

pinch

salt
Instructions
Put the bulgur wheat into a heatproof bowl and cover with the boiling water. Leave to soak for 20 minutes, then drain well. (If you are using bamboo skewers, soak them in water now too. You'll need 8 of them.)

Wipe out the bowl and return the bulgur to it. Add the lemon juice, oil, salt and pepper, and mix well. Set aside.

To prepare the kebabs, par-cook the sliced sweet potato in a pan of boiling water for 2 minutes only. Rinse and drain.

Put the courgette and onion into a large bowl and add the sweet potato slices. In a small bowl, mix the yogurt, tandoori masala, chilli powder and salt together and pour this all over the veg. Stir to make sure the veg are well covered with the marinade.

Preheat your barbecue or grill. Take the skewers and thread the veg on to them as you like. Brush a little oil over the top. When the barbecue or grill is hot, cook for 20 minutes, turning occasionally, until golden.

In a small bowl, mix the dressing ingredients. Spread the bulgur wheat on a serving platter, lay the skewers on top and drizzle over the dressing to serve. These are best eaten immediately.
2